You want to eat at your favorite restaurant. Still, you have the usually tedious task ahead of you – from getting ready to arrive at the restaurant through modern-day traffic to waiting for your table. Y
ou make the unexpected decision to cancel your dining out plans and instead eat at home.
Food ordering options are available, but you must still pick them up from the restaurant. As a result, eating at home often appears to be a better option after a long day at work.
But then there is an app that comes to your rescue every time! The brand wants to ensure that no part of your meal is missing. The brand that comes to your aid whenever hunger tests your patience. The brand wants to ensure you don't miss out on any of your precious moments.
The brand allows you to keep track of everything with a single tap. The brand not only looks after its customers but also its employees. They understand that there is a lot in a name.
You guessed it right; it's Swiggy! Swiggy's goal is not only to surprise taste buds but also to deliver happiness. This is the basis on which the Swiggy business model is built. So, what is swiggy, exactly?
What is Swiggy?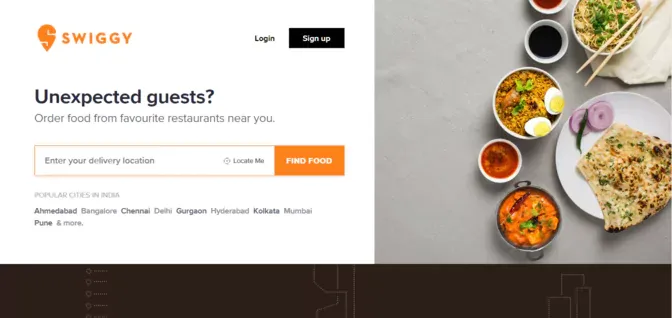 The easiest answer to the question, "What is Swiggy" is that it is India's largest online food ordering and delivery platform. Founded in July 2014, Swiggy is based in Bangalore and operates in 500 Indian cities as of September 2021. Swiggy was founded by BITS Pilani graduates Nandan Reddy and Sriharsha Majety, who had the brilliant idea of changing the way India eats through hyperlocal food delivery.
They saw an untapped gap between food ordering and delivery in India and decided to make an indelible mark there. Swiggy's business model is based on bridging that very gap. As revolutionary as this idea was, they wanted to keep it simple for users, so the idea of Swiggy, an app that makes food available with a single tap, was born.
Swiggy is the apex of Bundl Technologies, the previous venture of these two geniuses. It's been quite a journey from an abstract idea to over 5 lakh mobile app installations for Swiggy.
Now that we had discussed what is swiggy and when and by whom it was founded, let's move to the next part of the story. Let us dive deep into how swiggy works.
Let us dwell deep into Swiggy's business model to understand better what is swiggy and what model it is made to function.
AppsRhino offers the best Tech-driven solutions for Home services, Laundry delivery, Alcohol delivery, Grocery Delivery, On-demand Cannabis, and Taxi Services:
Swiggy Business Model
Swiggy's business model is based on hyperlocal on-demand food delivery. It aggregates restaurants and organizes a fleet of delivery partners who deliver on-demand food (in less than 30 minutes).
This unicorn startup, owned and operated by Bundl Technologies Private Limited, followed in Uber's footsteps and developed a business model based on a dual partnership model. The partners are classified into two groups:
Restaurant Partners: Restaurants that choose to deliver to customers who use the Swiggy app or website are known as restaurant partners.
Delivery Partners: They comprise the delivery fleet, tasked with picking up the order from the partner restaurant and delivering it to the end-user.
Target Market
People who enjoy eating outside but dislike going out to restaurants and eateries. Instead, they want their delicious parcels delivered to doorsteps so that they can enjoy them at their leisure; they are Swiggy's primary target customers.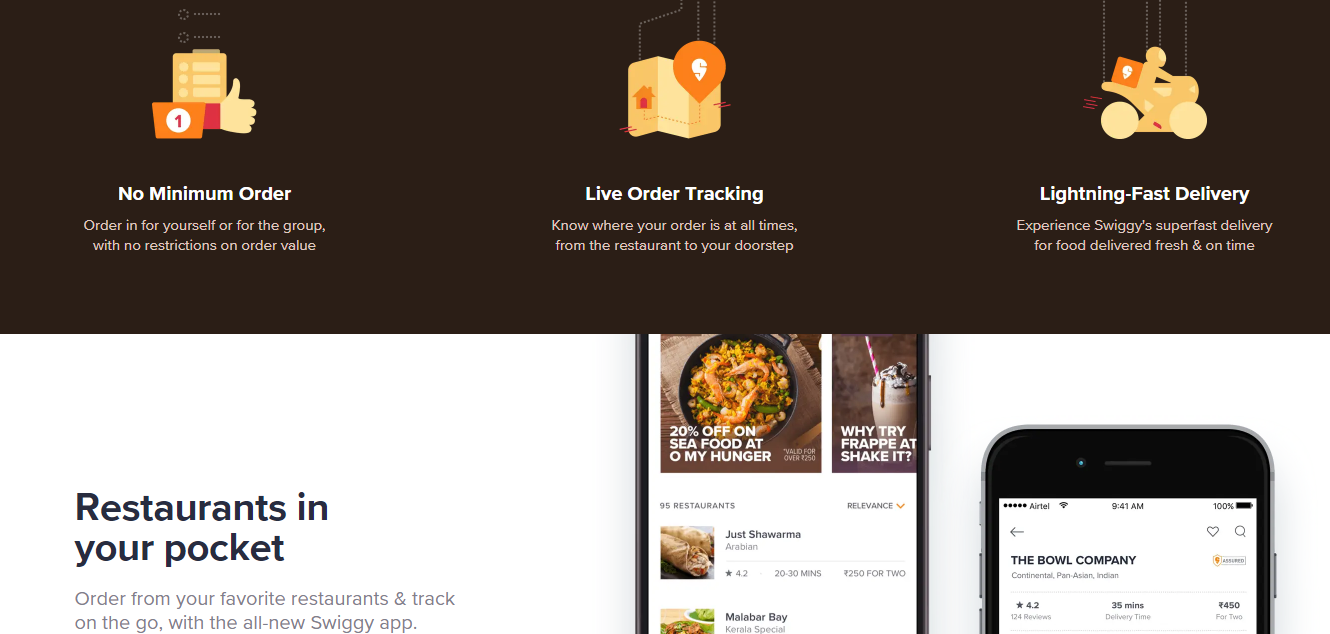 Thanks to recent business expansion, people looking for deliveries from nearby electronics stores, florists, grocery stores, or even pharmacies have joined the ranks of potential Swiggy customers. The Swiggy business model has a very important place for the target audience.
Value Propositions in the Swiggy Business Model
Swiggy is genuinely and adoringly adored. Swiggy is special and unique because of its long-term goals and willingness to learn and improve incrementally. Swiggy has a plethora of excellent benefits, so how can you not love it?
Swiggy's lack of a minimum order requirement is one of the reasons it receives as many as 14 million orders per month. Swiggy receives many orders for less than Rs 100, which explains why it is the most popular app for ordering food. Swiggy is obsessed with customers and believes that everything else is merely a byproduct of doing business correctly.
Swiggy bases its success on the customer impact parameter. It allows you to indulge in one-serve orders without incurring any additional fees. Swiggy's main selling point has always been its ease of use and delivery capability. That is exactly what the swiggy business model is based on.
Customers are always presented with enticing offers. Partner restaurants will be able to reduce their operational costs as well. In addition to all of this, it offers instant lightning-fast deliveries and real-time tracking, which is why it is always a trusted companion.
Swiggy's main activities
Swiggy's main activities include the following according to the swiggy business model are:
Creating alliances with restaurants, eateries, and retailers

Recruiting and supervising delivery personnel

Customer acquisition and retention

Managing operations that support the delivery and payment processes.

Customers' and partners' complaints are resolved as soon as possible.
How does Swiggy work?
After what is swiggy and the swiggy business model, the next important question is how swiggy works. To understand how swiggy works, it is important to consider the swiggy business model we just discussed.
Swiggy offers an online ordering platform for a variety of listed neighborhood partner restaurants and their fleet of delivery personnel who pick up orders from the partner restaurants and deliver them to customers' doorsteps.
This is exactly what the swiggy business model talks about. So a simple answer to how swiggy works are "by offering a complete food ordering and delivery solution that connects existing neighborhood restaurants with urban foodies, benefiting both parties."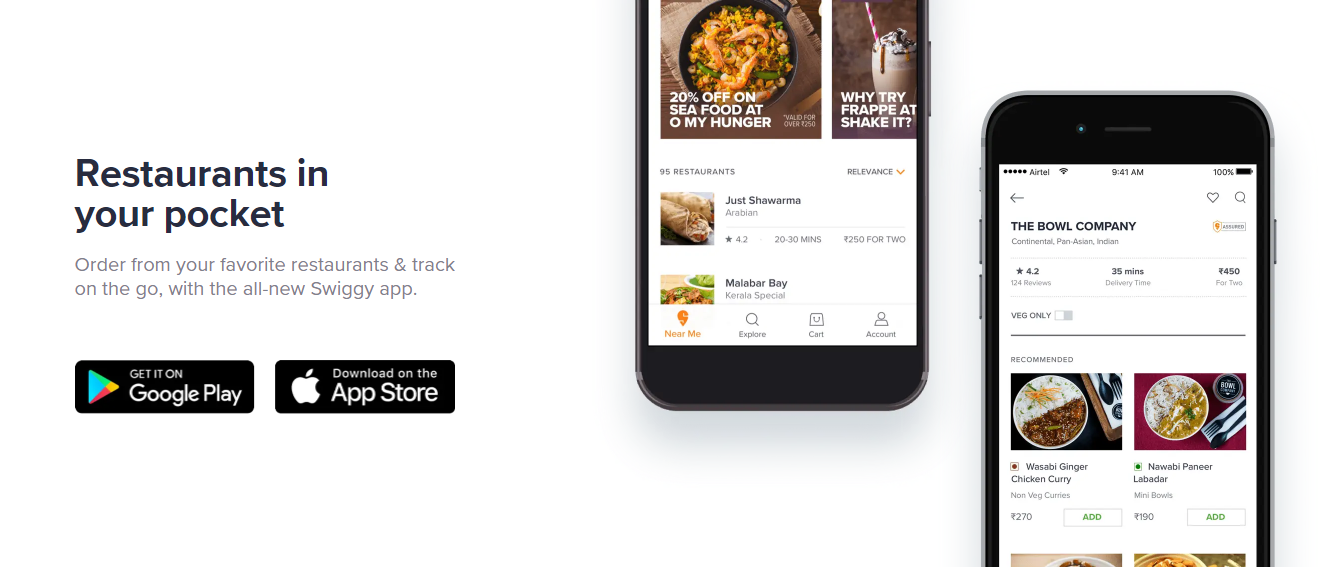 You can order from several restaurants by opening the Swiggy app on your smartphone or visiting the Swiggy website. When a restaurant is chosen, and an order is placed, the restaurant has its Swiggy app. It receives the order details and begins preparing for the order.
A broadcast signal is sent to all nearby drivers who have their driver applications. Those who are willing to accept the order have the option of accepting and delivering it. Swiggy, like other on-demand delivery startups, has integrated the Google Maps API with its app.
This has allowed customers to see where their order is and how long it will take to deliver it in real-time. Swiggy's business model is one of the most successful business models for the food industry.
How Swiggy makes money
The Swiggy business model has made Swiggy an early mover in the foodservice space in India. While they have a set model on which their business is based, they have begun earning revenue from other avenues ever since they have established themselves.
Swiggy earns money from the various sources listed below: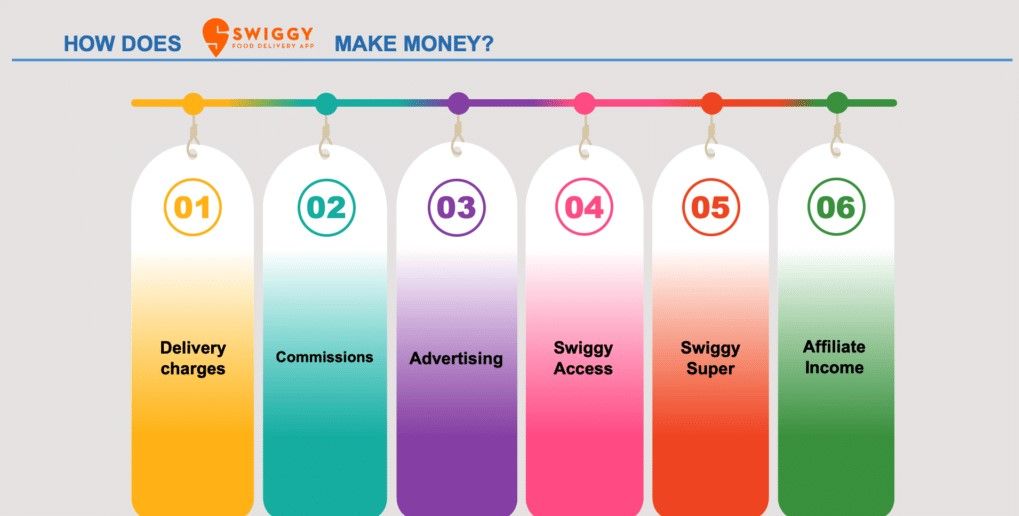 Commissions
Swiggy typically charges a 15% – 25% commission on the amount of the order bill received by the restaurant. This commission is charged on the total bill amount, including the Goods and Services Tax added on top of the menu price.
Swiggy is constantly attempting to bring restaurants on board only to be found on Swiggy. On this basis, restaurants receive benefits such as increased visibility and, on occasion, a 2–3 percent reduction in commission. These money-making tactics are based on the swiggy business model we discussed above.
The commission percentage is determined by various factors such as the frequency of orders received, the restaurant's location, the restaurant's reliance on Swiggy, the percentage charged by competitors, the restaurant's penetration into a new city, and so on.
Delivery Charge
Swiggy does not have a minimum order requirement for delivery. The company frequently receives orders for less than Rs 100. This raises the cost of logistics per order.
So, once Swiggy had a firm grip on the market, it began charging delivery fees on small orders (depending and varying upon city to city). For orders under Rs 250, delivery charges are typically around Rs 20. Swiggy may also charge a surge in delivery prices during periods of high demand, such as rain, special occasions, and midnight delivery in select markets.
This also encourages customers to order above the threshold to avoid paying delivery fees. The Swiggy business model had this provision of introducing little changes as the brand grew.
Advertising
Swiggy began earning advertising revenue through two models: banner promotions and priority restaurant listing. Advertising is one of the major pointers in the swiggy business model for making money.
Restaurants in specific regions are promoted and displayed in their app and website. The rates for different regions on the displayed page vary depending on the restaurant's visibility through the banner promotion.
The only limitation is that Swiggy does not share customer data, so restaurants must rely solely on increased visibility to generate raw revenue.
This dedication to privacy can also be a positive point of the swiggy business model. Swiggy typically shows customers a list of available restaurants.
This potential has turned into a revenue stream by charging a premium to restaurants in exchange for priority listing. The higher up the restaurant's list appears, the higher the restaurant's cost.
Restaurants
Swiggy has opened its restaurants, which are prominently displayed on the app and website with the highest level of visibility possible. It began in Bangalore and is expected to spread to Mumbai and Hyderabad soon. This, yet again, is an add-on to the swiggy business model.
Swiggy Access
Swiggy Access, a central kitchen base-like facility that houses kitchens from various restaurants, including Swiggy's private labels, was recently launched in 2019. This cloud kitchen model will assist restaurants in establishing kitchens in locations where they are not physically present.
It began in Bangalore last year. It Has expanded to 30 restaurants with 36 kitchens in new cities like Kolkata, Delhi, Mumbai, and Hyderabad. It is again an add-on to the swiggy business model.
This inter-city model is expected to change the game in terms of penetration into tier 2 and tier 3 cities. Currently, Access kitchens account for approximately 8% – 25% of order volumes in markets where it has been launched. Restaurants on Access must pay higher commissions than the platform's current average commissions for delivery only.
Swiggy Super
Swiggy launched Swiggy Super, a customer membership program. It provides unlimited free delivery on orders above Rs 99. It does not use surge pricing, which requires the customer to pay a set amount.
A one-month membership for Rs 149 and a three-month membership for Rs 349 are available, with introductory prices of Rs 49 and Rs 129, respectively. This amount, combined with the repeat orders Swiggy anticipates from this membership program, is expected to increase revenue.
Earnings from Affiliates
Swiggy makes money in the form of affiliate income by referring credit cards to its customers, in addition to the core business practices.
The company has partnered with financial institutions and banks such as American Express, Citibank, ICICI Bank, HSBC, and others to sell credit cards to customers.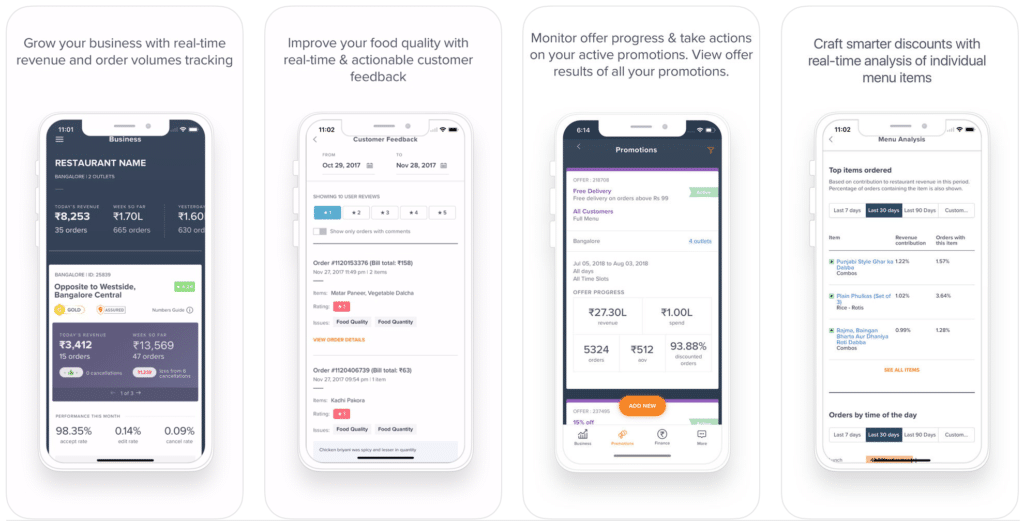 Where does Swiggy's money go?
Swiggy must spend money on various activities to provide these commendable services and stick to the swiggy business model. To begin, consider incentivizing and managing the delivery fleet. The cost is determined by the frequency of deliveries, the location of operations, and the profile of delivery partners.
A large portion of the revenue generated is used to maintain and develop applications and websites. Administrative and advertising costs are incurred on a large scale to keep the business running and its partners happy.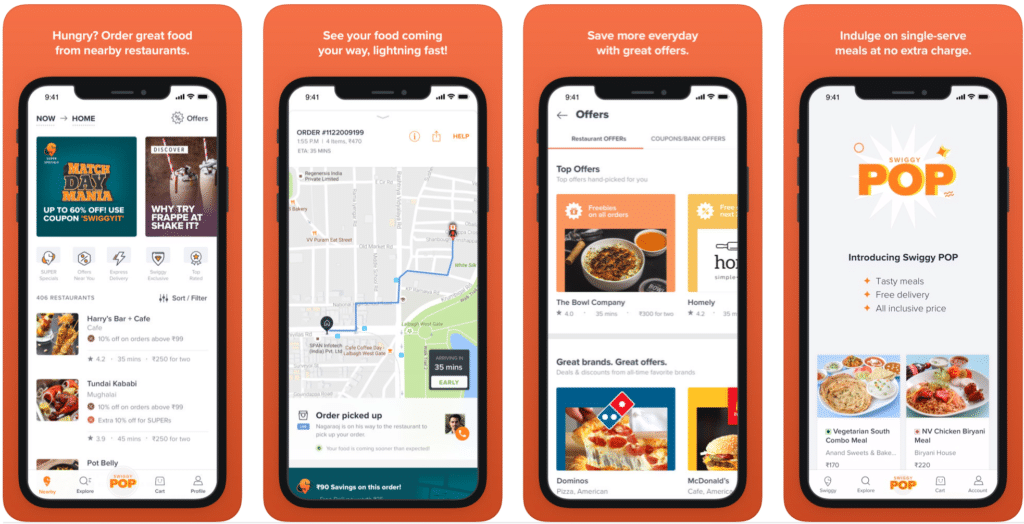 Swiggy is a name that conceals wonders within it. The swiggy business model has transformed the food ordering and delivery industry paradigm.
Future
Swiggy was the first aggregator to offer customers the 30-minute or free delivery option. It is only available at a few restaurants in a few cities. Still, it alleviates a major annoyance for customers who must wait 40-60 minutes to deliver their food. Swiggy will bear 70% – 80% of the cost if it fails to deliver on time, while the restaurants will bear the rest when it is fully operational.
Swiggy also introduced the Swiggy POP, which focuses on single-serve meals to save time. It is aimed at time-pressed professionals who are constantly on the go and want a fail-safe mix for their daily needs.
Swiggy now allows customers to pre-order meals via Swiggy scheduled. They can now place orders in 30-minute increments, with a minimum of two hours and a maximum of 48 hours in advance. This improves the experience of Swiggy customers who order frequently. The swiggy business model is evolving and will continue growing in the years to come.
Swiggy may soon gain a competitive advantage and increase its customer base due to such diverse features and a plethora of different options. Furthermore, due to its innovation, the resulting growth would be entirely organic – something that every company desires.
Conclusion
Now that you know what is swiggy and how swiggy works, you know how ever-evolving this business is. After assessing the swiggy business model, one can comfortably say it's truly remarkable. There is a scope to grow. It is probably one of the most successful on-demand app categories because people may stop buying accessories someday, but they will always eat.
If you want to start an online marketplace like Swiggy, you can trust AppsRhino. AppsRhino is a mobile app development company that powers on-demand mobile apps and business apps for entrepreneurs and enterprises.
Frequently Asked Questions (FAQs)
What is Swiggy and how does it work?
Swiggy is an online food delivery platform that connects customers with restaurants and provides delivery services. It operates through a website and a mobile app.
Customers can browse the available restaurants, place their orders, and track the delivery status in real-time.
Swiggy's delivery partners pick up the orders from the restaurants and deliver them to the customers' specified locations.
How can I place an order on Swiggy?
To place an order on Swiggy, you can download the Swiggy app on your mobile device or visit the Swiggy website. After signing in or creating an account, you can enter your delivery address, browse the restaurant options, select your desired items from the menu, customize your order if needed, and proceed to checkout.
Payment can be made online through various methods, including credit/debit cards, digital wallets, or cash on delivery.
What restaurants are available on Swiggy?
Swiggy partners with a wide range of restaurants, including local eateries, popular chains, and fine dining establishments. The availability of restaurants can vary depending on your location.
Swiggy's extensive network aims to provide customers with a diverse selection of cuisines and dining options to choose from.
How long does it take for Swiggy to deliver an order?
The delivery time on Swiggy can vary depending on factors such as the distance between the restaurant and the delivery location, the number of orders in queue, and the traffic conditions.
Swiggy provides estimated delivery times for each order, and customers can track their delivery in real-time to stay updated on the progress.
Can I track the status of my Swiggy order?
Yes, Swiggy provides a real-time order tracking feature that allows customers to monitor the status of their orders. Customers can track the movement of their delivery partner on a map and receive updates on the estimated time of arrival.
This feature enhances transparency and keeps customers informed throughout the delivery process.
Does Swiggy offer customer support?
Swiggy provides customer support to assist users with their queries and concerns. They have a customer support team that can be contacted through the app, website, or helpline number.
The support team is available to address issues related to orders, deliveries, refunds, or any other assistance required