Introduction
As a business owner, you know that having a strong mobile presence is crucial to reaching and engaging with customers.
Whether launching a new product or service or looking to enhance your existing offering, developing a mobile app can be a powerful tool.
But with so many app development companies, how do you choose the right one for your needs?
At AppsRhino, we pride ourselves on being a top-rated mobile app development firm, helping entrepreneurs like you turn their ideas into reality.
This blog will walk you through our comprehensive app development process, from initial consultation to final delivery.
Don't hesitate to get in touch if you have questions about the process or just want to learn more about what we do. Let's get started!
What is the app development process with AppsRhino?
Our app development process is simple and thorough. AppsRhino, the custom mobile app development company, aims to support you from the beginning to the end and even after that.
We have a modular approach, and our entire team is committed to bringing your dream to a successful reality.
You can break down our app development process into four simple steps. These are:
Pre-Design

Design

Development

Launch and post-launch
Let's now discuss these steps in depth.
Pre-Design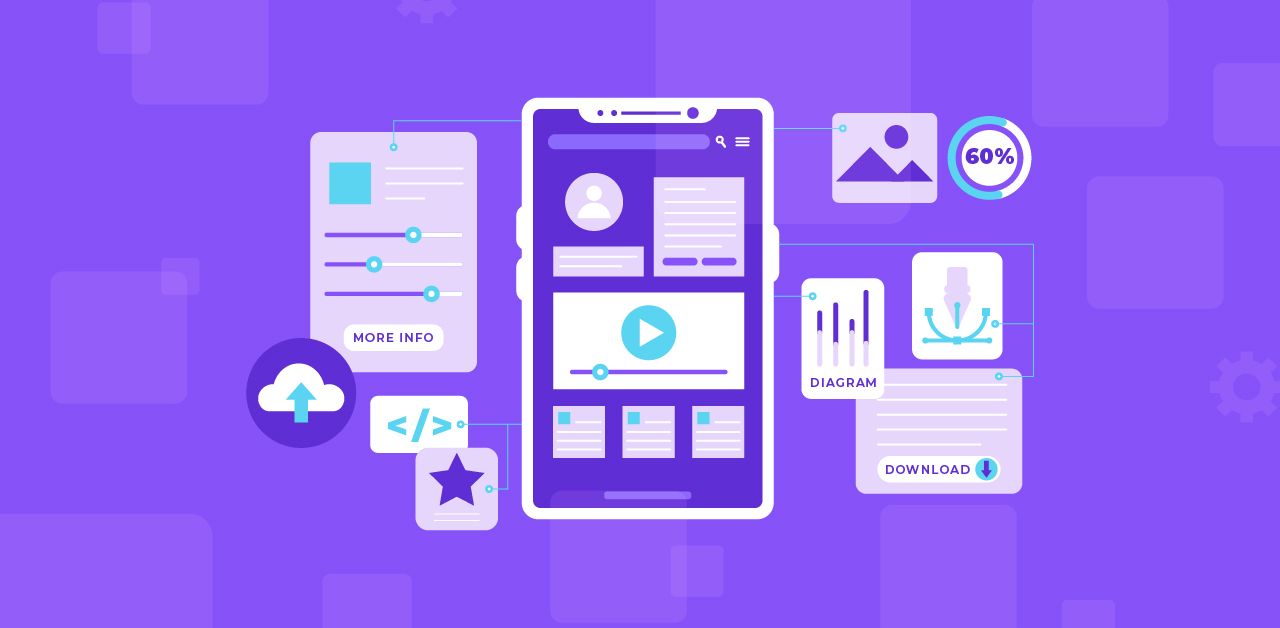 Pre-design is the first and foremost stage of the app development process. Here, we connect with you and sit together to discuss the project. Give us your idea, no matter how brief or detailed.
We read it through, analyze it and then start the discussions. We determine the objective of the project, the target market, and the required tech stack.
What do we do at this stage?
Firstly, we identify the objective and purpose of your app. For this, we sit with you to discuss your expectations and explain the roadmap we advise following.
Here, we involve all the stakeholders to avoid any future confusion. Our team of developers, designers, and managers come together to explain to you all the steps, requirements, and budgets involved in the app development process.
This in-depth discussion is followed by research and analysis. As part of this, our app development company creates user personas to help you understand the goals and challenges of the real people using the app.
We also look at similar apps that are already on the market to see if there's something we can learn or unlearn.
What do you get out of this?
You will get a package of our recommendations, technical considerations, and a project roadmap at the end of the pre-design stage.
The recommendations present a creative vision for the project, how we intend to target it at users, and what the goals are from both a user and a business standpoint.
This roadmap includes a content audit of all your proposed functionality and plans, outlining the initial launch and plans for what comes after that.
This package lays out everything we need to know about the upcoming project to achieve the best results.
Design
Once we are done with the pre-design stage, we move on to the design stage. We will start the design planning based on our research and the roadmap.
What do we do at this stage?
The design step is where we shift our focus to UI and UX. After all, UI and UX determine how your users would respond to your app, whether they will use it or move on to the next in line. It is a critical stage comprising five steps: wireframing, concepts, collaborative design, prototyping, and user testing.
Wireframing: This is the UX part of the design. Here, we determine how your app will work and how different pages will be linked. For example, your cart would lead to the buy now option, which would further lead to the payment page. The payment types would have different pages. All these connections and how they will look are decided here.
Concept: Here, we decide on the theme of the app. We will decide how to use those colors effectively on different screens if you have some brand colors. If not, we will finalize the color scheme and placement of elements and logos here.
Collaborative Design: The concept is refined and blended to create a unified app design. It is where we get the final design and look of the app.
Prototyping: This is a collection of pictures of each screen, with tappable hotspots that allow you to navigate between them as if you were using the actual app. You can install it on a device, which means you can access it via an icon, just like any other app.
User Testing: The prototype is given to the users for feedback. We want to ensure that users can quickly comprehend what the app does and access its key features. Before moving on to development, we use testing results to make a final, more informed set of revisions.
What do you get out of this?
By the end of this stage, you will have a complete UX wireframe. Designs for all app screens, and an immersive prototype.
Development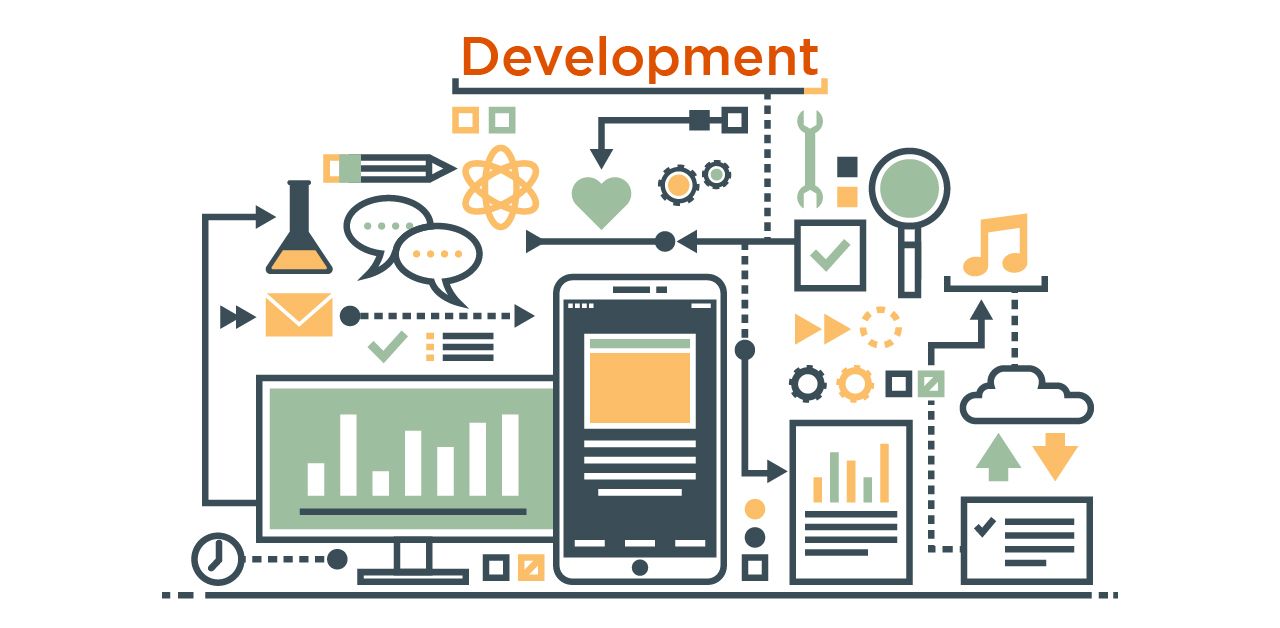 To build the app, we divide the work into different segments scheduling them for different days. You know the process takes time, so we ensure the time we are consuming reveals some serious benefits. Some people in the industry also call this scheduled time a sprint. Let's call it the "sprint" for now.
At the end of the sprint, a build is released for review and testing - to you, but certainly internally. A Quality Assurance team ensures that the new functionality is operational and does not interfere with existing functionality.
Once these development sprints are completed, we have a UAT (User Acceptance Testing) version for you to test and sign off on.
It is then promoted to RC (Release Candidate) status. All refinements are made before it is released on the app stores, your website, or whatever the release looks like for the specific project.
It is the stage where you can suggest edits.
What do you get out of this?
You will, most essentially, have the developed product by the end of the development stage. However, we also provide you with the entire functional specification and the project's source code.
Launch and Post-launch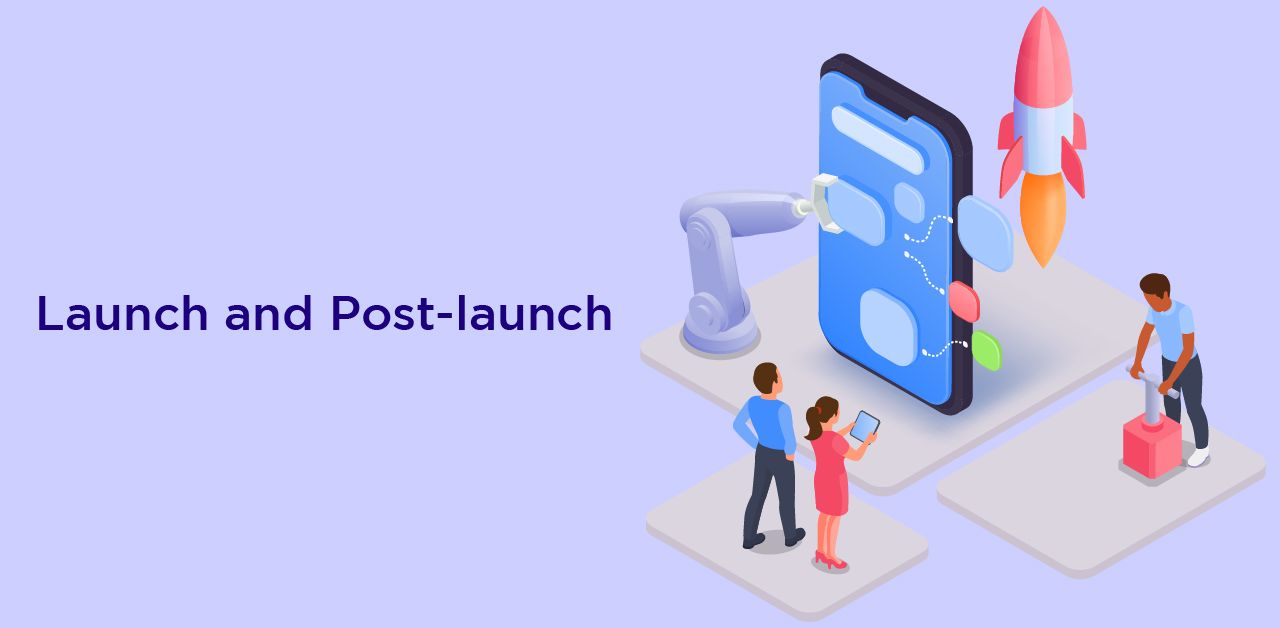 After completing all the stages we outlined, you should now have a live app your target audience uses. You will now proceed to the fourth and final stage - Support.
During the support stage, the first thing to address is any bugs or teething problems. Regardless of all the testing that has occurred during the development stage, something unexpected will always happen, such as using a very old device, previous OS, etc. You must address these issues as they arise. We, being the top app development company, are always there for you.
The following support phase can be planned when new devices are announced or some update occurs. Most minor updates do not affect an app, but more significant changes can cause problems. Our app development company will make a separate plan for this and implement it soon.
These maintenance updates are relatively simple to implement. Developers typically receive beta versions of OS updates one month before they are made public. It enables us to plan for them with you and recommend how to best handle changes or new features.
Ultimately, our assistance becomes more advisory. We create a report of suggestions for potential updates and improvements based on current usage patterns, app analytics, user feedback, and our extensive industry experience. You can effectively incorporate into your product roadmap.
What other services do we offer?
AppsRhino, the top mobile app development company, assists you in all your app development needs. Following the process efficiently, we deliver the best app solution to you.
If you think you have an in-house team for the pre-design and design stage, you can outsource the needed developers from us. You can hire developers from us on a part-time, per-project or per-hour basis. We are open to different hiring models, and you can screen the candidates we shortlist for you.
Hire Dedicated Developers for various technologies such as Android, Angular, React, IOS, PHP, Node, Joget, MongoDB, and Java with AppsRhino:
By hiring developers from us, you can be sure of their technical expertise and business-friendly behavior. Our developers are experienced and proficient in what they do. They are team players and would stick with the project until you are completely satisfied.
Contact us today to hire your preferred developer.
Conclusion
The App development process is complex, and doing it alone can be hectic. As you read, there is more to it than simply having an idea for a product or service you want to introduce by developing an app.
However, with the proper planning, processes, and resources, You can develop your app idea that caters to your audience.
Ready to take the next step? Contact us today to get started with the app development process.
Frequently Asked Questions
What is AppsRhino's approach to app development?
AppsRhino follows a systematic approach that includes planning, designing, development, testing, and deployment stages to ensure a smooth app development process.
How long does it take to develop an app with AppsRhino?
The timeline for app development depends on various factors such as app complexity, features, and client requirements. AppsRhino provides estimates based on project specifications.
Can AppsRhino develop apps for both iOS and Android platforms?
Yes, AppsRhino specializes in developing applications for both iOS and Android platforms, ensuring compatibility across different devices and operating systems.
What is involved in the planning stage of app development?
During the planning stage, AppsRhino collaborates with clients to define project goals, target audience, features, and create a roadmap for the development process.
Does AppsRhino provide UI/UX design services?
Yes, AppsRhino offers UI/UX design services to create visually appealing and user-friendly interfaces that enhance the overall user experience of the mobile application.
What technologies does AppsRhino use for app development?
AppsRhino utilizes a wide range of technologies such as Swift, Java, React Native, Flutter, and Xamarin to develop robust and feature-rich mobile applications.
How does AppsRhino ensure the security of the developed apps?
AppsRhino implements industry-standard security measures, including secure coding practices, data encryption, and rigorous testing, to ensure the security and integrity of the developed apps.