Introduction
Do you know that over 159 million users on eBay and around 19 million sellers have accounts on eBay? Such an impressive number of sellers and buyers means only one thing for eBay; Profits and money. This publicly-traded company's 2020 revenue was $10.271 billion.
Thus, if you are someone planning to tread in the territory of Customer to Customer and business-to-business sales, eBay is the one you should ape to reap benefits! This website is famous for facilitating Customer to Customer and business-to-business sales through its websites while earning immensely in the process.
Today, you might find clones of every industry leader in their respective industries. The reason is that such leaders have already established their credibility in plan and business, making novices trust their strategies without fear. One such industry leader is eBay, and several entrepreneurs are willing to buy an eBay clone script.
Still not sure whether or not an eBay clone is a suitable investment? Read on to find the importance of an eBay Clone for your business.
eBay Clone: What is an eBay clone?
An eBay Clone is a multi-vendor eCommerce marketplace solution that you can customize according to your requirements and business needs before launching. An eBay clone has proven to be a robust platform for your customers, providing them with unique features and seamless performance. Since it is a solution you customize according to your vision, it does not cost you an arm and a leg; you receive it within weeks of applying. All you need to do is modify the logo and the color palettes to differentiate your eBay clone from the rest.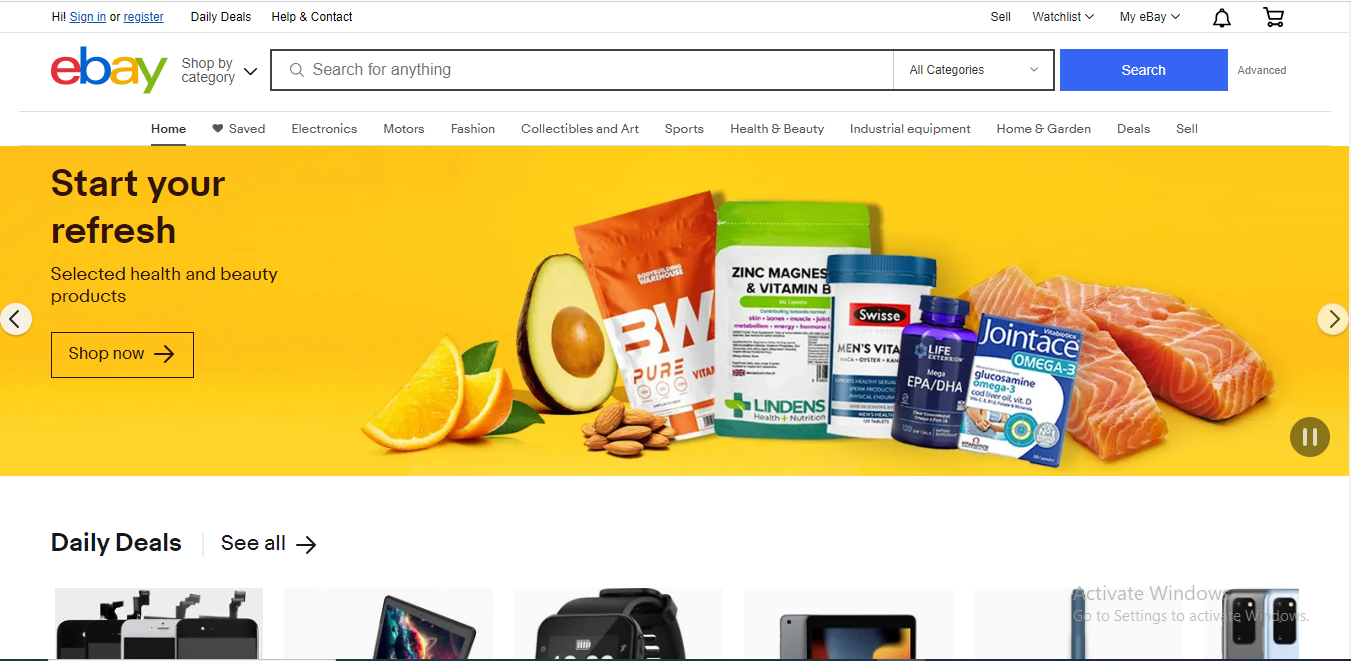 eBay Clone: What are the features of a perfect eBay clone?
eBay clone Scope: Advanced Search Options
This feature lets customers search for their desired product by filtering their search based on location, category, price range, etc.
eBay Clone Scope: Multi-Currency and Multilingual Support
It helps a business expand across borders.
eBay Clone Scope: Quick Like and Review
It allows customers to write reviews for their purchased products and rate your services.
eBay Clone Scope: Shopping Cart
It lets your customers continue shopping while adding the selected products to their carts. Later, they can check these out when they complete their shopping.
eBay Clone Scope: E-Wallet
It enables customers to deposit money in their wallets to shop without worries. If they are eligible for refunds, they can instantly get the cash deposited in their wallets.
eBay Clone Scope: Real-time tracking
Customers can track their placed orders in real-time with the help of this feature. They can start doing it when the delivery guy collects the order from the merchant. The delivery guy's live location is shared with customers when they collect the orders.
eBay Clone Scope: Simple onboarding
An ideal eBay clone has an easy onboarding process that lets your users get on board with this app quickly and easily.
eBay Clone: What is eBay for Sellers?
For sellers, an eBay Clone is as follows:
eBay Clone Scope: Selling Platforms
It is for conveniently selling items worldwide.
eBay Clone Scope: Product Upload
It lets merchants upload products with pictures of them and descriptions.
eBay Clone Scope: Vendor Management
It is for admins, enabling them to easily manage, delete or add merchants and their respective products.
eBay Clone Scope: What is eBay for Buyers?
For buyers, an eBay clone is as follows:
eBay Clone Scope: Social Login
Buyers can log in to their social media accounts for secured login.
eBay Clone Scope: Add to Cart
This feature helps them shop continuously without buying products one at a time during bulk shopping.
eBay Clone Scope: Payment Option
It is an option that guarantees secure payment via various payment modes.
eBay Clone Scope: Order Status
It notifies buyers about their orders' status, including product confirmation, cancellation, product shipping, etc.
eBay Clone Scope: Filter Search
It makes users search for their products as per their requirements.
eBay Clone Scope: What is eBay for Admins?
For admins, an eBay clone is as follows:
eBay Clone Scope: Dashboard
It is an administrator dashboard for admins to administer the site.
eBay Clone Scope: Resource Management
Resource Management lets admins manage merchants, customers, orders, products, etc.
eBay Clone Scope: Discounts
It helps admins attract users by letting them send different notifications about special discounts, offers, latest updates, etc.
eBay Clone Scope: New Arrivals
It allows admins to share the latest items on the top for your customers to get alerted about the new products.
eBay Clone: How to Monetize the Model of an eBay Clone Solution?
Here we will tell you ways that can help you monetize your eBay Clone Solution. These ways are as follows:
eBay Clone Scope #1: Commission
It is the primary method of generating revenue. Since the first method is via multi-vendor eCommerce platform commissions, every vendor who gets an order assigned to himself must pay a commission to the marketplace.
eBay Clone Scope #2: Banner Advertising
It allows merchants to promote their businesses using banner advertisements though they need to deposit a fee for doing so.
eBay Clone Scope #3: Featured Listing
It involves taking money from those vendors who want to top the search results. These merchants pay you a fee to get featured on the listings.
eBay Clone Scope #4: Third-Party Ads
As you are a multi-vendor/ merchant eCommerce platform, you would have a vast customer base with their information. You can use this huge customer base and let other third parties and businesses post advertisements to attract your customers' attention. You can, in return, ask for a fee from the third party who wants to use your database.
eBay Clone: What is the business model of an eBay Clone?
Yard sales are a great way in which people can get rid of their unused furniture or items. Besides getting rid of new stuff, they make money from this deed. They do this by selling stuff on eBay, and an eBay clone app will undoubtedly find lots of users (just like eBay). However, it would be best not to sell anything violating their policy.
eBay Clone scope #1: Consignment
The CONSIGNMENT business model involves advertising locally for items the masses desire to sell instead of hunting for products. You can have a consignment with sellers as soon as you receive the products and deem them suitable for selling on eBay. Also, this model demands you to give the seller a percentage of the product price decided during the auction.
eBay Clone Scope #2: eBay Stores
The eBay STORE business model involves setting up an online store and selling products at a fixed price. Most entrepreneurs like to select this business model as it gives them complete control over the products' price and the profit they gain.
eBay Clone Scope #3: Dropshipping
The DROP SHIPPING business model prevents you from skipping the task of hoarding items at offices or homes and lets you decide the profit margins without considering shipping and packages. Explaining the business model in brief, you need to find a drop shipping partner who will carry the products you desire to sell. You need to share the order details with your drop shipper whenever you sell a product on eBay. If you want to know how this business model helps you earn profits, your answer awaits you then. In such a scenario, one pays a lower wholesale price to one's partners. The difference between the price one produces and receives upon selling is one's profits.
eBay Clone Scope #4: Wholesaling
The WHOLESALING business model entails one to sell products and items in bulk instead of selling them separately. Since one sells items to other eBay business owners, this business model qualifies as a B2B model. For instance, if you want to sell 100 washing machines. Here you do not need to sell them separately. Instead, you can sell them together as a set for a low price and include shipping charges on the orders. Thus, it is a simple and quick method that an entrepreneur can select.
eBay Clone Future: What are the latest trends that you can include in your eBay clone to make it feature-rich?
Let us now read about the latest trends you can include in your eBay clone to make it feature-rich.
eBay Clone future #1: Artificial Intelligence
Artificial Intelligence and Machine Learning help eBay immensely. eBay employs Artificial Intelligence in search, recommendations, insights, and personalization. As we read earlier, eBay also uses machine learning. Machine learning assists sellers in identifying the best product prices. For instance, Artificial Intelligence understands what your customers intend to write and then provides relevant products. Thus, creating a sense of personalization further causes them to use the app again. Apart from Artificial intelligence, you can also provide users with voice search and navigation for a better customer experience.
eBay Clone Future #2: Various Payment Options
Today, people do not have just one preferred payment method, such as a credit card. Instead, they have found a new way of payment, Cryptocurrency. As of March 2020, the crypto market has a total capitalization of more than $155 billion. So, suppose you want to attract many customers/ users. In that case, it will be better to include the latest payment methods in your online marketplace.
eBay Clone Future #3: Multi-Language
Another common trend nowadays is the availability of multiple languages. This feature/ trend attracts many users. Thus, it increases your traffic, boosts international sales, ameliorates customer experience, and cultivates trust. If you are willing to use this trend in your eBay clone, you can do so by having the user-side of the eBay clone script in various languages.
Conclusion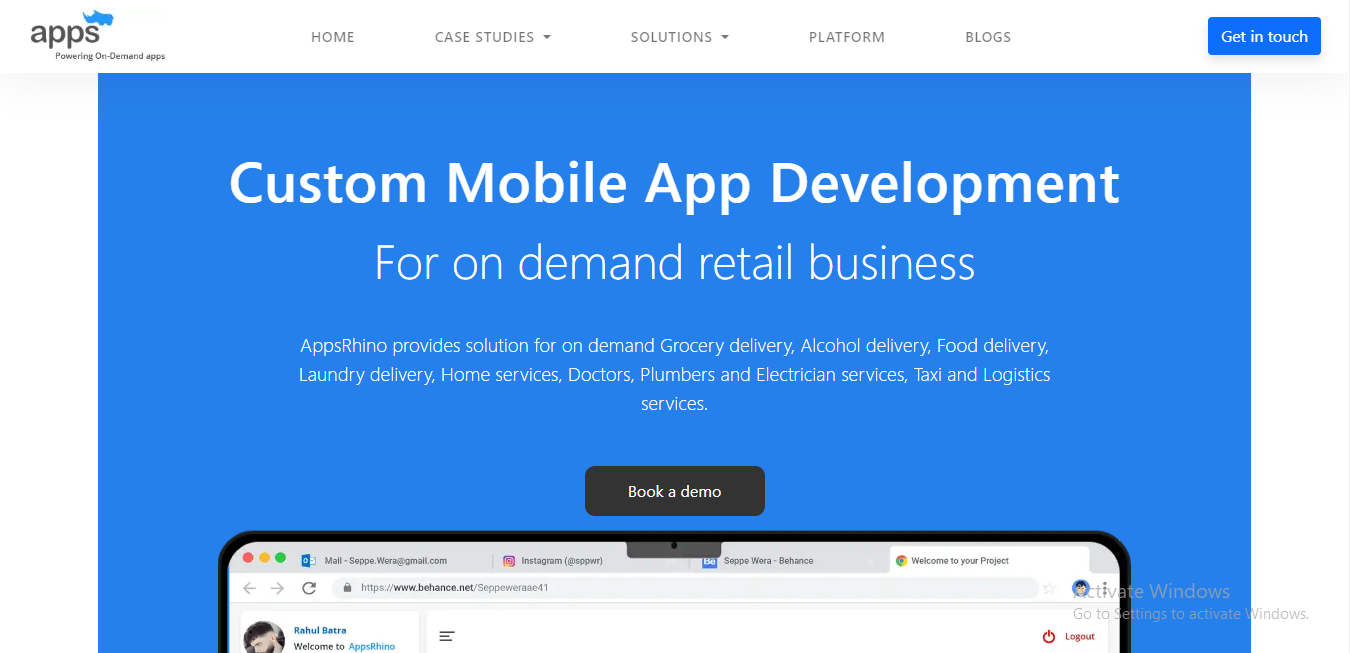 eBay is that popular kid at school whom everyone wants to become. This notion justifies why there is an eBay clone in the first place and several entrepreneurs dying to beat eBay by imitating them and then beating them. Having a clone of the industry leader of your industry instills a sense of security that at least your business will not nosedive immediately. Moreover, it ensures you have a reasonable probability of sustaining and thriving. Thus, getting an eBay clone is necessary if you dream of launching a business like it. Also, getting an eBay clone from the best app development company is even better! So, contact AppsRhino today to get your eBay clone to dominate the market.
Apart from offering custom mobile app development, AppsRhino offers the best Tech-driven solutions for Home services, Laundry delivery, Alcohol delivery, Grocery Delivery, Food Delivery, and Taxi Services:
Frequently Asked Questions
What are the benefits of using an eBay clone app for my business?
Using an eBay clone app offers benefits such as cost-effectiveness, time savings, customizable features, scalability, a trusted user interface, pre-built payment gateways, and access to a large customer base, enabling you to kickstart your online marketplace journey.
Can I customize the eBay clone app according to my business requirements?
Yes, eBay clone apps are typically highly customizable, allowing you to tailor the platform to match your business needs, branding, and unique selling propositions, ensuring that your online marketplace stands out and aligns with your business goals.
Is an eBay clone app secure for online transactions?
Most eBay clone apps prioritize security measures, including SSL certificates, encrypted payment gateways, and robust user verification protocols, ensuring secure online transactions and protecting the interests of both buyers and sellers on your marketplace.
How can an eBay clone app help me attract buyers to my online marketplace?
An eBay clone app provides a familiar and trusted platform, attracting buyers who are already accustomed to the eBay user experience. Additionally, you can implement marketing strategies, promotions, and SEO techniques to drive traffic and increase buyer engagement in your marketplace.
Can I manage multiple sellers and products on my eBay clone app?
Absolutely! eBay clone apps are designed to handle a large number of sellers and products. You can provide sellers with dedicated dashboards, inventory management tools, and seller verification processes to ensure smooth operations and a wide range of offerings on your marketplace.