The good thing about the time we live in is that it presents us with many choices. The range of choices helps us make the best decision possible. The online store development option is one example, with a variety of choices, that help small businesses to expand their business.
Gone are the days when businesses were limited to one area and needed a heap of money for presence in more than one place. The internet and phones have connected this world like never before. And this is exploited by many to increase their store's presence around the globe.
If you are interested in online store development, you are at the right place. If you are a local store owner frustrated with moot growth or a person with a plan, here you will find a comprehensive way to develop an online store. This journey is for everyone; even if you do not understand coding, this guide will be your first step towards online store development.
E-commerce builders have made the task so easy that online store development is as easy as installing an app on your phone. With WordPress, you can develop an online store by adding plugins like WordPress apps. You can opt for other content management systems like PrestaShop, Magento, etc., alternatives to WordPress.
Critical Things to Keep in Mind for Online Store Development
Decide your Marketing Strategy
A good marketing strategy for online store development is helpful in many ways. It helps you understand prospective customers and will supply you with crucial information for your online store development strategy. You should keep these three things in mind while you decide your marketing strategy:
The value position should be clear as it helps you communicate with your customer better about your products and services. It helps with the promotion of your product.
The product price should be per your prospective customer. If your target is a middle-class customer, you should level product prices according to their average budget.
While deciding your marketing strategy for online store development, keep the demography and geography in mind. You can sell only the product that your customers want.
Product is the last but not least important thing to consider while online store development is going on. Decide over which product to sell and which not.
Decide the scale
This decision will help you understand which e-commerce builder you want to go with for your online store development. To develop an online store, you need different customization and different functionality. Every online store development builder has its limitations regarding customization and functionality. If you want to develop an online store for many goods, you will choose an online store development tool such as Shopify.
The decision about the size of the store will also help you manage your inventory and help you understand your shipment strategy. If you have a large variety of products, you will face a lot of rush while delivering, which requires planning.
Make it convenient for your customer to find products
Search and filter functionality helps customers to navigate products easily. During the online store development, decide different categories of products. Dividing products into categories will help you put appropriate filters. Educated online store development means settling upon different groupings based on brands, price, etc. Categorization assists customers to save more time and order faster if it takes eons to choose the product, which is frustrating.
Search functionality is one more aspect to keep in mind while strategizing online store development. Robust search functionality will help customers to search for products that they want. Some customers forget the product name or loosely remember associated words. The search functionality should be able to help such customers.
Smart SEO strategy goes a long way
Is your website not optimized for a search engine? Consider hiring an SEO expert who can help you optimize your website and products. It is good to keep the page ranking good even if the product is out of stock; it helps drive traffic. Every online store development strategist knows the importance of educated word and picture use. Add 'alt' description to the visual content as it helps customers find products using pictures.
Online store development strategists also understand the importance of backlinks and website loading speed. If your website takes a long time to load, it will set off customers as people desire a faster response. An online store development expert will help you understand and apply these strategies.
A secure website is good for you and your customers
Security is another important aspect of an online business. If the website is not secure, threats such as hacking, data theft, and even financial fraud loom large on any online business. Thus purchasing or acquiring security certificates such as SSL is needed to protect your online business.
SSL certificate becomes essential for an online store development as it helps protect the data stored on the website. Your website will keep sensitive data related to your customers and your company. HTTPS protocol inspires trust in your customers and your online store. It becomes essential more so because Google discourages unsafe websites.
An SSL certificate encodes the data, and you can have basic encoding functionality for free. But advanced functionality needs some investment which doesn't hurt as it helps protect essential data.
Easy registration functionality
When new visitors see advertisements for your products on social media and like the products, they would want to visit your website and order them. It is necessary in such cases that the visitors are able to register themselves easily and quickly. If the registration process is too long or complex, it will result in visitors leaving without registering or ordering.
Hence, It is very important to ensure that the process is simplified and visitors end up purchasing the product. A successful online store development strategy makes it easy for customers to register.
A successful online store development uses social media for registration purposes. Online store development strategy also adds a guest visit feature. It helps those customers who want the visit to be a one-time visit. Asking for minimal information helps your customers to purchase faster.
Easy and vogue payment methods
It is essential to keep in mind that people buy according to their convenience. A website that understands and ensures convenience for customers makes a lasting impression. Use methods that are popular as it helps you make payments easy. Popular payments like PayPal, GooglePay, AmazonPay, etc., are favored by customers; if your online store has integrations with one of these, it helps your customer make payment without hassle
It is also essential to add features during online store development that gives an all-inclusive description of payments. It can save your online store from legal battles. Using proper payment methods and popular ones like crypto will increase the chances of conversion of visitors into buyers. Cryptocurrencies are accepted and made legal by so many states in the USA. People like Elon Musk have made crypto a mainstream payment method. Crypto is safe and ensures a secure payment which is why it is a good idea to deal in cryptocurrency.
Features that help
A customer comes to your website. And decides to make a purchase. He searches for different products but fails to find the correct set. He searches for a lot of products and decides to leave your website. But, suddenly, he gets a popup giving him all the products that he wanted, he leaves with a purchase bill. It's not a Bazinga; it can be done.
Online stores like Instacart help grocery shoppers find all the items they need to cook a dish. They help their customers by telling them the recipes and ingredients needed to cook it. Isn't it cool if you can have such a feature on your online store? Online store development is a difficult process and takes time to perfect. Coming with features takes time and depends on the type of product you are selling.
Instacart's method may not work for every type of online store. But adding features like recently visited or frequently bought together can help customers make better decisions. Adding any of these features goes a long way during online store development.
AppsRhino offers the best Tech-driven solutions for Home services, Laundry delivery, Alcohol delivery, Grocery Delivery, Food Delivery, and Taxi Services: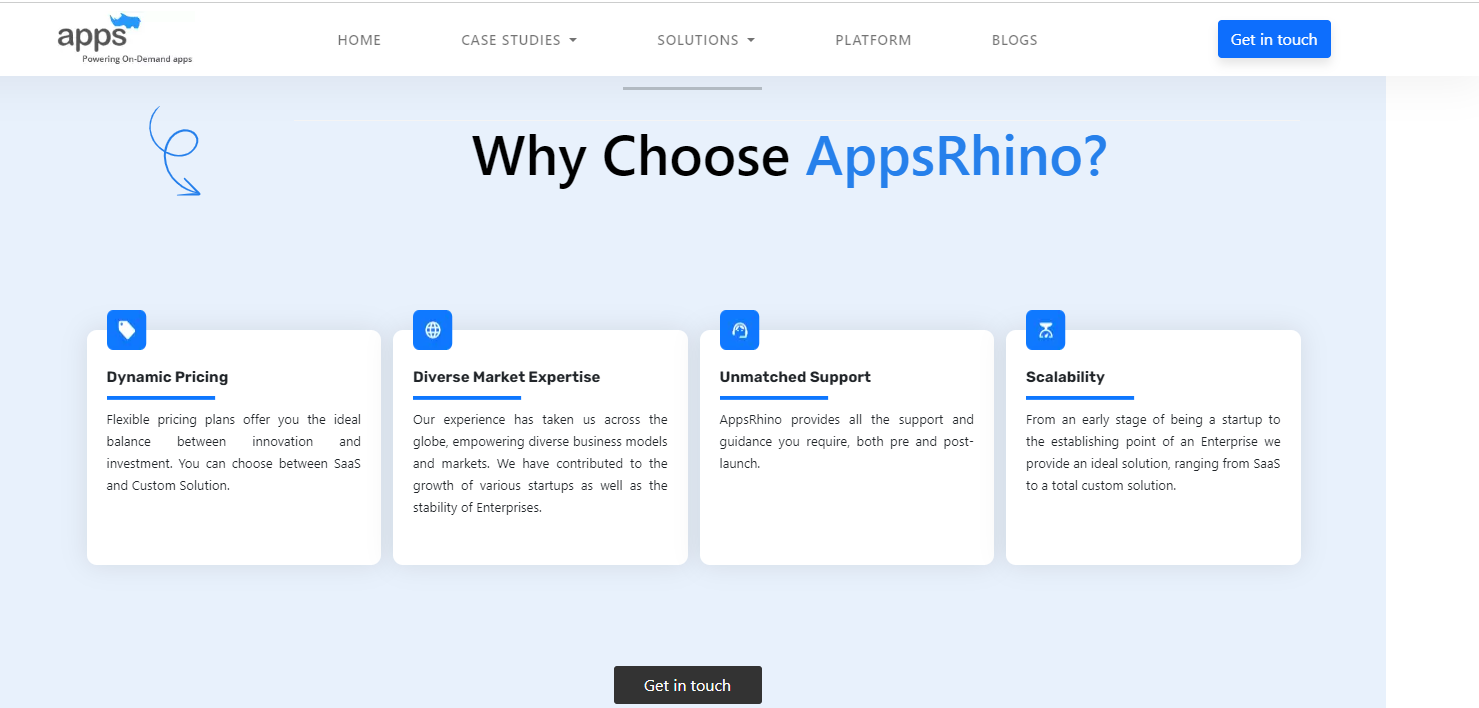 Cart made with care
A good cart helps customers to buy easily and is easily located. Remember when we discussed adding a guest login feature. Well, that is valid while developing an online store. It is a good idea to add different categories for different buyers. If it is a registered user, we can have a separate cart feature for them, and for others, it could be a guest cart feature. Every online store development keeps and thinks of such a feature at the beginning that helps their customer.
If customer data is essential for your business, adding a perk for registrations helps. It could be a discount on first registration or a promo code. To create an online store and develop it in the future needs customer data as it helps improve customer satisfaction and experience. Having customer data can help personalize the cart for customers. So, adding features that can track customers' behavior helps a lot.
Quality product display with description
Sam makes a product with care, design with love. He goes to sell but fails to share the idea behind his product. He fails to sell the product. Don't be Sam. Effective communication about your products can help you sell. It is imperative to have good-quality pictures when selling your product online. Customers want to see the product from different angles; a speaking depiction can help you sell. Having a professional photographer during the initial phase of online store development helps a lot.
Well thought online store development strategy knows the importance of traffic. Adding complete, crisp, and clear descriptions helps with traffic. It also educates your customer about your product. Online store development can bear fruits if the product description is mentioned. It can also ensure word-to-mouth marketing.
A helping hand
Sometimes products can be misplaced and shipped to the wrong customer. It certainly will frustrate the customer. At the beginning of online store development, it can go a long way if developers keep customer care in mind. No online store development strategy can mitigate human error. It is good to be prepared for such eventuality in advance. A good online store development strategist adds the address and contact details of the company in advance.
Having the email, address, contact details of a company inspires trust.
A quick confirmation message to registered contact no or email ensures trust. It is helpful to add a link in the communication that can direct the customer to a help desk in case of any query. A good online store development strategy cannot neglect the idea of a chatbot. A chatbot is personalized and helps customers connect quickly to a representative who can understand their queries. You can get one for your website. You can consult for a chatbot from BotPenguin, a leading company in this field.
Conclusion
Online store development needs a clear vision. To develop an online store, one needs to keep a few things in mind. It could be detrimental to your online store development if you miss something essential and basic. Choosing the perfect eCommerce provider having features that help your customers navigate better is requisite. It is also required to add features that make it easy for your customer to make better choices. Online store development is a venture that requires a smart understanding of your customer and product.
If you also want to build your online store, contact AppsRhino to get it up and running in no time.
Frequently Asked Questions
What is an online store?
An online store is a website that allows businesses to sell their products or services online. It is a virtual storefront that enables customers to browse, select, and purchase products or services from the comfort of their own homes.
What are the benefits of having an online store?
Having an online store can provide several benefits, such as reaching a wider audience, increasing sales, reducing overhead costs, and providing customers with a convenient shopping experience.
What factors should I consider before developing an online store?
Before developing an online store, it is essential to consider factors such as target audience, budget, platform, marketing strategy, payment gateway, shipping options, and customer support.
What is a target audience?
A target audience is a specific group of people that a business aims to reach with its products or services. It is essential to identify the target audience before developing an online store to ensure that the website's design and content resonate with them.
What is a budget, and why is it important?
A budget is a financial plan that outlines the expected income and expenses for a specific period. It is crucial to have a budget before developing an online store to ensure that the project is financially feasible and to avoid overspending.
What is a platform, and how do I choose one?
A platform is the software that powers an online store. There are several platforms available, such as Shopify, WooCommerce, and Magento. When choosing a platform, it is essential to consider factors such as ease of use, customization options, and pricing.
What is a marketing strategy, and why is it important?
A marketing strategy is a plan that outlines how a business will promote its products or services to its target audience. It is essential to have a marketing strategy before developing an online store to ensure that the website is optimized for search engines and to attract potential customers.
What is a payment gateway, and how do I choose one?
A payment gateway is a service that allows businesses to accept online payments from customers. When choosing a payment gateway, it is essential to consider factors such as transaction fees, security, and compatibility with the chosen platform.
What are shipping options, and how do I choose them?
Shipping options refer to the methods by which products are delivered to customers. When choosing shipping options, it is essential to consider factors such as cost, speed, and reliability.
What is customer support, and why is it important?
Customer support refers to the assistance provided to customers before, during, and after a purchase. It is essential to have a customer support system in place before developing an online store to ensure that customers can get help if they encounter any issues.