Introduction
Is your footwear business all hunky dory? Are you getting the maximum profit that one could get in this sector? We are sure everyone wants to be the best in their field and earn as much as possible to provide for their family.
But having just a traditional offline store will not be conducive to expanding your business and getting more customers. You will need a little ally to get you to the top of the footwear industry.
Are you curious about who this little ally can be? It is a smartphone and a shoe-selling app (or an online shoe store).
Several shoe-selling businesses have already switched to the online medium or have incorporated an online shoe store into their business while keeping their brick-and-mortar store functional.
The global footwear market is anticipated to reach 530.3 billion dollars by 2027, with a compound annual growth rate of 5.5 percent from 2020 to 2027.
Are you a bit confused about what online shoe stores are? Do you want to know what it is and why it is essential for businesses like yours?
Dive in to unearth the answers!
What are online shoe stores?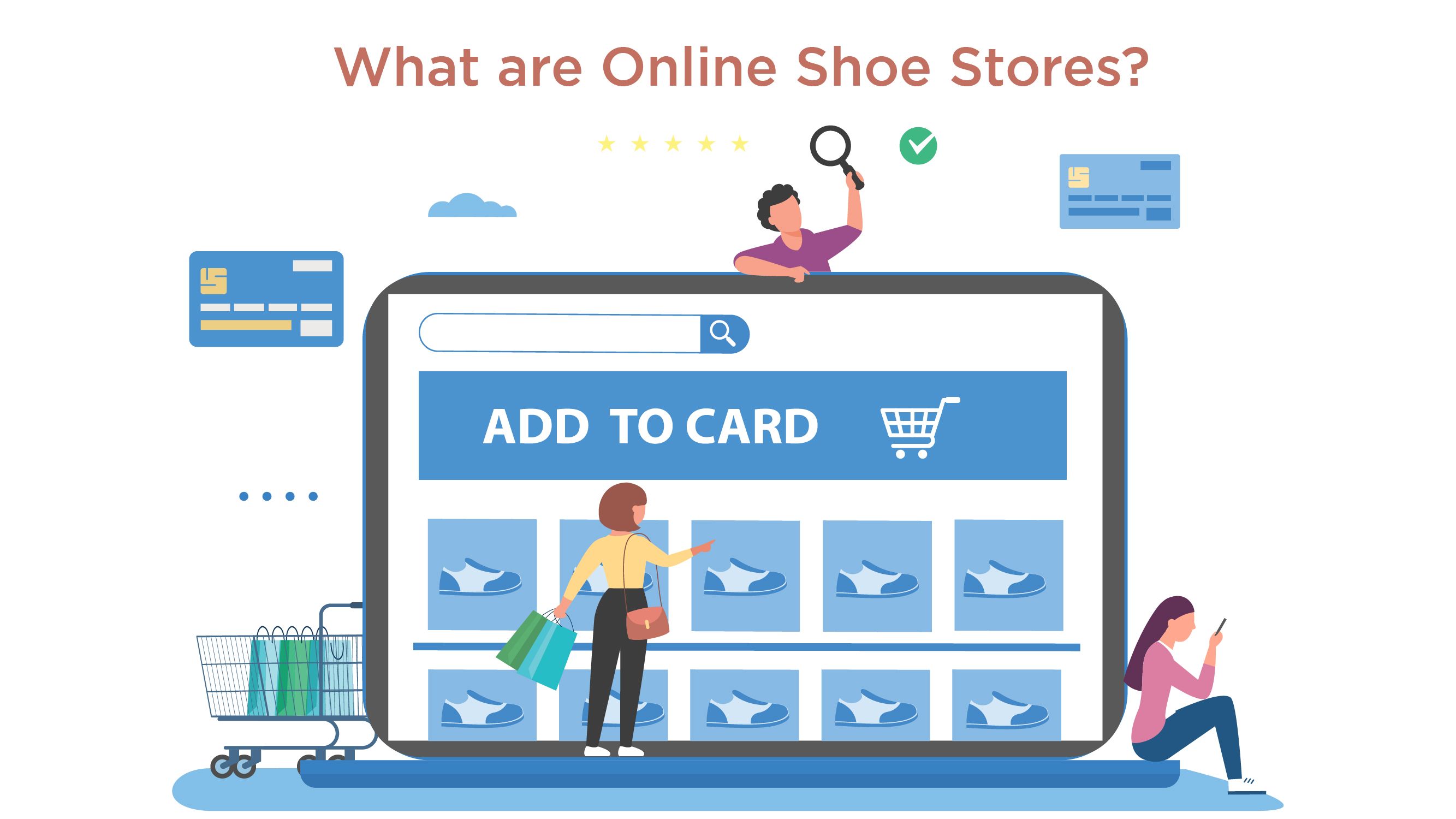 Just like a brick-and-mortar shop, online shoe stores sell shoes to people. The only stark differences between these two types of stores are the opening hours, display of a wide range of products, ease of the sellers and buyers, etc.
And no brownie points for guessing. All these dreamy perks are associated with online shoe stores only.
Apart from easily selling shoes online, online shoe stores help companies or organizations expand their business and generate brand awareness.
On the other hand, customers get to relish buying footwear while snuggling in their blankets and sipping on tea on a cold winter evening. Another advantage of buying footwear from online shoe stores is that customers get to make payments with the method of their preference and do not trudge to different stores.
Why are online shoe stores crucial for your business?
Here we will tell you why you must invest in online shoe stores. These reasons are as follows:
Online Shoe Stores

give you the facility to manage your business remotely. Now, you can vacation on another continent while relishing an influx of customers. You can also keep tabs on your business without stepping out of your house.

Earning money and eliminating expenses is what excites entrepreneurs. Does it not? Online shoe stores help you save money by eliminating the need to rent a premise and burdening yourself with unnecessary bills.

Although the pandemic has relented, one should remember that it has not vanished yet. The third reason why online shoe stores are necessary for your business revolves around the safety of your customers. Shopping online ensures that you and your customers do not contract deadly viruses.

Online shoe stores give you more freedom regarding marketing and advertising. Now, you can advertise your business more effectively, efficiently, and vigorously with the help of Search Engine Optimization tools.

You also end up attracting more customers with the help of the ease of shopping that you offer via your online stores. "More customers" means "more business opportunities" and "more profit."

Leveraging online shoe stores means you can experiment to revive your business if it ever happens to hit a standstill. Advertise with modern techniques and approaches, courtesy of technological advancements and online shoe stores.
What are the pros of having online shoe stores as a business owner?
No one likes to venture into anything before knowing the benefits it will shower on them. If you also want to know why online shoe stores are advantageous for your business, you need not wonder any longer. Here we present to you the perks:
No need to buy costly equipment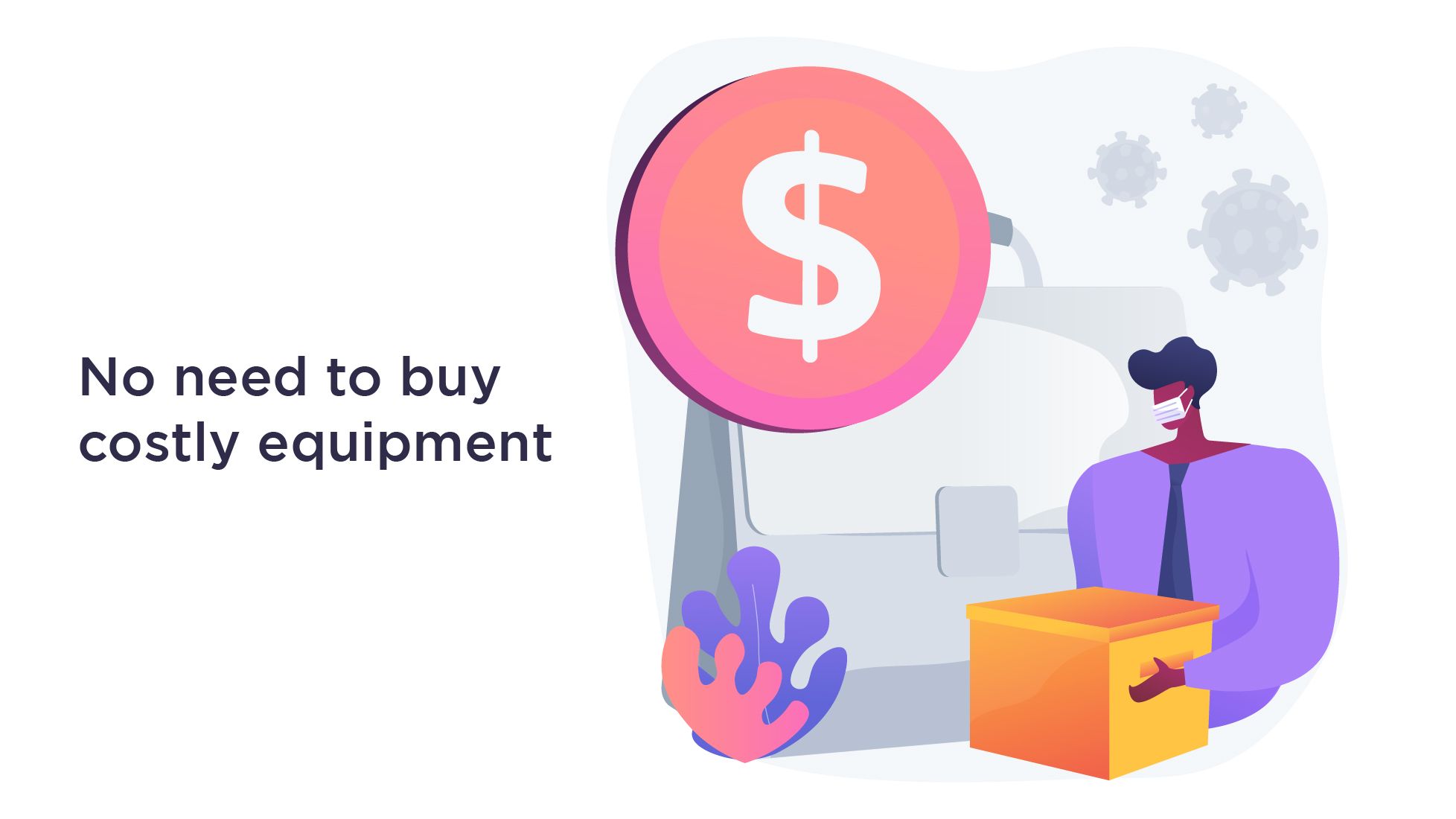 Yes, you read that correctly. When you opt for traditional shoe selling, you will require a plethora of things such as a decent cash counter, sofas where your customers will sit, staff to help them try out different shoes, and so on.
You eliminate all these expenses when you go for an online shoe store. Some businesses want to expand their brand and get more customers. So these people erect more showrooms in different places to get customers to shop at their establishments.
However, doing so will demand you to arrange infrastructure and splurge on the fancy decoration to adorn your showroom.
An alternative to having more than one store and yet expanding your business is to get an app or online store developed.
This way, your new showrooms will be a teeny-tiny device: the smartphone. And you will not require to rent any extra piece of land to build more stores.
And for that, you will need a website/ an app.
Assortment of your choice
When you invest in online shoe stores, you get the freedom to select the assortment of your choice. That is, you can now freely compose your collection as you deem right to dethrone your rivals.
Online stores or apps let you display all your goods without posing any issues related to the room. However, doing so in a physical establishment is impossible since a store has a limited area, and you can not put everything on shelves and counters.
Excellent Income
Shoe stores (both traditional and online) are a good source of income and never go out of operation. The reason is that in a world full of people, you will find people accidentally getting their shows damaged on any given day.
Hence, you can house new products on your app that offers you ample space! And you can always expect people to arrive at your door to buy shoes.
What are the cons of having online shoe stores as a business owner?
It is always mandatory to acquaint yourself with any field's cons before you venture into it. The sole reason for doing so is to prepare yourself and develop strategies to thwart any challenge you face on the journey.
And online shoe stores are no exception. Here we list a few disadvantages of selling shoes.
Cutthroat competition
This field has numerous people trying their luck. Therefore, you must know and be ready to face stiff competition. For instance, Zappos, The RealReal, etc., are some of the online shoe stores you have today.
Financial Investment
Nothing comes free in today's time. Nothing. And online shoe stores are no exception to this truth.
Yes, operating an online business is easy on your pockets, unlike the traditional way of selling shoes. However, you can not expect erecting online shoe stores to be entirely free. There are startup costs accompanying it, and you need to face them.
The good news is that these costs are not high!
How can you start an online shoe store?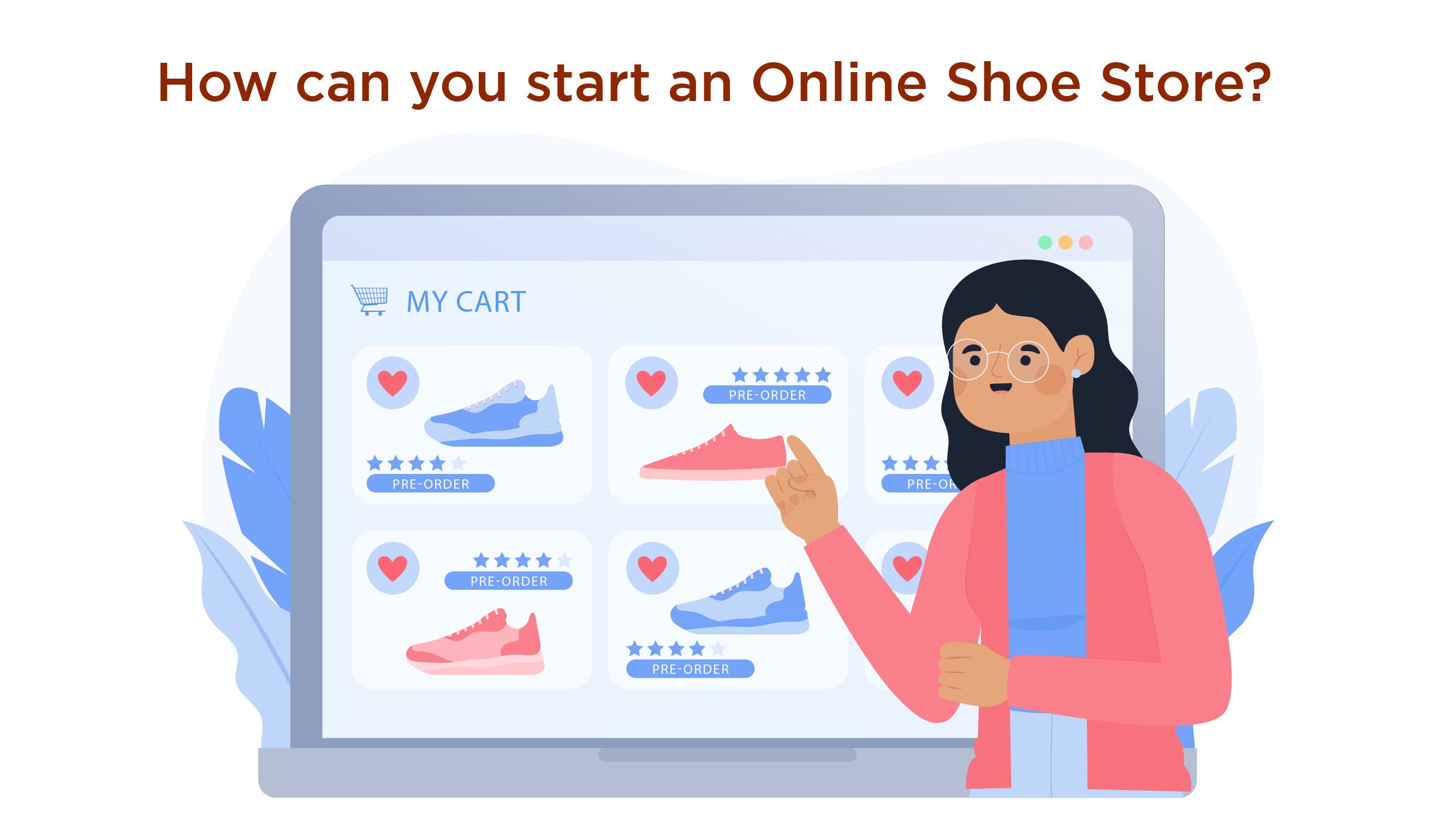 If all these benefits have swayed you and made you want to start your own online shoe store, we have the right steps for you. These steps will help you launch your business with ease.
Before anything, you must register your business to avoid hassles in the future.

Once you get yourself registered, you must scratch your head to decide on your niche.

Once you are clear about what you want to sell, you need to then analyze your rivals. Scrutinize what worked for them, what did not, and how they managed to recoil if they did.

You must also decide on your business model before you can even think about developing your app or making your website. You should carefully weigh every business model's pros and cons before selecting one.

Now, you are in a situation that demands you to hire a team to sell your shoes online.

Wait. You must have a stock of shoes before you can even begin selling products to your customers. Therefore, you should also find wholesale shoe suppliers.

Since you are getting an app for your business (or a website), you must contact reputed and professional mobile app development companies such as AppsRhino. We have years of experience and boast a team of professionals. Contact us to get an app or your online shoe store.

Apart from developing an app, you must also list the various delivery and payment systems that you want to offer your customers.
Conclusion
It always feels good to dispel ignorance with the candle called knowledge. And this online shoe store guide aimed to do precisely that.
Now you are well acquainted with the pros and cons of selling shoes online. Besides, you also know why you should transition from the traditional way to the online approach of selling footwear.
Suppose you are interested in taking this big leap and trying your luck selling shoes online. In that case, you know that you need an app topped with excellent features and mesmerizing user interfaces; courtesy of the guide.
And what can be a better place to get your app from other than AppsRhino? None. We have Android to iOS to PHP developers, testers, designers, etc., who know how to create marvels and magic with their talent and experience.
If you are an entrepreneur, you must not miss our expertise. Contact AppsRhino right away to get started!