Ever since the advent of the internet, the world has only moved in a forward direction. The dynamics of business have changed and evolved into something better and bigger. For instance, who thought that someday an app like Amazon would come into the market and be such a huge success? Amazon started as a bookstore and later expanded its roots and now it is the biggest online store. It not only gained profits but established itself so well that people started trusting in them blindly.
An online store is a website where clients may place orders. It could be a tiny neighbourhood store, a massive retailer, an e-commerce store, or an individual who sells projects on a third-party site like eBay. The online store can use a variety of business models, such as business-to-consumer, business-to-business, or consumer-to-consumer.
Every business no matter what industry it belongs to should establish an online presence. When a company has a digital presence, it is much easier for customers to find them. When looking for a company or a product, most customers will turn to the internet. And if your business doesn't have an online presence, users would go to your competitor.
According to a UNCTAD report, the substantial rise in e-commerce caused by COVID-19 boosted online retail sales' proportion of overall retail sales from 16 percent to 19 percent in 2020. The report further elaborated on the rise and growth of online business in different countries. In the US, 14% of the retail sales were made through an online platform in 2020, earning a whopping 791.7 billion dollars.
With the current trend of purchasing online and on mobile devices, there is no better time than now to launch an online store. While you may have good intentions of having your online store up and running, there is a learning curve involved. And as a starting point for your research, check into the many sorts of online store business models and websites.
What are the various eCommerce business models?
Understanding the various eCommerce business models is the first step in launching your online store. Typically, eCommerce enterprises fall into one of the four categories listed below.
Let's take a closer look at this.
Business-to-business (B2B)
The framework of the business-to-business eCommerce model is just how it sounds. It is the location where businesses offer their wares to other enterprises. Products might be anything that improves another company's business processes.
A software company is an excellent example of a B2B business. Consider Salesforce, AppsRhino, HubSpot, and SurveyMonkey. These items are for the benefit of companies, and the average mom-and-pop consumer would not make sense to invest in enterprise software.
Business-to-consumer (B2C)
The business-to-consumer eCommerce approach is also simple when a company offers things directly to consumers online or mobile.
Business-to-consumer online stores that you visit every day to buy products like apparel, books, makeup, and so on. According to a UNCTAD report, Amazon, eBay, and Alibaba are among the top B2C online stores.
It's also important to understand that B2C businesses don't have to exist entirely online, as Amazon and eBay do. B2C businesses can also open a physical store and, if appropriate, launch an online store. Large fashion businesses such as Nordstrom, J. Crew, H&M, and others are examples of this.
Consumer-to-consumer (C2C)
When one consumer creates and sells a product to another consumer, this is a consumer-to-consumer business model.
A consumer may sell things to another consumer through a platform such as Amazon, Etsy, or eBay. Consumers can even put up a C2C store on their website using online store solutions like WooCommerce.
Consumer-to-business (C2B)
Consumer-to-business is the final form of the eCommerce business model. Here a consumer or individual entrepreneur sells their goods or services to businesses.
A business counsellor, a freelance graphic designer, or a social media influencer with a large audience are all examples of C2B firms.
Things needed to start an Online Store
A product catalogue, a shopping cart, and other components are required to run an online store. Here is a detailed description.
Domain Name
To establish an online presence, an online store requires a domain name. A domain name is an online address that provides a simple way to access a website's true online address: its Internet Protocol address (IP address). A domain name, more than anything else, can raise brand awareness. When your domain name is the same as your company name, it reinforces your brand and makes it easier for customers to remember and return. The business owner must register a domain name with a registrar and then connect it to the online store. Godaddy is one of the most famous domain name generators. It offers various packages like 399/- per year and so on.
Hosting for the Internet
An online store is hosted on a web server, and e-commerce hosting provides the functions needed to develop, operate, and administer an online store. Shopping cart software, SSL protocol, database support, payment processing services, security features, and other functions are examples of web hosting capabilities. E-commerce hosting is a service provided by web hosting companies in addition to the web server required to host the site. It is the very first requirement to start an online store. Dedicated Internet Protocol Address
The web server of an online store has an IP address that allows users to connect to the server. To protect consumer data, an online store encrypts the data between a browser and a web server using the SSL protocol. A private SSL certificate assures that the website is secure for customers.
Shopping Cart Application
An online store is powered by shopping cart software, sometimes known as e-commerce. The program facilitates the catalogue and order processing for the online stores. This software is available from various suppliers, or you can pay a developer to construct a shopping cart for you.
Merchant Interaction
A shopping cart communicates with a financial institution's merchant account, which is required to process credit card payments over the Internet in real-time. A bank provides you with the merchant account needed for your payment system. The payment system can be linked to the billing system. It is how you interact with the merchants in your online store.
Catalogue of Products
The product catalogue is a virtual portal that provides clients with a listing of available products, descriptions, classification, and a retrieval feature. It is divided into category sections and product listing pages. The consumer can use the product catalogue to order goods, make payments, contact customer support, provide comments, and conduct other duties. It is one of the most important requirements for creating an online store.
Online Payment Gateway
A payment processor enables an online store to accept credit card payments. A payment gateway validates credit card information before processing the transaction. After deducting the processing fee, the gateway deposits the remaining funds into the online store's bank account.
AppsRhino offers the best Tech-driven solutions for Home services, Laundry delivery, Alcohol delivery, Grocery Delivery, Food Delivery, and Taxi Services: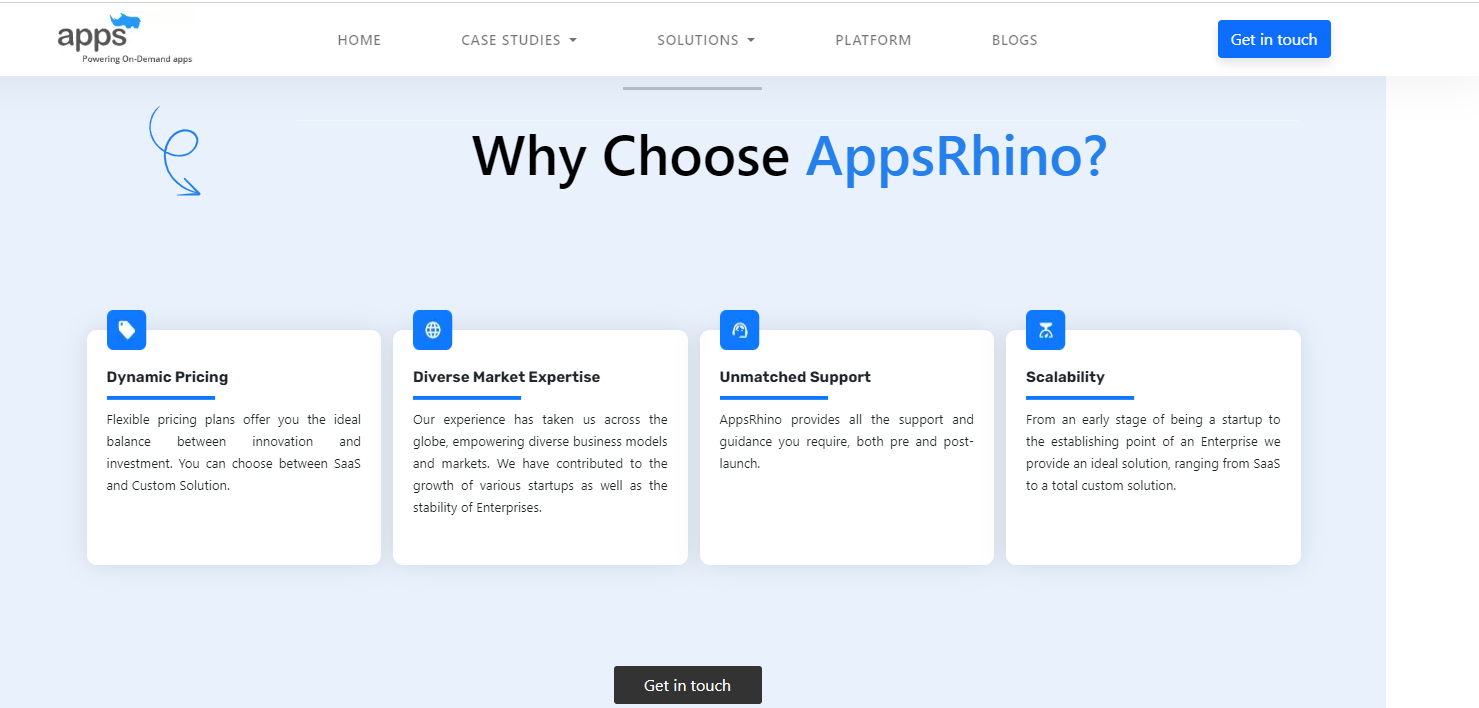 Calculate Shipping Costs
Shipping charges can be determined after a client places an item in a shopping cart. The calculator then calculates the shipping price depending on the criteria given by the online store client after or before the order is finalized. Shipping expenses are determined based on weight, destination, size (dimensions), and other factors.
Calculating Taxes
Taxes are not calculated until after an online sale is complete through the online store. The tax rates are updated regularly by the online store site management. You can also buy software that adjusts the tax rates automatically. Some shipping firms supply merchants with software to verify that the prices are up to date.
What are the different kinds of Online Stores?
Whatever eCommerce company model you select, they all have one thing in common. The Internet serves as the foundation for all online stores. It implies that you require a website.
The following are the various sorts of online stores to examine.
Single Brand Online Store
A vendor-specific website is a dedicated website that solely sells the goods or services of one person or company. The majority of online stores fall under this category.
Adidas, a sportswear company, has a website that only sells Adidas products.
Building an online store may appear to be a luxury reserved for large corporations such as Adidas. Still, online store builders have made this technology available to everyone – even tiny sellers on a low budget and with no technological skills. While you may prefer to start with an online marketplace (which we'll get to in a minute), we strongly advise new sellers to construct their online store with one of these tools.
Online Retailers
Online retailers combine products from various sellers under one online roof. The online merchant has complete control over which vendors are brought together in this manner. To keep things appearing reasonable and pulled together, the online store will frequently take responsibility for the product photographs and descriptions.
Macy's has complete control over which merchants' products it stocks and how they are displayed. When a consumer makes a purchase, it also holds the stock and ships it to the customer.
Amazon is the most well-known online retailer. However, it's fair to say it has a pretty different atmosphere than Macy's. Rather than a selected selection of merchants, Amazon prioritizes quantity and convenience – and it appears to be working for them!
On the other hand, Amazon should not be confused with Amazon Marketplace, which operates slightly differently and gets us nicely to our third type of online store: marketplaces!
Marketplaces
Finally, there are online marketplaces such as Etsy and eBay. These markets establish restrictions on what can be sold and step in if a dispute arises between a vendor and a consumer, but otherwise, vendors have complete freedom.
Online Stores' Revenue Models
So, now that we've looked at the various eCommerce business ideas, let's look at how they can earn money. The following are the most important eCommerce, income models:
Dropshipping
Dropshipping is when a company or individual sells things they did not create or own on their online store. They are packaged and distributed by a third-party company. The owner(s) of the drop shipping online stores never contact a single product — they take a small percentage from the person or business who makes and distributes it.
Dropshipping can be incredibly profitable and successful. Take, for example, Wayfair. Wayfair is a well-known internet furniture retailer as well as a dropshipping business.
Subscription
Subscriptions were once primarily reserved for periodicals and newspapers, but just when you thought they were on their way out, they returned with a vengeance in the form of subscription boxes. So large that the subscription box market increased at a rate of more than 100% every year from 2013 to 2018.
Subscription boxes operate slightly differently, but the main concept is that you join up to receive different types of goods that you enjoy each month.
FirstLeaf is a wine club subscription service. Each month, FirstLeaf's wine specialists traverse the globe to bring their subscribers uncommon and award-winning bottles of wine from locations they may have never heard of.
There are subscriptions for book clubs, coffee subscriptions, cosmetic subscriptions, etc. Subscriptions are an excellent strategy to retain consumers and forecast how much product you'll require at any given time.
Manufacturing and private labelling
Any company or individual who essentially does private labelling and manufacturing carries out all presale phases in-house. They manufacture, package, and sell the goods straight to the end-user.
It may sound like a lofty and technical term, but many tiny enterprises – or side hustles – fit the bill. A bakery providing handcrafted cakes to order is one example.
Labelling in white
Companies that use a white labelling business revenue model rebrand products purchased from a manufacturer and resell them as their own through their online store.
It sounds a little shady. It's a lot more prevalent – and legal – than it appears. Many well-known people utilize it.
Dollar Shave Club, for example, is a poster child for white labelling companies. Dollar Shave Club has become a major success among ladies tired of overpaying for pink plastic razors by taking a decent, affordable razor and only a modest margin to repackage and distribute it.
Wholesaling
A wholesaler operates as a go-between for a manufacturer and a retailer. They make a modest margin on the goods they sell to the merchant. Not all retail runs on this basis, but it is likely to be more than you think. Wholesalers allow retailers to be very reactive regarding how much stock they need or desire based on what's flying off the shelves. At the same time, the manufacturer handles the logistics (especially if the manufacturer is based overseas).
As a result, the wholesaler must bear the risk of ordering a large amount of product ahead of time based on what it anticipates its merchants will want to buy.
Rent and Loan
When a company uses a rent and loan revenue model, the consumer only pays for their product or service usage rather than purchasing it entirely. Any car rental company is an obvious B2C example, but some more inventive C2C solutions are also emerging.
Although Airbnb is well-known, Fat Llama is a website that allows people to rent out their gear, such as camera lenses, drones, and power washers, to other consumers. There is certainly a large market for it, with top tenants making several thousand dollars each month.
Freemium
A freemium pricing model is commonly found in digital products. A freemium business model allows you to join up for a free version of the product with limited functionality.
While the expectation is that you will subscribe to a premium plan to access the additional features, you are free to use the free version for as long as you wish. These digital products have no true variable costs (or only a minor one), and the paying clients assure that the company is still profitable.
Spotify is a prime example of a company that makes money through a freemium model. Users on the free Shopify plan will have their music interrupted from time to time by advertisements. A casual user will not have a problem, but any real music fan will rapidly upgrade for the convenience of uninterrupted listening.
Conclusion
Right now, online stores are thriving. People enjoy the convenience and ease of online shopping. If you've wished to sell a product or service, now is the time to get started.
You can connect with AppsRhino for assistance with setting up an online store or developing an app for your business.
Frequently Asked Questions
What exactly is an online store?
An online store, also known as an e-commerce store, is a virtual platform where businesses sell their products or services over the internet.
How does an online store work?
Online stores function by allowing customers to browse through a catalog of products or services, select items of interest, add them to a virtual shopping cart, and proceed to checkout for payment and delivery options.
What are the advantages of shopping from an online store?
Shopping from an online store offers convenience, a wide variety of choices, competitive prices, access to customer reviews, and the ability to shop from anywhere at any time.
Do I need any special software or equipment to shop from an online store?
Generally, all you need is a device (such as a computer, smartphone, or tablet) with an internet connection and a web browser to access and shop from an online store.
Are online transactions safe and secure?
Reputable online stores prioritize customer security by implementing encryption protocols, secure payment gateways, and stringent privacy policies to protect sensitive information.
What payment methods are accepted by online stores?
Online stores usually accept various payment options, including credit/debit cards, digital wallets (e.g., PayPal), bank transfers, and in some cases, cash on delivery.
How can I track my online store orders?
Most online stores provide order tracking facilities that allow customers to monitor the progress of their purchases. Tracking numbers or shipment details are typically provided via email.
What if I need to return or exchange a product from an online store?
Online stores often have return or exchange policies in place, outlining the conditions and procedures for returning or exchanging products. These policies may vary, so it's essential to review them before making a purchase.
Can I trust the quality of products sold in online stores?
Reputable online stores strive to maintain high-quality standards. Reading customer reviews, checking product descriptions, and evaluating seller ratings can help gauge the reliability and quality of products.
Are online stores limited to specific products or industries?
No, online stores cater to a wide range of products and industries, including clothing, electronics, home goods, books, groceries, and more. The variety available is vast, with options to suit almost every need and interest.