Humans strive for many things, namely success, happiness, achievements, glory, etc. To achieve all these things, humans need one thing intact, and that thing is their health.
No matter how much time they have, and the resources they have nearby, if their health does not allow them to work, they will not be able to achieve anything. With changing times, human life has also become hectic, thus making it hard to take out some time from our busy schedules for a health checkup visit.
In such a scenario, Healthcare apps have come in handy to preserve our health. Many medical institutions have shown an interest in getting healthcare apps developed for their organization. The reason for this interest is that patients tend to incline toward those healthcare centers that offer healthcare apps as it makes it easier for them to get a consultation anywhere and anytime.
Before one gets healthcare apps for their organization, one should know the must-have healthcare apps features to include in their healthcare apps.
The Benefits of Healthcare Apps
Reduced errors
Healthcare apps have reduced errors due to incomplete patient history or mixing up two different patients' medical records. Now healthcare apps save patient data on the cloud, thus reducing the wrong diagnosis.
Contact doctors 24/7
If a patient needs access to doctors, though it is a non-emergency episode, they can contact doctors anytime and anywhere and treat the ailment until it becomes necessary to pay a visit. Even when people need access to the correct information, healthcare apps are the most accurate sources. Thus, people tend to download healthcare apps that provide them with the most information with much ease.
Customized treatments are available
Customized healthcare mobile apps help doctors chalk out customized treatments for every patient with ease. Healthcare apps put every piece of information relating to patient medical histories, thus helping make tailored treatment plans.
Monitor health digitally
Healthcare apps also let doctors monitor vital parameters by taking in information and data from health wearables (IoT technology), which patients usually wear on their bodies.
Let us now read the eight must-have features for your healthcare apps in 2022.
The Must-have Features of Healthcare Apps
Here we list the must-have features of healthcare apps, features revolving around data security, and other crucial features. These features should make it into your healthcare apps to create healthcare apps that find users.
Registration and login
Registration and login are the first steps any healthcare apps user does. Therefore, it is necessary to keep these two steps as easy as possible. Patients should be able to register by providing their personal information like name, email ID, and contact details.
The fewer the number of steps here, the better the user experience gets. Also, ensure that patients log in to their accounts by their email ids or the OTP they receive.
Profile creation and modification
Your healthcare apps should have an easy picture and information update feature. Besides it, ensure that every doctor's profile is visible with all the required details like their specialty, experience, clinic address, & contact details.
As nothing is constant, your users might also change their residence address or phone number. Therefore, your healthcare apps should allow users to update their profiles as and when desired.
AppsRhino offers the best Tech-driven solutions for Home services, Laundry delivery, Alcohol delivery, Grocery Delivery, Food Delivery, and Taxi Services: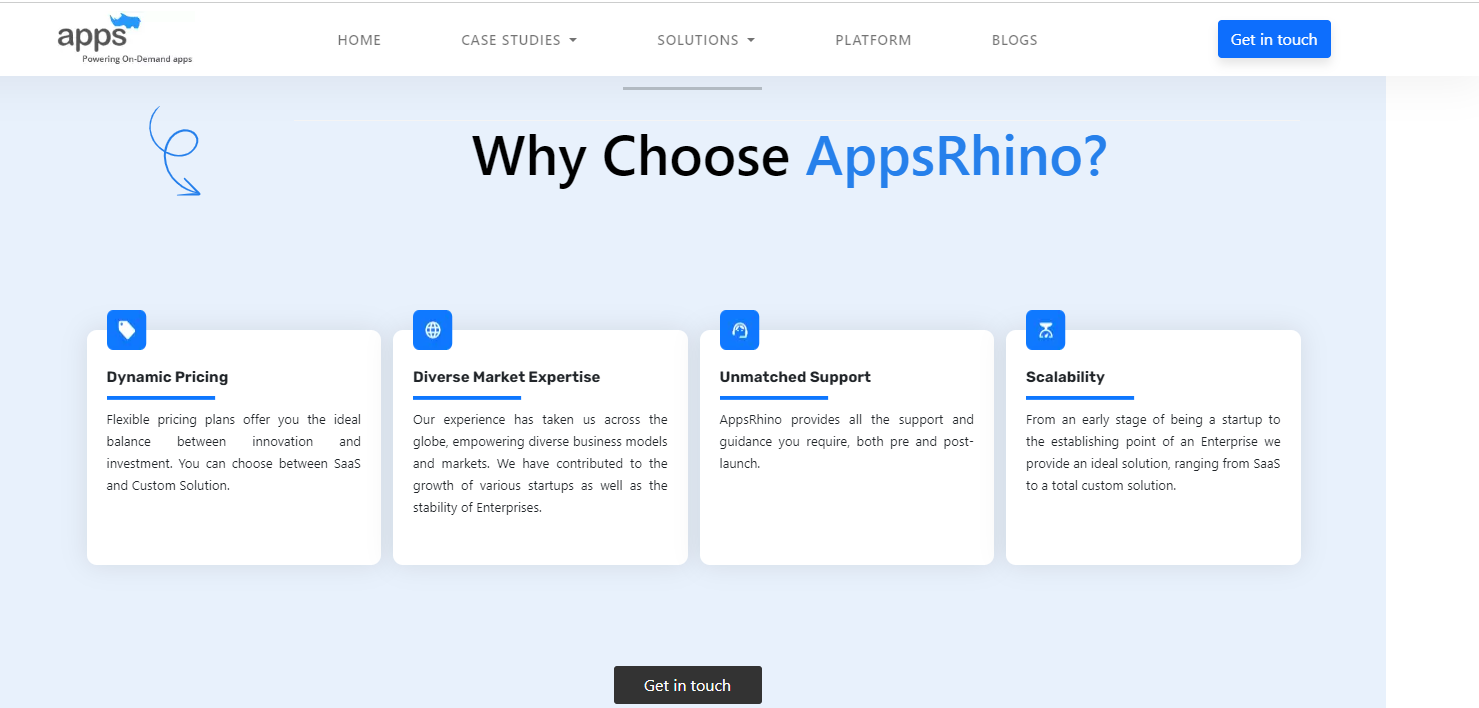 Smart Filter
Healthcare apps should always have an intelligent filter to segregate doctors based on their specialization, experience, reviews, consulting fee, education, location, etc.
Also, make your healthcare apps have a facility where patients can upload and tell about their ailments even before the actual appointment/ consultation.
Selecting Doctors
Healthcare apps should have a feature where patients can search for doctors based on their ailments. Patients should get all the required information about the doctor, like their name, qualification, specialty, visiting time, consultation fee.
Patients should also be able to see the digital prescription; this would help them buy medicine even if they lose their prescription slip.
Appointment management
This feature is specifically for doctors. Doctors should be able to view all consultation requests and even accept/ reject these consultation requests. Patients should get notifications of their appointments only when the doctor approves the request.
Multilingual and cloud management
It is a vast world, and people of different nationalities and dialects exist. Healthcare apps should have multiple language support to ensure that many people can use these apps and access doctors and medical assistance with ease.
Also, healthcare apps should use cloud storage to store patient data, as it keeps the data secure, safe, and accessible.
Geolocation facility
Healthcare apps should have a geolocation facility as it helps patients find nearby hospitals and doctors. It can also send updates on medical news and hotspot areas during the COVID pandemic.
Payment Gateway
Healthcare apps should have a secure solution that guards patient data while effortlessly connecting to other technology platforms. Besides traditional payment options, healthcare apps should have recurring payments to help with high medical costs and prompt-pay discounts.
These are the eight must-have healthcare apps features.
Some advanced good to have features of healthcare apps
Care and pill reminder
This Healthcare apps feature reminds patients of their upcoming appointments ahead of the scheduled consultation. Also, patients can receive reminders to take their medicine as and when needed.
Remote medical assistance
Healthcare apps assist in remote medical monitoring. With this feature, doctors can check symptoms and identify diseases instantly. For this, doctors require patient data and previous medical history, which they get from healthcare apps.
Progress Tracking
Healthcare apps should provide a means to track patient recovery and get data on various parameters. These apps should store the latest information on a patient's blood pressure, heart rate, water intake, calorie count, etc.
Must-have security Features of Healthcare apps
Minimal Data Collection
Your Healthcare apps should be per the FTC recommendation. The FTC suggests healthcare apps ask for data and information required for the proper app working/ services and nothing more. Also, such apps should have a secure pathway to transmit and store data.
At the end of the session, all the collected data should get deleted as per the FTC guidelines.
Limited Access and Permissions
Several apps ask for the following information/ access at the time of installation:
Locations

Contacts

SMS

Pictures

Search history
Healthcare apps developer need to ensure that they do not misuse user information with API access, as most of the users do not think about the reason for being asked for access to all these things.
Also, avoiding this ensures optimized data collection and decreases unnecessary data collection.
Secure Authentication
This feature is a must-have for healthcare apps, and your app should include it. Its fundamental purpose is for records and information. Such information is of immense importance to patients, healthcare specialists, and even hackers.
Your healthcare apps should have authentication at application-level security, and it should be the priority during development to keep unauthorized access at bay.
You should also invest in designing, implementing, and testing app authentication from the beginning. You can even have multi-factor authentication in case of any risk of unauthorized access.
Features of healthcare apps: Conclusion
Healthcare apps are the need of the hour now that the world is fighting a global pandemic. We need to develop healthcare apps keeping in mind technological advancements. You can use AI to discover relevant conclusions from patient data for more effective and customized treatment. It can also help with predictive analytics functionality. For taking care of patient data, like its security, portability, and integrity, you can use Blockchain.
When healthcare apps Augmented reality and Virtual reality combine, you can replace physical therapy. Wearable devices and IoT help doctors monitor patients remotely if patients can not call on doctors immediately.
If you are a medical organization and want a healthcare app for your organization, you must include these healthcare apps features in your app.
You can contact AppsRhino to get your healthcare app built with all the required features by default.
Frequently Asked Questions
What are the must-have features for healthcare apps?
There are several key features that healthcare apps should incorporate in 2022, including secure data storage, appointment scheduling, telemedicine capabilities, electronic health records (EHR) integration, medication reminders, health trackers, personalized patient notifications, and seamless communication channels.
Why is secure data storage important for healthcare apps?
Secure data storage is vital for healthcare apps as they handle sensitive patient information. It ensures patient privacy, compliance with data protection regulations, and protects against data breaches.
How can appointment scheduling benefit healthcare apps?
Appointment scheduling features allow patients to book appointments conveniently through the app, reducing administrative burden and improving patient experience. It enables healthcare providers to efficiently manage their schedules.
What are the advantages of telemedicine capabilities in healthcare apps?
Telemedicine capabilities enable remote consultations, enhancing accessibility to healthcare services, especially in rural areas. It provides convenient and timely access to medical advice, reduces travel time and costs, and increases patient engagement.
Why is EHR integration important for healthcare apps?
Integration with Electronic Health Records (EHR) systems allows healthcare apps to access and update patient information in real time, improving coordination of care and providing a comprehensive view of patient health history.
How can medication reminders enhance healthcare apps?
Medication reminders help patients adhere to their prescribed treatment plans, reducing medication errors and improving medication compliance. They can send notifications and reminders for medication schedules, helping patients stay on track with their medications.
What are health trackers, and why are they beneficial in healthcare apps?
Health trackers allow users to monitor and track various health parameters such as steps taken, heart rate, sleep patterns, and more. These features promote wellness, encourage healthy habits, and provide valuable data for healthcare providers.
How do personalized patient notifications enhance healthcare apps?
Personalized patient notifications deliver tailored messages and reminders to patients based on their specific healthcare needs. This feature increases patient engagement, improves follow-up care, and helps prevent missed appointments or medication doses.
What communication channels should healthcare apps provide?
Healthcare apps should offer secure and convenient communication channels such as in-app messaging, video consultations, and secure email to facilitate effective communication between patients and healthcare providers.
Are these features applicable to all types of healthcare apps?
While these features are generally applicable to many healthcare apps, their implementation may vary depending on the specific purpose and target audience of the app. It's important to consider the unique needs and requirements of your intended users when incorporating these features.