Is there anything that modern technology can't do? Technology has made it possible for us to book anything from a train ticket to our favorite food item to a doctor's appointment while sitting at home and with the click of a phone.
Food delivery is the on-demand service that is expanding the fastest, with some significant providers receiving more than a million daily orders.
During the pandemic, the idea of ordering food online has grown significantly. On-demand grocery delivery apps have received a lot of downloads since 2020, regardless of how many food delivery services were active during the lockdown. Instacart is one of the most well-liked grocery delivery apps. In this blog, we will discuss some fascinating facts regarding the American grocery delivery app Instacart in light of its widespread use.
Here are some interesting facts about Instacart
Fact 1: How does Instacart work?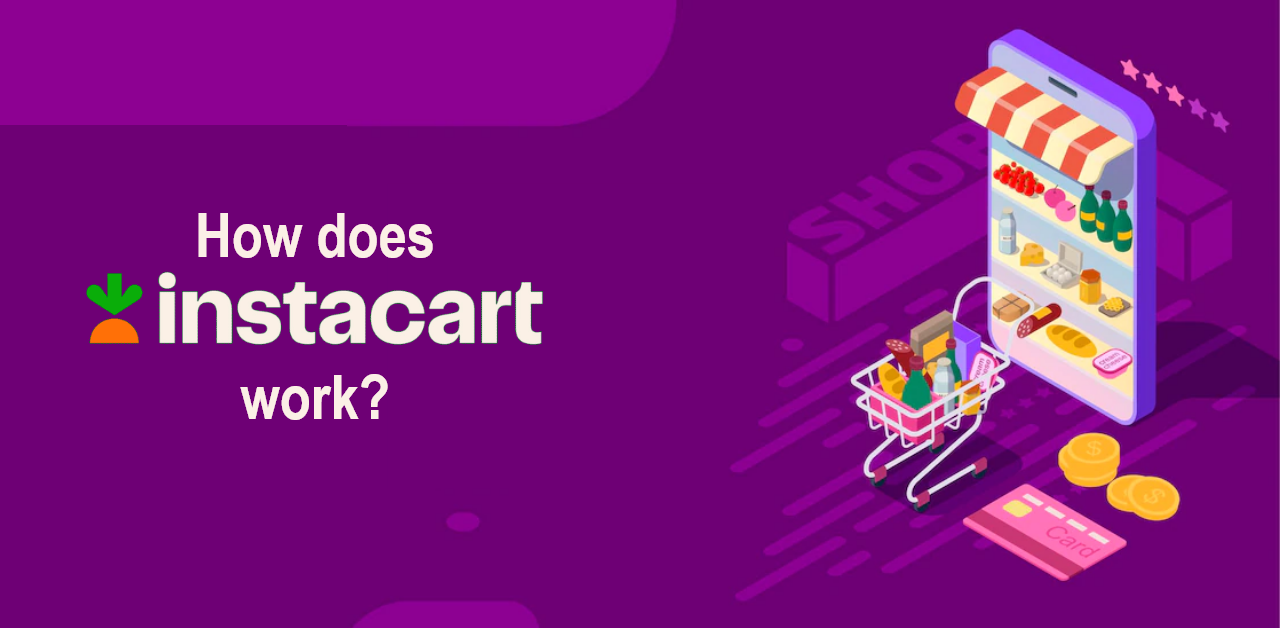 Customers of Instacart can use their website or mobile app to shop, creating a virtual shopping cart that is filled by a "personal Instacart shopper" on a specified day. For customers who need their goods as soon as possible, Instacart often provides same-day delivery within a five-hour window. You can organize the order in advance for delivery on a different day. Alternatively, shoppers can drive to the store you chose and deliver the purchase later on the same day using their cars.
Since Instacart doesn't sell groceries directly, if something you've ordered is out of stock or unavailable, your Instacart shopper will let you know in the app and will work with you to find a replacement.
Fact 2: With which stores does Instacart collaborate?
To enable Instacart customers to deliver their purchases, neighborhood grocery stores, including small businesses like liquor stores or specialty butchers, may collaborate with the platform. Aldi, Wegmans, Kroger, Safeway, Giant stores, Food Lion, Harris Teeter, and local options like Publix are just a handful of the well-known big-box retailers that it has connections with. More than half of all grocery stores in the U.S. and Canada have products for delivery in the 5,500 cities around the nation.
Fact 3: How much does Instacart cost?
Even if you choose not to sign up for one of Instacart's memberships, such as Instacart Express, which costs $99 annually or $9.99 monthly, you can still place orders for grocery delivery. Without a membership, buying groceries frequently entails extra delivery and service fees, which might vary depending on the subtotal of the order and how quickly the customer wants the food delivered.
When you spend more than $35 on an order, you can get free delivery if you have an Express membership. You won't be charged any non-member customers' expenses, such as dynamic pricing, an additional fee when, and free one-hour delivery.
Fact 4: How much do Instacart shoppers make?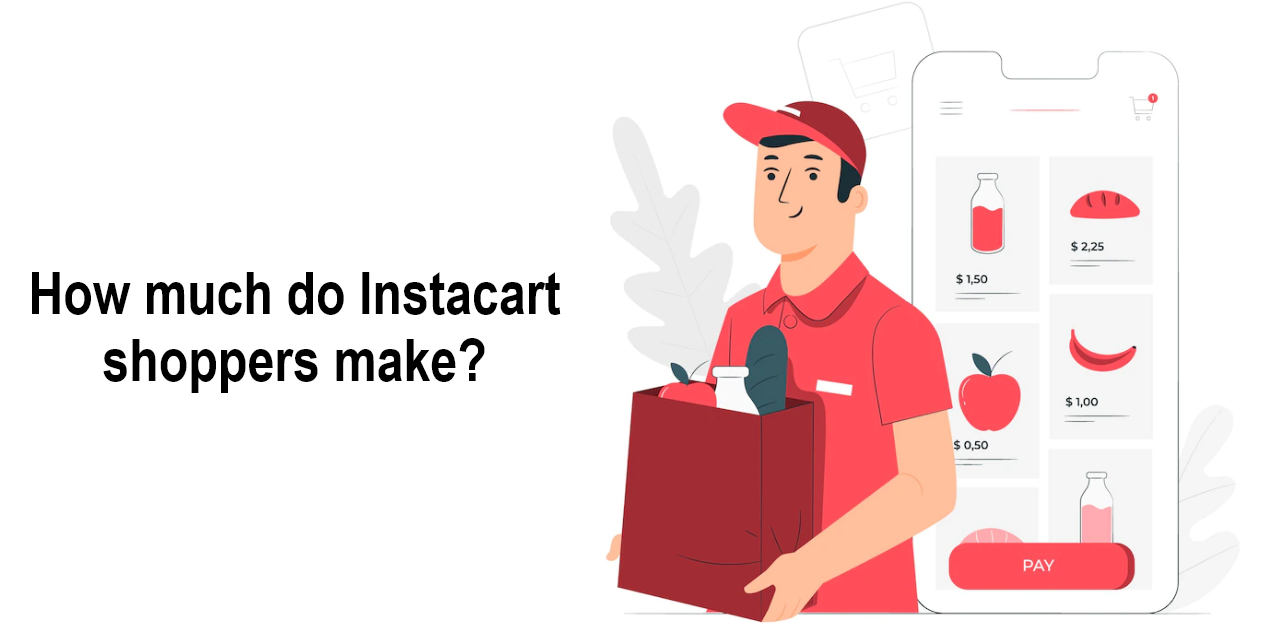 The work you do determines how you make money. The hourly rate for in-store customers is set and varies by location. Pay for full-service customers is determined by the order. With Instacart, customers are guaranteed to make at least $5 for each delivery. The company also provides an estimate of possible earnings for each order.
According to Instacart's Shopper app, your pay for a given batch of orders is based on "the number of products, type of items, driving distance, and work spent in shopping and delivering."
A more significant order, typically heavier, will probably earn you more money than a little shopping job. Additionally, the profit potential generally is higher when client demand is strong, such as on Sundays.
When making deliveries, full-service Instacart shoppers are also eligible for tips.
Fact 5: How is payment made to Instacart shoppers?
Weekly payments are sent via direct deposit to a bank or savings account for in-store and full-service customers.
Full-service shoppers can rapidly access their money with Instant Cashout, an immediate transfer to a debit card. After completing five batches, you are eligible to use Instant Cashout for the first time. After that, as long as you have at least $5 in earnings, you can cash out whenever you want, up to five times daily. There is a daily cap of $3,000.
Since full-service Instacart shoppers are regarded as independent contractors, they could be required to make quarterly scheduled tax payments. That's because, unlike part-time employees, Instacart doesn't deduct taxes from earnings.
Fact 6: According to Company Wire, Instacart may anticipate explosive growth in its online grocery delivery business over the next five years (2020-2024).
For the past eight years, Instacart has been a well-known grocery delivery company or brand serving the USA and Canada. Understanding the features and development costs of supermarket delivery apps is crucial before creating one similar to Instacart.
Fact 7: Reasons why grocery sales for Instacart are expected to explode in 2022 and beyond
One of the most profitable businesses for 2022 is Instacart grocery delivery. This mobile application shop offers numerous app download recommendations like:
The ease of online shopping

Online loyalty programs with apps

Free shipping

Offerings and discounts

Quick experience with shopping

Online personalization shopping at home

Conserves time and energy
Fact 8: Who are Instacart shoppers?
The "Instacart shoppers" who pick up grocery items and deliver them to clients combine Instacart workers and independent freelancers. It has 70,000 overall customers and 300 grocery partners who support 15,000 outlets. Instacart recently started offering grocery curbside pickup, which aligns with the click-and-collect trend of merchants like Walmart.
Fact 9: Emphasizing the Top Features of the Instacart App
The "features of the grocery delivery application" must be discussed and emphasized when speaking with an app development business in the USA or India. Users can move forward with a smooth and challenging purchasing experience thanks to the features and functionalities. The three applications of Instacart make the app procedure function more smoothly than any other grocery or alcohol delivery app.
Client App

App for grocery store owners

Driver's app
Here's an example of grocery and fruit shopping with Instacart.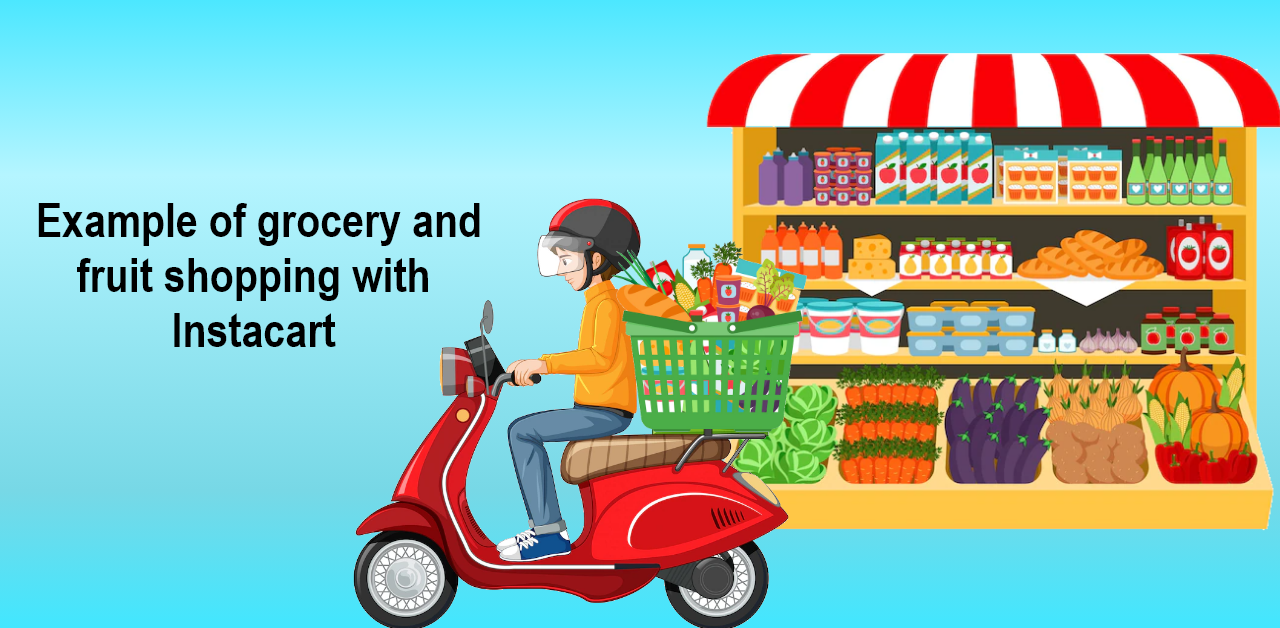 Detailed Image
The shopping interface of the supermarket app Instacart is where customers make a purchase decision easily and fast because the products are presented as a combination of text and visuals.
Cart up merchandise
The task of adding items to a cart and then checking out is the most crucial function. The illustration shows a "add to cart" button next to each item with a description. The products are automatically added to the shopping cart when the add to cart button is clicked.
Purchasing From Local Stores
Shopping from a neighborhood store is another unique feature that distinguishes Instacart as one of the top grocery delivery services in the USA. Users can use the app to shop at their neighborhood favorite or regular grocery stores.
Pickup and Delivery
Not every grocery app offers pickup and delivery services. Thanks to Instacart, clients now have access to an exclusive pickup option. The consumer can pick up their groceries outside the store by selecting the pickup option.
Plan the delivery and pickup.
An essential service that proprietors of online grocery delivery companies offer consumers is choosing a convenient delivery time. You must ask your on-demand delivery app development business about the unique feature known as "scheduled delivery and pickup" when you design an app similar to Instacart. By integrating this exclusive feature, your customers can choose the delivery and pickup times at their leisure.
Online Chat
While navigating through the app and various stores, there are many questions that a customer could want to ask their shopper. The Instacart app features a personal shopper option that enables online chat while making purchases on the app or website.
Recipes and Lists
Shoppers can see various meal dishes depending on their interests and curiosities using exclusive lists and recipes available only through grocery apps like Instacart. Customers can use the delivery app to find and purchase all the ingredients for good dishes.
Various Items Delivery
Instacart is renowned for selling groceries, food, and alcohol across the USA and Canada. Building a multi-vendor delivery application has helped the business grow three times faster because it can sell separate segment deliveries through the same app.
To Sum Up
The nine fascinating details surrounding the creation of Instacart are described above. We also found some Instacart numbers noteworthy, like the platform, which will have over 10 million users and a valuation of over $39 billion in 2022.
Additionally, over 500,000 people use Instacart to purchase groceries, drinks, and other items, and over 45,000 shops use it for delivery. With Instacart, busy people can order groceries to be delivered right to their door with just a few clicks, increasing convenience in their lives.
You can also give clients a seamless grocery delivery experience while streamlining your operations with more visibility and backend management thanks to AppsRhino's sophisticated Grocery delivery app script.
For more information about our hiring practices and pre-made solutions, please visit AppsRhino, our official website, or contact our business manager.