Introduction
In today's fast-paced world, people are busier than ever and need more time to manage their household chores and repairs.
This has given rise to the popularity of home services apps that aid in managing daily chores and repairs while also providing a source of constant revenue to app development companies.
If you are someone who is interested in creating a home services app, this comprehensive guide is for you.
It covers everything you need to know, from the types of home services apps available to the features and functionalities to consider while building one.
This guide will help you understand the market trends and user expectations, so you can build an app that delivers exceptional user experiences and drives business success.
So, let's dive in and explore the world of home services apps!
What are Home Services Apps?
Home services apps are mobile applications that allow users to book and schedule various services, such as cleaning, plumbing, electrical work, handyman services, and many others, directly from their smartphones or other mobile devices.
These apps provide an easy and convenient way for homeowners and renters to find and hire qualified professionals for a variety of household needs.
Using home services apps typically involves:
Selecting the desired service.

Specifying the date and time for the appointment.

Paying for the service through the app.
Users can also view the profiles and reviews of service providers, ensuring that they are hiring qualified professionals with good reputations.
Home services apps have become increasingly popular in recent years, as they offer a more streamlined and efficient way to hire professionals for home repairs and maintenance.
By using these apps, users can save time and effort by avoiding the need to research service providers, make phone calls, and negotiate prices.
Instead, they can select the service they need and let the app take care of the rest.
Importance of home services apps
An on-demand home service app can be a lifesaver for those with busy schedules, providing them with access to professional help for a range of household tasks, from cleaning and plumbing to painting and storage.
This sector of the on-demand economy is making a real impact by addressing three key challenges.
Firstly, the availability of service providers can vary greatly from one area to another.
On-demand service apps offer users a range of local and non-local options to ensure they can find someone to meet their needs.
Secondly, the reliability of service providers can be a concern in traditional markets.
However, on-demand home services apps enable users to connect only with authorized providers with positive feedback from previous customers, helping to build trust in the service.
Thirdly, assessing the quality of work can be challenging in traditional markets.
Reviews and ratings on on-demand home services apps offer users a clear idea of the quality of work, allowing them to choose the right app and provider for their needs.
In addition to addressing these challenges, on-demand home services apps offer a range of benefits, including convenience, flexibility, simplified appointment scheduling, ease of payment, and the ability to generate leads for service providers.
This has made the online and instant home service market increasingly popular, with more users and providers turning to the on-demand economy.
Types of Home Services Apps
In recent years, the popularity of on-demand home services apps has skyrocketed, with more and more people using them to simplify their lives.
These apps allow users to quickly and easily find professionals to help with cleaning, plumbing, electrical work, and more tasks.
Let us take a look at the different types of home services apps available and the benefits they offer:
Cleaning Apps
Cleaning apps are perhaps the most popular type of home services app, allowing users to find cleaners for their homes or businesses easily.
Many of these apps allow users to schedule cleaning services regularly, such as weekly or bi-weekly, making it easy to maintain a clean space.
Some cleaning apps even offer additional services, such as laundry and deep cleaning.
Plumbing Apps
Plumbing issues can be a major headache for homeowners, and that's where plumbing apps come in.
These apps allow users to quickly find a licensed plumber in their area to take care of any issues they may be experiencing.
From leaking pipes to clogged drains, plumbing apps make it easy to find the help you need.
Electrical Apps
Electrical issues can be dangerous, so it's important to find a qualified electrician to help with any problems.
Electrical apps make it easy to find a licensed electrician in your area, whether you need help with wiring, lighting, or anything else related to electrical work.
Home Improvement Apps
Home improvement apps are more comprehensive than other types of home services apps, as they offer a wide range of services related to improving the home.
This might include painting, carpentry, flooring, or even landscaping.
Some home improvement apps may also offer design services to help users plan their home renovations.
Moving Apps
Moving can be stressful, but moving apps make it easier.
These apps allow users to quickly find professional movers to help pack, load and unload their belongings.
Some moving apps may also offer additional services, such as storage solutions.
Features of Top-notch Home Services Apps
User Panel:
A Detailed marketplace
On the home screen of your on-demand home services app, you should list the services you offer. In the world of demand, marketplaces play a crucial role.
No service provider can succeed without a well-developed and uncompromising market.
In order to best serve clients, each service should provide a snippet explaining what to expect.
After clicking a specific service, a special tab, such as pricing, features, and detailed details, will explain the A to Z of that service.
Browsing professionals with the help of differing filters
There must be no difficulty for consumers in finding services. You can simplify the process by providing various types of filters.
By filtering the service providers based on prices, distances, and specializations, the user experience can be significantly improved.
Booking history
The framework providers are crucial to performing these tasks.
This gives users a central spot to access all their reservation orders through the app.
The user can utilize this part for a variety of things, including tracking their spending and viewing the best and worst bookings they have ever made.
When necessary, it enables users to get in touch with the top service providers once more.
The pertinent portion of the reservation history contains information about the reservation's date and time, the names and contact information of the service providers, etc.
Scheduling the service
Give your customers the option to choose their service and time frame.
Your customers can pre-book their service rates thanks to this functionality.
Also, this feature gives the application a new dimension compared to an on-demand application.
In-App messaging
You must have an in-app message option for any application that connects customers with service providers.
Calling can be helpful, but using the in-app chat option is quicker and simpler than calling.
With the help of in-app messaging tools, customers and service providers may communicate more effectively in real-time, which helps to avoid misinterpretation and other future pitfalls.
When you link your on-demand home service app to its in-app messaging feature, ensure the network you're using is secured.
The performance of your application as a whole is enhanced.
Secure multiple payment options
Make sure your app offers a variety of payment options, including credit, debit, cash, and wallet. Since they rely on a certain payment method, all customers have preferences.
The security of the transactions would also be ensured by having this functionality on board.
Rating and reviews
While using the service via your app, the features must be updated.
It must be possible for customers to rank and comment on the service provider.
It provides information that other consumers can utilize to choose service providers with better reviews. This attribute is quite advantageous.
Service Provider Panel:
Fast registration & profile approval
Your app has to streamline the registration process so that service providers don't have to spend extra time on it.
Assignments will start according to his specialty if the service provider approves the profile.
Real-time request management
Real-time notifications of their inquiries must be sent to the service providers. Your service and app should provide notifications faster.
Include all available request notification methods, such as emails, text messages, and push notifications.
Request acceptance and declining
When receiving the order, the service provider must be authorized to check the application.
After checking it, he would think about this to determine whether they approve of the work or not.
You must, however, create specific safeguards to prevent service providers from turning down such requests.
Customer chats
Any on-demand app must prioritize communication.
Your app must also provide an integrated chat system for service providers to communicate with customers.
They will communicate important work information and deal with concerns like rate discussions.
Customer feedback
The feedback mechanism is effective both ways.
You will require a feedback feature allowing service providers to rank identifying customer needs based on several factors.
These requirements could include the service provider's prior interactions with the user, the appropriate user instructions, and much more.
The Admin Panel:
Interactive dashboard
In the admin panel, there must be an interactive dashboard. The dashboard functions as the program's command center.
App activity can be traced and monitored at any time. Make sure the dashboard reports are as good as they can be.
A detailed admin panel
Customers, service providers, and admins are the three levels of engagement that each on-demand app must address.
Management and contracts are the responsibility of both customers and service suppliers.
To build or destroy the entire corporate enterprise, you must ensure that all of the aforementioned depends on a stable technology stack.
The choice of the technology stack is also crucial since it affects how much the on-order services application will cost to construct overall.
Service provider verification and management
You require a method to control all the service providers. Manual addition of new service providers is also possible.
All service providers' profiles must also be examined, and fraudulent registration must be avoided.
Transaction management
The committees must be established with great clarity in order to prevent confusion later.
Therefore, customers and service providers can count on swift and safe transactions. Any payment issues can be resolved with the use of this service.
Promotions management
To advertise your application, you might provide a variety of beneficial promotions and discounts.
This tool can assess how successfully you used the provided savings.
You can get important information from it that you can use to distribute deals and promotions more effectively and appropriately.
Reviews management
Reviews and feedback are crucial because they help all sides choose their allies. You can check all reviews from both ends using this feature.
On the basis of their opinions, you can categorize low performers and refer to high performers.
Business analytics
This is incredibly beneficial because it provides you with essential information about your business.
You can choose more effective strategies to enhance your services with the help of these observations and statistics.
You may use analytics to review your progress and make the necessary corrections to keep your services on course.
How to develop a robust Home Services Application?
Now that we've covered the feature and importance of home services apps let's delve into the process of developing a unique home services app.
The process for developing a unique home services app with AppsRhino typically includes the 5 following steps:
Determine your target market, competitors, and monetization strategy
Choosing your target market is the first step in creating a home services app.
You must research your competitors, the common obstacles in your business, and the needs and preferences of your target market to achieve this.
Before formulating a sound growth strategy for your home services app, it is imperative to carry out comprehensive market research.
The target audience of a home services app includes anyone who needs assistance with their household tasks and is willing to pay for it.
This includes individuals who have busy schedules, families with young children, elderly people who have difficulty with physical tasks, and individuals with disabilities or health issues.
The target audience may also include people looking for convenience and efficiency in their daily lives.
Home services apps can make it easier for users to manage their time, allowing them to focus on other important aspects of their lives.
Hire a competent app development company
If you possess the necessary technical skills, it is possible to initiate the app-building process independently.
Nevertheless, in case you lack confidence in your abilities to design the app, it is advisable to enlist the services of an app development company such as—AppsRhino.
AppsRhino is a leading mobile app development company that provides end-to-end solutions to businesses of all sizes.
With a focus on innovation, quality, and customer satisfaction, AppsRhino has developed a reputation for creating world-class mobile applications that help businesses achieve their goals and reach their target audiences.
So when thinking of creating an on-demand app for your biz, you must consider employing AppsRhino!
AppsRhino offers the best Tech-driven solutions for Home services, Laundry delivery, Alcohol delivery, Grocery Delivery, Food Delivery, and Taxi Services: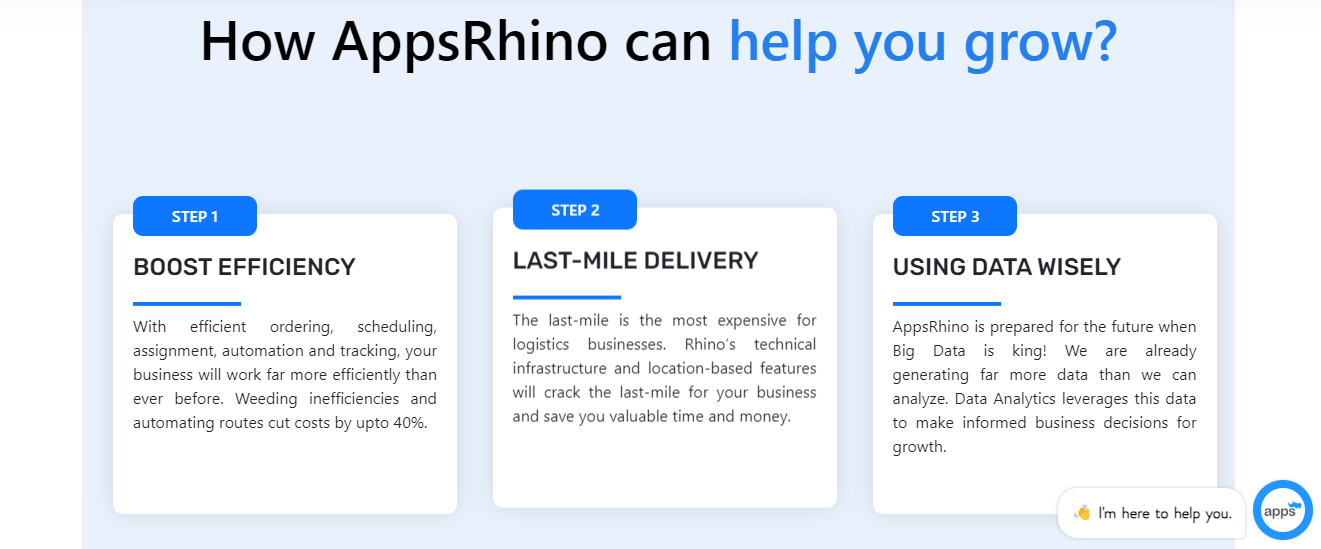 Finalize the app's functionality
It's essential to determine which features will be available to customers right away and which ones will be introduced later when releasing your app.
It is crucial to rate the app's features according to their advantages and disadvantages to make sure that the final result does not contain any unnecessary or inefficient functionality.
Remember to put your customers' needs first and refrain from adding unnecessary components.
Start by adding the necessary elements to the app, then progressively add more as time goes on.
Test and launch the app
Initiation of app testing is carried out after the development of the app has been accomplished by the app development company.
After making the required improvements and being satisfied with how the home service app is performing, it is now ready for launch and the execution of your brilliant concept.
Maintenance and marketing
Your journey to attaining your business objectives doesn't end with creating and deploying an app.
Even while the release of your app could generate hype, it's important to ensure that it is properly maintained and updated and that all difficulties are fixed promptly.
To give your users a smooth experience, you must pay close attention to every little aspect during the ongoing process.
Hiring a trustworthy app development company is one of the best methods to guarantee that your app is always current and free of bugs.
They can manage every technological component and provide ongoing upkeep and assistance.
In addition to upkeep, marketing your app is crucial. Your app's potential users need to know about it and how it can benefit them.
Promote your app through various channels, such as social media, emails, commercials, and PR.
In a nutshell, rigorous strategy, execution, and continuing maintenance are necessary for creating and releasing an app.
To give your users a smooth experience, you must pay close attention to every little aspect during the ongoing process.
With a well-maintained app and efficient marketing, you may accomplish your business objectives and increase sales in the modern digital marketplace.
Top 10 on-demand Home Service Apps
Listed below are the 10 best home services applications from across the globe:
Thumbtack

TaskRabbit

Urban Company (UrbanClap)

HouseJoy

Zimmber

Mr.Right

Family Handyman

Timesaverz

Good Guys Home Service

Handyman
Home services apps: What does the future look like?
The size of the global market for on-demand home services is projected to reach USD 1,574.86 billion between 2020 and 2024.
That suggests that an increasing number of new businesses and established service providers will intend to enter the market.
Within the United States, the landscaping market generates yearly sales of about $600 Billion.
This is another online on-demand home services market statistic to pay attention to.
Over 8,000 businesses participate in the moving and storage industry, which generates about $12 billion in annual revenue.
This year, the market for online home services apps will grow in popularity.
It is also anticipated that the top market players will continue to have the lion's share of the market share, meaning new entrepreneurs would need to give their on-demand businesses serious thought about how to compete in a crowded app industry.
Now that you are aware of the current state of the on-demand home services sector and its projected future, it is appropriate to look forward to mastering everything about on-demand home services app development.
Conclusion
In conclusion, creating a home services app can be a challenging but rewarding venture.
By following the steps outlined in this comprehensive guide, you can develop an app that meets the needs of your target audience and provides a seamless user experience.
Remember to conduct thorough market research, choose the right platform and technology, prioritize features, and partner with reliable service providers.
With dedication and perseverance, your home services app can help people manage their busy lives and generate high revenue for your business.
The on-demand economy is reshaping the world around us, and by embracing the opportunities it presents, you can create a successful and impactful home services app.
If you are looking for a reliable app development partner for your home services app, look no further than AppsRhino.
With a wealth of experience in developing and delivering custom home services apps, our team of experts can help you bring your vision to life.
From user-friendly interfaces to seamless payment gateways and integrations, we provide end-to-end app development services that cater to your specific business needs.
Contact us today to learn more about how we can help you create a successful home services app that meets your goals and drives your business forward!
Frequently Asked Questions
What are home services apps?
A home services app is a digital platform that connects users with various professionals and service providers for tasks related to home maintenance, repairs, cleaning, and other domestic services.
How do home services apps work?
Home services apps typically allow users to browse through a list of available services, select the desired service, schedule an appointment, and connect with a verified professional or service provider who can fulfill the requested task.
What types of services can I find on home services apps?
Home services apps offer a wide range of services, including home cleaning, plumbing, electrical work, painting, carpentry, pest control, appliance repair, gardening, moving services, and more.
Are the professionals on these apps reliable and trustworthy?
Home services apps usually have a screening process in place to verify the background, qualifications, and experience of the professionals. They may also provide customer reviews and ratings to help users make informed decisions.
How can home services apps benefit me?
Home services apps offer convenience, time-saving, and the ability to easily find and hire trusted professionals for various tasks, eliminating the need for extensive research, multiple phone calls, and negotiations.
Can I schedule appointments and track services through these apps?
Yes, most home services apps provide features to schedule appointments at a preferred time, track service providers' arrival, and receive updates on the progress of the service.
Are home services apps available in my location?
Home services apps operate in different locations, and their availability may vary. However, many apps aim to expand their services to cover a wide range of regions.
How can I pay for services through home services apps?
Home services apps often provide various payment options, including online payment, cash on delivery, or integration with digital payment platforms, allowing users to choose the most convenient method.
What should I consider when choosing a home services app?
Consider factors such as user reviews, ratings, service coverage, pricing transparency, customer support, and the range of services offered to determine which app aligns best with your specific needs.
Can I provide feedback or rate the services received through these apps?
Yes, most home services apps provide a feedback mechanism where users can rate and review the services they received, helping other users make informed decisions and improving service quality.