The world is moving quickly, and something once frowned upon has become fashionable and important for medicinal purposes.
Yes, we're talking about cannabis' popularity and use right now. Cannabis is now legal in 33 states in the United States and other nations such as Germany, Israel, and Canada. It is legal for both medical and recreational use. As a result, medicinal cannabis can make a living in the mainstream.
Despite the legalization of cannabis, only a handful of registered healthcare institutions/dispensaries offer medicinal marijuana to customers through on-demand online delivery services. If you want to enter the cannabis market by developing a cannabis mobile app, we've covered everything from the essential features to the best monetization tactics and a development guide in this blog.
What is a Cannabis delivery App?
A cannabis delivery app simplifies the process of delivering medical or recreational marijuana to consumers' homes. For rapid and safe delivery, the customer puts an order using a website, an app, or phone. It is a fantastic alternative for those who cannot visit their local dispensary. Potlala and Eaze are two of the most popular cannabis delivery services.
Advantages of Developing a Cannabis Delivery App
The global legal cannabis industry was assessed at SD 246 billion in 2020. It is predicted that the cannabis market will rise at a compound annual growth rate (CAGR) of 14.3% from 2021 to 2028. The increasing demand for legalized cannabis, authorized in many nations, is the key reason driving its market expansion.
In recent years, an increasing number of states have passed legislation allowing patients to use medicinal cannabis. So, what is its purpose, and who is eligible to use it? Cannabis is most commonly given for pain, whether for headaches, cancer, or a long-term ailment like nerve pain or glaucoma. Suppose the patient lives in a state where medicinal cannabis is allowed, and the doctor believes it can help. Then the patient receives a medical card and is placed on a list to purchase cannabis from a dispensary. Medicinal cannabis is typically prescribed to treat nausea caused by chemotherapy, Crohn's disease, seizure disorders, and other conditions.
Medicinal cannabis can also cure various other diseases. Thanks to recent legalization in many nations, it is growing in popularity worldwide. Medicinal cannabis treats multiple chronic conditions, including Parkinson's disease, cancer, Alzheimer's disease, and other neurological problems. As a result, demand for cannabis is fast rising, particularly in nations permitted for medicinal purposes.
Business Model for Cannabis Delivery Mobile App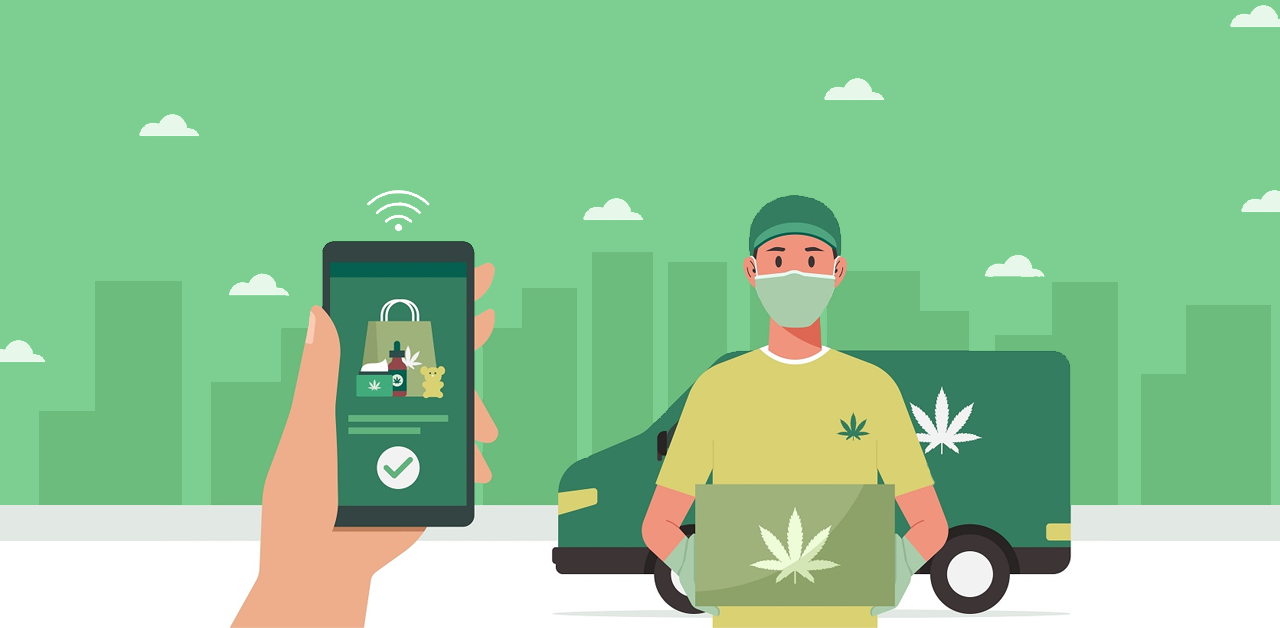 Dedicated
You can build your online store for Cannabis Delivery and maintain the delivery under your department if you follow a dedicated business model. This way, you'll be able to profit from both sides of the store, in the form of delivery fees and retail earnings, through a single store.
Aggregator
You may create a shared platform for stores and customers to interact with the aggregator approach. You'd be able to manage orders from stores/service providers and then deliver the products/services to customers, just like eBay, Amazon, and Airbnb.
Delivery-Specific
You can completely opt to be a delivery partner for cannabis delivery applications. Your sole responsibility is to manage orders from cannabis producers and then deliver them to the customer's doorstep.
Finally, you can use any model you like, and it primarily depends on how you want to sell the app.
Monetization Strategies for Cannabis Delivery Mobile App
Commission
The app charges a fee for each order placed through the app in this revenue scheme. When cannabis is sold regularly through the app, this can be a very profitable business strategy.
Listing Highlighted
Cannabis dealers are paid to promote their products under this strategy. We allow them to be highlighted in the app by adding it to the store and charging a fee.
Selling Advertisement
Advertising for cannabis-related products is run over the app in this monetization model. The app charges a price for displaying these advertisements in the ad area chosen by the advertisers.
Integration with E-Commerce
This model can be implemented when the app sells numerous supported goods that facilitate cannabis consumption. Because users may require equipment to consume cannabis, the app can include this option to offer such things.
Features of Cannabis Delivery Mobile App
Consumer Panel
User Registration for the Consumer Panel

Locate Dispensaries in Your Area

Investigate Strains and Products

Verification is simple.

Ordering is simple.

Track the status of your shipment and delivery boy

Driver Reviews And Ratings

For a cannabis dose prescription, see a doctor.

Schedule an appointment

Track delivery boy's current status

Payments in Multiples
Store Panel
Register/Login/Edit Profile

Organize your products

Orders should be checked

Management of Orders

Examine your earnings

History of orders

Call Delivery Man

Settings for Sending Invoices
Delivery Boy Panel
Determine your availability.

Accept orders and check for delivery locations on the map.

Accept orders and check for delivery locations on the map.

Check out the feedback and ratings.

Customers should be contacted.
Admin Panel
Managing the dashboard

Create on-demand bookings

Organize your payments

Push notifications

Analytics and Reporting
Advanced Features of Cannabis Delivery Mobile App
Sign up for a social account or log in if you already have one
This feature allows app users to sign up and log in using their social media accounts.
Tracking via GPS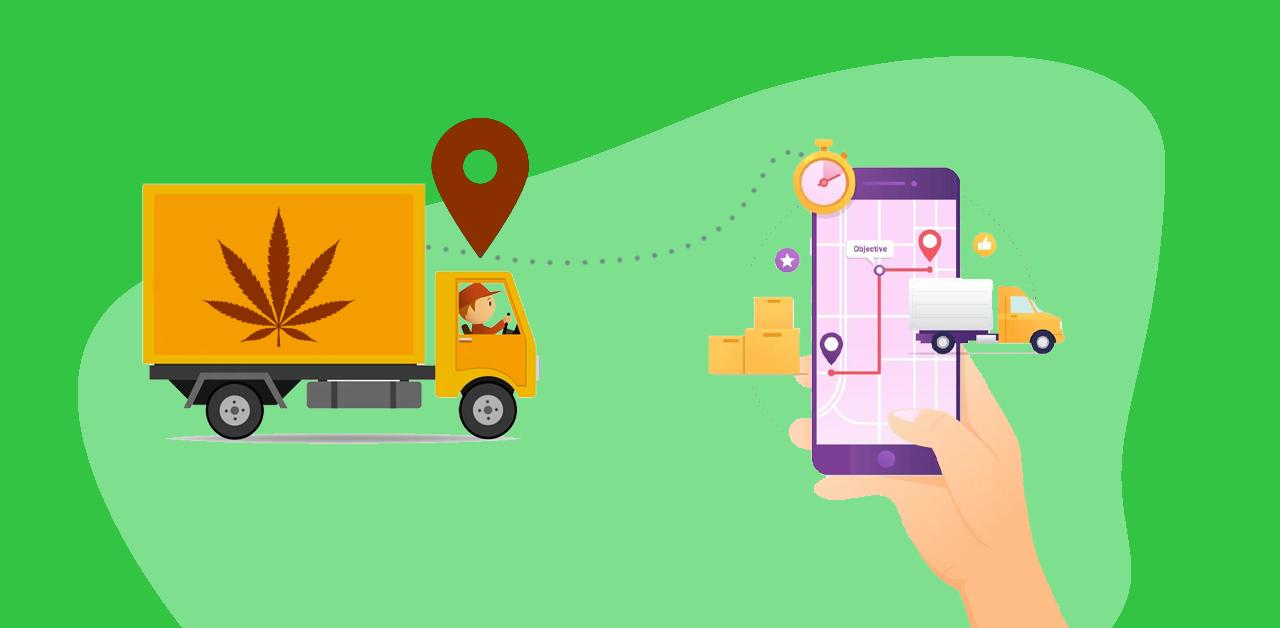 This feature entails the integration of maps, allowing consumers to follow their orders in real-time. Google Maps SDK can be used in the geolocation solution.
Verification by the user
Before viewing the app's content, the buyer should be required to sign in to the app by phone number, email, or social network accounts, such as Twitter or Facebook. Then, they can verify their identity using their identification, and the doctor's receipt for medical marijuana can be uploaded. You can do this by incorporating ID.meSDK, a physician identity verification solution.
Navigation within the app
Integrating this function enables simple delivery because the delivery person will quickly locate the best and quickest route to the user.
Calling/Chat within the app
This feature will make it easier for app users, delivery people, and sellers to communicate.
Document Management in the App
This feature makes it simple to handle documents within the app.
Analytics & Insights
The admin will be able to track everything linked to the app in this part, including the number of sales, orders placed, and profit earned in real-time. It's a simple method to stay informed about the entire app's progress.
Payments made within the app
Buyers should pay using a built-in payment gateway when placing an order through the app. Stripe is a payment system that is recommended for this purpose. With this payment gateway integration, you can earn a commission on each order.
Look for cannabis goods
All therapeutic cannabis products can be quickly posted to this category, allowing customers to browse and choose the most appealing option.
Tracking
Users of the app should track their deliveries using the app's integrated GPS services.
Consultation with a physician
Suppose a user is unsure about purchasing a product or needs medical advice. In that case, they won't have to wait until their next visit to the doctor because online consultation makes the entire process simple for them.
Notifications through Push
This functionality can send users notifications about new items, shipping, promotions, and cannabis-related news.
Integration of Maps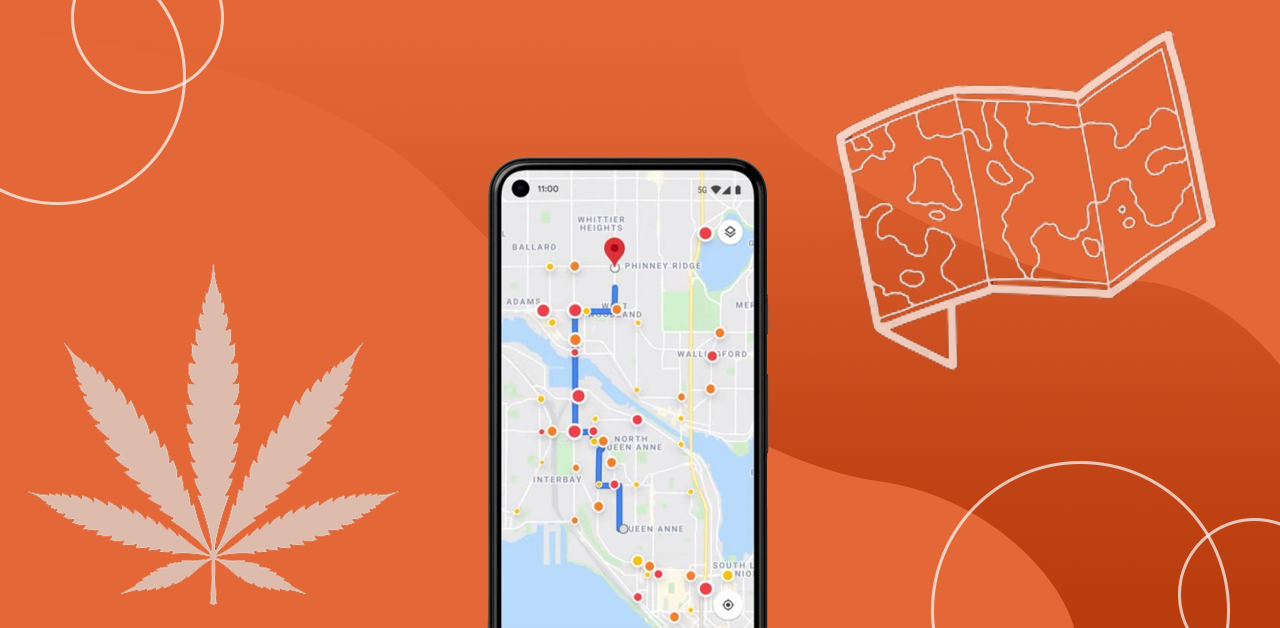 Users need a map to find legal dispensaries and doctors in their area. This problem can be remedied by adding an in-app mapping tool to the app. It will also improve the app's user engagement.
How to develop a cannabis delivery app?
Examine the project's specifications
When you hire a tech company to make a Cannabis Delivery app, their experts spend time learning about your cannabis industry, customer base, infrastructure, current market trends, and other essential aspects of your online venture. Finally, the team will produce and submit a thorough document that includes all of your business requirements in collaboration with the project manager in charge.
Wireframing
The team of business analysts will then begin designing wireframes for all of your app's relevant screens. Wireframes provide a clearer picture and a better grasp of the app's goals. They guarantee that the app complies with all of your company's needs.
UI & UX Design with a Twist
The skilled designers will create app graphics, color schemes, iconography, and other design elements that match your company's theme. The primary goal is to make the app stand out among the other apps naturally.
Development
The app members code the app to perfection during the development stage. While developing the app, factors such as the app's aim, the technology employed, functionalities, and end-users are considered. It allows for simple business management after the launch.
Testing
At this step, a group of testers is assigned to test the app's performance and, if necessary, fix faults and issues. Thanks to modern testing tools and methods, the app's performance is ensured at all levels.
Deployment
After the app has been produced and tested, it is published on app stores such as Google Play Store and Apple App Store and uploaded to the company's server, making it accessible to people worldwide.
Aspects of Law
It's crucial to remember that marijuana is still illegal in many nations, so check your government's cannabis legislation before getting started with your cannabis delivery service.
In 2018, the United States government decriminalized cannabis for therapeutic purposes in 33 states and the District of Columbia.
In reality, in 2018, Canada decriminalized cannabis for medical and recreational purposes. Even Western European countries such as the Netherlands, Germany, Czechia, and Greece have decriminalized personal medicinal cannabis use.
As a result, check if your government has legalized cannabis for medicinal use. If so, you can proceed with your plan. If not, then try executing a different business concept.
Obtain a Permit
It is necessary to obtain a government license/permission before selling the products online. You'll need to obtain various permits for cannabis distribution, sale, or cultivation, and the entire procedure will take time. A Cannabis license is divided into classes and subclasses, which decide which activity your company can engage in.
Let's Wrap Up
We have covered all you need to know regarding a cannabis delivery service, from the most important factors to consider to the advantages of the cannabis delivery app, its features and monetization approach, and how to build a premium cannabis delivery app. We expect cannabis delivery app development to be a very profitable area in the coming years.
Get in touch with AppsRhino if you are interested in creating your Cannabis delivery app within budget and time.