Introduction
While getting high might not be at the top of everyone's to-do list, the demand for convenient, discreet delivery of cannabis products is higher than ever!
Cannabis delivery app development is booming as more and more states legalize marijuana for medicinal and recreational use.
Now, you might be wondering how to get in on the green rush and create the next big thing in the industry.
Well, buckle up, roll up your sleeves, and dive into the nitty-gritty of cannabis delivery app development.
Are you ready to join the green rush and develop your own cannabis delivery app? Look no further because this complete guide has got you covered from seed to sale!
What is a cannabis delivery app?
First things first, let's start with the basics.
What exactly is a cannabis delivery app?
Simply put, it's a platform that allows users to order and receive marijuana products from licensed retailers, all from the convenience of their smartphones.
With the increasing legalization of cannabis in many states and countries, demand for these types of services is skyrocketing.
The global legal cannabis industry was assessed at SD 246 billion in 2020. It is predicted that the cannabis market will rise at a compound annual growth rate (CAGR) of 14.3% from 2021 to 2028.
The increasing demand for legalized cannabis, authorized in many nations, drives its market expansion.
Thus, if you wish to enter this lucrative market, your "ganja" have a good time!
How to develop a cannabis delivery app?
Hold up! First, let's address the elephant in the room—the legal landscape of marijuana.
The cannabis industry is still in its infancy, and regulations vary from state to state.
Some states have fully legalized marijuana, while others have only legalized it for medicinal purposes. And, of course, marijuana is still illegal under federal law.
Not to be blunt, but before you start developing your cannabis delivery app, it's essential to understand the legal ramifications in your state and ensure that you are operating within the boundaries of the law.
Now that we've got that out of the way, let's move on to the fun stuff—the development process!
Hire a trusted app development company
In order to create an effective cannabis delivery app, you need to hire an experienced company that knows about your cannabis industry, your customer base, infrastructure, and current market trends.
And who better to choose than—AppsRhino?
With their agile development process and top-notch product quality, AppsRhino will help you build the app of your dreams.
Known for delivering efficient, reliable, and on-time solutions, our developers can meet deadlines without fail.
And thus, your customers can expect a straightforward and effective app interface when they use your cannabis app!
Wireframing
The team of developers will then begin designing wireframes for all your app's relevant screens.
Wireframes provide a clearer picture and a better grasp of the app's goals. They guarantee that the app complies with all of your company's needs.
UI & UX designing
The skilled designers will create app graphics, color schemes, iconography, and other design elements that match your brand's theme.
A primary objective of this app is to make a user interface that stands out among the other apps on the market.
Development
In the development phase, the app is coded to perfection by the developers.
A variety of factors are considered when developing an app, including the app's purpose, the technology utilized, the functionalities, and the end users.
As soon as it is launched, it allows for simple business management.
Testing & deployment
The next step in the process is to assign a group of testers to test the app's performance and to fix any faults or issues that may arise.
By using modern testing tools and methods, the performance of the app is ensured at all levels.
As soon as the app is produced and tested, it is published on app stores like—Google Play Store and Apple App Store and uploaded to the company's server.
Obtain a permit
In order to sell products online, it is necessary to obtain a government license/permission.
Distributing, selling, or cultivating cannabis requires a variety of permits, and the process takes time.
The classes and subclasses of a Cannabis license determine which activities your company can engage in.
Et Voila!
You're high-class app is ready (Pun totally intended!)
Key features of a cannabis delivery app
Now that you know your CBDs, here are the 10 top-notch features of a cannabis delivery app:
Tracking via GPS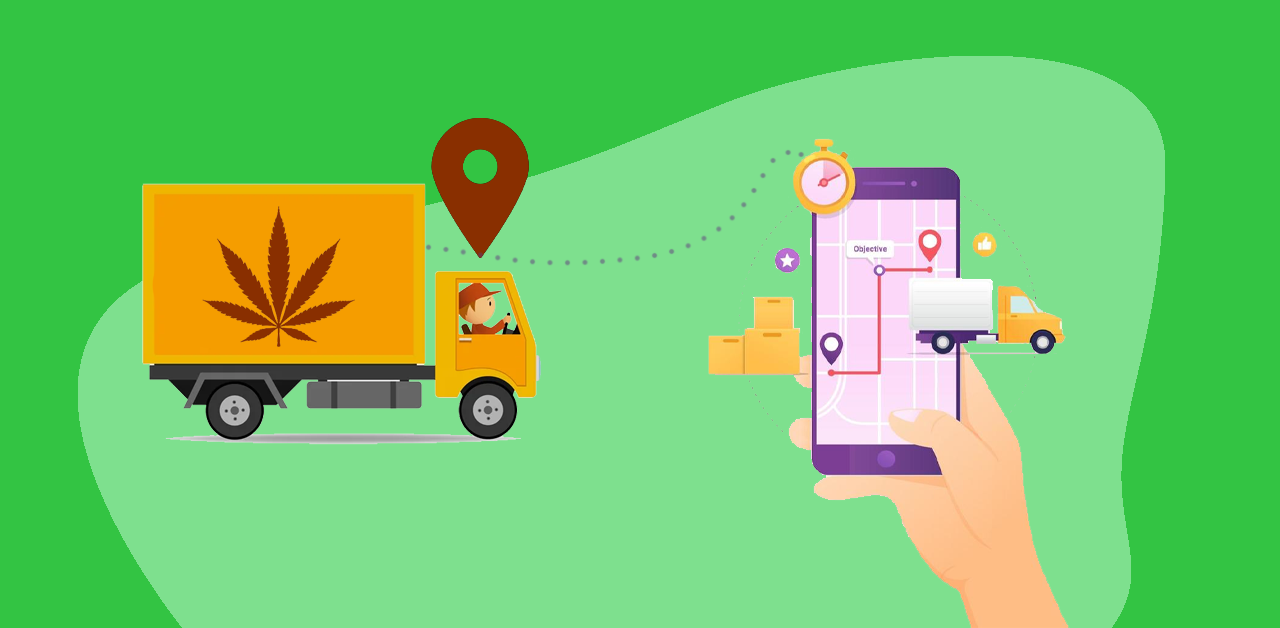 This feature entails the integration of maps, allowing consumers to follow their orders in real time. Google Maps SDK can be used in the geolocation solution.
Verification by the user
Before viewing the app's content, the buyer should be required to sign in to the app by phone number, email, or social network account.
Then, they can verify their identity using their identification, and the doctor's receipt for medical marijuana can be uploaded.
Navigation within the app
Integrating this function enables simple delivery because the delivery person will quickly locate the best and quickest route to the user.
Calling/Chat within the app
This feature will make communicating easier for app users, delivery people, and sellers.
Document management in the app
This feature makes it simple to handle documents within the app.
Analytics & insights
The admin will be able to track everything linked to the app in this part, including the number of sales, orders placed, and profit earned in real-time.
It's a simple method to stay informed about the entire app's progress.
Payments made within the app
Buyers should pay using a built-in payment gateway when placing an order through the app.
Tracking
Users of the app can track their deliveries using the app's integrated GPS services.
Get all your features covered with the help of AppsRhino's cannabis delivery app development solution.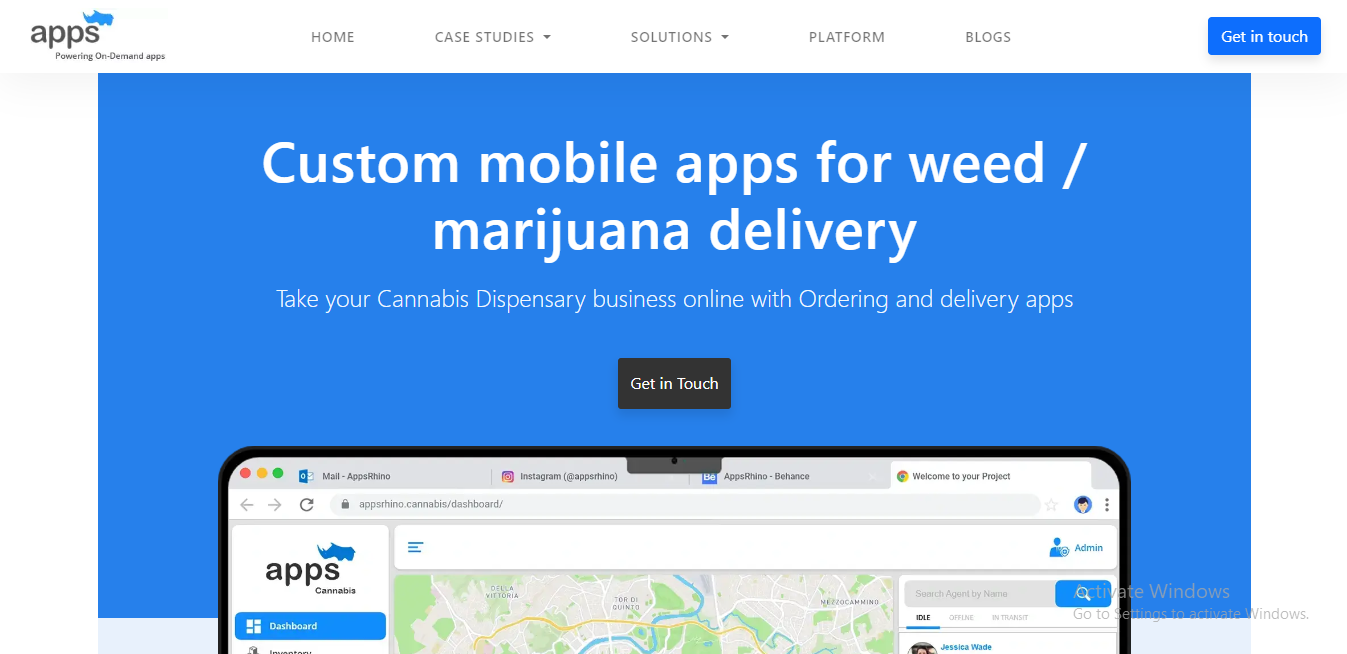 AppsRhino offers the best Tech-driven solutions for Home services, Laundry delivery, Alcohol delivery, Grocery Delivery, Food Delivery, and Taxi Services:
Conclusion
There you have it—a complete guide to cannabis delivery app development.
With a little bit of planning and some good old-fashioned hard work, you'll be well on your way to creating the next big thing in the world of weed.
Enter this budding industry with Apps Rhino—where you can take advantage of these wonderful possibilities from the comfort of your home in just one simple step.
This market-leading platform for on-demand app development works with customers to help them succeed in their endeavors!
We hope you found this blog insightful! C you later!
Frequently Asked Questions
What is a cannabis delivery app?
A cannabis delivery app is a platform that allows customers to browse, purchase, and get cannabis delivered to their doorstep.
How can a cannabis delivery app ensure regulatory compliance?
A cannabis delivery app can ensure regulatory compliance by verifying the age and identity of users, partnering with licensed dispensaries, and following local and state regulations.
How can a cannabis delivery app protect user data?
A cannabis delivery app can protect user data by using encryption, multi-factor authentication, and secure servers. Additionally, it should have a clear privacy policy and terms of service.
How can a cannabis delivery app market its services?
A cannabis delivery app can market its services through social media campaigns, influencer partnerships, referral programs, email marketing, SEO optimization, and content marketing.
What are the common challenges in cannabis delivery app development?
The common challenges in cannabis delivery app development include navigating complex regulations, dealing with payment processing limitations, ensuring user safety, and addressing the stigma around cannabis.
What are the future trends in cannabis delivery app development?
The future trends in cannabis delivery app development include AI-powered personalized recommendations, AR/VR product visualization, voice-enabled commands, blockchain-based payment systems, and integration with smart home devices.