"It's deeply gratifying to launch the Apple Store's first fully-functional cannabis delivery app, making it even easier for our two million registered customers to legally consume."
Rogelio Choy, the CEO of the Eaze app, gave this statement after Apple finally removed complete restrictions from Cannabis (weed)-selling apps. One big moment for all of us, isn't it? On 7th June 2021, Apple Store revised its policies and allowed "licensed or otherwise legal cannabis dispensaries" to sell cannabis.
This change in policy doesn't mean that if you have an App Store anywhere in the world, you can buy Cannabis (weed). How do you know if you can find a Cannabis (weed) app on Apple or not? Here we are with a guide to answer your question. So if you are drained and want Cannabis (weed), go through this article and find out how you can order some!
The long journey that Cannabis Delivery Apps had to cover
Apple initially didn't permit the sale of Cannabis (weed) apps on the App Store. As per reports from Apple, they didn't want to encourage the "consumption of tobacco and vape products, illegal drugs, or excessive amounts of alcohol." What journey did Cannabis (weed) apps have to cover to make their place on the App Store? A Forbes headline says, "Apple Secretly Joined Amazon In Advancing Commercial Cannabis Reform." Here are a few points with the help of which you will be able to find what caused Apple to change its Cannabis (weed) policy.
As per reports, the interest of American voters has been shifting in favor of cannabis legislation. (Close to 70%)




When big organizations and political legislation change policies (related to topics seen as "illicit or illegal" - Forbes), they gain support from the voters.




There was a wave of positivity towards Cannabis (weed) from known companies like Amazon and Uber.
Hence, even if Apple was resistant to its App Store selling cannabis delivery apps, it silently changed its policies and allowed Cannabis (weed) apps. (legally)
Can you buy Cannabis (weed) from anywhere using the App Store?
Since you know that Apple allows the sale of Cannabis (weed) through its platform, you must be wondering if you can download the app and release your stress now, right? Well, not the best news for you then. Apple did remove its restrictions on cannabis delivery apps but added new minor ones. Let's discuss the new policies by Apple regarding the Cannabis (weed) apps and their limitations.
Policy Statements by Apple
Apple changed its policies for cannabis delivery apps on 7th June 2021. On the official policy blog by Apple, a description of the following points is there. Apple said they will be "facilitating the sale of controlled substances", but will make an exception for "licensed or otherwise legal cannabis dispensaries." This platform added, "Apps that facilitate the legal sale of cannabis must be geo-restricted to the corresponding legal jurisdiction." Further, Apple clarified that "apps that facilitate the sale of marijuana or marijuana products, regardless of legality". Hence, there is still a ban on marijuana.
Legal Jurisdiction
As an elaboration to Apple's statement, you can have on-demand delivery of Cannabis (weed) only if you live in a region where Cannabis (weed) is legal. In case you have an Apple device but live in regions where cannabis is still illegal, you will not be able to download the cannabis delivery app on your device. The regions which allow buying and selling of Cannabis (weed) (legally) are-
Netherlands

Spain

Canada

South Africa

Jamaica

Colombia etc
Does this seem fair? Well, wait for your country to announce cannabis is legal then. ( I am rooting for you!)
Age Limit
An app has to follow a long process before you can have Cannabis (weed) at your doorstep. One of the critical processes is customer identification. How can the company identify if you are an adult? An adult who is allowed to buy Cannabis (weed) legally. Yes, you are thinking right. Your identification! The company has to make sure that they don't deliver cannabis to the wrong person (That can be dangerous!).
Therefore, every cannabis delivery app makes sure that the person who places and accepts the order is a legal citizen of that country and is above the minimum age limit in that region.
Top 5 Cannabis Delivery Apps on the App Store
To answer your question about cannabis delivery apps. Absolutely! You can buy Cannabis (weed) by using your App Store from your couch. But from where could you order Cannabis (weed)? Do you know the best Cannabis (weed)-selling apps? Here is a list of the top 5 cannabis delivery apps you want to try.
weedMAPS (App Store Rating: 4.7/5)
Before Apple changed its policies, weedMAPS still led the market. weedMAPS gave information to its readers about the local cannabis stores, the best Cannabis (weed) in the market, and other data related to Cannabis (weed). Customers enjoyed getting updates and new information. weedMAPS also lets customers look through price tags, find the nearest and best dispensaries, and live menus.
weedMAPS kept updating its app to fix bugs frequently to provide the best customer experience. With the change in Apple's Policy, weedMAPS also made changes and started cannabis delivery.
EAZE (App Store Rating: 4.7/5)
An app was released a month after Apple changed its cannabis delivery policy. This Cannabis (weed)-selling app made its place in the market at its launch. The world gave Eaze a nickname, "the Uber of Cannabis (weed)." Eaze does not grow or sell Cannabis (weed) but acts as a third party (supplier). It offers real-time tracking and delivery for its users, as any food-delivery app is doing nowadays.
Eaze was initially launched in 2014 to connect customers (age 21+) to Cannabis (weed) dispensaries and legal stores. A feature in Eaze different from other Cannabis (weed)-selling apps is that you can refer stores, cannabis types, and additional information to your friends through the app.
LEAFLY (App Store Rating: 5/5)
This app acts as "the knowledge book" for its users. People can find the best cannabis for them with the help of this app. The app is a research platform for you! Leafly helps the user find the nearest and best cannabis store with updates on deals and offers on Cannabis (weed).
You can find cannabis stores, doctors, clinics, delivery services, and anything related to Cannabis (weed) on Leafly. Find stores and services and pay bills online using Google pay! Leafly is one of the most liked apps on the App Store, with 1st rank among cannabis delivery apps.
POTBOT (App Store Rating: 5/5)
If you are looking for cannabis for medicinal purposes, Potbot is for you! Sometimes you have to try various cannabis and explore those strains to find the right one for you. Potbot provides you a platform with more than 750 strain recommendations as per your need. This application is AI-driven; it takes your data, understands your needs, and then tells you which strain to use. The app can also inform you about the benefits and required amount of Cannabis (weed) to use so that you don't overdose.
To get a similar app developed for your Cannabis delivery, you can consider AppsRhino that provides an On-Demand Cannabis solution.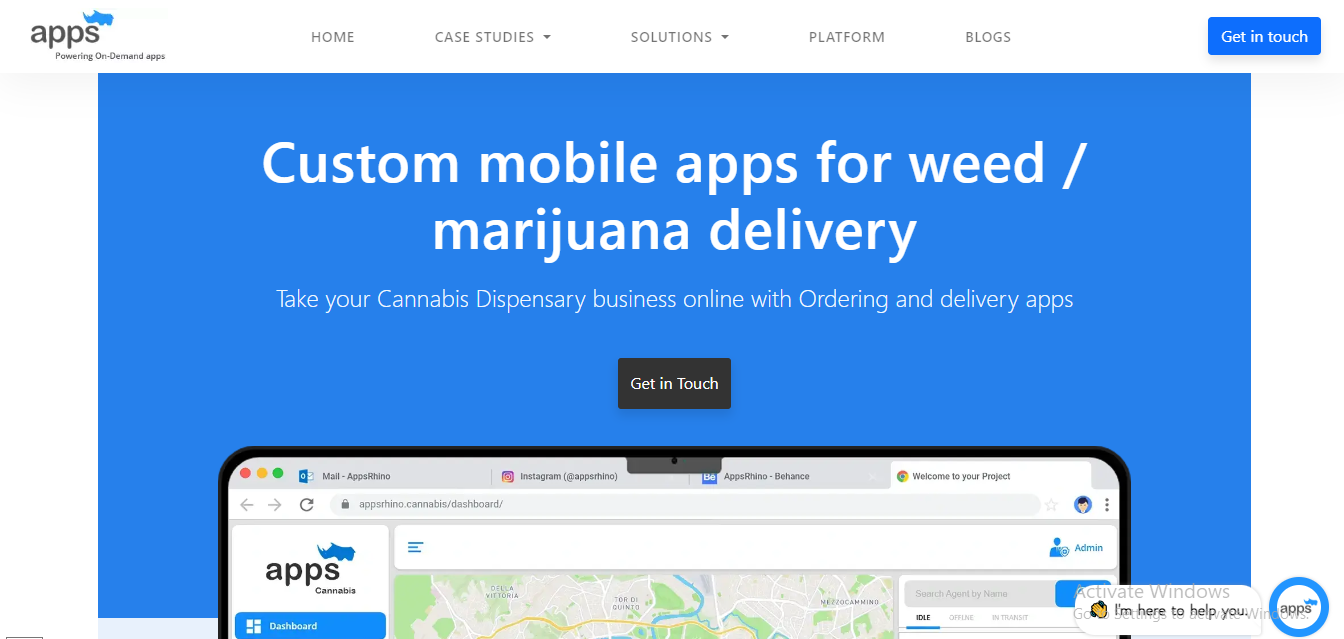 AppsRhino offers the best Tech-driven solutions for Home services, Laundry delivery, Alcohol delivery, Grocery Delivery, Food Delivery, and Taxi Services:
TRYM (App Store Rating: 4.6/5)
If you are a cannabis producer or retailer, you should have this app. By downloading this app, you can track the growth of Cannabis (weed)s on your farm from your smartphone. Trym is a "farm- management software." It is built primarily for commercial Cannabis (weed) farm owners and cultivators. The app gives you a track record by linking the Cannabis (weed) plat, the environment, and your set goal for your Cannabis (weed)'s growth. The app additionally allows you to track your sale in the market.

Trym uses the link of Metric(Marijuana Enforcement Tracking Reporting Compliance), a compliance software used in various countries. Legal age of Cannabis (weed) purchase in different countries - For most countries like Canada, Amsterdam, and others, the legal age for cannabis consumption is 18 years. - But for some countries like Ontario, the legal age is 19 or older. - In other countries, the legal age also exceeds 21 years.
Google stays resistant!
While the AppStore changed its policies and has been supporting cannabis-selling apps since 7th June 2021, Google has a different viewpoint. Google does not want the apps on its platform to sell marijuana or cannabis. Cannabis (weed)-selling apps like Cannabis (weed)maps and Eaze which had a large download number had to change their features and remove their delivery option from their apps. - It does not matter if Cannabis (weed) is legal in a country. Google doesn't want to support the sale of Cannabis (weed) on its platform. - Google didn't ban cannabis delivery apps directly but directed these apps to remove shopping features from their apps. - Google told the Android police, "These apps simply need to move the shopping cart flow outside of the app itself to be compliant with this new policy." - In response to the changes made by Google in its policy and its ban on cannabis delivery apps, Eaze made a statement. "Google's decision is a disappointing development that only helps the illegal market thrive, but we are confident that Google, Apple, and Facebook will eventually do the right thing and allow legal cannabis companies to do business on their platforms. We regret any inconvenience this may cause for customers and patients."
The Takeaway
With Apple removing its restrictions from Cannabis (weed) selling and delivery, it is the start of a moment! As per Forbes, it might have been a stunt to have the attention of US voters, but it is still a revolution. The non-discussable topics in earlier days are coming up and bringing a whole new phase. Apple removed its ban on cannabis delivery apps. Since then, many users can legally buy cannabis for medicinal and recreational purposes without fear. As per Adair Lion, the Co-Founder, and CMO of Artis, "As a fintech company on the cutting-edge of development in both cannabis and retail, Apple's Policy changes are a monumental shift in the way our society does mobile transactions." AppsRhino is a mobile app development platform. It has created many trusted users and rewarding applications. Contact us today to know more!
Frequently Asked Questions
Is it legal to buy cannabis through mobile apps?
The legality of buying cannabis through mobile apps depends on the specific jurisdiction. In some areas where cannabis is legalized for recreational or medical use, licensed dispensaries may offer delivery services through their own dedicated apps. However, it is essential to comply with local laws and regulations.
Are there any legal cannabis delivery apps?
In regions where cannabis is legal, there may be licensed delivery services that have their own dedicated apps. These apps enable customers to order cannabis products for delivery to their designated locations. However, it is crucial to research and ensure compliance with local laws before using such services.
Can I order cannabis online through apps?
In regions where cannabis is legal, licensed dispensaries may offer online ordering services through their own dedicated apps or websites. These services allow customers to browse products, place orders, and arrange delivery or pickup. However, it is crucial to comply with local laws and regulations.
Where can I find reliable information about cannabis laws and regulations?
Reliable information about cannabis laws and regulations can be obtained from official government websites, state or provincial regulatory bodies, or reputable sources specializing in cannabis news and legislation. It is important to consult up-to-date and accurate sources specific to your jurisdiction for the most reliable information.