Introduction
Hey, Marijuana or cannabis sellers! Now that the government has legalized the selling and buying of Marijuana in a few areas, you might have witnessed an influx of patients coming to you to buy it. Is it not a great feeling?
We are sure it is.
However, you might have faced a few problems while handling many customers because of the limited human resources at your brick-and-mortar shop.
And a limited workforce might make it hard for you to keep track of your sales and customer behavior.
But guess what? You just need one entity to get valuable information on your customer behavior. And that is just a simple mobile app. We are talking about a cannabis delivery app for your business.
Hold your horses if you think you can get an excellent cannabis delivery app without knowing a few things regarding its development.
And you need not go to the nook and corner to gather the information you need regarding Cannabis app development. We are here to acquaint you with all the necessary things.
Let us dive right into it!
How to make a cannabis delivery app?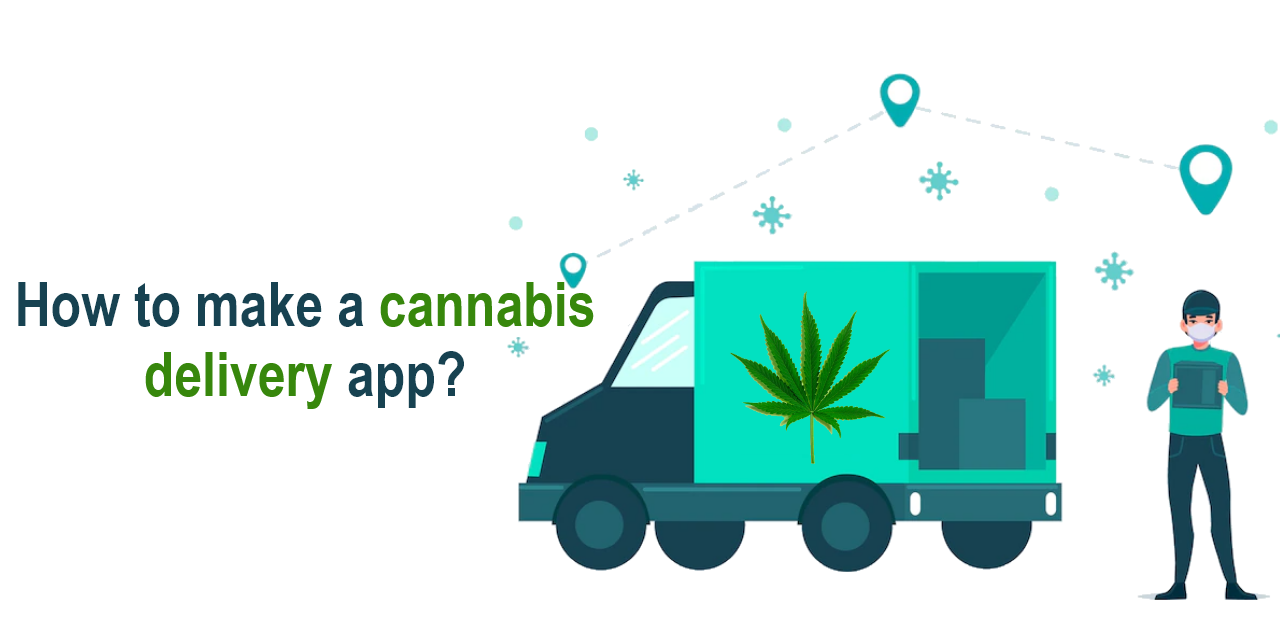 There are a few things you need to do to develop an excellent cannabis delivery app. It includes researching the on-demand cannabis industry, contacting licensed marijuana stores, and staying abreast of the latest news and rules regarding Marijuana use.
Besides that, you will also require to churn out an excellent and easy on eyes user interface and provide a matchless user experience. And for that, you will require a mobile app development company.
But before you rush to any reputed app development company, you must know what you need.
Therefore, the blog will acquaint you with what you must know about the industry, which business model you can opt for, and which features to include before you contact a mobile app development company.
What are a few crucial things you need to do to develop a cannabis delivery app?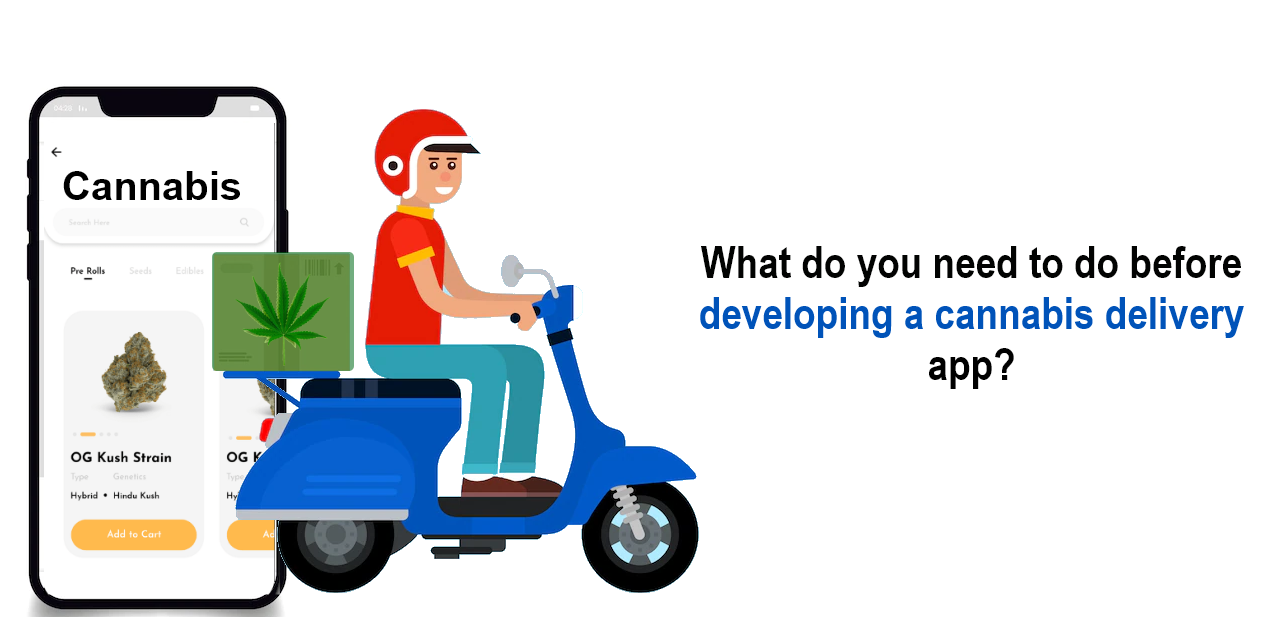 There are a few things that you need to do to ensure you are on the right track. These are as follows:
Gather Business Information and do research
The first thing entails that you research the on-demand cannabis delivery business to understand the industry in detail. Also, you must find out where the government has made cannabis legal to avoid complications in the future.
Last but not least, determining your target audience is crucial. It helps you promote a good relationship with your clients and shoppers by letting you give them insights, recommendations, and tips.
Bridge legal buyers and licensed cannabis
You also need to work on integrating maps and filters to connect legal customers with licensed cannabis stores. You must ensure that the sellers on your platform are licensed by running a background check.
And for customers, you must check their prescriptions before deeming them suitable for buying cannabis
Marijuana-related latest updates
Since we know there are places where Marijuana is still illegal, it creates a situation where you must keep yourself updated on cannabis' latest updates & news concerning rules and regulations.
How to Build a Marijuana Delivery App?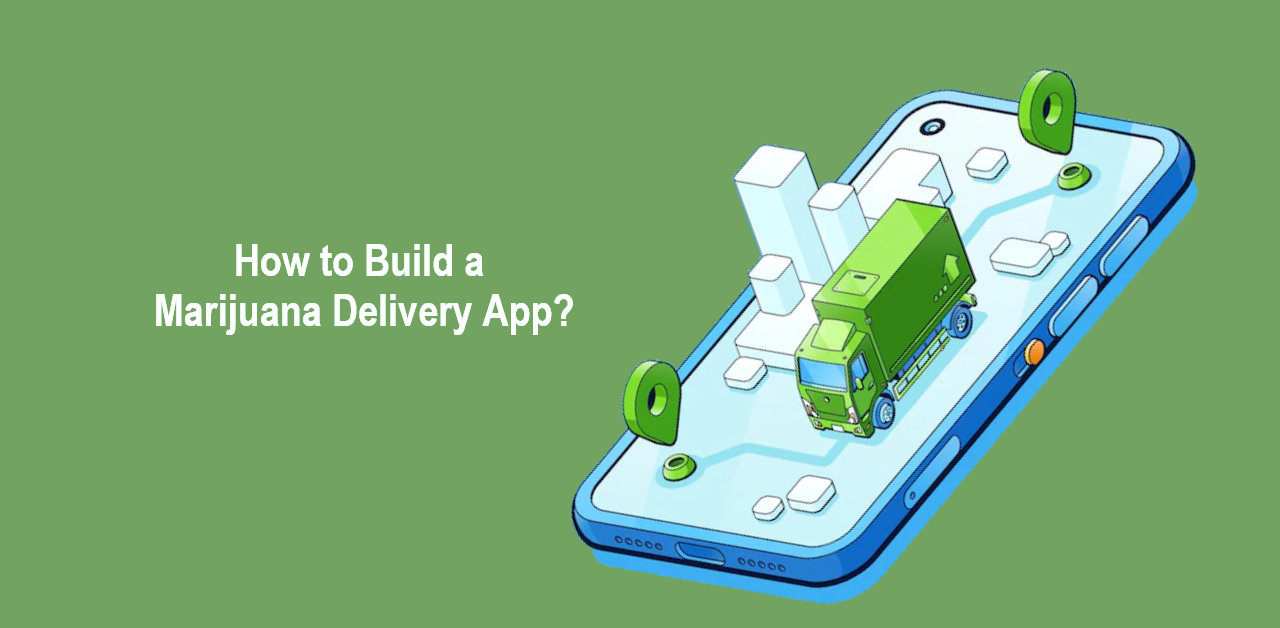 Here we tell you the steps you must follow to develop a Marijuana delivery app.
The first thing you need to do is document your ideas before you contact a professional app development company. Doing so will let them know what your expectations are.

Brainstorming before finalizing and wireframing your prototype is necessary.

You can avoid iterations in the future by testing your prototype for all the possible use cases. This step saves you time and money.

While you develop your app, promoting it on social media platforms to raise awareness for your brand is advisable. It is like a pre-launch promotion that will let people know they will soon have an app for their medical needs.

The previous step lets you access essential customer insights and help you work accordingly.

Once your chosen app development company creates an app, the next essential phase is testing. You must test every use case to ensure that your cannabis delivery app is free from bugs and errors.

After your app gets approved, you can launch it. However, your task is not over yet. Now you need to keep an eye on your user experience and analyze the metrics you receive. Keep responding to your customers' desires and take their feedback to roll out updates in the future.

Since you want to develop a cannabis delivery app, let us see whom it helps.
What Are the Medical Uses of Marijuana?
People generally consider Marijuana a drug that people use for recreation. However, it is not all for which you can use Marijuana.
Today, you can find people use cannabis to cure pain caused in the following situations:
Etc.
Since cannabis has medicinal benefits, doctors in the states where it is legal to prescribe Marijuana can give it to patients who need it. As a result, such patients obtain a marijuana card.
You can use it to treat Crohn's disease, chemotherapy, seizure disorders, etc.
What business models can you choose from for your cannabis delivery app?
You will find the following business models in the on-demand cannabis delivery industry.
Dedicated
Here you have your store for marijuana delivery, and its dispatch & delivery are under your control. Hence, in this business model, you will earn money in two ways: through funds generated through delivery and store earnings.
Aggregator
In this business model, you provide a common platform to connect licensed stores and customers to sell and buy cannabis. Here, you will handle orders from stores and service providers and deliver the orders to customers.
Delivery-Specific
In this approach, you do not need to do anything except take care of order delivery. Your only task is to manage orders from cannabis providers and deliver them to customers.
What features can you include in your cannabis delivery app?
Your cannabis delivery app will have the following panels, and each has some features you can not skip.
Customer Panel
The customer panel of your cannabis delivery app requires the following features:
Sign up / Login
It would be best if you tried to keep the signup and login process as simple as possible. It must entail customers submitting their proper identity proofs and age verification.
Upload Prescription
Your cannabis delivery app must make it necessary for customers to upload their prescriptions to use your services, as marijuana use is strictly related to healthcare purposes.
Smart Search
You can add the smart search functionality, product sorting, and filter options to your cannabis delivery app to let people search for relevant products.
In-App Payment
The sole reason why people use on-demand apps is convenience. Therefore, you must ensure that your app provides them with an in-app payment option as it lets them make payments without hassles.
Order Tracking
Humans are impatient, and they want to keep everything under control. And for this reason, your cannabis delivery app should include the order tracking feature to attract customers by giving them a sense of control.
Schedule Delivery
Another thing that will lure people into using your cannabis delivery app is the ease of scheduling delivery. It increases customer satisfaction.
Ratings and Reviews
This feature is important for both users and you because it allows your customers to share their experiences and suggestions regarding your app and services. Also, this will help you know which things you need to work on.
Delivery Panel
The delivery panel of your cannabis delivery app must have the following:
Profile Registration
It is mandatory to add a feature that enables drivers to manage their profiles and type in personal details such as contact details, names, addresses, upload required documents, etc.
GPS Tracking
GPS tracking lets delivery agents know where to take the orders by giving them the exact route and address, facilitating timely deliveries.
Monitoring Orders
This feature is essential as it lets drivers update order status from time to time, helping customers and admins know where the order has reached at any point until delivery.
Get all your features covered with the help of AppsRhino's Cannabis app development solution.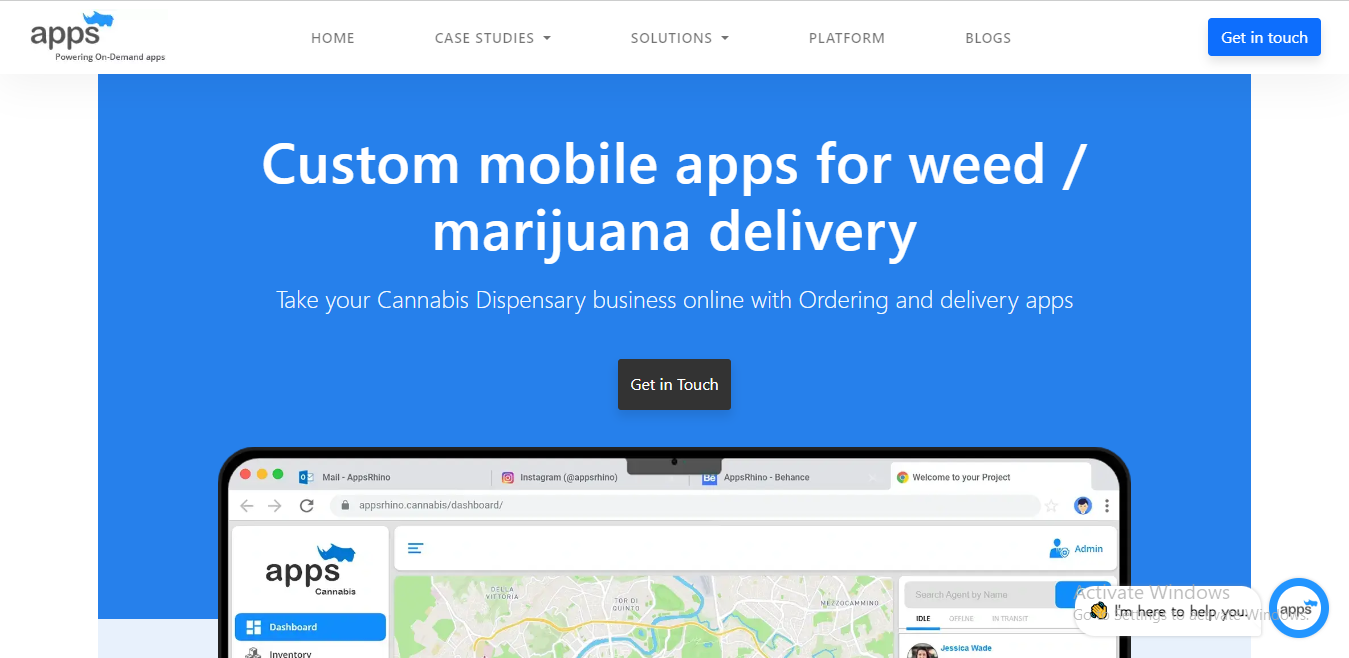 Apart from custom mobile app development, AppsRhino offers the best Tech-driven solutions for Home services, Laundry delivery, Alcohol delivery, Grocery Delivery, Food Delivery, and Taxi Services:
Admin Panel
The admin panel of your cannabis delivery app must have the following features.
Dashboard
A dashboard gives admins access to all the crucial information about the app and related statistics.
Manage Customer
You must add this feature to your cannabis delivery app as it gives admins quick access to every user's details without hassles.
Manage Orders
This feature lets admins manage orders to ensure which orders have been delivered and which are yet to be delivered.
Manage Listings
Admins also have to see and manage their product listings, and they can do it only when they have a means that allows them to perform this task.
Thus, your cannabis delivery app should have the "Manage Listings" feature to let admins add new products.
Feedback and Reports
Working on the things that your customers feel need improvement is significant for the growth of your business. And this feature lets admins access customer feedback to understand what they need to change.
Also, various reports on the app's working and the activities taking place here will be accessible to them to help them develop new strategies.
Conclusion
The above information will help you decide what to do before contacting a mobile app developer. They say you can bring a horse to water but can not make the horse drink it. And it is true.
A mobile development company can help you only when you know what you want in your app and your vision. Thus, it becomes mandatory to know your target audience, your business model, a basic list of features, etc.
All these things are pivotal in how your chosen partners understand your expectations and vision.
Our team of professionals is talented enough to create a cannabis delivery app for iOS and Android platforms, topped with a restful web service, google maps, payment gateways, notifications, etc.
AppsRhino has expertise in developing on-demand food delivery, groceries, alcohol, laundry, home services, etc. And our experience and skills in developing on-demand apps will help us do justice to your dream project.
What are you waiting for? Contact AppsRhino to get started!
Frequently Asked Questions
What are the essential features of a cannabis delivery app?
Essential features include user registration, product catalog, real-time tracking, secure payments, age verification, order history, push notifications, ratings and reviews, customer support, and integration with dispensary inventory management systems.
How can I ensure legal compliance while building a cannabis delivery app?
To ensure legal compliance, research and adhere to local regulations, implement age verification, limit service areas to authorized regions, and require identification verification during registration and delivery.
What technology stack is best for building a cannabis delivery app?
The ideal technology stack may include frontend frameworks like React Native or Flutter, backend frameworks like Node.js or Ruby on Rails, along with database management systems like PostgreSQL or MongoDB, and cloud services for hosting and storage.
How can I implement secure payment options in a cannabis delivery app?
Implement secure payment gateways, such as Braintree or Stripe, that support encryption and PCI compliance. Also, ensure compliance with local regulations regarding cannabis transactions.
How can I incorporate age verification in a cannabis delivery app?
Integrate age verification systems like ID scanning or third-party age verification services to ensure customers meet the legal age requirements for cannabis purchases.