The cannabis industry has been growing since 2000, and it has been legalized in some parts of the globe. Globally, marijuana is the most commonly consumed drug. However, keeping the marijuana plant is illegal in many parts of the world. But, Canada became the second country in the world to fully legalize the use of recreational cannabis. The legalization has opened doors for a multi-billion opportunity in the subcontinent of North America for entrepreneurs to dominate in retail sales of Cannabis. The North American Marijuana Index, which is a maker of cannabinoid-based drugs in North America, has said that the demand for Cannabis has risen to 600% since 2016.
Another company based in Canada, Canopy Growth Corp., which is the largest supplier of Cannabis in Canada, has been planning to add an additional 5,00,000 sq. ft of cannabis production. The investors are also readily financing the on-demand cannabis start-ups and emerging as winners. Now, pot sales are also estimated to boost the country's tax revenue to more than 20%. Therefore, the future of the cannabis industry is estimated to grow to $63.5 billion by 2024, thus attracting many budding entrepreneurs to establish their niche in the domain.
Impact of Technology on the Cannabis Industry
With the upliftment of the ban on the limited use of recreational Cannabis, the opportunities in this segment have suddenly exploded. According to a report, the increase in people buying marijuana online has seen a 200 percent growth with an estimated 2.4 million searches in a single month, excluding the irrelevant searches. With the legalization of weed for all purposes, the services in this sector will definitely show an escalating slope in the future. The Alberta province of Canada is home to some 200 cannabis retail stores and at least 111 legal pot shops have been planned to open across the nation of 37 million people.
Therefore, entrepreneurs eyeing to emerge as niche players in the marketplace can espouse an aggregator business model in which they can amalgamate the cannabis vendors or cultivators to fulfill the demand of their customers. The 2.4 million searches of recreational weed in a single weed point to the vast potential of the on-demand cannabis industry. Thus, AppsRhino's real-time tracking solutions and custom mobile apps for weed services will prove to be a secret weapon for a cannabis delivery app.
With the legalization of Cannabis, since the on-demand cannabis venture seems to be a cannabis delivery app, Cannabis on-demand Custom mobile apps for weed are a golden opportunity; starting a business model of cannabis on-demand can generate a pot of gold. Technology will play an essential role in bridging the gap between the customer's needs and the supply chain.
So, there is a pool of opportunities in the on-demand cannabis industry. Entrepreneurs can fulfill the demands of their clients by offering fast and reliable services through Mobile Apps as all the demands of the consumers can be satisfied with a single tap on the screen.
Federal legislation
The Government of Canada legalized regulated and restricted access to Cannabis on October 17, 2018.
Under federal legislation:
adults are allowed to possess up to 30 grams of legally-produced Cannabis

adults are free to grow up to four cannabis plants per household

the minimum age required for purchase and use is 18 years of age, but provinces are free to increase the age limit

the federal government controls the licensed production of Cannabis

the provincial government keeps tabs on the distribution and sale of Cannabis

new provisions to address drug- and alcohol-impaired driving have been implemented
Product Roll-Out
From the day Cannabis/ Marijuana was legalized, people could get only oils, seeds, flowers, and marijuana plants. Edibles concentrate and other related products were made available later, in 2019. Though other products that have been in development, which include creams and cosmetic products, are still restricted by regulations prevalent in Canada.
Government's Role
An important consideration for Canadian cannabis companies and investors in those companies is the role of Canada's government and its various regulatory measures that govern legalization. Besides in-person sales at licensed provider (LP) stores, the regulations also authorize online sales. In numerous provinces, government-run dispensaries promote online sales. Moreover, some provinces permit government dispensaries to control the distribution of cannabis products, acting as a mediator between LPs and the consumer.
Separate Legal Questions
People have raised numerous other legal questions about cannabis use in Canada. At the beginning of legalization, it was not clear how individuals who were previously convicted of cannabis-related crimes would be treated post-legalization. The government rejected deleting or erasing records for possession. Instead, they passed a pardon version—called a "record suspension."
This process is also there for other crimes, but there is an absence of a waiting period for cannabis-related crimes, and applicants are not supposed to pay the $631 fee. About 250,000 Canadians are thought to have records for merely possessing marijuana.
The minimum age required to legally buy Cannabis also varies from province to province, which raises legal challenges. While you will find the legal age for marijuana use is 19 in most provinces, there are exceptions. As of January 1, 2020, the legal age for buying and using marijuana/ Cannabis in Quebec is 21. In Alberta, the legal age for the same is 18 years old.
Similarly, different legal restrictions regulate where consumers are allowed to smoke marijuana, depending on the province. In many provinces, people are not allowed to consume in public. Still, other provinces allow Cannabis to be consumed in areas where tobacco can be smoked.
Conclusion
AppsRhino is a mobile app development company that develops an app for entrepreneurs, small businesses, and large enterprises. In its five years of existence, we have been able to help companies realize their goals on the mobile platform. Contact us to know how we can help your business reach the next level.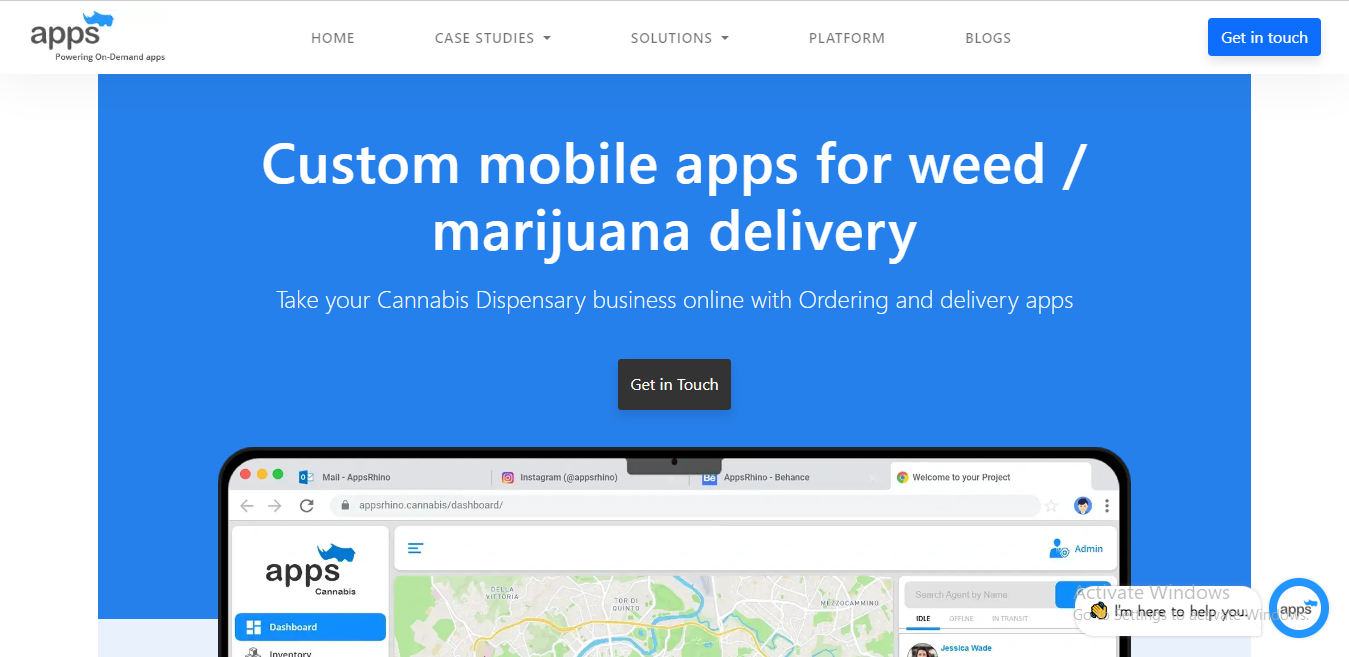 Apart from custom mobile app development, AppsRhino offers the best Tech-driven solutions for Home services, Laundry delivery, Alcohol delivery, Grocery Delivery, Food Delivery, and Taxi Services: