Introduction
On-demand solutions are a boon to today's busy and stressful lifestyles. Furthermore, the technology-driven Millennial and Gen-Z generations want everything completed at a touch of a button.
Consumers nowadays expect Home Services such as laundry services, home renovation, electrical/electronic repair, pest control, beauty services, or fitness trainers at home to be at their doorsteps immediately. As a result, an on-demand home services app is the ideal option for them.
Apps that provide on-demand home services are gaining popularity because they create a direct link between consumers and sellers/service providers. Furthermore, users can select from a variety of cost-effective service providers.
Several business owners have benefited from the on-demand business model and related apps. Several corporate titans have made investments in this domain. Likewise, many start-ups are excited to embark on a new business adventure with on-demand app development.
This industry will indeed become the next great thing in Business.
What exactly are On-demand Apps?
On-Demand Apps are digital tools that offer users services on demand. The advent of technology has brought immediate satisfaction, and waiting for a service/product has become obsolete. On-Demand Services attempt to bridge this gap by providing services in real-time. Smartphones serve as a platform for these apps, which offer almost every service in the traditional marketplace.
On-demand apps are increasingly undermining established business models, replacing them with a platform that connects the critical parties in a service exchange (Service provider and customer).
Why should you put your money into On-demand App Development?
Investing in On-Demand Home Services can significantly increase your ROI, whether you are a start-up, a small/medium-sized business, or a powerful corporation. Let's see why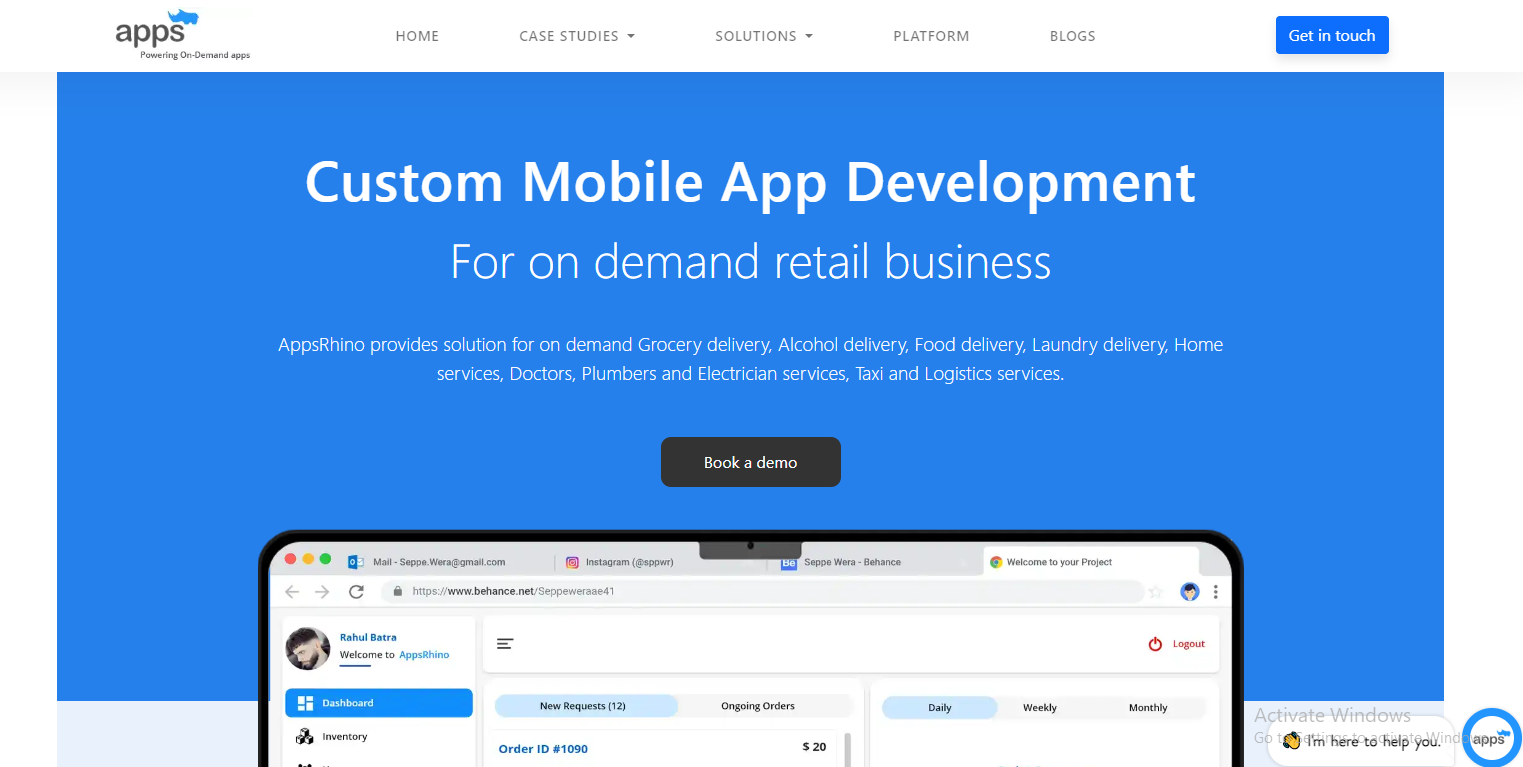 Technically savvy customers
Client expectations have shifted. In this age of the internet and smartphones, many clients are eager to use technology for anything and everything. Instead of purchasing items from traditional businesses, they use instant online services to meet everyday demands. Furthermore, because of their hectic lifestyles, they struggle to combine work, home, and social life, and on-demand home services solutions are ideal. These services are conveniently accessible to people according to their schedules and preferences.
Allows competition between vendors
The on-demand home-services market comprises many small vendors who work together on a single platform to provide various services to customers. As a result, this market has become very competitive. To compete in such a competitive environment, every vendor seeks to supply clients with innovative, high-quality services at accessible prices. Furthermore, providing services on the same day is the new norm, and many suppliers are already doing so to increase sales and surpass their competitors.
Customer-focused solutions
The on-demand solutions are built with the customer in mind. Because numerous suppliers compete for the same service on the same platform, clients have the freedom to select any vendor based on their brand preferences, budget, and so on. They may be confident that they will receive the service within the timeframe specified. They can also plan appointments with any service provider based on availability and convenience. They can check the complete details and monitor and follow the service person's arrival on their cellphones in real-time after hiring the service. As a result, the majority of consumers prefer to use these services.
Luxuries are considered essentials
Customers of the next generation have distinct priorities. They will not spend their weekends cleaning their homes; instead, they will employ cleaning services. They already outsource their laundry and a variety of other benefits. Customers' spending power has also increased, and they can now buy expensive goods and services. As a result, there is room for various forms of on-demand home services in the coming years.
Benefits of On-demand apps for Business
The on-demand notion applies to a wide range of businesses; the examples shown above are only a few. Furthermore, on-demand app creation provides the following advantages to your company.
Scalability
Your Business might start with an on-demand delivery app for your company and eventually extend your solution to an on-demand marketplace where you host other businesses. They pay you a fee for each transaction that occurs on your platform.
Booking is simple and convenient.
Many customers are accustomed to one-click booking, ordering, or scheduling. You can provide them with this option via an on-demand app.
Adaptable Offers
An on-demand application allows you to update your services based on user data. Using the app's built-in recommendation engine, analyzing consumer transactions gives up chances for tailored marketing, monitoring user behavior, generating philosophical assumptions, and developing relevant offers. You may also use an on-demand app to offer discounts and bonuses to encourage people to reorder.
Customer service enhancement
Users nowadays prefer to go online rather than by phone to find what they need. You do not need to use an app to improve customer service. Develop a user-friendly, on-demand application with necessary and easily accessible capabilities. This solution will drastically minimize the requirement for customer care people.
Analyzing user activity
Analyzing user activity within your app determines which services and offers are the most and least popular, what distracts your customers from purchasing, and their behavioral patterns. This data can also improve and scale your product and develop data-driven marketing campaigns.
Gross revenue
Because of customer demand, mobile application revenues are rapidly increasing. In the United States alone, on-demand spending totals $57.6 billion annually. Consumers are willing to spend money on on-demand applications. Therefore your goal should be to provide them with the most satisfactory experience possible by working with a professional on-demand delivery app development business. It is an excellent tool for retaining customers and growing sales by incentivizing repeat purchases through discounts and loyalty.
Increasing your web visibility
On-demand mobile app development is what you need if you seek a new strategy to boost your internet visibility. Having a website for businesses is a given these days, but an app is a unique and stylish online tool.
Data Management and Storage
On-Demand Apps always provide cloud storage space. This storage is very beneficial for storing and managing all necessary user data. The data is available at all times. Data analysts may evaluate streamlined data storage at a single cloud location to spot trends in On-Demand App usage and build improved strategies to best suit the use pattern of all stakeholders. As a result, storing and accessing vast amounts of data becomes a boon during a company's development.
Improved Time Efficiency
On-demand apps shorten the time it takes to exchange services by linking consumers directly with service providers. As a result of fewer physical interactions, turnaround time is reduced, and service is provided more quickly. As consumers gain speedier access to services, their level of happiness rises, resulting in increased loyalty to the service provider. Furthermore, the on-demand app utilized for service exchange earns the trust of both stakeholders, resulting in an exponential increase in app usage.
All Interactions are being digitized.
As previously noted, on-demand apps have an enormous potential for cloud storage. This online storage eliminates the need for physical proof of interactions such as receipts and labels. This digitization relieves stakeholders of the burden of retaining physical copies, which is unneeded. It is also an environmentally friendly option. Digital tokens help to conserve paper and resources. As a result, every piece of information stored in the app is ecologically friendly.
Conclusion
The on-demand economy will grow much more. Furthermore, the pandemic proved that on-demand services are the only way to survive any global crisis for businesses. On-demand mobile app development is a fantastic time right now since it aligns with current economic trends and matches the expectations of modern users.
AppsRhino offers the best Tech-driven solutions for Home services, Laundry delivery, Alcohol delivery, Grocery Delivery, Food Delivery, and Taxi Services:
AppsRhino is a mobile app development business with extensive experience developing on-demand solutions for many sectors. Our tried-and-true techniques and insights can help you create such an application for your company. Contact us to kick-start your journey!
Frequently Asked Questions
What is on-demand app development and how can it benefit my business?
On-demand app development refers to the creation of mobile applications that provide instant access to goods or services. It can benefit your business by enhancing customer convenience, improving operational efficiency, and increasing revenue opportunities.
What are the key features to consider when developing an on-demand app?
When developing an on-demand app, important features to consider include real-time tracking, secure payment gateways, user-friendly interface, push notifications, and ratings/reviews system to build trust and improve user experience.
How can an on-demand app improve customer satisfaction and loyalty?
An on-demand app allows customers to access products or services anytime, anywhere, resulting in increased convenience. By providing personalized experiences, efficient services, and seamless communication, businesses can enhance customer satisfaction and loyalty.
How does an on-demand app expand business reach and attract new customers?
An on-demand app widens the reach of a business by allowing it to cater to a larger audience beyond physical limitations. With effective marketing strategies and positive user experiences, businesses can attract new customers and expand their customer base.
How can data analytics and insights derived from on-demand apps benefit a business?
On-demand apps generate valuable data on customer behavior, preferences, and trends. By analyzing this data, businesses can gain actionable insights to optimize their offerings, make data-driven decisions, and enhance overall business performance.