Introduction
Cannabis, a herb, generally known as marijuana or pot, is a psychoactive drug obtained from the Cannabis plant and has its uses for medical or recreational purposes. The herb has its worldwide users, around 180 million in the U.S. itself. Support for legalization has stormed in the United States, and several U.S. states have legalized marijuana for recreational or medical applications. The industry is currently on the verge of expansion and can experience a sudden explosion in terms of users in the coming time. Excise tax is charged on recreational and medical Cannabis sold side-by-side in retail outlets. Though hemp has not gotten the green signal at the federal level yet, there are 9,397 active licenses for marijuana businesses in the U.S. This includes cultivators, manufacturers, retailers, dispensaries, distributors, deliverers, and test labs. The fastest-growing business remains on shaky footing because of its dubious legal status. The country's apex law enforcement official recently injected a healthy dose of risk into recreational programs in Maine, Colorado, Washington, Oregon, Nevada, Massachusetts, Vermont, California, and Alaska.
Many cannabis dispensaries are looking forward to designing an online marketplace to endeavor the growing demand for Cannabis, where the consumer can be facilitated on-demand. Many medical users suffer because they cannot find prescribed Cannabis for themselves.
Statistics on the Use of Cannabis
Around 35 American States and the District of Columbia have legalized marijuana for medical use. Also, 16 out of these states allow adults to use it for recreational purposes.

The

global cannabis market is expected to grow

from $28.266 billion in 2021 to $197.74 billion in 2028 at a CAGR of 32.04% in the forecast period, 2021-2028

Cowen and Company researched and found out that the legal Cannabis market is bound to grow 20-30% per year to the price of 50 billion by 2026.

Cannabis sales hit $20 billion in 2020 and are projected to reach $45.9 billion in 2025, according to data from Marijuana Business Daily.

Cannabis is one of the fastest-growing industries in the world. In 2021, governments worldwide took steps toward the legalization of Cannabis.

A study of 5,000 adult cannabis users in the U.S. and Canada showed that today's consumers, most of whom are women, are successful, highly educated, and health-conscious.

Before legalization, 17% of 10th-standard students in the District of Columbia said they had smoked marijuana in the preceding month. Four years of legal doobies later, the same percent of 10th-standard students say they have smoked pot in the preceding month.

In Washington State, cannabis' selling price starts from about US$7 a gram and up (the same or lower than the street price, primarily when stores stage promotions such as $2 Tuesdays).

Only 60 percent of sales are dried Cannabis and oil, 26 percent of sales are extracted for inhaling and vaping, and most of the balance is edibles. Washington State levies a 37-per-cent excise tax on all cannabis-related products, plus retail sales taxes that vary locally as per the state concerned.
Stigmatization of Cannabis
Cannabis is not only a drug for getting stoned. Globally, people view Cannabis in a bad light and think it is better to ban it altogether. But they fail to realize that cannabis users come from varied backgrounds, patients, and doctors who use it for medical purposes. People should avoid stereotyping the drug and act responsibly for the community that needs Cannabis. When people stigmatize Cannabis, they end up dissuading patients, whose only hope of survive depends on Cannabis, from using it. Indeed, people need to understand both aspects of the Cannabis Industry: Science and Medical.
Cannabis: Is it suitable for medically treating patients?
Cannabis is used for medically treating people and should not be banned completely. Doctors use Medical Cannabis to treat patients with chronic illnesses such as Parkinson's, Cancer, Alzheimer's, and many neurological disorders. Moreover, robust programs are in force to reinvest millions of tax revenues from Cannabis into minority communities that the war on drugs has historically victimized.
Common challenges for cannabis businesses
Several challenges loom over cannabis businesses above and beyond those that startups in other industries face. Navigating and dealing with these challenges as and when they arise lets you build your business and strengthen your foundation. This is essential in the cannabis industry and other industries. Here we list some common challenges cannabis businesses face and a few tips for defeating them:
Developing the right partnerships
It would be best to focus on forging partnerships in the initial days of your business, as it is difficult to play alone in the cannabis industry. Also, the types of alliances you form at the early stages of your business make or break your cannabis business. You can hire top-notch consultants to develop plans for your Cannabis business. You will be in a good position if you build partnerships and relationships across the country; it gives you a competitive advantage.
Changing regulations
It would be best to hire a lawyer for your Cannabis business. A lawyer will help you understand this relatively new industry's ever-changing rules and regulations.
Banking, financing, and insurance challenges
You might find it difficult to get a bank for your Cannabis business as many banks refuse to associate with such businesses. This is because the
The federal government still considers it an illegal Schedule I drug (Controlled Substances Act).
Banks are afraid to lose their FDIC status or invite money laundering charges related to "drug trafficking"; thus, they are hesitant to work with cannabis businesses. To combat this problem, you can create an LLC or corporation to avoid the names containing CANNABIS in them because it inhibits banking options and insurance options.
Advertising and marketing restrictions
Advertising is essential to any business, but it can be hard to advertise your cannabis business to generate public attention. It is because even though legalization of cannabis, state regulations and private company policies limit how cannabis businesses can promote their business. Do you know it is banned to promote your cannabis business on the radio, television, or billboards?
You can promote your Cannabis Business on social networking sites and use email marketing campaigns and in-person marketing opportunities at trade shows and industry events. Also, word-of-mouth referrals can play a vital role in your Cannabis business promotion.
Conclusion
The Cannabis Industry is on the rise with the legalization of Cannabis. Cannabis is helpful to treat cancer patients and chronic illness patients. If you are in this field and want to expand your business, get an on-demand cannabis delivery app today! Contact AppsRhino for getting professional help.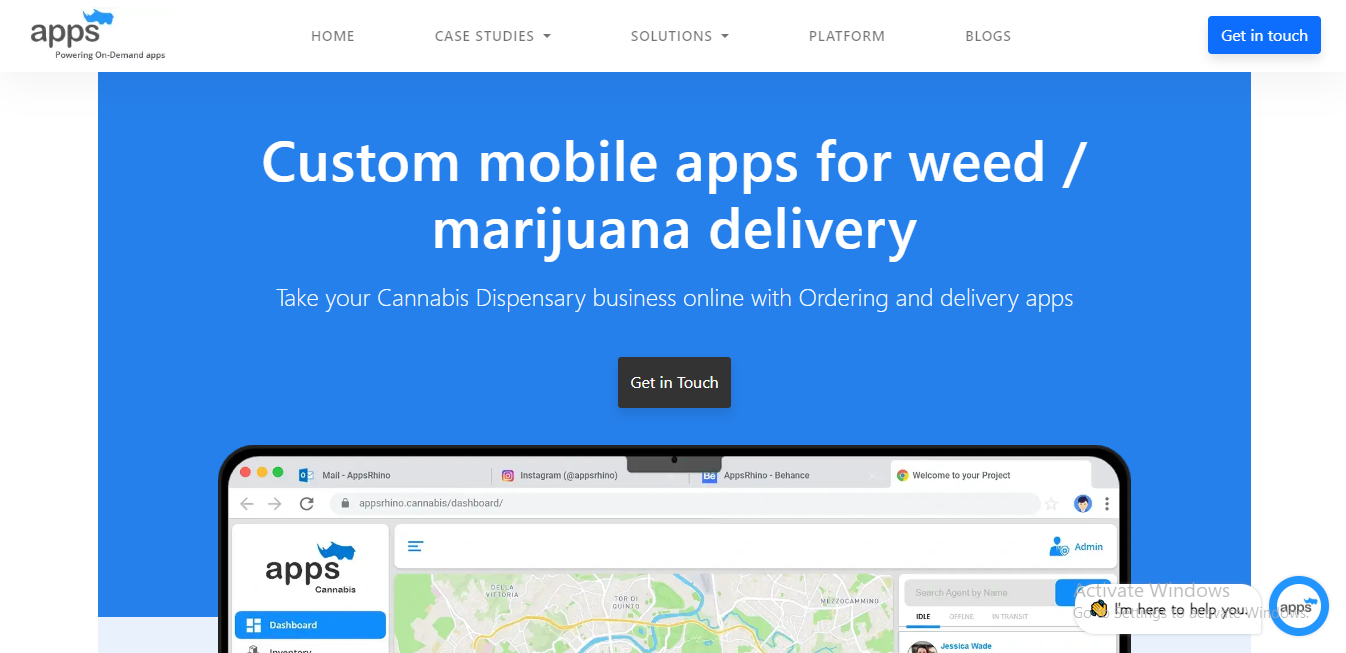 Apart from custom mobile app development, AppsRhino offers the best Tech-driven solutions for Home services, Laundry delivery, Alcohol delivery, Grocery Delivery, Food Delivery, and Taxi Services: