Introduction
Are you planning to launch an online bookstore to streamline your business? Do you want to know how to develop the best online bookstore to take the industry by storm?
Before you learn how you can do so, you must know that developing an online store requires great time and effort.
Does the last sentence seem daunting to you?
No, it is not that you need to be an expert at coding and crafting beautiful user interfaces. But you still must know the various steps to develop an online bookstore app to scrutinize the development process well.
You must know the nitty-gritty of online bookstore development, from what features to include in your online bookstore app to its layouts and designs. This knowledge helps you see each stage of your app development and how the team is faring at any given point.
Suppose you want to have complete control over your app development process. In that case, this online bookstore development guide is for you!
Let us dive in right away.
How to Develop an Online Bookstore App and Website?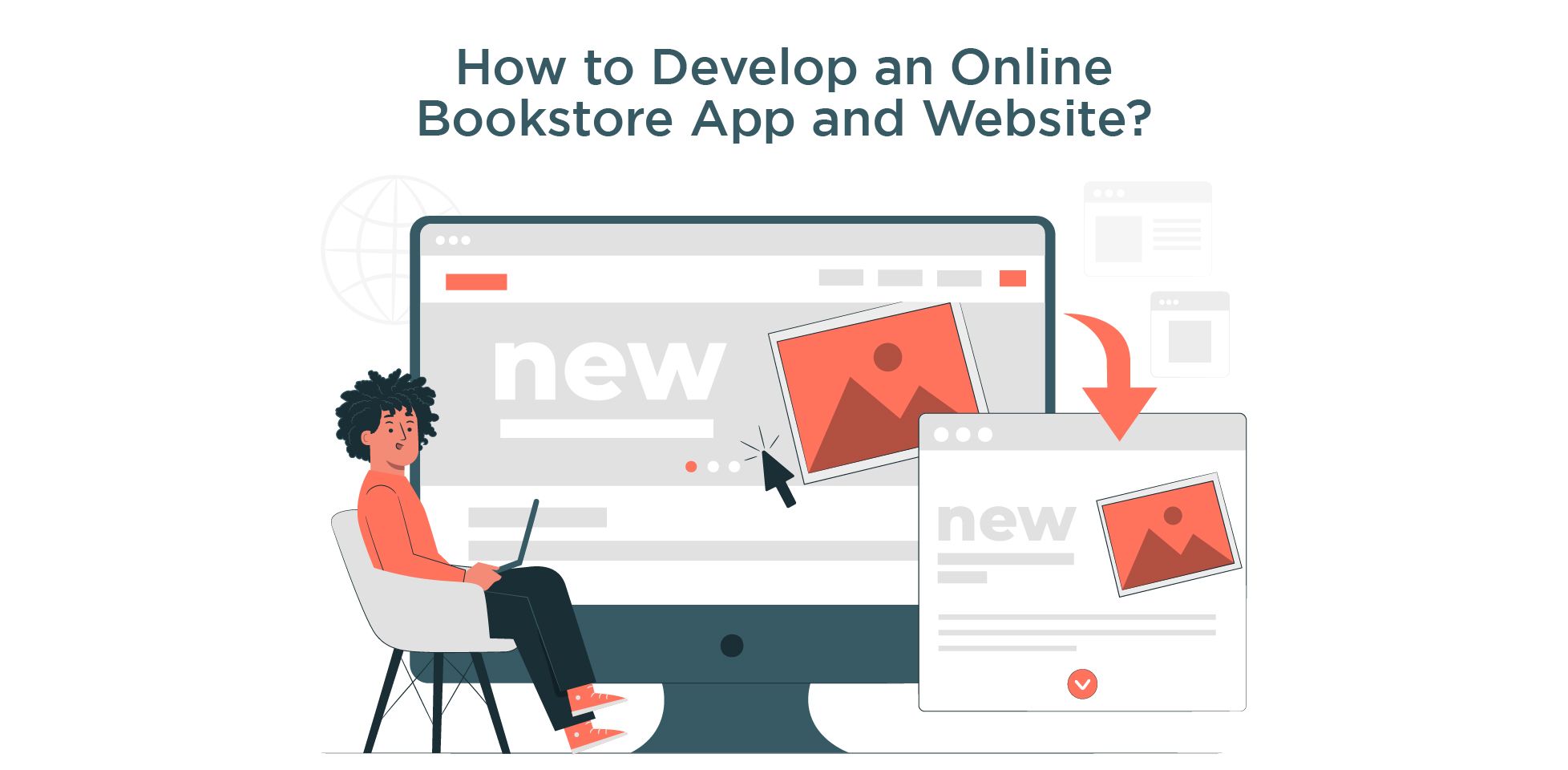 The essential steps to developing an excellent online bookstore app are as follows:
The first step requires you to research well and arrive at a point where you know exactly what you want to do in terms of your app and the perfect place to set up your business. Although you may deem this stage humdrum, it is significant as it lets you grow your business and get ahead of your rivals.

The second step involves you obtaining all the pertinent licenses and permits in your hand before you start your

online bookstore business

! Doing so ensures that our business is hassle-free and helps you elude glitches of any sort!

The third step revolves around you deciding which types of books you want to add to your collection for your online bookstore app.

The fourth step is massive, as here, you will need to opt for an app development company such as AppsRhino to get your app developed. AppsRhino has ample experience and skills in designing various apps.

The fifth step involves you to develop a roadmap or blueprint. The blueprint will tell how you want to go about your online bookstore app development. Also, you need to list the features you want to add to your online bookstore app.

The sixth step revolves around testing as your online bookstore app undergoes numerous tests to guarantee that it runs smoothly on different devices without bugs!

The last step requires launching your app on the app store as soon as your testing phase is over.
These are the seven easy steps in which you can develop an excellent online bookstore app/ website. Let us now acquaint ourselves with the factors affecting the cost of online bookstore app development.
What features can you include in your online bookstore app?
You can add features per the different panels of your online bookstore app. Here we list the different panels along with their features.
The Publisher Panel
Features that you should include in the publisher panel are as follows.
Sign Up or Login
Your app must let publishers create their accounts. These accounts allow readers to reach out to them as and when required.
Cover
This feature enables publishers to upload their ravishing book covers to attract readers and get them to jump on the bandwagon.
Links
This part of your publisher panel allows you to offer readers more exciting and valuable content with the help of backlinks.
Feedback
The feedback section lets you learn what areas you need to work as here you will find users sharing their experiences. Customer feedback gives you a chance to enhance your users' experience.
The Customer Panel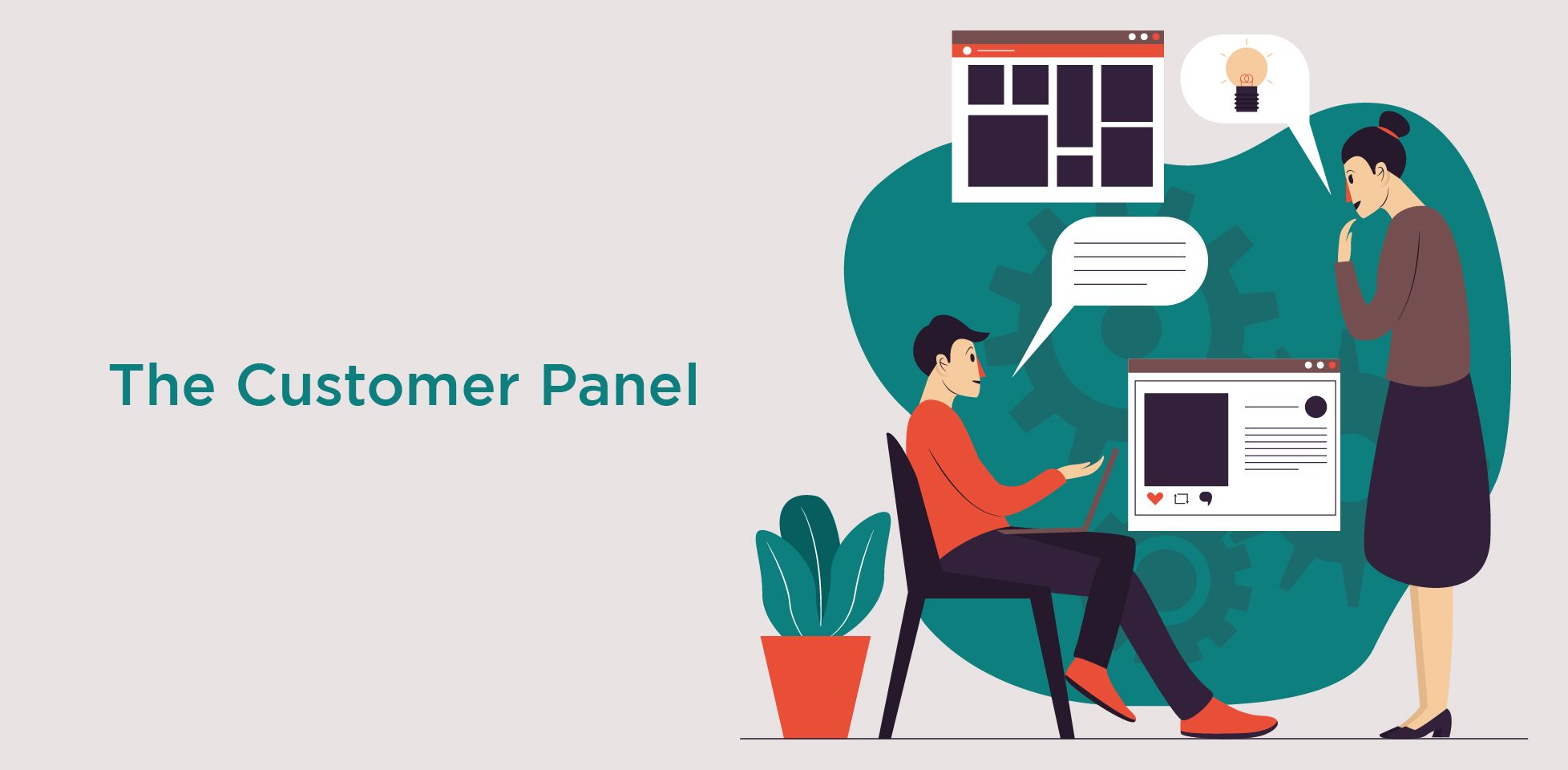 Log in
The first thing your readers will need is an account, and this feature ensures that they create their accounts and sign up on the platform with their email ids. Besides signing up with ids, you can also enable them to log in with their social media accounts or mobile numbers.
Genre
Who likes bland food? No one, right? Spices are essential to food, just like convenience is crucial to online shopping/ exploration. Adding the genre feature ensures that customers search for their favorite books quickly.
Fonts and Font Sizes
Since people will read their favorite novels or books online, choosing fonts and font sizes that are soothing to the eyes is advisable.
Book Formats
Adding such a feature gives your readers the freedom to relish their books in different formats in harmony with their devices.
Book Cover
The book cover feature allows readers to pick the book version they deem suitable: eBook, paperback, hardcover, etc.
Bookmarks
It needs no description since we all know how important it is to resume from where we leave our reading! With this feature included, your readers can start and pause reading as and when required.
A slew of other significant features that you must include in your customer panel is as follows:
Themes and backgrounds to make reading more exciting.

Search function

A progress status bar for the current read

Reading mode

Different views, such as landscape and portrait

Go to the page slider

Chapter view

Zoom out/ zoom in feature

Switch books feature
The Admin Panel
Features that you should include in the admin panel are as follows.
CRM Integration
App owners can forge strong relationships with their clients using CRM integration. CRM integration enables app owners to serve their clients the way they should.
Real-Time Analytics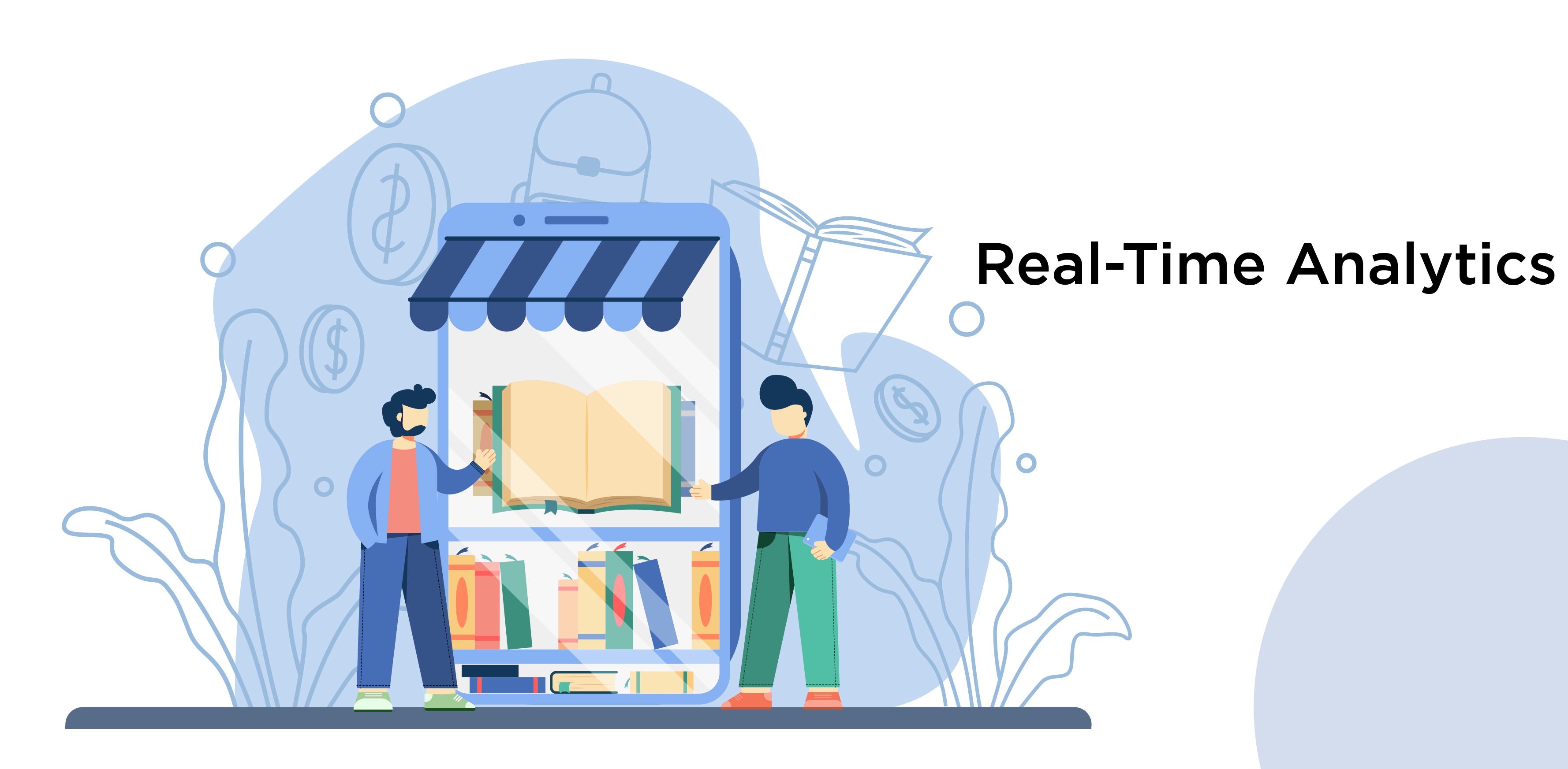 Again, CRM integration lets app owners get their hands on real-time data of their users, and this acquired data helps them make better decisions in areas like marketing, selling, services, etc.
A Strong Dashboard
A dashboard offers admins a comprehensive view of sales and services in one place.
A slew of advanced features that you can add while creating your online bookstore app are:
When equipped with this feature, admins can quickly send instant notifications to their users about any new development, such as seasonal offers, discounts, recent releases, etc.
Leveraging smart Chatbots helps you respond to your users well, as the power of Artificial intelligence enables your chatbots to reply to your users in the most humanized manner.
Voice assistance lets your online bookstore app users carry a voice search for their intended books with the help of voice commands.
CMS Integration
Integrating an excellent Content Management System will do wonders as it effectively manages your website's content more efficiently.
User Behaviour
Another smart feature you can add to your arsenal is the user behavior tracking feature, which lets you keep tabs on your users individually.
Based on their behavior analysis, the app will suggest books and discounts to them to enhance interaction.
What are the various online bookstore app development cost factors?
The various factors affecting your online bookstore development are as follows:
The number of features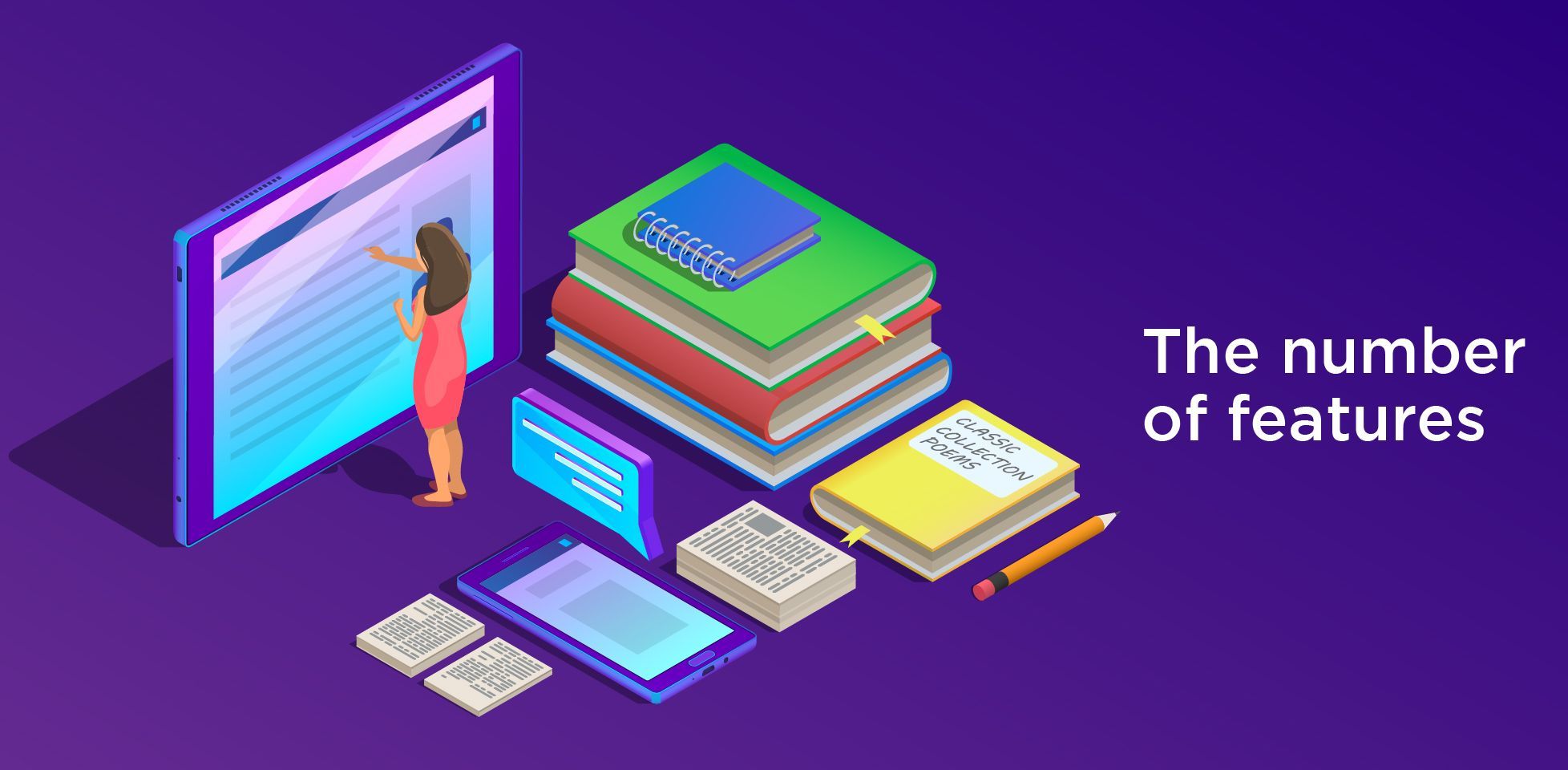 As you increase the number of features of your online bookstore app, the app development cost also surges. If you intend to pack your app with several advanced features, you should expect to spend a huge amount of money on your app.
Opting for a Minimum Viable Product will be easy on your pockets. However, then your online bookstore app will have limited features and functionalities.
Time Taken
Various things contribute to the app development cycle, and time plays a crucial role. The time spent developing your Online bookstore app decides the overall budget. The more time your app development requires, the more money you need to part ways with.
Complexity
The complexity of your online bookstore development and app development cost are directly proportional. Thus, you can expect your budget to surge with a rise in your app's complexity.
Hiring Process
Another factor that dictates your app development budget is the type of developers you have decided to work with. It depends on your choices- you have decided to opt for freelancers, an in-house team, or a professional app development company.
One option that you can consider for your online bookstore app is AppsRhino.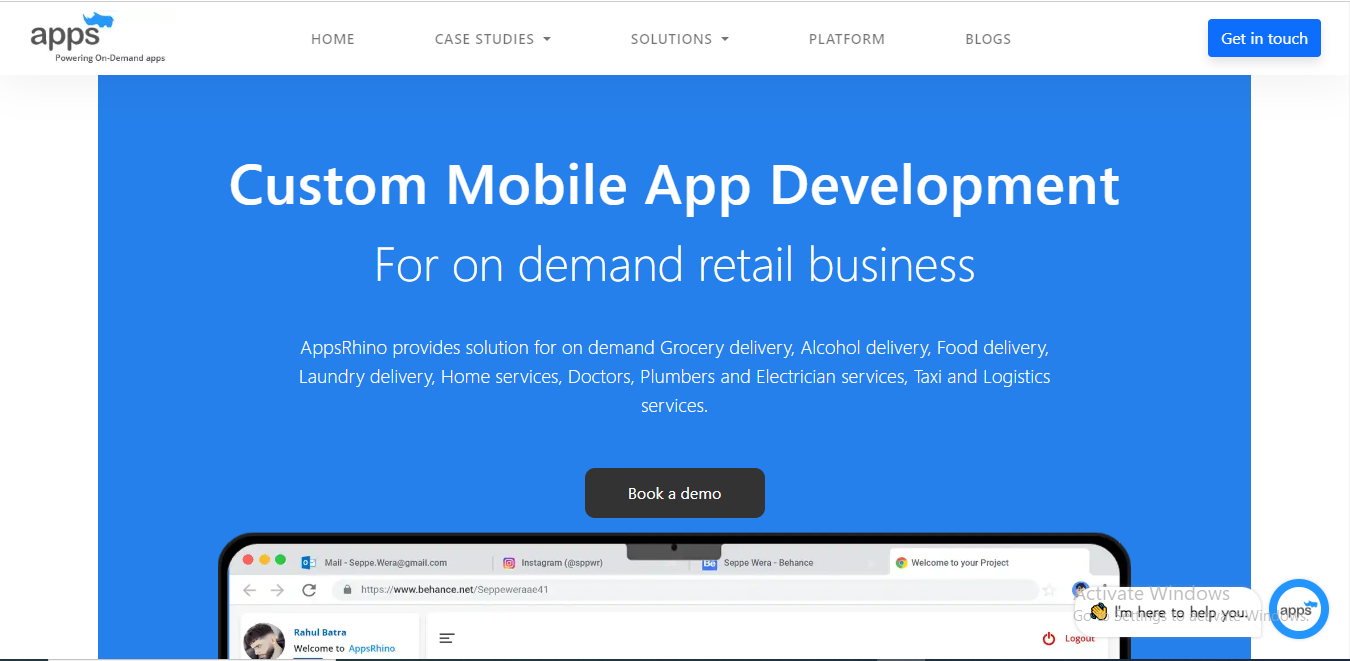 Apart from custom mobile app development, AppsRhino offers the best Tech-driven solutions for Home services, Laundry delivery, Alcohol delivery, Grocery Delivery, On-demand Cannabis, and Taxi Services:
Design and Outlook
Lastly, your online bookstore app's overall design and layout also play a pivotal role in your app development cost.
Conclusion
Now that you know all the panels to include in your online bookstore app and the features to incorporate in individual panels, the next thing you need to do is follow the seven steps required to build a wonderful app.
Thus, you must make clear what you want from your online bookstore app, what features you would like to see it possess, and the looks you want your app to boast. Afterward, you should decide on the app development company to collaborate with.
You can also consider opting for AppsRhino. AppsRhino is a proficient mobile app development company teeming with excellent and thorough developers, coders, testers, designers, etc.
We have been in this field for a good period now and know the ins and outs of app development in various industries.
If you are looking for a company to get your app developed, you can come to AppsRhino. Contact AppsRhino today to take the industry by storm with the help of a properly crafted online bookstore app!
Frequently Asked Questions
Which platform should I choose to build my bookstore app: Android or iOS?
The choice between Android and iOS depends on your target audience. If you want a wider reach, go for both platforms. However, if your audience is more inclined towards one platform, prioritize that initially and expand later.
Do I need coding skills to build an app for my online bookstore?
No, you don't need coding skills. You can either hire a professional app development team like AppsRhino or use no-code/low-code app development platforms that offer intuitive interfaces and drag-and-drop features to build your app.
Can I customize the design of my online bookstore app?
Yes, you can customize the design of your online bookstore app according to your branding and preferences. Use app design tools, templates, or work with a professional app designer to create a unique and visually appealing interface.
How do I test the functionality and performance of my bookstore app?
Testing is crucial for a seamless app experience. Conduct thorough testing by running functional tests, usability tests, and performance tests, and ensuring compatibility across different devices and operating systems before launching your app.
How can I promote my online bookstore app to attract users?
Promote your app through various channels like social media, email marketing, content marketing, influencer collaborations, app store optimization (ASO), offering exclusive deals, and engaging with your target audience to increase awareness and drive downloads.
Are there any legal considerations when building an app for my online bookstore?
Ensure compliance with legal requirements such as data privacy regulations (GDPR, CCPA), copyright laws for book content, terms of service, and secure handling of customer data. Consult legal professionals to ensure your app adheres to all necessary regulations.