The physical stores are not any more crowded as a result of the pandemic. Thus, there is a wealth of opportunity for techies to engage in the development of online bookstore applications to meet the various book needs of readers all over the world.
You've come to the right place if you're looking to create a mobile app for an online bookstore and want to know everything about it.
This blog will shed light on every aspect of introducing your physical bookstore to the web portal and increasing its exposure to a broad audience. Let's delve deeper into the subject by learning about the market share and statistics for creating online book-reading apps.
Online Bookselling Market Statistics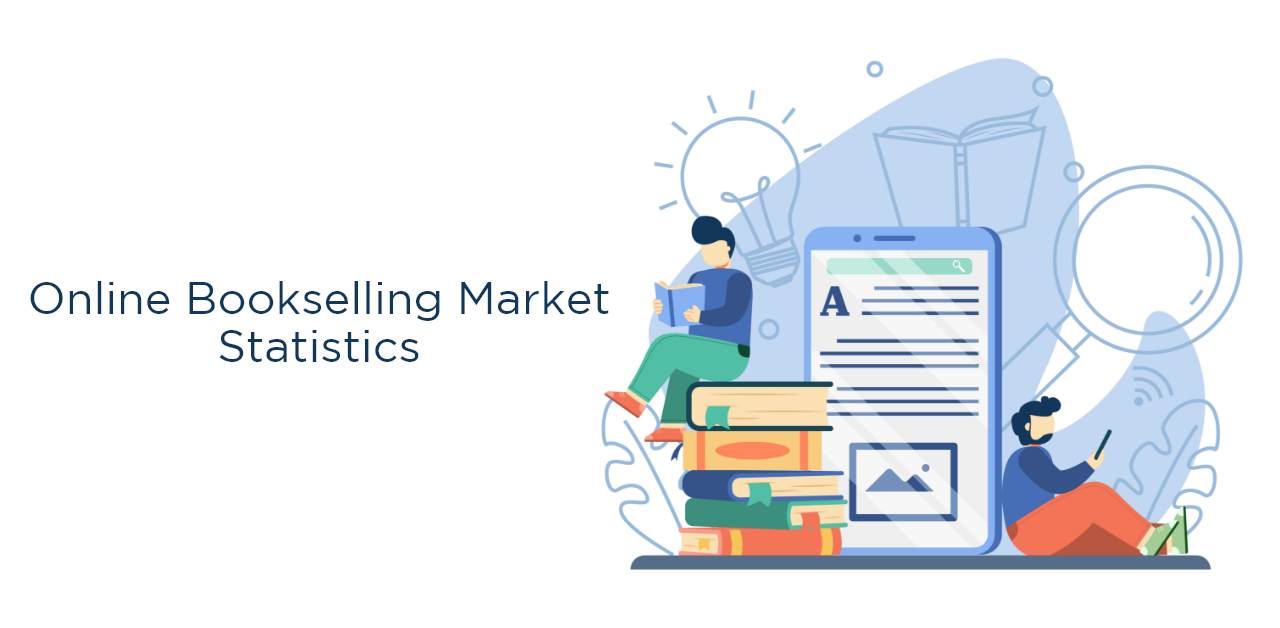 The e-market bookstore's share increased dramatically over the previous years. Bookstore mobile applications have generated vast portions of money, and the pandemic was one of the main drivers of this development.
People are more willing to read due to the pandemic and have begun reading many of their favorite books while lounging at home.
According to a survey, the global market for online book services was evaluated at 17.7 billion USD in 2019. It is predicted that the industry will continue to develop at a CAGR of 5.8% from 2020 to 2027.
The online bookstore app development industry is anticipated to generate 27.8 billion USD in revenue by the end of 2027. Additionally, a statistic shows that more than 12000 people shop for books online every day.
There is a tonne of potential to take advantage of this, and with that in mind, you can design your book shop mobile app. By communicating with potential clients through this app, you can generate income and give your brand fantastic exposure.
Top Benefits of a Book Store App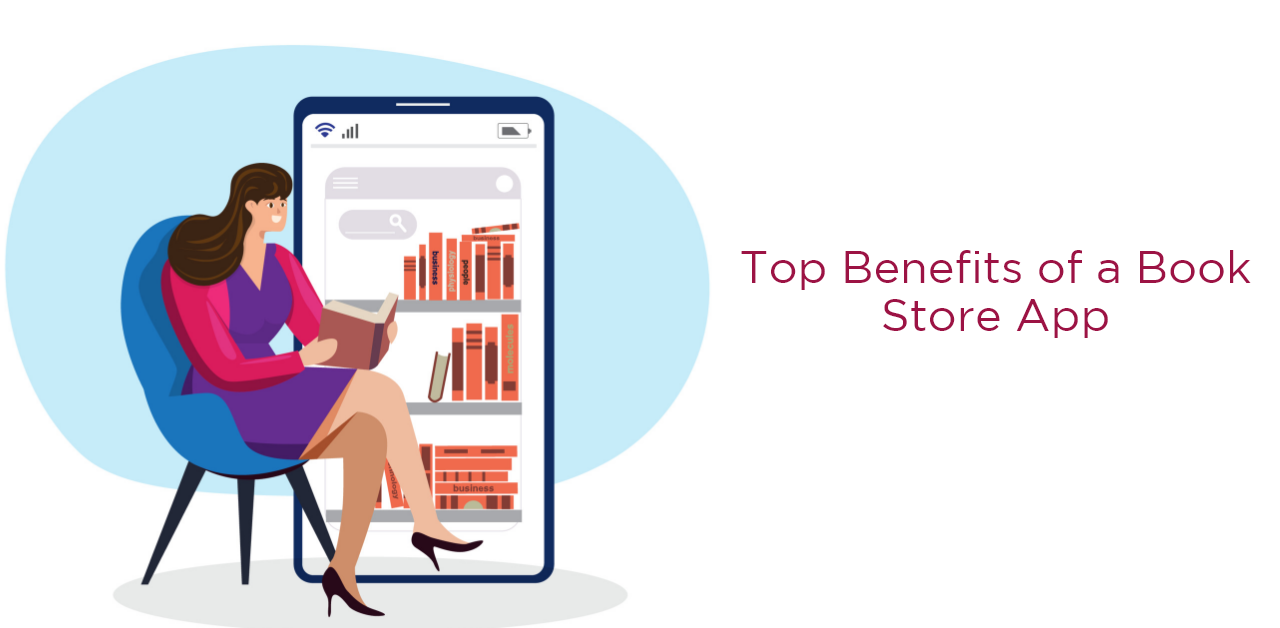 The following are some of the benefits that bookstore apps can provide:
Comfort for the client
The devoted readers of your bookstore now have an easy and convenient way to make purchases thanks to your app presence. They can explore the titles on your app whenever they want, wherever they are, and when they're ready. They can click the "purchase" tab and make a smooth purchase. Since customers won't have to leave the security and comfort of their homes, the convenience and promptness of this transaction will stimulate future purchases.
No upper limit to the collection of books
The selection of books that may be held and displayed at your retail bookshop is constrained, which may limit the options available to your customers. An online database enables you to provide a more fabulous selection of titles and expand their exposure to your entire assortment.
Improved client experience
Businesses that prioritize their customers stand out the most. Beyond only comfort and convenience, having your bookstore online allows customers to read reviews, comments, suggestions, and feedback, enabling them to place more gratifying orders.
Accessibility and comfort for readers
Readers who shop at an online bookstore benefit from having their priceless books delivered to their homes. The difficulties of physically traveling to your store and back are lessened.
Exposure to a wide range of books
Making an online bookshop makes it possible for search engines like Google to find your business and books. It makes your products accessible to consumers farther away, across the nation, and even abroad, in addition to your regular neighborhood customers.
Advanced features for developing apps for online bookstores
When creating your website and app, you can also incorporate email marketing to improve the success of your online bookshop app. Some examples of this are as follows
Push Notification: Admins can instantly notify their readers of deals, discounts, cashback, and any latest product releases.
Powerful CMS: Integration of a powerful content management system (CMS) with your platform will enable you to arrange your app's content management.
User Behavior: A functionality for tracking user behavior can be added. You will be able to monitor each user's habits separately. The books and discounts are recommended to improve interaction using user behavior as a parameter.
Voice Aid: Adding voice assistance as you design your bookstore is an incredible choice. In this approach, users will be able to utilize voice commands to do voice searches of their preferred books.
You might consider including the following extra security elements in your app and website:
A suitable CRM (customer relationship management) program should be added.

A book can be promoted on the app by integrating promotional features.

SEO tools are crucial to rank on top.

For effective SEO, take into account incorporating email marketing.

Integrate several payment methods, such as COD, e-wallet, credit/debit card, etc.

The platform should support multiple languages.

Include real-time analytics functionality as you create an app for an online bookstore.

Include a dashboard for each user based on their role.

Consider the application's security issues.

Embrace the ability to track shipments

Loyalty initiatives, special deals during certain seasons, etc.

Consider including review and feedback features to improve the consumer experience.
How to make an App for an Online Book Store?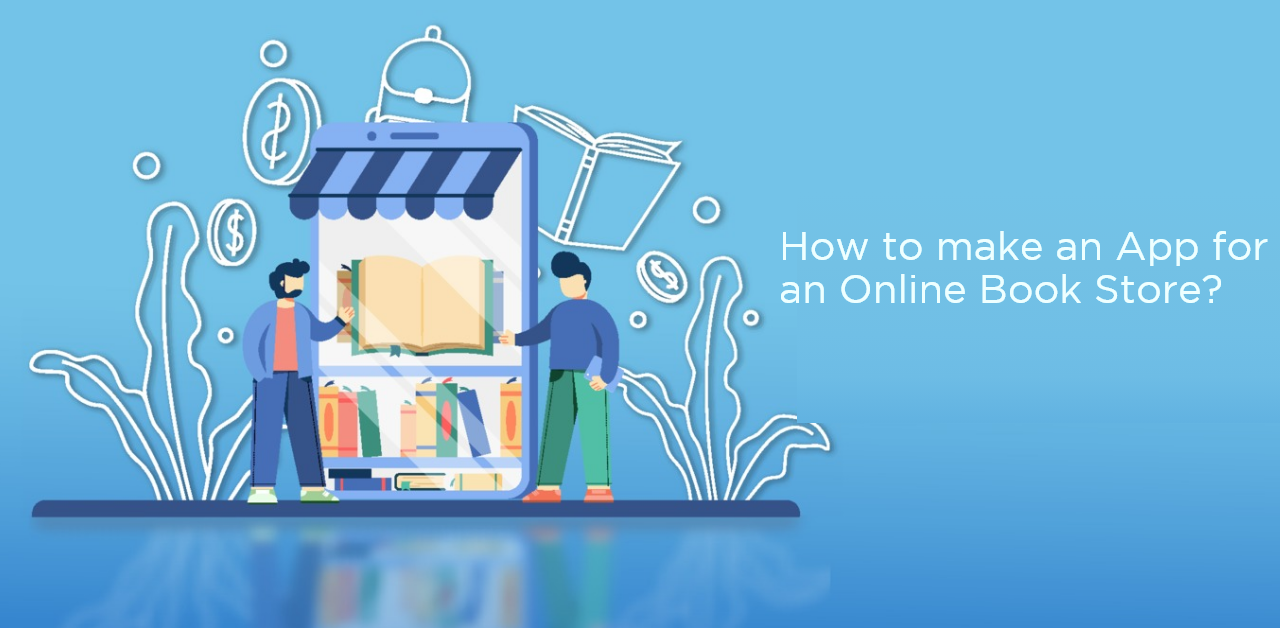 The crucial stages detail how you can create a reliable online book-reading app solution for your business:
Six Steps for Building an Online Bookstore
Do some study to the point where you know the ideal location for your firm. Choosing the perfect place is crucial if you want to expand your company and beat off your rivals.

Before starting your business, be sure your brand has all the required licenses and permits. It will help to ensure that your business runs smoothly and prevent any form of hiccups.

List the categories of books you want to include in your library.

Contact app development firms and agencies like AppsRhino with some knowledge and expertise in creating these applications.

Create a roadmap or blueprint for your mobile app development strategy and list the features you wish to include in the app.

The testing phase is the most important. Your app is put through several tests at this phase to ensure it functions flawlessly across various devices. After the testing phase, you need to publish the app on the app store.
Last Words
In conclusion, if you have read this text up to this point, you likely have a unique web app understanding of the general evolution of bookstores. The age of technology is now, and everything is becoming digital. Therefore, if you are considering creating your bookshop app, now is the right time because most people use these applications to browse through books and novels.
The most important thing is to employ qualified individuals who are skilled and knowledgeable in their field. AppsRhino is dedicated to enhancing the value of our customers by providing them with premium goods at competitive costs. To build a long-lasting relationship with our customers, we frequently offer after-sales services and help them with future upgrades and additions. Please contact us to get your project going.