mHealth, short for mobile health, refers to the use of smartphones, tablets, wearables, and other wireless technology, to support and deliver healthcare services and information. It encompasses a broad range of applications, including health-related apps, wearable devices, remote monitoring tools, and telemedicine services, all accessible through mobile technology.
mHealth has emerged as a powerful tool in the healthcare industry, leveraging the convenience of mobile devices to improve health outcomes, enhance patient engagement, and facilitate efficient healthcare delivery. By leveraging the capabilities of mobile technology, mHealth brings healthcare services closer to individuals, empowering them to take an active role in managing their health. So let us learn more about mHealth features, uses, benefits, and more in this blog.
What are mHealth Apps?
mHealth apps are software applications designed to run on mobile devices. These apps are specifically developed to support health and well-being by providing a wide range of functionalities related to healthcare, fitness, and medical information.
mHealth apps have gained significant popularity and profoundly impacted the healthcare industry. The global mHealth app market has experienced remarkable growth in recent years. According to a report published by Research and Markets, the market size was valued at $11.17 billion in 2020 and is expected to reach $57.57 billion by 2026, growing at a CAGR of 30.1% during the forecast period.
The number of mHealth app downloads continues to rise. As of 2021, over 120,000 mHealth apps in AppStore were available for download. The Google Play Store offers a similarly extensive range of mHealth apps for Android users. The adoption of mHealth apps is increasing worldwide. According to Statista, the number of mHealth app users is estimated to reach 810 million by the end of 2021. This figure is projected to surpass 1.4 billion by 2025.
mHealth apps are particularly useful in managing chronic conditions. The Journal of Medical Internet Research in their study found that patients using mHealth apps for chronic disease management experienced a 29% improvement in their health outcomes compared to those without app usage.
Services provided by mHealth
There are numerous mHealth options available today. They are available for different purposes and serve different groups of audiences. Some of these include:
Health and Wellness
These apps provide features such as fitness tracking, nutrition monitoring, sleep analysis, stress management, and medication reminders, promoting healthy lifestyle choices and self-care.
Remote Patient Monitoring
mHealth enables the remote monitoring of patient's vital signs, medication adherence, and symptoms through wearable devices or sensors connected to mobile apps. It allows healthcare providers to track and manage patients' health conditions in real-time without the need for in-person visits.
Telemedicine and Telehealth
mHealth facilitates virtual consultations between patients and healthcare providers through video calls, audio chats, or secure messaging. It enables remote diagnosis, medical advice, and treatment, which is particularly useful in situations where physical access to healthcare services is limited.
Health Information and Education
Mobile apps and platforms provide access to reliable health information, educational resources, and self-help tools. They enable individuals to make informed decisions about their health, learn about specific conditions, and access preventive care.
Appointment Reminders and Health Alerts
mHealth apps can send automated reminders for upcoming appointments, medication schedules, and health screenings. They also provide timely alerts and notifications regarding disease outbreaks, public health emergencies, or personalized health recommendations.
Popular mHealth apps
There are numerous popular mHealth apps that cater to various aspects of health and well-being. Some of the well-known ones are:
MyFitnessPal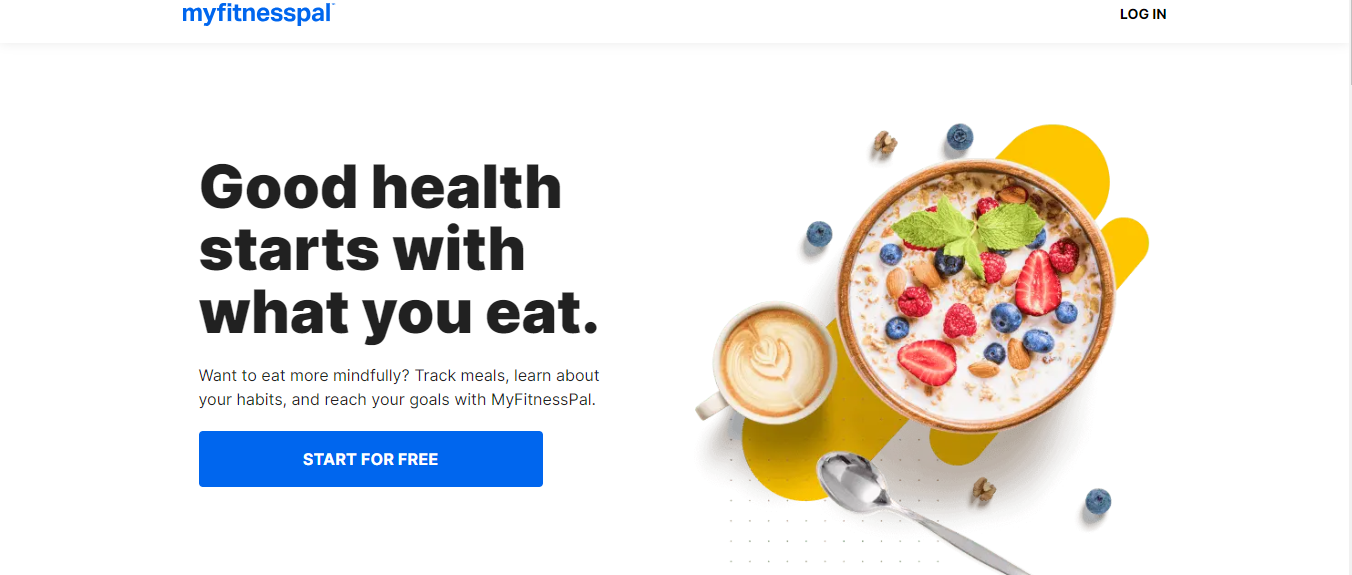 MyFitnessPal is a comprehensive fitness and nutrition tracking app. It allows users to log their meals, track calories, set fitness goals, and monitor their exercise routines. The app provides a vast database of food items, making it easy to track nutritional intake. It also integrates with wearable devices and offers social features to connect with friends and provide support.
Headspace
It is a meditation and mindfulness app. It helps users reduce stress, improve sleep, and cultivate a sense of calm. It offers guided meditation sessions for different purposes, including stress reduction, focus enhancement, and better sleep. The app also provides techniques for mindful living and has specific programs tailored for different age groups, such as kids and teens.
Calm
Calm is another popular meditation and sleep app that offers guided meditation sessions, sleep stories, relaxing music, and breathing exercises. It focuses on helping users reduce anxiety, improve sleep quality, and enhance overall well-being. Calm also includes programs for managing stress and building resilience.
Flo
Flo is a comprehensive menstrual cycle-tracking app designed for women's health. It helps users track their menstrual cycles, ovulation, and fertility windows. Flo provides personalized insights, medication reminders, and reproductive health information. It also offers features for tracking symptoms, mood, and exercise, aiming to empower women to take control of their reproductive well-being.
Doctor on Demand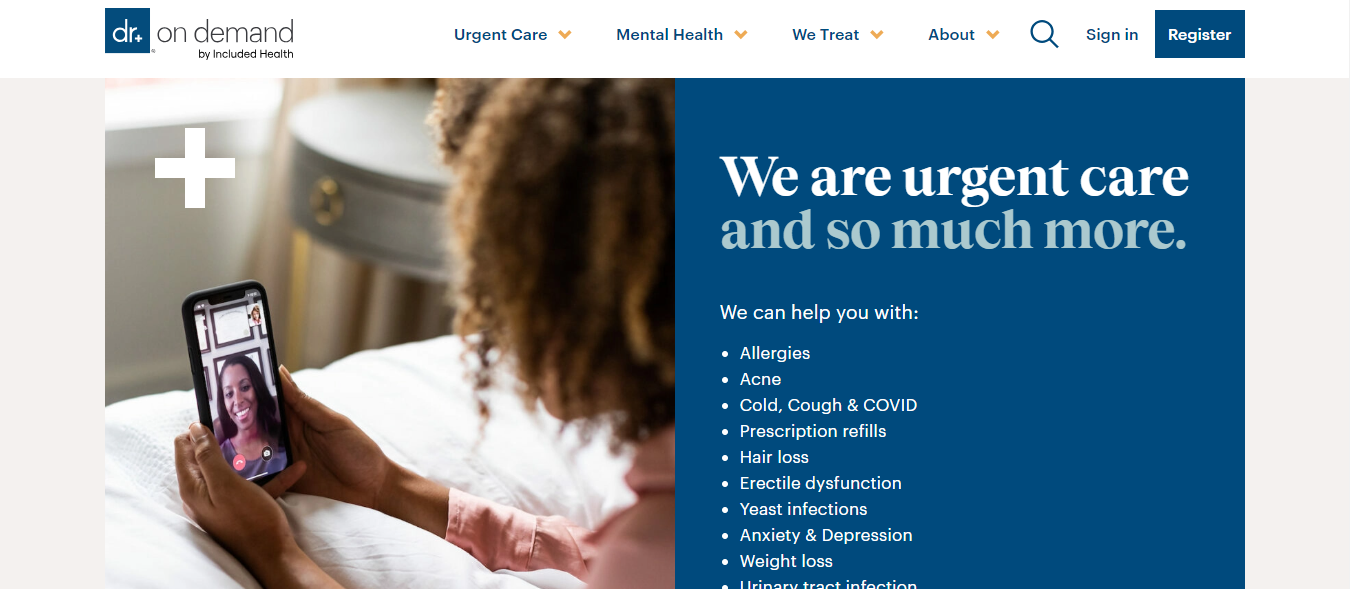 It is a telemedicine app. It enables users to connect with licensed healthcare providers through video consultations. It offers on-demand access to physicians, pediatricians, psychiatrists, and psychologists. Users can receive diagnoses, medical advice, prescriptions, and referrals without having to visit a physical clinic. Doctor on Demand covers a wide range of medical conditions and is available 24/7.
7 Minute Workout
It is a fitness app. It offers high-intensity interval training (HIIT) workouts that can be completed in just seven minutes. It provides a variety of workout routines that target different muscle groups. The app includes animations and audio guidance to ensure proper exercise form and intensity. It is a popular choice for individuals looking for quick and efficient workout options.
MyChart
MyChart is a patient portal app that connects individuals with their healthcare providers and medical records. It allows users to schedule appointments, view test results, request prescription refills, and securely communicate with their healthcare team. MyChart aims to streamline communication and provide convenient access to personal health information.
Benefits of using mHealth apps
Using mHealth apps offers a range of benefits that positively impact individuals' health management and overall well-being. Some key benefits of using mHealth apps include the following:
Convenience and Accessibility
mHealth apps bring healthcare services and resources to users' fingertips. They provide 24/7 access to health information, remote consultations, and self-monitoring tools, eliminating the need for physical visits to healthcare facilities. This convenience is particularly beneficial for individuals with busy schedules, limited mobility, or residing in remote areas.
Empowerment and Active Engagement
mHealth apps empower users to take an active role in their health management. By tracking their health metrics, setting goals, and receiving personalized insights, individuals gain a deeper understanding of their health status and are motivated to make positive changes. It fosters a sense of empowerment, allowing users to make informed decisions regarding their well-being.
Improved Health Monitoring
mHealth apps enable individuals to monitor their health parameters in real time. This continuous tracking helps detect patterns, identify potential health issues early on, and facilitate proactive interventions. Users can monitor vital signs, physical activity, sleep patterns, and more, leading to improved self-awareness and better management of chronic conditions.
Medication Adherence
Many mHealth apps provide medication reminders and alerts, enhancing medication adherence. Users can set reminders for taking their medications on time, track their pill intake, and receive notifications for prescription refills. This feature reduces the risk of missed doses and improves medication compliance, ultimately leading to better treatment outcomes.
Personalized Approach
mHealth apps offer personalized experiences by tailoring recommendations and insights based on individual health data. By analyzing the collected information, apps can provide customized advice, goal-setting, and action plans specific to each user. This personalized approach improves engagement and encourages sustained behavior change.
Health Education and Awareness
mHealth apps serve as valuable sources of health education and awareness. They provide access to reliable health information, articles, and resources on various medical conditions, preventive care, nutrition, fitness, and mental well-being. Users can educate themselves about specific health topics and make informed decisions regarding their lifestyle choices.
Support for Remote and Underserved Areas
mHealth apps bridge the gap between healthcare services and individuals residing in remote or underserved areas. Virtual consultations and remote monitoring enable users to access healthcare professionals without the need for physical travel. It improves healthcare access, especially for those in areas with limited medical facilities or facing geographical barriers.
Enhanced Healthcare Communication
mHealth apps facilitate seamless communication between patients and healthcare providers. Users can securely share health information, images, and reports, enabling healthcare professionals to make accurate assessments and provide timely advice. This streamlined communication improves the overall quality and efficiency of healthcare services.
Features of mHealth apps
mHealth apps offer a variety of features designed to support health management and promote well-being. While specific features may vary depending on the app's focus and purpose, here are some common features found in many mHealth apps:
User Profile
mHealth apps often include a user profile section where individuals can create and manage their personal information. It may include details such as age, gender, weight, height, and any relevant health conditions. User profiles help customize the app experience and provide personalized recommendations.
Health Tracking and Monitoring
One of the key features of mHealth apps is the ability to track and monitor health-related data. It can include physical activity tracking, sleep monitoring, heart rate monitoring, calorie intake tracking, and water consumption tracking. Apps may integrate with wearable devices or utilize smartphone sensors to capture and analyze data.
Reminders and Notifications
mHealth apps commonly include reminder features to help their users stay updated with their health goals and medication schedules. They can send push notifications or alerts for tasks such as taking medications, scheduling appointments, drinking water, or engaging in physical activity.
Data Visualization
mHealth apps often present health data in visually appealing formats such as graphs, charts, or progress bars. These visualizations allow users to interpret and understand their health metrics over time easily. It helps individuals track their progress, identify patterns, and make informed decisions about their health.
Goal Setting and Progress Tracking
Many mHealth apps enable users to set personal health goals, such as steps per day, weight loss targets, or sleep duration. They provide tools to track progress towards these goals, offering motivation and a sense of achievement when milestones are reached. Some apps even offer badges, rewards, or virtual incentives to encourage continued engagement.
Integration with Wearable Devices
To enhance data collection and monitoring, mHealth apps often integrate with wearable devices such as fitness trackers, smartwatches, or heart rate monitors. It allows for seamless synchronization of data between the app and the wearable device, providing a more comprehensive view of health metrics.
Educational Resources
Many mHealth apps provide access to educational resources such as articles, videos, or interactive content related to health, fitness, and medical conditions. These resources aim to empower users with knowledge and promote health literacy.
Social Interaction
Some mHealth apps incorporate social features that allow users to connect with friends, join communities, or participate in challenges. These social interactions create a sense of support, accountability, and motivation within the app's user base.
Telemedicine and Communication
mHealth apps may provide features for telemedicine consultations or secure messaging with healthcare professionals. It allows users to seek medical advice, share health information, and receive guidance conveniently within the app.
Data Security and Privacy
Ensuring the privacy of user data is a crucial feature of mHealth apps. They implement measures to protect personal health information and comply with privacy regulations to maintain user confidentiality.
How to build a mHealth app with AppsRhino?
To build a mHealth app with AppsRhino, you can follow these general steps:
Define Your App Requirements
Determine the specific features and functionalities you want your mHealth app to have. Consider your target audience, the purpose of your app, and the key problems you aim to address through the app.
Research and Plan
Conduct thorough research on existing mHealth apps to understand the market landscape and identify unique aspects or gaps you can leverage. Create a detailed plan outlining the app's flow, user interface, and overall architecture.
Choose AppsRhino as Your Development Partner
Visit the AppsRhino website and explore their services and offerings. Contact our team at AppsRhino to discuss your project requirements, timeline, and budget. AppsRhino can provide guidance, technical expertise, and support throughout app development.
AppsRhino offers the best Tech-driven solutions for Home services, Laundry delivery, Alcohol delivery, Grocery Delivery, Food Delivery, and Taxi Services: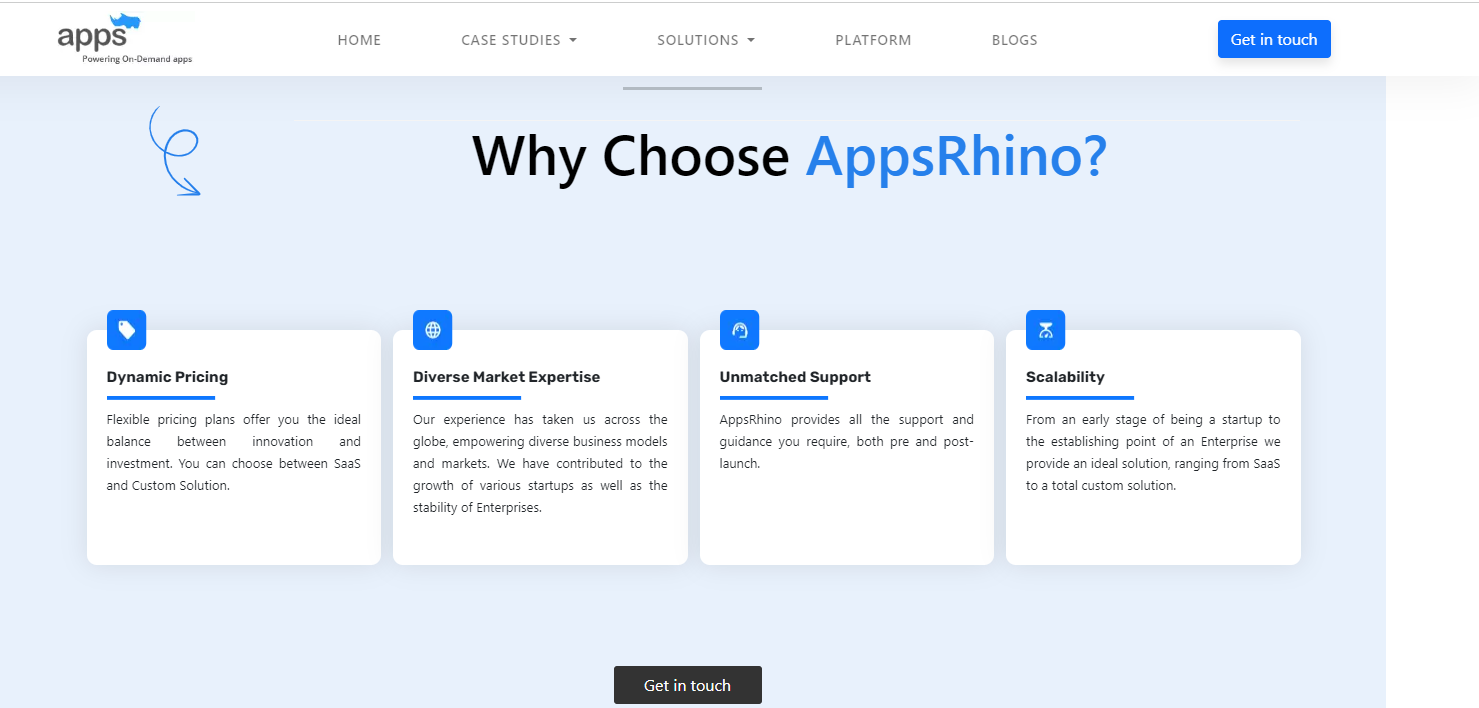 Design the User Interface
Work closely with AppsRhino's design team to create an intuitive and visually appealing user interface (UI) for your mHealth app. Consider usability, accessibility, and the overall user experience (UX). Collaborate on designing app screens, icons, and layouts.
Development and Backend Setup
AppsRhino will handle the development process, creating the necessary codebase and setting up the backend infrastructure for your mHealth app. They will implement the functionalities and features according to your requirements and ensure seamless integration of different app components.
Testing and Quality Assurance
AppsRhino will conduct rigorous testing to identify and fix any glitches in the app. We will ensure that the app functions properly across different devices and screen sizes. Testing includes both functional testing (feature testing) and user experience testing.
Deployment and Launch
Once the app development and testing stages are complete, AppsRhino will assist you in deploying the app to the relevant app stores. We will also guide you through the submission process and help you meet the necessary guidelines and requirements.
Remember, building a mHealth app requires collaboration between your ideas and the development team's expertise at AppsRhino. Open communication, regular feedback, and alignment on project goals will contribute to a successful app development journey.
Conclusion
mHealth apps have revolutionized the way we approach healthcare and wellness. These innovative applications have emerged as powerful tools that empower individuals to take control of their health, track their progress, and access valuable resources. With numerous features and services, mHealth apps provide convenience, flexibility, and personalized support for users' health needs.
But, we must understand that while mHealth apps offer numerous benefits, they are not a replacement for professional medical advice. Users should always consult healthcare professionals for accurate diagnosis and treatment.
As technology continues to advance, mHealth apps are expected to evolve further, incorporating more advanced features and real-time data analysis. It will enable even more personalized and precise healthcare interventions.
Hence, mHealth apps have transformed the way we engage with our health, empowering individuals to lead healthier lives, access healthcare remotely, and make informed decisions. The future of mHealth apps holds immense potential for improving overall well-being and shaping the future of healthcare delivery.
Frequently Asked Questions
What is mHealth?
mHealth, short for mobile health, refers to the use of mobile devices, such as smartphones and tablets, in healthcare to support medical and public health practices. It encompasses a wide range of applications and technologies aimed at improving healthcare delivery, disease management, and overall well-being.
What are the key trends in mHealth?
Some key trends in mHealth include the rise of health and fitness apps, wearable devices for monitoring health metrics, telemedicine for remote consultations, remote patient monitoring, electronic health records on mobile devices, and AI-powered health apps for personalized insights and recommendations.
How can mHealth benefit patients?
mHealth offers numerous benefits for patients. It provides convenient access to healthcare information, enables remote monitoring of health conditions, facilitates virtual consultations, improves medication adherence through reminders, and empowers individuals to take control of their own health through self-monitoring and health tracking.
How can healthcare providers leverage mHealth?
Healthcare providers can leverage mHealth to enhance patient care and optimize healthcare delivery. They can use mobile apps for patient education, appointment scheduling, electronic health records, telemedicine consultations, remote patient monitoring, and sending personalized reminders for medication adherence.
Are mHealth apps secure for storing personal health information?
mHealth apps prioritize security and data protection. They implement stringent security measures, including encryption and authentication protocols, to ensure the confidentiality and privacy of personal health information. It's important to choose reputable apps and read privacy policies before using them.
Can mHealth help in chronic disease management?
Absolutely! mHealth plays a crucial role in chronic disease management. Patients can use mobile apps and wearable devices to track vital signs, monitor symptoms, manage medications, receive educational resources, and receive support through online communities, improving their overall quality of life.
Can mHealth support mental health and well-being?
Yes, mHealth has a significant impact on mental health and well-being. Mental health apps offer meditation and relaxation techniques, mood tracking, therapy sessions, and access to online support groups. These tools provide individuals with resources to manage stress, anxiety, and improve their overall mental well-being.