Introduction
Since you have landed on this blog, you want to start Healthcare App Development. Are you wondering where to start? Do you know about telemedical apps?
If you are unsure about any aspect of Healthcare Apps Development, your train has stopped at the right station! We are here with a blog for you about the traits that every Healthcare App Development Company should have.
According to Mobius, around 62% of people use their smartphones to search for health and fitness. People care about their health. If you make good healthcare available to them at home, they won't take a second to grab that opportunity.
After reading this blog, you will understand everything about mHealth Apps, the development process involved in making Telehealth apps, Healthcare Apps Development Companies, and examples of the top apps and companies currently ruling the market.
If you wish to become the market, you should concentrate on the essential traits and follow the necessary practices.
We are here to make you the next leading Healthcare App Development Company!
What is a Healthcare App?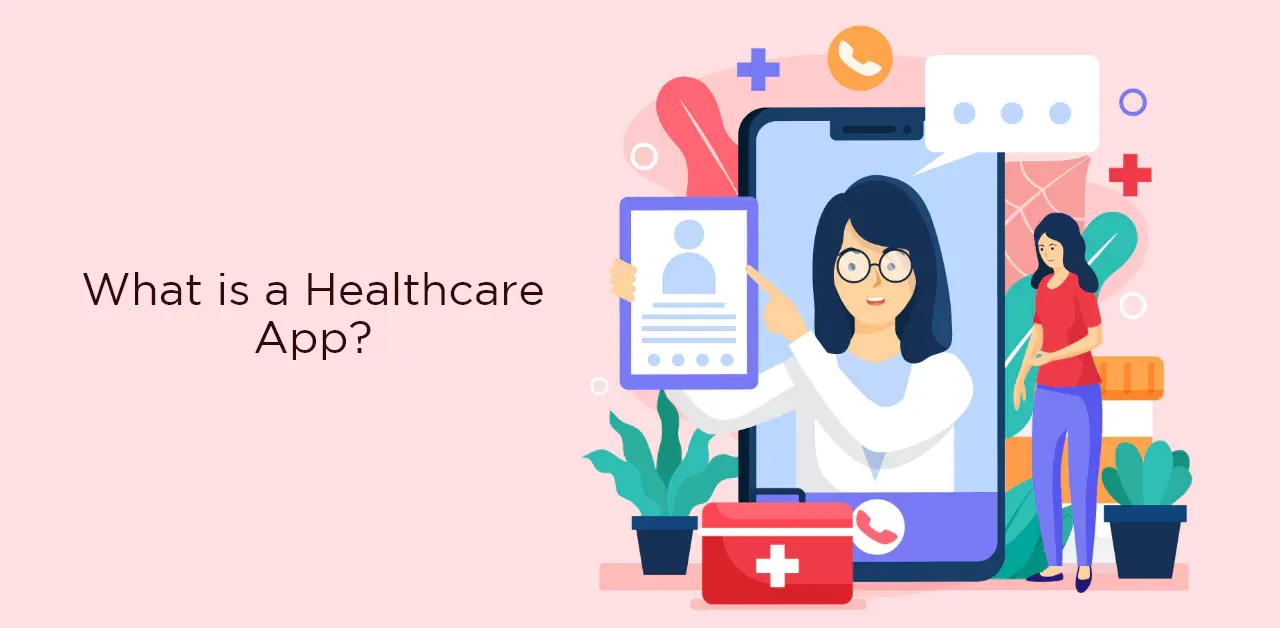 You can refer to Healthcare Apps as mHealth (mobile health) or Telehealth Apps.
To understand the meaning of Healthcare Apps, imagine that you get a cavity in your teeth and have to visit the dentist. (We hope you don't get a tooth cavity ever. It is painful!)
You visit the best local dentist and wait in line to book an appointment. You have to give your time and effort to book an appointment.
What if you could book the doctor's appointment with one click? A Healthcare app provides innumerable medical services to the customers.
You don't have to worry about medicine delivery, diet tracking, reminders, sleep schedule, medical records, etc.
The mHealth apps will do everything to take care of your health and fitness! Some apps let users video and audio chat with doctors online. This technology brings you the benefit of getting medical services from home!
Earlier, FDA predicted that more than 1.7 billion users would start using the healthcare apps by 2018. According to Statista, 83 million+ customers in the USA use Telehealth apps for their healthcare needs.
Types of Healthcare Apps
Here is a list of some mHealth App types in the market.
Reminder Apps

Medicine Delivery Apps

Health education Apps

Fitness Apps

Diet Apps

Mental Health Apps

Women Healthcare Apps

Disease tracking Apps

What are Healthcare App Development Companies?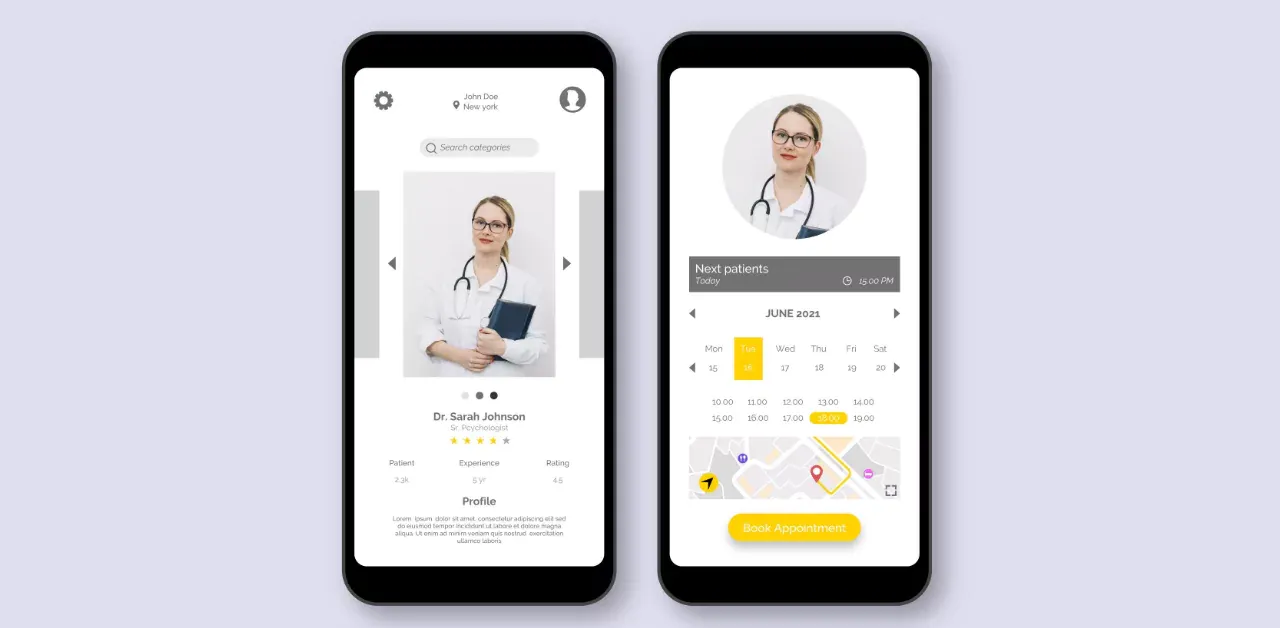 App Development companies are responsible for building applications for customers and releasing them in the market. These companies have a motive to help people, market their products, and gain profit.
A Healthcare App Development Company creates telehealth apps for patients and potential customers.
These Healthcare Apps Development companies perform the following tasks.
Building the application design

Planning and Budgeting

Hiring Employees to build the application by programming and designing tools

Adding Features

Quality Assurance Testing

Healthcare App deployment

Marketing and customer reach

Debugging per customer review
Examples of Healthcare Apps Development Companies
Appinventive

AppsRhino

ScienceSoft

Hidden Brains

Zocdoc Inc

Space-O Technologies
5 required traits of Healthcare Apps Development Companies.
Imagine that you are part of a Healthcare App Development Company. Your company recently started, and you are willing to create a fitness app for your client.
You have planned the application platform for release, features, etc.
You understand the execution but are still doubtful about the success of your Healthcare Apps Development and procedure.
We have a solution for you!
Here is a list of the five essential characteristics of successful Healthcare App Development Companies.
The thriving companies in the market have these traits. These companies have been able to build an empire and reach their customers on a personal level.
Let's look at these characteristics and apply them to your developing business for the best returns!
1. Defined roles and distributive staff
Consider a situation where you are a chef. You have to prepare a meal for hundreds of people. The meal includes multiple dishes, fruits, salad, etc.
Will you be able to make it alone? The answer is NO!
You should apply the same logic to Healthcare Apps Development. The company has to proceed with different tasks at the same time.
You cannot do development, designing, testing, marketing, and other countless things alone!
You shall divide your company into teams. You can have a resource management, development, testing, recruiting, and designing team.
All these teams will have separate roles and responsibilities in the company. The employees and teams will finally collaborate and provide successful results!
2. Commitment toward the app
You are the owner of the Healthcare App. You want your app to achieve triumph. Make sure your Healthcare App Development team agrees with you.
Your people should share the same dedication towards the building and success of your app. If you have workers that slack in their work and do not share the passion for perfect results, they should not be a part of the team.
You should handle the leadership and focus on motivating your team to achieve maximum output. Concentrate on personal attention to each employee. Understand their feelings and allow them to grow personally and as a team!
3. Communication and Feedback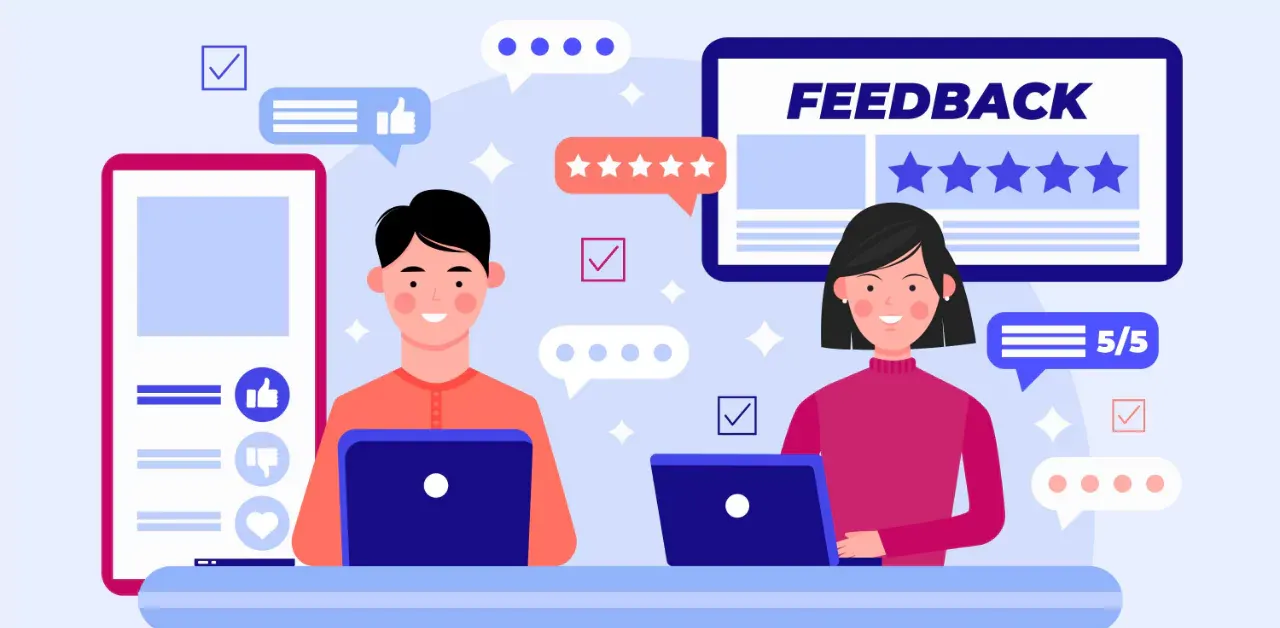 Communication is the trait of the highest importance among the team. People communicate to explain situations and how they feel about something.
Have an open communication source among your teams and clients.
Remember that the customers hold utmost importance. The success and failure of your Healthcare App depend on the clients!
Never ignore the feedback from app users.
Customers provide an honest opinion and help you understand the mistakes you might have made in the app.
Further, update your app while keeping the feedback and additional features in mind.
4. Quick yet informed decision-making.
As a Healthcare App Development Company, you may encounter situations where you must make swift decisions.
These decisions may be regarding programming errors, code termination, hiring employees, gaining and losing partners, etc. Remember to have patience and make informed decisions.
You should evaluate every possibility and learn about the circumstances. You may have limited time, but making decisions for the company is a complex task.
Discuss with your partners and employees and try to make the best possible decisions for the team, company, and customers.
5. Keeping an eye on the market
New products and Healthcare Apps are launching every day. You shall take care of your competitors. It would help if you did not let your opponents win in the app-making and marketing race.
Moreover, it would be best if you remained attentive to daily updates and trends in the market. Keep adding updates and focus on making your app smooth and user-friendly!
Your client is the ruler, and all your decisions should be customer-centric. Provide them with the best material, and you will receive better results!
Best Telehealth apps and companies in the market!
Let's look at the most popular and trending mobile healthcare apps in 2022. These applications have served their customers well and created their mark in the mHealth field!
1. Teledoc- Telehealth & Therapy
By Teledoc
Play Store: 4.3
AppStore: 4.8
Price: Free
Customers can get access to medical opinions and use AI for health benefits. The app ensures the change of personal perspectives of people regarding their health.
2. MyChart
By Epic Systems Corporation
PlayStore: 4.6
AppStore: 4.5
Price: Free
#1 on AppStore
As the name suggests, MyChart lets customers store their medical records. Users can access the same anytime they need. Customers can use the health and medicine tools of management from the app.
3. GoodRx: Prescription Saver
By GoodRx
PlayStore: 4.8
AppStore: 4.8
Price: Free
#3 on AppStore
GoodRx is a mobile application that customers use to track rates of prescription drugs and medicines in the United States. The app provides free medicine coupons and discounts for customers and regular users.
4. Zocdoc
By Zocdoc Inc
Play Store: 4.4
AppStore: 4.6
Price: Free
Zocdoc is an appointment booking application. Customers and patients can make online and offline appointments with doctors anytime.
Patients can choose from over 50 healthcare services and help themselves and their loved ones.
Conclusion
"We need to bring the exam room to where the patients are."
Dr. Jay Sanders, a Telehealth pioneer, said the above in an interview.
The world believes Mobile Health is the answer to bringing health to people. People can achieve effortless healthcare with one click with the help of healthcare applications.
You are on the path to becoming the next best Healthcare App Development Company. To achieve the above goal, you have to set your priorities.
Direct your innovation towards the customers. Understand what they want in a Healthcare App. You should feel their pain and needs in an app. Your Telehealth App should become the answer to every problem of your user. Avoid adding unnecessary features that make your app complex.
You shall have an ideology to create an app that users want to download and keep using from their mobile phones, tablets, and other devices.
AppsRhino is an App development platform. We have the perfect team of developers, programmers, and testers. You can collaborate with us and create the best Healthcare App for your clients.
Contact us today to know more!