Technology has changed the dynamics of nearly all industries. The recent wave of on-demand apps makes everything available with taps and clicks. And, like any other industry, real estate has a lot of room for app development. Everyone may benefit from real estate apps, from customers to realtors.
According to the National Association of Realtors, 97% of home buyers start their searches online, and 76% use a smartphone or tablet.
Real estate is a lucrative industry, despite the surge in home costs. It makes for a huge opportunity and lucrative use case for the IT industry to digitize many parts of the trade. Creating real estate apps is a terrific approach to increasing awareness and revenue in the property market.
The best real estate apps enable buyers and sellers to be more efficient. Along with relationships, efficiency is a critical component of real estate apps' success that should not be overlooked. Mobile apps have provided real estate professionals with the technology tools they need to expedite procedures, obtain real-time information, and assure optimum efficiency along the route.
Let us take a deep dive into the industry and the best real estate apps in 2022.
Why do Businesses need real estate apps?
Real estate is a dynamic industry with numerous app development opportunities, from communication to task management to customer relationship management. Agents must accomplish their jobs properly, including financial management, market analysis, client data verification, etc.
Needless to say, real estate apps should attempt to make their work easier while also improving the client experience.
Here are a few things you can do with the best real estate apps in 2022.
Enhance your customers' experiences
For many people, buying a house is one of the best investments they will ever make. Buyers now have access to many real estate apps to help them realize their dream. Apps must be built to address end-user issues.
Real estate apps are assisting in improving the purchasing experience of customers. Apps are speedier and better tailored for mobile devices since they have access to the hardware of a mobile phone.
93% of individuals use websites to search for homes and 73% use applications. It is the most convenient way to survey and research the market. However, specific characteristics improve the client experience when it comes to real estate apps.
Utilize data (about the housing market and customer demographics)
According to a National Association of Realtors survey, 76 percent of all purchasers found a home via a mobile device, and 17 percent saw an agent similarly.
Surprisingly, 58 percent of millennials, 46 percent of gen x, and 33 percent of baby boomer house purchasers discovered a property using a mobile device. And as the younger generation matures and becomes interested in investing in real estate, real estate agents must cater to these potential clients in ways that encourage interaction. Customers must reduce their search and select whether or not to visit a property.
Increase your marketing efforts
Apps have a remarkable ability to collect and analyze user data. This allows individuals to find a house that meets their requirements and encourages a more personalized experience.
To close the purchase, consumer information is critical for real estate brokers. Demographic data assists in determining who the users are, whereas contextual information considers the device being used, the time, the geographic location, and so on. Furthermore, the real estate apps can react to user behavior in real-time and display additional features they may be interested in.
Organize your real estate team
82% of all real estate transactions result from a referral or repeat business. As a result, realtors require an app that streamlines their work.
Real estate apps must properly support and simplify communication and interaction among all the agents in the agency and your clients. 92% of agents prefer to connect via text messaging.
Real estate agents, for example, can see which homes their clients have just viewed, contact them, and create reminders for team members to follow up on a lead.
If you are looking to develop a Real-Estate App for your business needs, you can consider AppsRhino's custom mobile app development solution. Apart from that AppsRhino offers the best Tech-driven solutions for Home services, Laundry delivery, Alcohol delivery, Grocery Delivery, Food Delivery, and Taxi Services: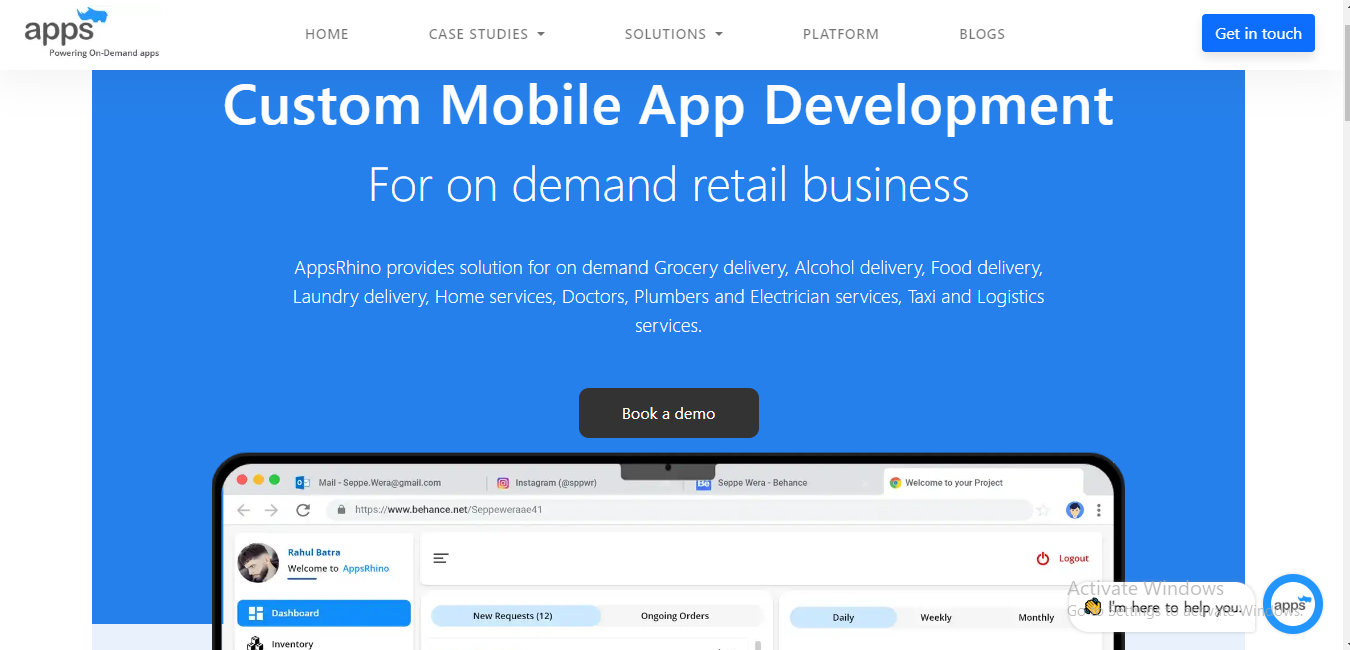 Send legal or other papers to clients
Real estate necessitates extensive communication and engagement between the agency, the realtor team, and the clients. While real estate apps' chat feature can significantly improve this element, there must also be a system that permits the transfer of audio and video files that meet the users' needs.
Agents can use these real estate apps to help prepare and distribute paperwork to clients.
Top 8 Real Estate Apps in the Market
Now that we know what a business owner can do using real estate apps, let's move on to the next part.
1. Zillow. com
Because of its vast scope, Zillow is considered one of the best real estate apps in 2022. Zillow is the most-viewed real estate website in the United States, according to its website. Its features include sharing a prospective property with your partner or roommate and allowing renters to begin the application process swiftly. The app caters to almost every requirement a user might have.
Zillow allows you to post apartments for sale, rent, lease, and virtually tour properties and contact real estate brokers. Property listings on Zillow can also be viewed via video tours and images.
Buyers and sellers can use Zillow for free, making it one of the best real estate apps in the market. The app's principal revenue source is advertising and realtors' lead generation expenses.
2. Realtor. com
The National Association of Realtors is affiliated with Realtor. com.
The Realtor app is ideal for rental property owners since it indicates when the rental listing was last updated, which is useful when users seek up-to-date information. It gives information on schools and noise in the surrounding area, which is particularly relevant. These features together brought into the list of the top real estate apps in 2022.
The app displays houses through photos and occasionally video tours, making it simple for a rental property owner to showcase the most remarkable qualities of the home. The realtor app is free to use and has advertising as its primary source of revenue.
3. Redfin. com
Redfin is a real estate brokerage firm that has developed an app to take the business to the national level and transform the buying and selling procedures. It blends cutting-edge technology with actual Redfin real estate agents and customer support representatives, retaining the human factor. This is what makes it one of the best real estate apps in 2022.
Redfin allows users to look for local houses, condominiums, and townhomes that are for sale or have an open house. Within the app, you can schedule a home tour. Sellers can use the platform to list their property for sale. It costs sellers who utilize the app a 1.5 percent listing fee or 1.0 percent if you purchase and sell with Redfin, which is lower than standard listing broker fees. It also offers a commission rebate to buyers who hire a Redfin agent.
Listing fees, commissions, and advertising costs are how Redfin makes money.
4. Trulia. com
Trulia is one of the best real estate apps for house values because it provides more information about what factors influence a home's worth than any other app.
The app enables the user to view a property in various ways. For example, you can view the property, nearby shopping and dining places, schools, commuting times, and demographic statistics. For more tailored searches, you can use two separate apps, Trulia and Rent Trulia, to search for apartments and homes.
Regarding demographics, the app may show you what locals think about the region, such as the convenience of parking or the neighborhood's walkability at night.
Users can download the app for free, and Trulia makes money mainly through advertising.
5. Apartments. com
Apartments. com is a renter's favorite site because it has 1.1 million listed rentals and stunning photography to show prospective tenants what the property offers. Prospective tenants can submit their applications straight through the app.
Since 2014, the CoStar Group (CSGP) has controlled Apartments. com. CoStar researches the best commercial real estate firms in the United States. It has aided Apartments. com by offering a huge research team and beautiful listings through professional photography and videography.
Most of the app's revenue comes from advertising costs and application fees, which can cost up to $29 for every ten applications in 30 days.
6. Loopnet. com
Because it solely displays commercial properties, LoopNet. com is one of the best real estate apps for entrepreneurs. Because investors do not have to sort and filter through homes and individual flats for sale and rent, they save time.
LoopNet is only for commercial real estate investors. It is not an app for looking for a house to buy and live in or an apartment to rent.
Search by location and whether you want to buy or lease a property. There are 12 property categories, including retail, hospital, office, restaurant, and multifamily housing buildings—filtered by price, size, construction year, and capitalization rate.
7. Xome
Because of its extensive online bid listings, Xome Auctions is the ideal software for buying a property at auction. Property data, images, and map locations are displayed, as are other apps. Still, Xome Auctions is one of the best real estate apps in 2022 because it specifies whether the property is financeable or must be paid for in cash.
You can look for residential or commercial auctions based on location, status, and auction asset type, such as bank-owned, short sale, or recently foreclosed. One can sort properties by price, beds, bathrooms, square footage, upcoming auctions, or auctions finishing soon.
8. DotLoop
This transaction management software is utilized by a wide range of real estate professionals, from agents to brokers. The Dotloop real estate app users may create, update, and sign real estate contracts online. Users can view a progress bar for transactions they are working on inside the app. DotLoop is one of the top real estate apps in 2022 as it allows customers to track the location of a specific deal at any given time.
It is meant to store information for up to seven years; it is an excellent app for anyone who needs assistance remaining organized.
Conclusion
Being ahead of the curve is critical in the competitive nature of the real estate business. High-quality real estate apps can give agencies a competitive advantage. They can provide several benefits to both realtors and house buyers. However, apps have a lot to offer the real estate market in terms of customizing search and personalizing the online experience. Real estate apps, when used correctly, can automate and streamline procedures. And with data analysis, reaching out to customers has never been easier.
Discover how to leverage the correct software to create an unrivaled mobile app for your real estate company, bringing ease of use and an improved user experience to your consumers today. Contact AppsRhino today!
Frequently Asked Questions
How do real estate apps help in the property search?
Real estate apps simplify the property search process by allowing users to browse through a vast database of listings, filter results based on specific criteria (e.g., location, price, amenities), view property details, schedule showings, and even connect with real estate agents.
Can I find rental properties using real estate apps?
Yes, most real estate apps offer rental property listings along with options for filtering results based on rental price, location, and other preferences. Users can explore available rentals, view photos, and contact property managers or landlords directly through the app.
Are real estate apps reliable for finding homes to buy?
Real estate apps can be reliable tools for finding homes to buy. However, it's important to verify the accuracy and currency of the information provided in the app's listings. It's recommended to cross-reference the data with other sources and consult with a real estate professional for guidance.
Do real estate apps provide information about local neighborhoods?
Yes, many real estate apps offer information about local neighborhoods, such as nearby amenities, schools, transportation options, crime rates, and demographics. This helps users gain insights into the area before making a buying or renting decision.
Can I save and organize my favorite listings on real estate apps?
Absolutely. Real estate apps typically provide features for saving and organizing favorite listings. Users can create personalized collections, mark properties as favorites, and receive notifications for updates or changes to their saved listings.
Are there any fees associated with using real estate apps?
In general, most real estate apps are free to use for property search and browsing. However, some apps may offer additional premium services or features for a fee. It's advisable to check the app's terms and pricing details for any associated fees.