Given the current situation, the on-demand business model's bubble is unlikely to burst anytime soon. It has gained much traction after the pandemic disrupted the usual business activities. Today, almost everyone is unaware of Uber's widely adopted business model and success story.
Similarly, Zomato is a popular on-demand food delivery app that allows consumers to find new restaurants and deliver them to their door. There is something for everyone on the app. Hungry? Go to Zomato and grab a meal of your choice.
The online food delivery market is expected to increase at a 15.4 percent yearly rate by the end of 2025. To know why and how Zomato makes so much money solely by delivering food, let's take a closer look at how Zomato operates and how it's grown so quickly in recent years. More and more business owners are joining the online food delivery system bandwagon because it is pocket-friendly and saves travel and food.
So, let us begin!
What is Zomato?
Zomato is one of the most comprehensive and user-friendly apps for finding nearby restaurants and cafés to dine in or to order food online. It also gives menus, reviews, and ratings to acquire factual information on eateries.
Users can use this information to place orders and enjoy delectable food in the comfort of their own homes. Zomato offers timely delivery to customer's doorstep, a joy for foodies. Customers no longer have to wait in restaurants for hours.
Zomato is one of the most popular online food delivery systems, with users in nearly 22 countries. On the other hand, Restaurant owners can boost their internet presence by registering with the Zomato app.
How does Zomato work?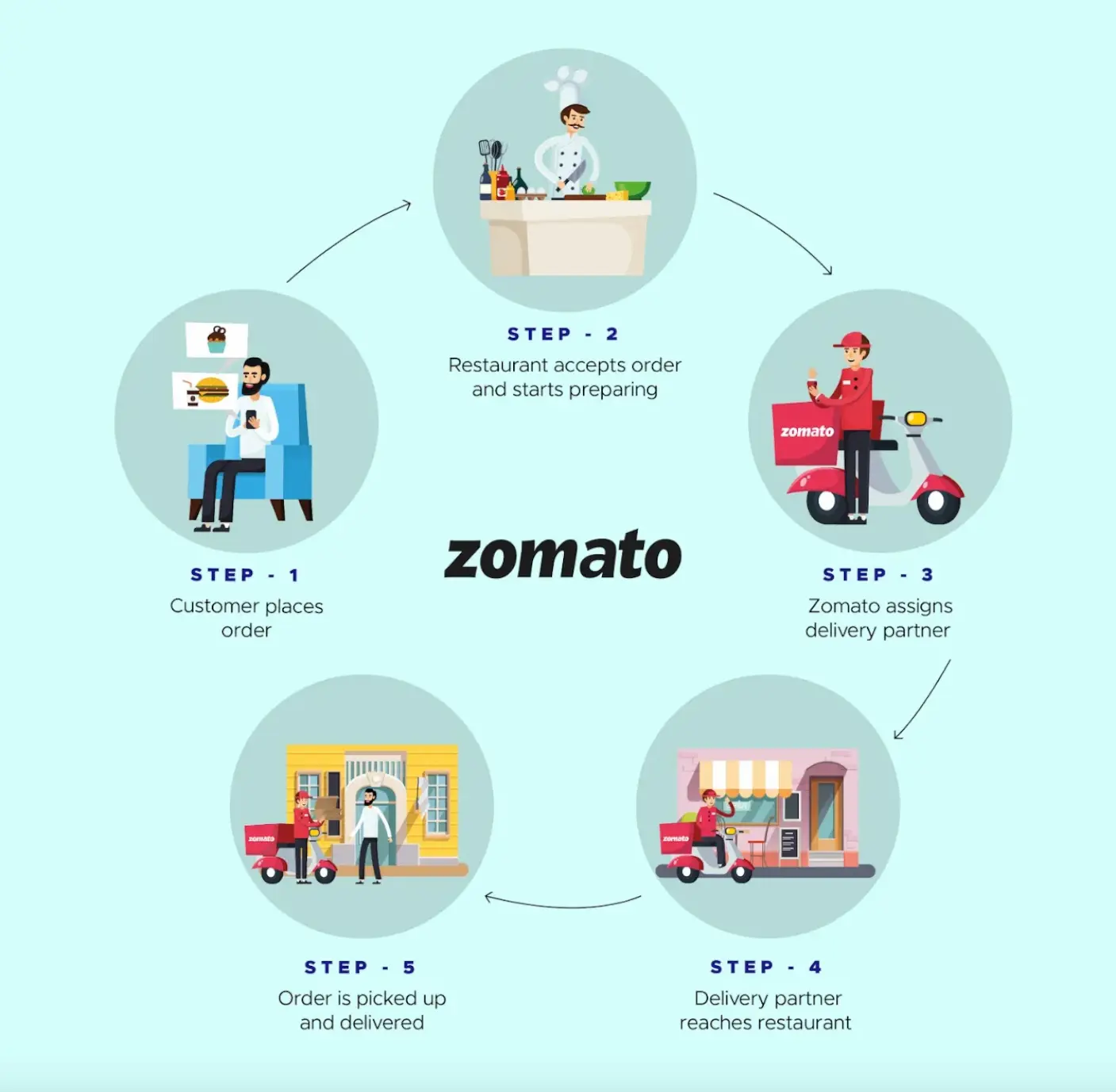 Since 2008, Zomato has grown swiftly and is one of India's most successful startups. Even seasoned business owners and entrepreneurs are curious about how it operates and earns large profits despite offering attractive discounts. Zomato's primary function is recommending local and neighboring eateries to users and taking orders from them.
Users can place orders from their preferred restaurant based on previous customers' ratings and feedback. It may be why many entrepreneurs are interested in creating a Zomato-like app. It provides users with convenience and assists business owners in taking their local food business to new heights.
Zomato's working model is simple. To enjoy a lip-smacking meal, customers have to follow these five simple steps-
Step 1
Users may browse and order food from various restaurants via the desiccated app or website.
Step 2
When restaurant owners receive an order request, they prepare a dish.
Step 3
As the food is prepared for delivery, it is given to delivery companies.
Step 4
The delivery service delivers food to the customer's preferred location.
Step 5
Customers can make purchases and provide evaluations based on their experience using the payment options.
Suggested Reading: Business Model of Zomato
Features offered by Zomato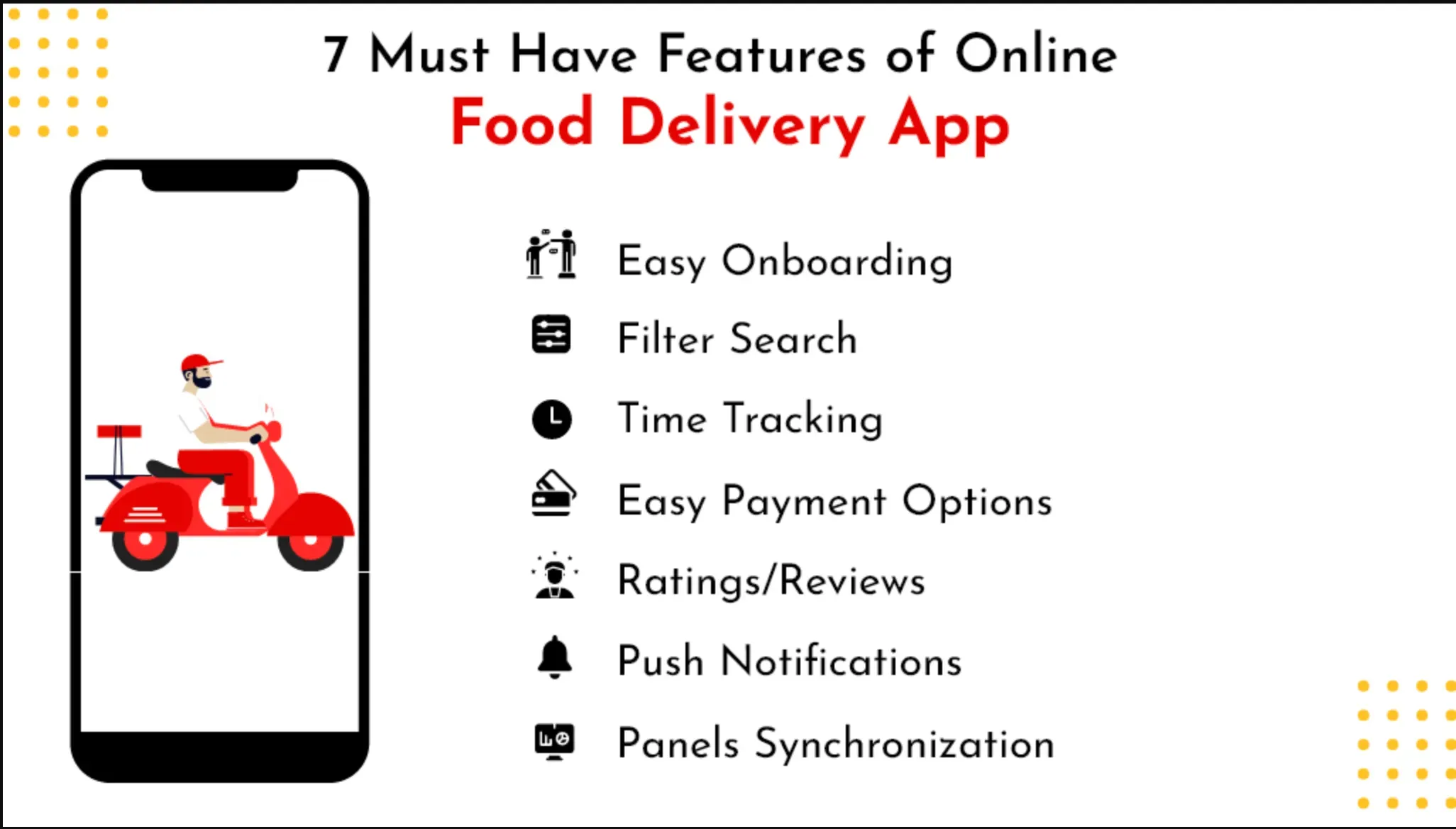 Zomato offers a variety of distinctive features that cater to user needs. They give you access to the best app, which supports restaurant pick-up, reservations for tables, discoveries, and more. Here are a few distinctive aspects of Zomato that you should be aware of.
Quick, simple, and easy onboarding process
After downloading the Zomato app, the user can log in quickly and easily. Either manually entering information such as an email address is required for login, or social login can also be used.
After logging in, the user can access the dashboard and use the services. The drivers and vendors that will function as intermediaries between you and the end user can also easily log into the app.
Search filter
Zomato makes it very simple and quick for customers to purchase food online, saving them a tonne of time. Zomato's user interface is cleverly designed. The app is incredibly simple to use and navigate. The search filter promotes a fantastic user experience.
The user can navigate directly to the item or similar items they are looking for, thanks to the search filter. For instance, a customer does not need to browse the entire menu if they only want the burger. All the goods that feature burgers will appear on their screen as soon as they mention them in the search filter.
Table reservation
One of the essential elements needed to develop a successful restaurant business is table booking. Users of Zomato can quickly reserve tables whenever they wish. User convenience and disappointment prevention are both provided by reservations for tables.
There are more than 1.4 million restaurants on Zomato's list, so you may easily discover one to reserve a table that suits your needs. The majority of eateries allow reservations for tables of 2 to 8 people.
Observe your friends
Everyone enjoys eating their favorite dish. Foodies have the opportunity to follow their pals on Zomato so that they can learn what their friends eat and enjoy. Additionally, they can learn more from their surroundings.
Affordable membership plans

Zomato has enticing membership plans. The majority of its subscriptions include free delivery. Additionally, you also receive priority deliveries when you join.
Secure payment options
You don't have to be concerned about transactions with the restaurant, thanks to Zomato's secure payment infrastructure. In case of an unlawful money deduction, you can get it returned to your account by contacting customer care.
Simple to use user interface
Zomato's user interface is lovely. You can immediately notice the vibrant colors and bold lettering on their smartphone app. The users have a seamless experience because the navigation buttons are easily visible.
Zomato's Business Model
Zomato's Business Model is divided into three categories.
Users: An online platform that allows users to identify nearby eateries is ideal for those who wish to have food delivered to their doorstep.
Local Restaurants: The Zomato platform is essential for restaurant owners who want to market their business and attract the attention of their target audience.
Providers of Delivery: They can establish a reasonable revenue stream by providing part-time/full-time services.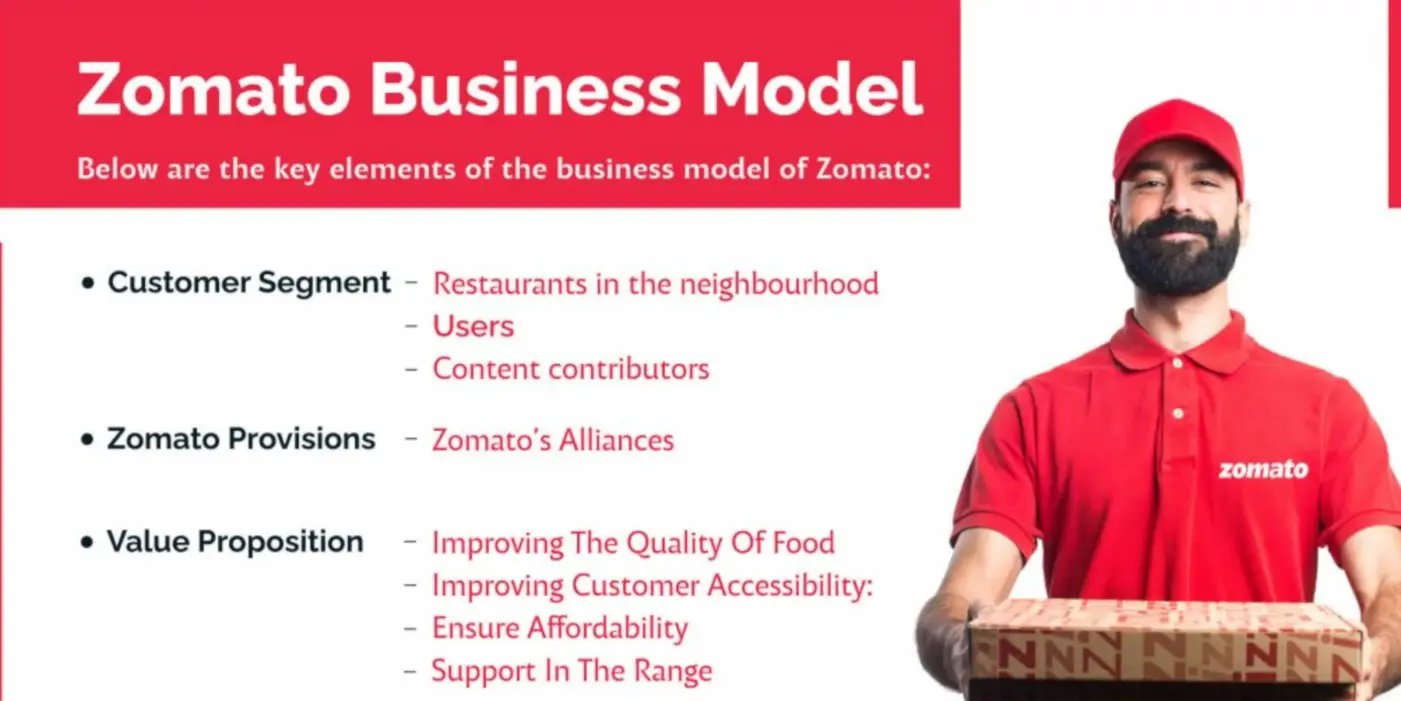 Key Partners
Zomato was originally only a listing platform and a restaurant directory. Restaurants that joined the platform were able to earn advertising money due to this.
Zomato now charges restaurant commissions to be featured prominently on the feed after food delivery and restaurant bookings rollout.
Restaurants can pay to advertise their events or special deals alongside their main banner, increasing visibility and conversions among Zomato users.
The key partners of Zomato include:
Restaurant owners

Retail grocery stores

Delivery providers
Key Activities
Zomato charges restaurants a commission based on the number of orders placed through its food delivery service. Restaurants pay a commission for each delivery, which is subsequently split between the delivery partner and the corporation, while users pay a delivery fee.
Restaurant commissions differ depending on whether Zomato completes the delivery or the restaurant utilizes its riders. Due to fierce competition and the requirement for steep discounts, this is claimed to generate only a small portion of the company's total revenue. Hence, other key activities include:
Partnerships with restaurants and retailers

Managing and hiring delivery providers

Collecting data of users for smooth delivery and payments
Key Resources
Zomato opened up a consistent revenue stream through Zomato Gold for consumers and users and subscription alternatives for eateries. Restaurants pay a monthly charge to be part of Zomato's bouquet of deals. Users pay a subscription fee to enter the Zomato Gold loyalty program, which provides unique discounts.
Restaurants additionally pay Zomato a monthly charge for features like live tracking, tamper-proof packaging with the Zomato logo, and more. Some of its essential resources include:
The large volume of data on restaurants

Data of delivery providers and suppliers

Active presence across seven countries

Modern technology stack
Value Proposition
Zomato is a comprehensive online platform allowing customers to order food from various restaurants. Zomato also helps you promote your food business if you are new to the food industry and want a strong web presence. As a result, Zomato bridges the gap between restaurant owners and customers.
Users may follow their orders in real time with an expected arrival time. Customers can place orders without hassle thanks to advanced search and filter features. Zomato also offers Gold Membership to help businesses grow their customer base and create loyalty. Customers who subscribe to Zomato's Gold service receive additional benefits, such as substantial savings on food and beverage orders.
Zomato's Revenue Model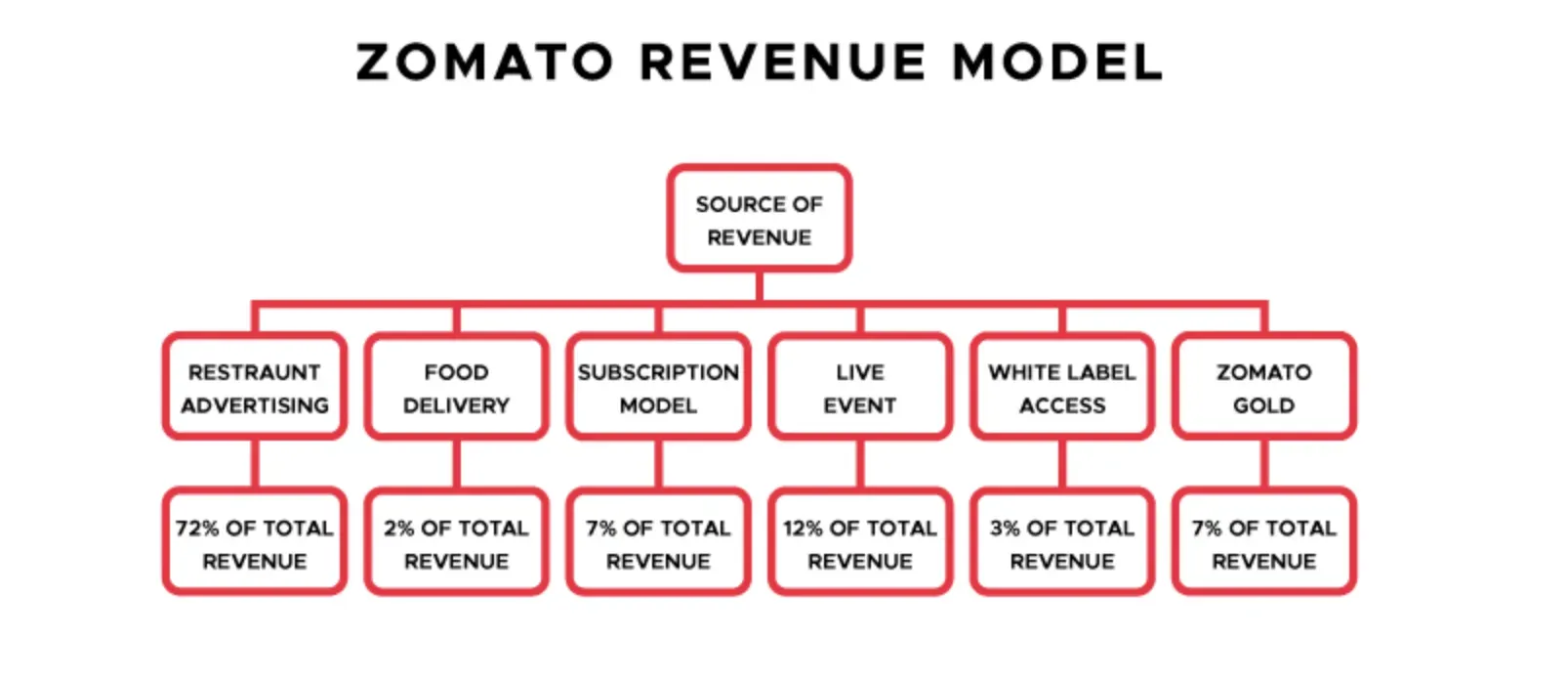 Since its inception, Zomato has increased its global footprint in the culinary business.
Zomato offers a variety of revenue streams, some of which are detailed below to help you understand how Zomato makes such a significant profit through its business model and diversification.
Advertisements on Zomato
Advertisements are one of Zomato's most reliable and essential revenue sources since they provide restaurants with advertising policies to help them increase their earnings and consumer base.
This channel accounts for more than 70% of the company's income. It lets restaurant owners display their website banners to boost their visibility.
Subscription to Zomato
Zomato can predict user behavior using complex tools and software, such as what they are searching for, which dish is trending, which food is in more demand, etc.
In exchange for this information, restaurant owners must pay a fee to Zomato. They can improve their services and meet client expectations based on this information.
Food Delivery Services by Zomato
Zomato takes a 20-25 percent commission from the eatery for each order placed. The commission rate may range from 5-7 percent in different areas.
Zomato Event Management
Zomato conducts various events in partnership with restaurants, such as Christmas Eve, New Year's Eve, or any other events to enhance sales. Those who wish to attend these events are required to purchase tickets.
Kitchens on Zomato
Zomato offers a kitchen infrastructure service. They collaborate with restaurant owners that wish to extend their business to more locations at a low cost.
It means that entrepreneurs can open a restaurant in the ideal location at the lowest possible price and operating costs.
Wrapping up
Every other entrepreneur who is still new to the Food Delivery sector can learn from Zomato's success. Zomato's process and business strategy are ideal for individuals looking to enter this business.
It saves the customer time and provides convenience at every process step, from online ordering to delivery to the user's doorstep.
Are you also thinking of making an app like Zomato? Do you have any other suggestions and ideas?
If so, get in touch with AppsRhino immediately, and we'll develop the most effective and innovative solutions to help your business grow better.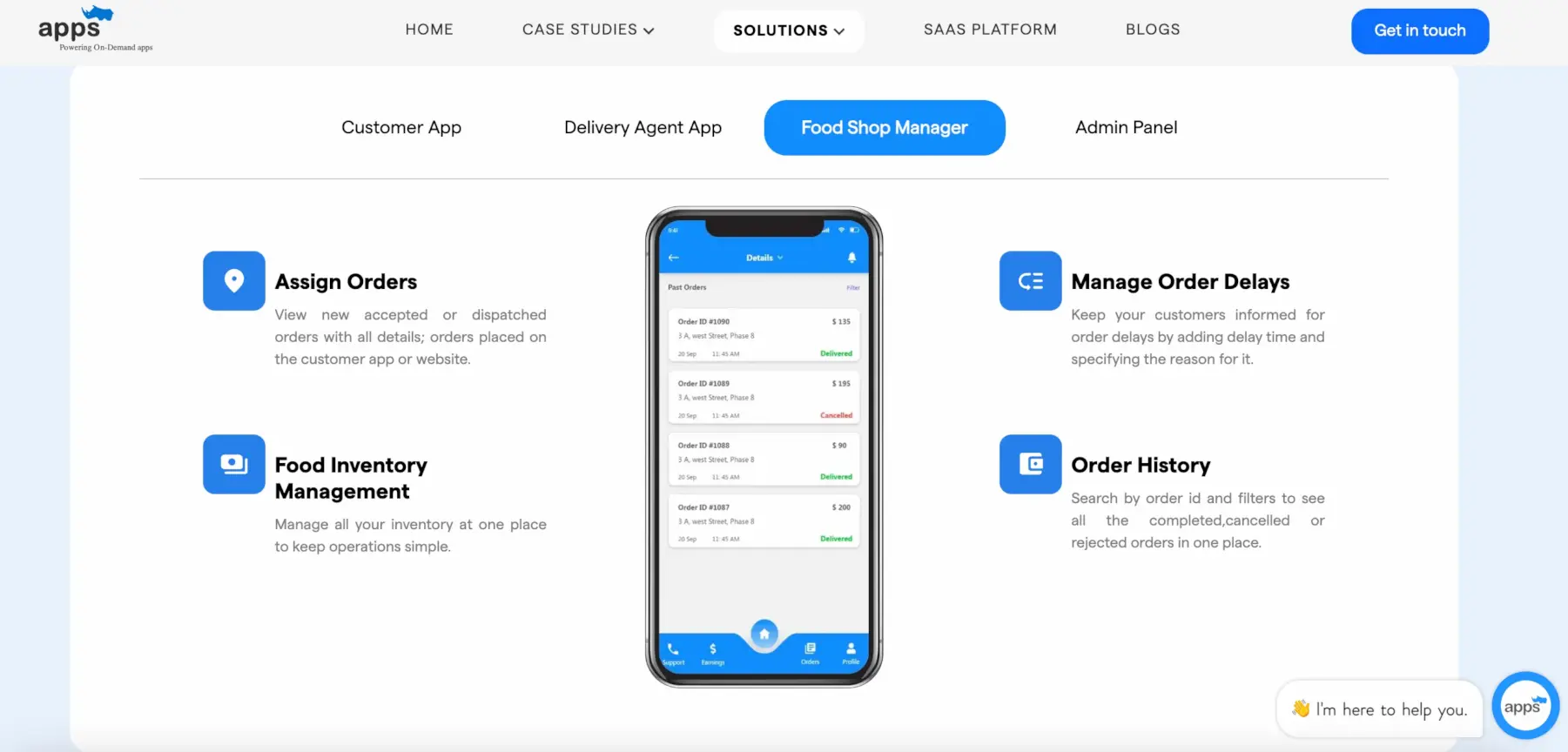 AppsRhino offers the best Tech-driven solutions for Home services, Laundry delivery, Alcohol delivery, Grocery Delivery, Food Delivery, and Taxi Services:
Frequently Asked Questions(FAQs)
How to download and use the Zomato app?
To use the Zomato app, you can download it from the respective app store for your device (iOS or Android). Once downloaded, create an account or sign in using your credentials.
You can then enter your location, browse the available restaurants, select items from the menu, customize your order if needed, and proceed to checkout. Payment can be made online through various methods.
Can to find reviews and ratings for restaurants on Zomato?
Yes, Zomato provides reviews and ratings for restaurants to help users make informed decisions.
Users can explore the ratings and reviews left by other customers, giving insights into the quality of food, service, and overall dining experience at each restaurant. This feature aids in selecting restaurants that meet specific preferences or requirements.
Does Zomato offer delivery services?
Yes, Zomato offers food delivery services. Users can place delivery orders through the Zomato app or website.
Once the order is placed, Zomato's delivery partners pick up the order from the restaurant and deliver it to the specified location. The real-time tracking feature allows users to monitor the delivery progress.
Order takeout from restaurants through Zomato is available?
Yes, Zomato allows users to order takeout from restaurants. Users can browse the available restaurants, select the desired items, and choose the "takeout" option during the ordering process.
The app provides an estimated pickup time for the takeout order, allowing users to schedule their visit to the restaurant accordingly.
Is Zomato available in multiple cities?
Yes, Zomato operates in multiple cities around the world. It has a presence in various countries and continues to expand its reach.
Users can check the app or website to see if Zomato is available in their specific city or location.
Does Zomato provide customer support?
Zomato offers customer support to assist users with their inquiries or concerns. Users can reach out to Zomato's customer support team through the app, website, or other designated channels.
The support team is available to address issues related to orders, deliveries, payments, or general assistance.
Does Zomato provide information about restaurant hygiene and safety measures?
Zomato emphasizes the importance of restaurant hygiene and safety. Users can find information about hygiene ratings and safety measures implemented by restaurants on the Zomato app.
This allows users to make informed choices about the restaurants they wish to order from, especially during times when health and safety are significant concerns.