Introduction
Are you wondering why the Zocdoc clone app is important for your business? Here is the answer. The on-demand doctor appointment booking software, ZocDoc Clone App, successfully links patients with experienced doctors.
The ZocDoc clone software has three modules: admin, doctor, and patient, each of which has unique capabilities that have recently changed the healthcare sector. The doctor appointment scheduling app also contributes significantly to revenue production, like other fantastic on-demand enterprises.
A Zocdoc clone is created to meet the needs of medical professionals and people looking to start businesses in the field. Top health applications, including Zocdoc, Teladoc, Practo, Generis, MDLive, and Babylon Health, inspired this app. Zocdoc Clone offers several ways to schedule appointments with medical specialists.
Why is the zocdoc clone app important for your business?
Technology is now used in all aspects of our life. Many industrial systems have been transformed, and the health sector is not far behind. The healthcare industry has substantially benefited from technological advancements.
Even after a large wave of Covid -19 rocked the world, the healthcare business is still in the early phases of digitization. The pandemic has also served as one of the most compelling pieces of evidence that the healthcare sector needed more excellent reconstruction while being handy and digital.
It has always been difficult to wait for the physician, even when you have an appointment. It is pretty tricky because we live in such a fast-paced world. It automatically raises concerns about developing technologies. The solution is to create an app for doctor appointments and consultations.
And the professionals managed to do so by living up to the expectations. There are times when people die in the span of a few seconds. To eliminate this powerless aspect, the American platform Zocdoc was the only hero in the healthcare business that everyone had hoped for.
What are the features provided by the ZocDoc Clone application?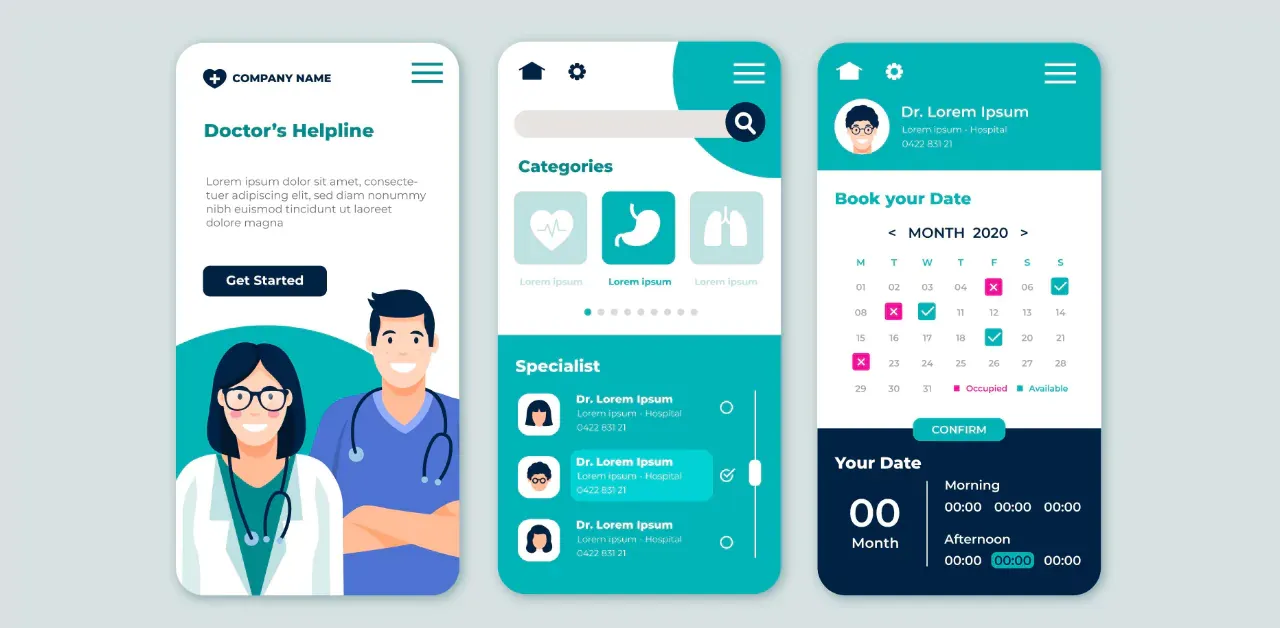 Because the app is your one-stop telemedicine app solution, it includes many unique features. It makes the application easier to use and more client-oriented in the long run. The following are some remarkable ZocDoc clone app features:
Filter Advanced
We know that the application provides many alternatives for users to explore. We have, however, including an advanced filter option to save you time and make the search more efficient. You can key in what you're looking for, and it will be displayed to you.
Admin Dashboard with Communication
The dashboard was designed in this manner primarily to assist users. It ensures that administrators can efficiently monitor the function of users when it comes to the ZocDoc clone doctors app.
Data Availability
The application can also be used to save and download your data effectively. You may need to export the prescriptions, and this option has been provided for your convenience.
Login Form
As one of the most effective telemedicine app developers, we always strive to make the process as simple as possible for our clients. As a result, we have maintained a simple login procedure so that clients do not have to undergo much of a revolution in times of necessity. As a result, even for individuals who are not tech-savvy, it is simple to do. You only need to enter your basic information, such as your name, age, gender, and some essential medical history, and you're ready to go.
Appointments should be scheduled
You can use the application if you wish to schedule a one-on-one consultation with a doctor. It is one of the most potent on-demand doctor apps, and the method is straightforward. Not only can you plan appointments, but you can also cancel or reschedule them, depending on your needs. So, once again, the procedure is straightforward to manage.
Plan monthly checkups
The monthly option was explicitly included for individuals who need to visit the doctor for regular checkups. The chance is especially beneficial for those who are pregnant or suffering from chronic diseases. One can easily opt to organize the appointments for the entire month and keep track of them. Additionally, the monthly checkup proforma guarantees that neither the patient nor the doctor misses a checkup, which is critical for the updates.
Cross-Platform
It is 2022, and there is no denying that each user's gadget preference is unique. While some friends prefer to use an Android phone, others believe nothing beats the iOS platform. However, it is our prerogative as telemedicine app developers to service both. As a result, we offer interoperability that can rapidly match your Android and iOS application.
Control Content
When launching an application, it is critical to inform the audience about the application and why it is so vital. As a result, administrators must publish content frequently, which necessitates careful monitoring. The content management option has been specifically curated for this purpose so that administrators are not inconvenienced.
What is the ZocDoc Clone Application's Revenue Model?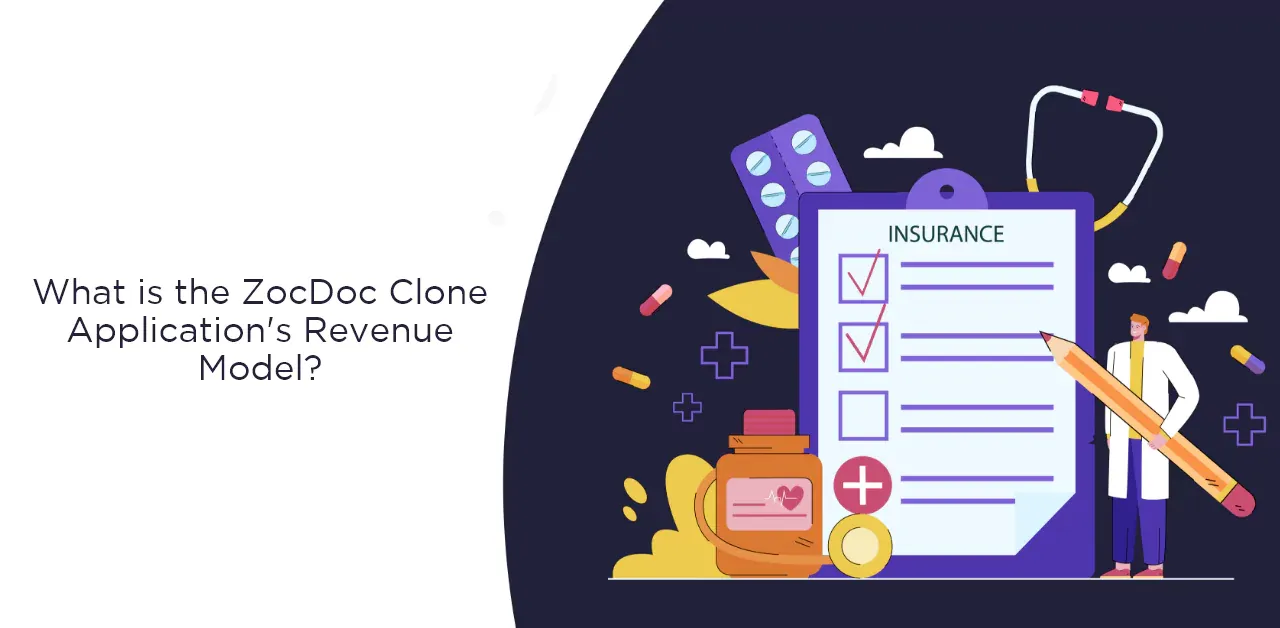 As previously said, ZocDoc is an on-demand healthcare service app, and the services are integrated across multiple domains for ease of use. However, it is also critical to comprehend the revenue system. This genre includes the following models:
Hosting Charges
These are typically charged to doctors, hospitals, or pharmacies who utilize your application as a platform to reach out to clients quickly.
Subscription Fees
When consumers sign up for a subscription model, they are charged a particular amount and are given additional perks in exchange.
Posts for Promotion
Doctors, hospitals, and pharmacies who use the app can also choose to promote their services. To post rapidly, they must pay a fee to the administrator.
Ads in-app
Nowadays, you've probably seen that most programs are employed as platforms so that third-party aggregators can use them. In most circumstances, adverts bring in money, which is a potential source of revenue.
Commission
It is relatively standard that when you apply for use to doctors, hospitals, or pharmacies, you can charge a certain sum as a commission. This commission charge fluctuates according to the number of patients they consult daily.
What is the ZocDoc Clone Application's Operating System?
Many believe that the ZocDoc clone app is also an online clinic. Hence, understanding how the system works for doctors and patients is critical. As a result, we have divided the process into two parts to make it easier to understand.
Regarding Patients
The procedure for patients to use the program for their medical needs is quite simple. Patients can first select to download the application, after which they must complete a basic login procedure.
After that, the necessary information must be entered to establish a personalized account. The patient will then be presented with all of the available service alternatives, from which they can select the service that is best suited to them. They can rate the service once they have booked and received it based on their experience.
Providers of Services
The first stage for service providers is similar, comprising a basic login procedure. They can then list the services they offer as well as their expertise. After that, depending on the orders obtained, one might opt to deny or accept the same. There are options available based on how the service provider operates.
Why Should you use the ZocDoc Clone App?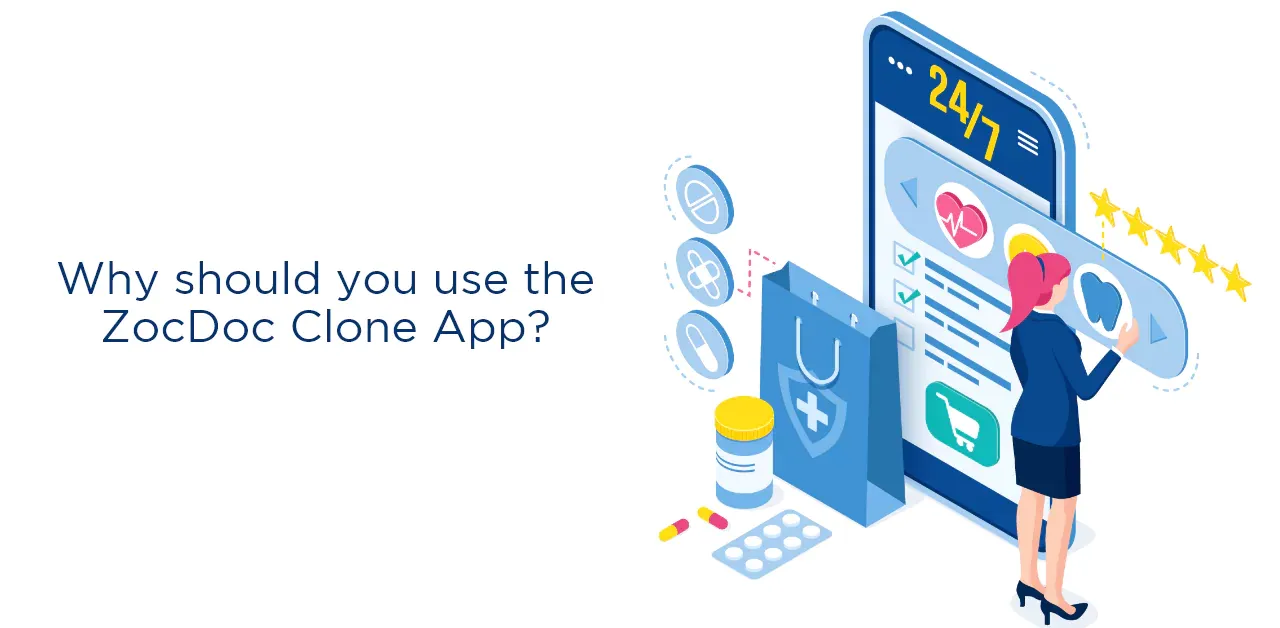 It is an important question because the numbers for medical app solutions are pretty significant. The following are some of the primary reasons why you should use the application:
Budgeted Alternative
You get the most reasonably priced clone program pre-configured and can be slightly changed based on your needs.
Whitelabel Software
We obtain the loan application and verify that you can use it by your brand standards. It is a competitive Whitelabel solution that is simple to use.
Professionals with Expertise
Our staff includes some of the most outstanding professionals in the clone application field, specifically the ZocDoc one.
Design Customization
No two people have the exact needs; thus, the application may be readily adjusted even though it is preset. This option is exclusively available to the clients who want to receive our services but with their personal touch. After all, this is what distinguishes each application.
Finishing up
Your app has the potential to be the next great thing in the healthcare industry. For individuals preferring online scheduling, offering doctor appointment booking software might be advantageous and profitable. The Zocdoc clone offers unrivaled benefits to both users and service providers. Integrating innovative features might help your software stand out from the crowd. With so many possibilities to earn money, don't be afraid to invest in our very dependable Zocdoc Clone app creation.
Schedule a consultation with AppsRhino's specialists, tell us about your app ideas, and rapidly create your app like Zocdoc!