Introduction
The rate of technological advancement is astounding, and it shows no sign of stopping. Contemporary technology has aided today's workforce in working more efficiently across various sectors and industries.
Over time, new business sectors such as finance, manufacturing, administration, and even healthcare have established themselves on the digital platform.
Instead of having to endure the discomfort of standing in a queue for hours at the local medical center or pharmacy, one can now order medicines and refills from the convenience of their own home.
The emergence of several online pharmacies has created fierce competition between them for delivering quality medication.
The online Walmart pharmacy store is a buoyant intervention that offers customers numerous pharmacy benefits, including low-cost generics, easy and affordable prescriptions so much more.
In this article, we shall go over the fundamental concept of online pharmacies and the various advantages of purchasing medicines from Walmart's e-pharmacy.
To discover more, keep reading!
What is an Online Pharmacy?
The internet has completely overtaken the world. It is not surprising that all sectors have gone digital, including pharmacies.
A commercial entity that engages in online ordering and postal delivery of pharmaceutical preparations, such as over-the-counter and prescription-only medicines, is an online pharmacy.
E-pharmacy, internet pharmacy, and mail-order pharmacies are other names for online pharmaceuticals.
Unlike "brick-and-mortar" pharmacies, online pharmacies offer customers better access, cheaper transaction and product prices, and greater convenience. People with restricted mobility or those who reside in distant places are much more accessible.
According to studies, 1 in 6 US customers has purchased prescribed medication online.
9 Reasons why you should use the Online Walmart Pharmacy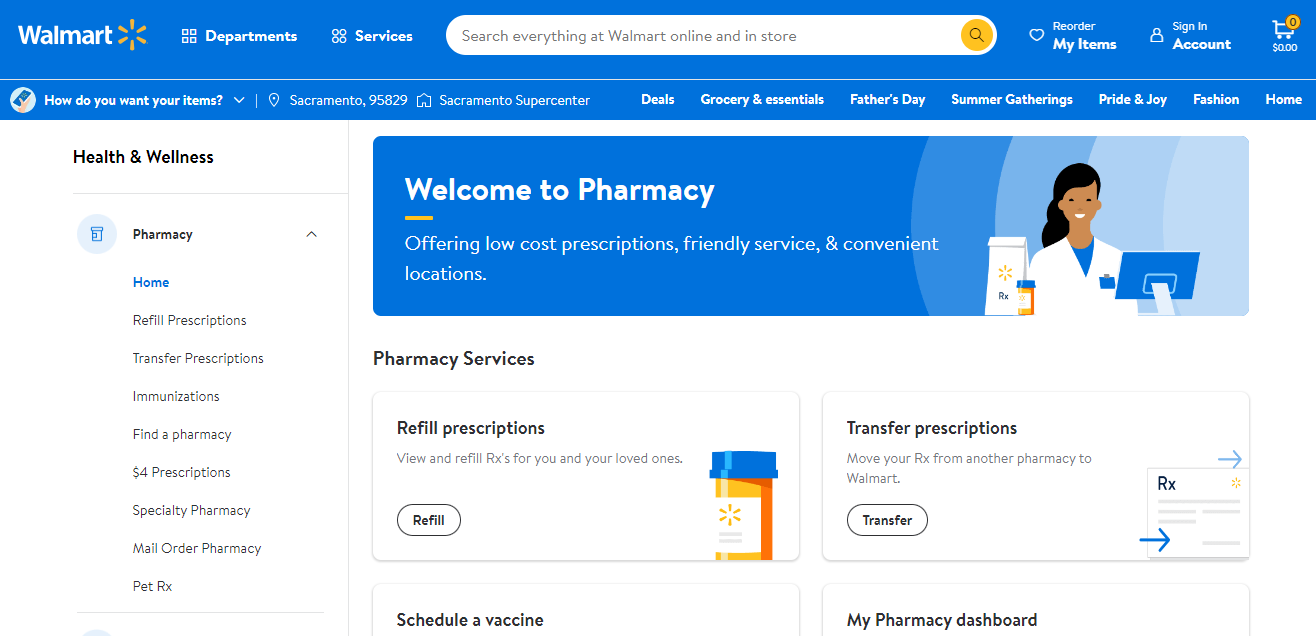 With its roots in Rogers, Arkansas, Walmart Inc. was founded by Sam Walton. This American multinational retail corporation operates a chain of hypermarkets, discount department stores, and pharmacies.
The discounted prices offered by online pharmacies have often been a driving factor in the rapid growth of online medicine sales. However, maintaining health standards and upholding the ethical code of conduct to give patients the best treatment call for a high level of honesty.
Walmart's online pharmacy has established itself as one of the most effective in the business in effectively delivering medications and other pharmaceutical supplies.
Walmart is committed to improving the lives of its customers. They support communities worldwide in their efforts to live better and save money.
The following are some significant benefits of using the online Walmart pharmacy:
1. Availability
You don't need to wait for a pharmacy to open to purchase your medications. The online Walmart pharmacy is open around-the-clock. This way, you can easily buy medicines and other pharmaceutical products per your demands.
2. Lower Cost & Better Savings
Expenditure and time are significant factors when purchasing prescribed medications. One can save time at the online Walmart pharmacy by forgoing the requirement to visit a traditional "brick and mortar" pharmacy to buy medicines.
Additionally, the online Walmart pharmacy provides a vast selection of drugs from different brands. It makes it possible to compare the prices and manufacturers of medicines before making a purchase, which adds to the benefit of lowering the overall cost.
3. Expert Guidance
In contrast to a conventional pharmacy, the online Walmart pharmacy often has a far more comprehensive selection of alternatives and pharmaceuticals in stock. Buying a medicine produced by multiple brands under various labels might be perplexing.
Consequently, a pharmacist or other professional is on hand to help you with all of your purchase-related issues.
4. Approval Of Drugs
It is necessary to have a prescription from a primary physician, or it should be an over-the-counter (OTC) medication when purchasing a prescribed medication. Before the medicine is sent, the consumer must complete a questionnaire that a doctor will subsequently assess.
The acceptance rate is quick at Walmart's online pharmacy, and no unnecessary time is wasted.
5. High Security While Paying
Many contemplate the risk of paying for and purchasing medicines from an online pharmacy. However, with Walmart's online pharmacy, this is not a concern.
Walmart follows strict guidelines to guarantee secure payment processing and safe and dependable payment gateways on its platforms. Therefore, there is no possibility of data loss or identity theft.
For a no-contact transaction, link your Walmart Pay account to your credit, debit, or gift cards.
6. Privacy for Customers
Another perk of purchasing medicines from the online Walmart pharmacy is privacy. They supply all prescribed drugs covertly, so neither their identity nor contents are disclosed.
Therefore, Walmart's online pharmacy is a wonderful choice if you wish to protect yourself from others' intrusion.
7. Easy To Use
The hassle of going to stores in-person has been significantly minimized by online purchasing from the comfort of your home. The online Walmart pharmacy is a user-friendly platform that makes purchasing pharmaceuticals simple.
There are several features on this platform that are easy to use. This way, one can buy medicines with the click of a button.
8. Easy Refills
The unique refill program offered by the online Walmart pharmacy has received a lot of praise. With only a few clicks or scanning the label on a prescription bottle, customers with the Walmart app on their phones can renew a prescription. Customers may check their order history, prescriptions expiry dates, and the number of refills they still have available without creating an account.
Users may browse Walmart's assortment of $4 generic prescriptions and use the mobile app to transfer prescriptions from another pharmacy to Walmart.
9. 24/7 Customer Care
You can ask for assistance from customer service if you run into any problems with your order or the payment procedure.
The 24/7 customer care facility of the online Walmart pharmacy will help you resolve all of your problems. It would also dispel any worries regarding your order's medications. They offer customer service even after you have received the medicines.
Exclusive Features Of Walmart's E-Pharmacy
Walmart offers several exclusive features to its valued customers.
To name a few of them:
Specialty Drugs
The Walmart Speciality Pharmacy offers all specialty medications covered by the Premier, Contribution, Saver, and Local Plans. They provide numerous specialized medications for the treatment of:
Anemia

Cancer

Crohn's Disease

Cystic Fibrosis

Hemophilia

Hepatitis

HIV/AIDS

Multiple Sclerosis

Neutropenia

Osteoporosis

Pulmonary Arterial Hypertension

Rheumatoid Arthritis

Transplant
Medicare Coverage
The online Walmart pharmacy offers personalized and affordable care for all. Walmart's prescription medication plan has been deemed "creditable coverage" as defined by Medicare. You should know this if you'll be eligible for it shortly.
Consequently, it is anticipated to pay on average the same as or more than a typical Medicare medication plan.
Community Support
Walmart and the Walmart Foundation have contributed $43 million in cash and in-kind donations to support groups fighting against COVID-19 on the front lines throughout the pandemic.
$4 Generic Prescriptions
Customers may purchase certain covered generic pharmaceuticals at Walmart's e-pharmacy for $4 for a 30-day supply or $10 for a 90-day supply at commonly recommended dosages.
Drugs for the 30-day and 90-day supply are used for the treatment of:
Cholesterol

Diabetes

Digestion

Family Planning

Hearth health & blood pressure

Mental health

Thyroid

Vitamins & Nutrition
Ordering Medicines Online: How is it better than in-person visits?
Even though many individuals find it convenient to visit the pharmacy in person, the proliferation of online pharmacies is said to have edged out the traditional pharmacy in the competition.
You might be unsure whether purchasing these prescribed drugs online is safe. Still, there are reliable data that will ensure their security.
And here are a few reasons why:
The most practical alternative for housebound people is to buy their prescription online and deliver it to their door.

Online ordering provides significant benefits for people who live in rural places, are time-constrained, or have trouble visiting a pharmacy. Such people can easily access the benefits of e-pharmacies.

Due to the covid 19 outbreak, many individuals purchase medicines online rather than visit in person to their nearest pharmacy to avoid the danger of coming into contact with the pathogens and microbes.

Given the aging population and growth in chronic diseases, online pharmacies will probably become a preferred choice for a growing number of customers.
Conclusion
These days, we have access to almost everything we need. It's become routine to have services like food, taxis, and groceries delivered to our homes, and e-pharmacies are the newest participants.
AppsRhino offers the best Tech-driven solutions for Home services, Laundry delivery, Alcohol delivery, Grocery Delivery, Food Delivery, and Taxi Services:
Online pharmacies have significantly streamlined the process of purchasing medications. It is simple, secure, and pleasant to purchase medicines online. There are no time restrictions when ordering drugs from an online pharmacy.
As Walmart seeks to develop a pharmaceutical business and compete with other drugstore chains, mobile is the newest weapon in its inventory.
For several years, Walmart has prioritized e-pharmacy services to provide accessible and affordable healthcare.
With the advent of $4 generic prescriptions, in-store health clinics, and mobile services, the online Walmart pharmacy is flourishing and is here to stay!
Frequently Asked Questions
What is Walmart Pharmacy online?
Walmart Pharmacy online is a service that allows you to order prescription medications and other healthcare products from the comfort of your own home. You can easily refill your prescriptions, track your orders, and manage your account online.
How do I use Walmart Pharmacy online?
To use Walmart Pharmacy online, simply create an account on the Walmart website or app. You can then browse the available medications and healthcare products, add them to your cart, and check out. You can also easily refill your prescriptions and manage your account online.
What are the benefits of using Walmart Pharmacy online?
There are many benefits to using Walmart Pharmacy online, including fast and convenient service, easy prescription refills, competitive pricing, and access to a wide range of healthcare products.
Is it safe to order medications online from Walmart Pharmacy?
Yes, it is safe to order medications online from Walmart Pharmacy. Walmart takes the safety and security of its customers very seriously and uses advanced encryption and security measures to protect your personal and financial information.
How long does it take to receive my order from Walmart Pharmacy online?
The delivery time for your order from Walmart Pharmacy online will depend on your location and the shipping method you choose. However, most orders are delivered within 2-3 business days.
Can I track my order from Walmart Pharmacy online?
Yes, you can track your order from Walmart Pharmacy online. Simply log in to your account and go to the "Order History" section to view the status of your order and track its delivery.
What payment methods are accepted by Walmart Pharmacy online?
Walmart Pharmacy online accepts a variety of payment methods, including major credit cards, debit cards, and PayPal.
What if I have questions about my medication or healthcare products?
If you have questions about your medication or healthcare products, you can contact Walmart Pharmacy online customer service for assistance. They can provide information and guidance on a wide range of healthcare topics.
Can I return medications or healthcare products ordered from Walmart Pharmacy online?
Walmart Pharmacy online has a generous return policy for medications and healthcare products. If you are not satisfied with your purchase, you can return it for a full refund or exchange within a certain period of time.
Do I need a prescription to order medications from Walmart Pharmacy online?
Yes, you will need a valid prescription from a licensed healthcare provider to order prescription medications from Walmart Pharmacy online. However, you can also order a wide range of over-the-counter healthcare products without a prescription.