Introduction
Whether you're a food lover or not, the essence of a delectable dish can make your mouth water in seconds. Imagine being able to eat the same cuisine in the comfort of your own home rather than having to go out and buy it. Someone in the past not only dreamed it up but also made it a reality by creating the first meal delivery app. Since then, there has been no turning back. Consumers are now aware of the advantages of using a meal ordering app. As a result, we're seeing a surge in the number of food delivery applications being developed.
Furthermore, with the epidemic in full swing, meal delivery apps have proven to be lifesavers for many. It brings us our favorite flavors, but it also feeds hungry bellies that have yet to learn how to cook. It's no surprise that now is the best moment to invest in food ordering app development. Creating an on-demand meal delivery app will considerably grow if you already have a food-related business.
Summary
Food delivery app development has automated the food business and has gained the market edge over its competitors. With more and more sectors digitizing rapidly, it is very obvious that the food industry was bound to open its arms to modern technology. It has revamped the entire food industry with the help of these on-demand delivery applications.
Key takeaways:
Development of food delivery for different enterprises
Food ordering website
System for restaurant management
Food aggregator apps
Trucks that serve food
Portals for restaurant search
Apps for coupons and deals
Four different customer-centric service panels
Admin
Restaurant
Driver
User
Features of food delivery apps
Common features
Advanced features
Requirements of a business-centric solution
Unique designs
Communication that works
On-time shipping
Creativity
Models of flexible hiring
Types of engagement and hiring models
Onsite
Offsite
Hybrid
Fixed price
Hiring dedicated personnel
Hourly basis
Few essential things to consider while developing a food delivery app
The operation of a food delivery app

Evaluation of the cost of developing a food delivery app

The length of time taken to create a food delivery app

Food delivery app development revenue model
Food delivery app development for a variety of enterprises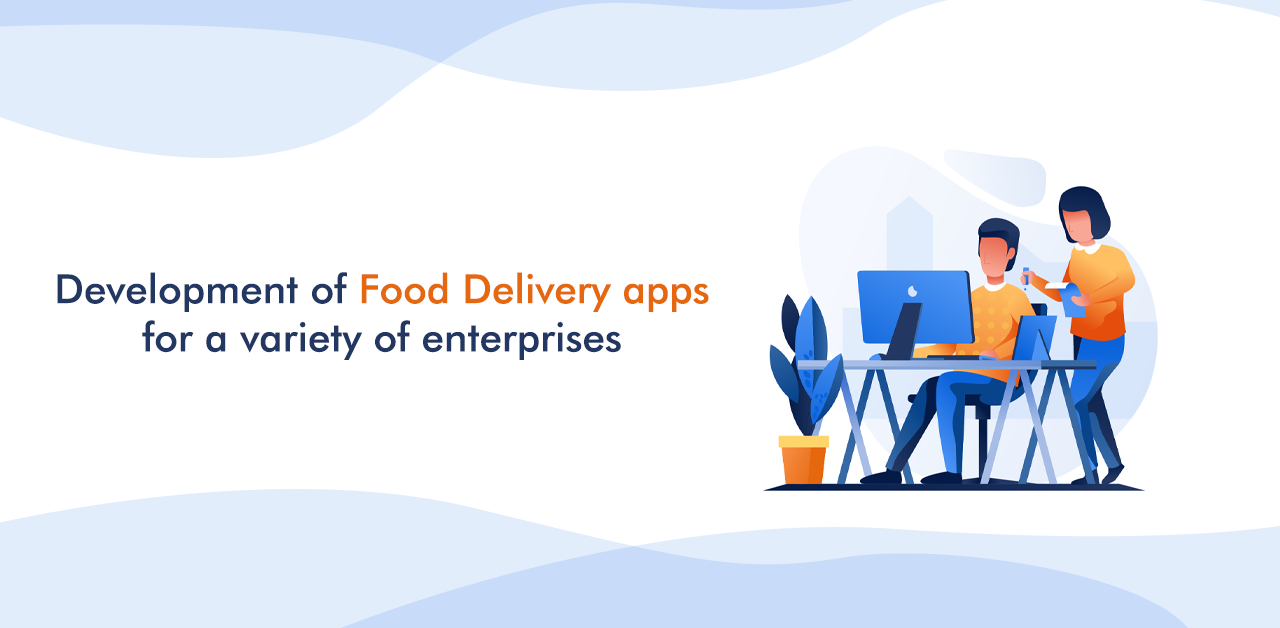 It is critical to believe in producing customized applications suited for every business model while developing bespoke Food delivery app development solutions that are built, keeping the demands of both users and businesses in mind. The following are some of the companies that could benefit from a food delivery app development solution:
Food Ordering Website
Food app developers use the best development process to construct different meal ordering portals for clients.
System for Restaurant Management
To develop a highly scalable and configurable restaurant management system to help clients achieve their business goals.
Food Aggregator Apps
Create easy-to-use and intuitive aggregator food apps for entrepreneurs aiming to be a complete bundle in this area.
Trucks that serve food
If you don't want to build a full-fledged restaurant, food app development services can help you get your food truck in front of customers.
Portals for Restaurant Search
Create food delivery applications for consumers to find the finest restaurant near them using your expertise in establishing robust and scalable restaurant search websites.
App for Coupons and Deals
Users enjoy purchasing coupons and promotions before visiting their favorite restaurants, which aids food delivery app developers to develop one for their company.
Food delivery apps must have four different panels with customer-centric services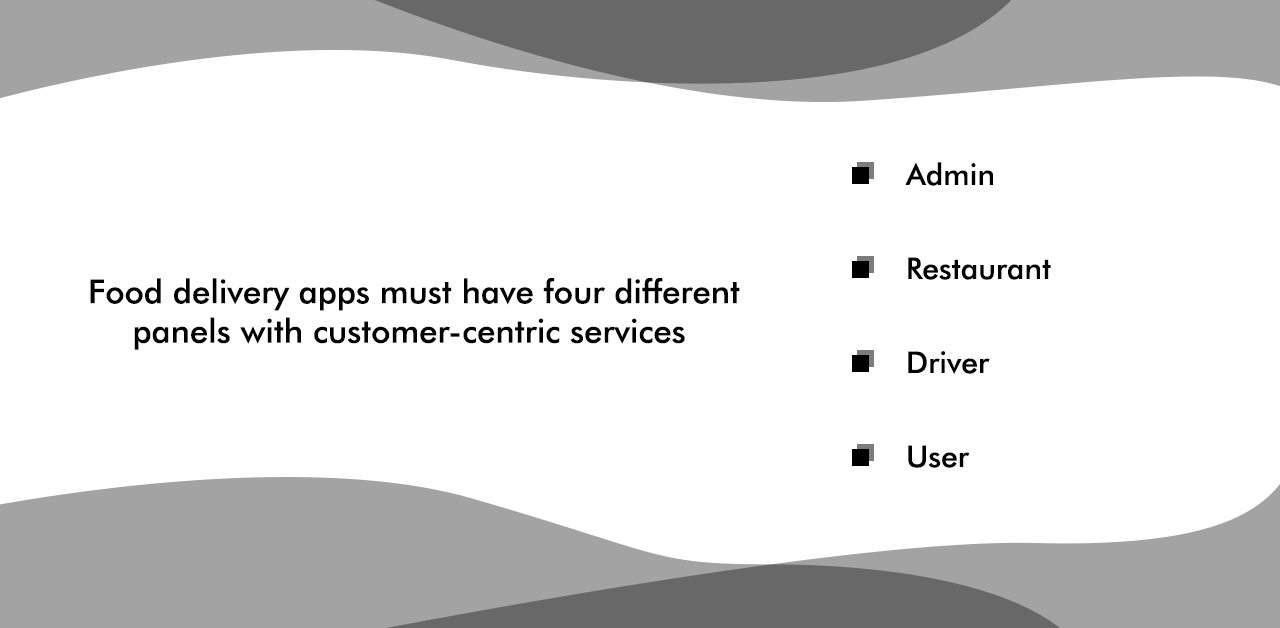 Admin
Management of the drivers

Verification of the restaurant

Calculation of the Discount

Management of the menu

Management of a restaurant

Verification of the driver

Access to a live location

Management assistance

Schedule food order

Integration of a wallet with a payment gateway
Restaurant
Uploading a menu

Upload an offer

Option to chat

Upload a photo of a dish

Dealing with requests is a breeze.

Management of item availability

Give-away of free dishes

Prepared button

driver's current location

Complete assistance
Driver
Making a profile is simple

Integration of maps

Calling from within the app

Picking up food

The restaurant's connectivity

Management of profiles

Checking facility

Information on payments

Setting the availability

I'm outside the button
User
Registration is simple

Restaurant tracking in real-time

Ratings and reviews

There are several filters available.

Several payment alternatives are available

Various eateries are available

On a map, you may track drivers in real-time

Preparation instructions

Use the promotional section

There are numerous sorting options available
Features of the food delivery app
Common features
Support for multiple languages
The Swiggy clone app's multi-language functionality might have over 60 languages from which the users can pick.
Support for several time zones
Food delivery apps can be downloaded and used by those in a different time zone, extending the reach even farther.
Integration with GPS
All on-demand apps can have location-based capabilities to provide consumers with real-time location information.
A simple user interface
Allows users to browse through the app and move about their favorite features by designing a user-centric app.
Verification of documents
To guarantee order and transparency, the restaurant and the drivers go through a document check.
Management of dish availability
Restaurants can edit every available food for delivery or pick-up, and users can see it.
Reporting a bug
Giving input on each app mistake or crash is unique in that it aids in the resolution of the problem on a priority basis.
Notifications
Meal delivery apps must include notifications because hot food delivery is a must-have feature.
Advanced features
Calling from within the app
In many countries, phone number masking is required, and food delivery applications must ensure that it is accomplished flawlessly using in-app calls.
Analytics
Food delivery apps generate a lot of metrics and data, and these apps should be sending these to you daily.
CMS that is simple to use
The easy-to-use CMS allows you to easily manage all three panels: restaurants, users, and drivers.
Integration of Payments
Payments are vital for any Zomato clone business, and food delivery apps must integrate bespoke wallets to ensure a smooth flow of services.
Optimization
Software that is optimized for desktop, mobile, tablet devices, and all other platforms is required.
Algorithm for Track Ratings
To give the restaurant an overall grade, algorithms take notes on everything, including taste, portion, etc.
No internet booking
There is an exceptional phone-to-order feature; call the app support, and they will quickly place the user's order.
Ordering ahead of time
A user can create advance or bulk orders far in advance to ensure prompt delivery.
Requirements of a business-centric solution for Food delivery app development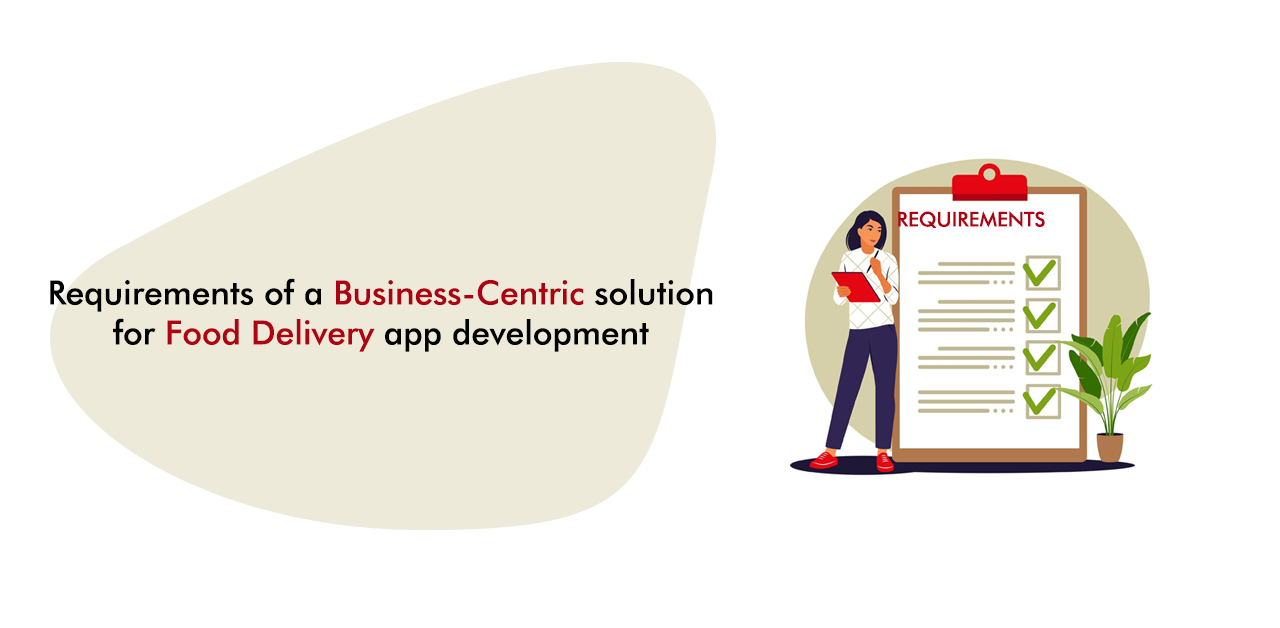 Unique designs
Food app designers know how to make immersive, stylish, and entertaining food delivery apps that customers want.
Communication that works
Project managers are the front line of communication for your project; you can talk to them about anything.
On-Time Shipping
Your food would be delivered on time, and if you wanted a white label, food delivery apps would need to have it ready. Customization is also possible.
Creativity
Grubhub-style app development is only a starting point; your app will be built from the ground up, exactly how you pictured it.
Models of Flexible Hiring
When we design your food app, we provide six various employment models; choose the one that is most convenient for you.
Types of engagement and hiring models
Onsite
The onsite approach is well-known for giving clients peace of mind because they can have it all, how they want it, from the comfort of their own offices.
Offsite
When you outsource your project to any country, you have the freedom to choose the highest quality and lowest pricing; this is what our offsite model is all about.
Hybrid
Pricing for hybrids is competitive. The Hybrid approach for clients provides the same peace of mind as the onsite model.
Fixed-price
There is more to an app than just design and development; if you choose this option, the app developers will handle everything at a fixed price package.
Hiring Dedicated Personnel
You can recruit anybody you want for your team, and it's perfect for clients that want to outsource projects that their team manages.
Hourly basis
You can hire your preferred developers and designers on an hourly basis, and they will provide you with an average hourly cost for your team.
When developing a food delivery app, there are a few essential things to consider
The operation of a food delivery app
Customers can order food products from their nearby restaurants using meal delivery app solutions from anywhere. Users can also choose to pick up their order or deliver it to their homes using their wallets. It contributes to the restaurant's sales by supplying a valued customer base.
Evaluation of the cost of the food delivery app development
The clients' needs and requirements determine the total cost of developing a meal delivery app. Creating a food delivery app is estimated to be between $10,000 and $50,000. This fee varies depending on the app's complexity, location, and other factors.
The length of time it takes to create a food delivery app
As a leading food delivery app development firm, we typically take 2 to 4 months to complete an app, depending on the included features and services. The length of time it takes to develop a product might also increase due to various factors.
Food delivery app development revenue model
Food delivery apps use revenue strategies such as receiving commissions from partner restaurants based on the number of orders placed. Convenience fees or delivery fees, sponsored adverts, and paid listings are also included.
Conclusion
Using an on-demand food delivery app has various advantages, ranging from streamlining procedures among all stakeholders to providing users with real-time access. The most important benefit of a mobile app for restaurants is increased revenue.
If you want to give your restaurant a much-needed boost, consider developing a meal delivery app. We've attempted to present all of the required information in this blog to help you get started constructing an on-demand food delivery mobile app.
Contact AppsRhino to get your fully customized food delivery app now!