Good food is something that can bring a smile to any face. Good food can put anyone in a good mood. The act of buying food will never change and people these days prefer to try different cuisines all the time. They want to cook independently and try out some new dishes, but buying groceries by visiting stores is often a cumbersome task. People refrain from going out and ordering ready-made food from restaurants and cafes instead. So as eating habits are evolving, the process of how we buy food must certainly evolve.
The future of shopping focuses more on giving customers new, creative, and seamless experiences to lure them into buying more groceries and products online. This does not only mean directing all the focus on moving away from the robotic cashier-less check-out process. Rather than providing customers with an experience, they would enjoy while scrolling through products and ordering them. It is all about giving customers a wide range of choices at every stage of ordering, whether in terms of various products, payment options, or delivery patterns.
The future of grocery delivery is here, and the apps being created will dominate the market for a long. The future of grocery delivery will be defined by technological innovations and how it helps the apps evolve. With Covid-19 disrupting markets globally, the future of grocery delivery apps now seems more bright. The pandemic sped up the need for grocery delivery apps. These apps came up to smoothen the kinks in online delivery services by reaching out to many audiences, working on their ordering process, speeding up their pick-up process, providing better customer services, and giving more value to customers.
How do grocery delivery apps work?
Some time ago, grocery delivery was seen as a luxury service. It was thought to be reserved for only a niche group of the population, belonging to wealthy suburban classes who could afford expensive groceries. But after the pandemic hit the global markets, grocery delivery apps saw a huge influx of customers getting attracted to their services wanting to order groceries online. The grocery delivery apps have exploded into mainstream shopping, and they are likely to stay here.
Grocery delivery apps have made customer experiences seamless. They work by connecting grocers with shoppers and helping them place their orders. The mechanism of a grocery delivery app includes three stakeholders:
Buyer- buyers can log into the app and create their accounts. They can then browse through the groceries mentioned in the product catalog. After going through the products, they can put their order in a cart and then further proceed with the payment where they get options to pay through cash, card, or online. After the payment is processed, the buyer gets a confirmation notification and the delivery status to help the buyer track the order via a real-time GPS tracking system.
Grocer- they provide different brands and varieties of products and services. They put up lists of products available, products out of stock and allow customers to place orders for the future in case the products are unavailable at that particular time. In case of unavailability of certain items, they also refund the money back to the customers. They allow customers to pick up their order or get it delivered to their homes.
Admin- this is the most useful panel and helps manage both the buyers and grocers, segregate products into different categories, place new orders, and manage processing orders. The panel also helps customers get their money refunded if any issue arises.
Features of grocery delivery apps
Some very common and most important features of grocery delivery apps are:
Get yourself registered on the app
Creating a user profile
Creating a product catalog
Search a product
Product categories
Item list
Ongoing and pending orders
Shopping cart
Payment gateway
GPS tracking
Notifications on order status
What are the costs of creating a grocery delivery app?
The first version of creating an app implies integrating only essential and most important features to set up establishing costs. This is called the MVP (Minimum viable product) version. This approach helps validate the business idea without spending much on grocery delivery app development.
The areas which require maximum investment while creating an online

grocery delivery app

are:
Project management
Quality assurance
Bug fixing
Technical documentation
The technical documentation includes a lot of specifications, project installations, deployment functions, app development documentation, and creating clickable prototypes.
Creating a grocery delivery app includes hiring workers for both technical and non-technical work. The employees must be taken care of. They are entitled to greater benefits and a pleasant work environment.
How do grocery delivery apps make money?
Grocery delivery apps make money in a variety of ways:
By giving paid membership and subscriptions to customers helps them generate revenue.
They charge delivery and service fees for delivering orders at home. The fees depend on the size of the order or the distance it has to be delivered to.
Grocery delivery apps also apply a hybrid approach to monetize their model. This means that those who have applied for membership have to pay few delivery charges and fewer service fees.
Benefits of grocery delivery apps
The apps are helpful and navigate customers through various categories of products.
Products can be easily delivered to your doorsteps, and there is no need to visit a store physically.
Order delivery can be fast and cheap.
Online

grocery delivery apps

also provide discounts and offer to their customers.
The chatbots installed in apps help customers answer their routine questions and clear their doubts.
Automated artificial intelligence performing routine tasks also gives time to employees to interact with customers in more meaningful ways.
Grocery delivery apps have made customers' lives easier and better. They teach customers about the groceries available and provide detailed descriptions of their products. It enriches customers' experience and guides them through all the processes seamlessly.
After the Covid-19 pandemic, grocery delivery apps also provide personal protection measures and have adopted contactless deliveries.
Grocery apps also provide high-class services like 24/7 delivery options, fresh groceries on every order, faster deliveries, replacement provisions, and allowing customers to cancel orders and reimburse their money.
AppsRhino offers the best Tech-driven solutions for Home services, Laundry delivery, Alcohol delivery, Grocery Delivery, On-demand Cannabis, and Taxi Services: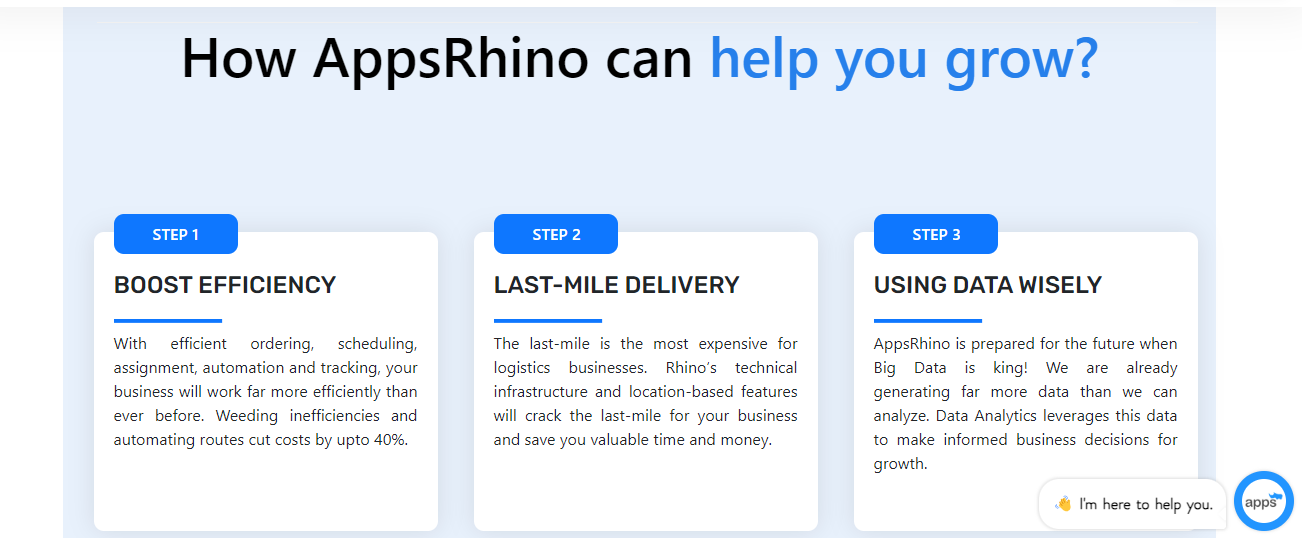 Conclusion
For younger generations, a good shopping experience has become an important thing. They invest a lot of time surfing through products online and buying products by comparing their prices, quality, availability, and much more. The new generation is smart and technology-friendly. They are evolving in how they interact with technology and benefit from it. Even while ordering groceries online, they rely on their connections with their friends and brands and know much about different apps' prices and experiences.
Frequently Asked Questions
What is a grocery delivery service, and how does it work?
Grocery delivery services are platforms that allow customers to order groceries online and have them delivered to their doorstep. Customers can browse through a virtual store, add items to their cart, select a delivery time, and complete the purchase.
What are the benefits of using a grocery delivery service?
Using a grocery delivery service offers convenience and time-saving. It eliminates the need to physically visit a store, wait in lines, and carry heavy bags. It also allows customers to shop from the comfort of their homes, anytime.
Do grocery delivery services have a minimum order requirement?
Some grocery delivery services may have a minimum order requirement to qualify for delivery. This minimum order amount varies depending on the service provider and location
How much does grocery delivery cost?
The cost of grocery delivery varies depending on the service provider, the distance of delivery, and the order size. Some services may offer free delivery for orders above a certain amount or for subscribers of their premium plans.
What are the delivery options available?
Most grocery delivery services offer various delivery options, including standard delivery with a designated time slot, express delivery for quicker service, and same-day delivery for orders placed within a specific timeframe.
Do grocery delivery services offer contactless delivery?
Yes, many grocery delivery services provide contactless delivery options, especially during the COVID-19 pandemic. Customers can request to have their groceries left at the doorstep to minimize physical contact.
Can I schedule deliveries in advance?
Yes, most grocery delivery services allow customers to schedule deliveries in advance. You can choose a convenient date and time for your groceries to be delivered.
Do grocery delivery services deliver to all locations?
While many grocery delivery services operate in urban and suburban areas, their availability may vary depending on the region and population density. Some remote or rural locations may have limited or no coverage.
How fresh are the delivered groceries?
Grocery delivery services take measures to ensure the freshness of delivered items. Many have partnerships with local grocery stores or fulfillment centers to provide fresh produce and products.
What is the process for returns or refunds for delivered groceries?
If there are any issues with delivered groceries, customers can usually contact customer support to request returns or refunds. Grocery delivery services typically have policies in place to address such situations promptly.