Introduction
It's reasonable to state that the world is changing quickly and that we have made great strides. The proliferation of on-demand applications in today's technologically advanced world is evidence of this.
You no longer have to leave your house and spend hours scouring the grocery stores for your necessities!
Today, you can order groceries online and deliver them right to your doorstep.
Nevertheless, did you ever imagine that your grocery order could be delivered in the blink of an eye? Yes, you read it right.
Zepto—India's fastest grocery delivery application, promises to deliver your orders straight to your residence in 10 minutes!
Whenever you order your groceries through Zepto, you won't have to worry about the waiting time or your groceries getting spoiled during transportation.
Regardless of where you are or what you want, Zepto will have it delivered to you ASAP!
Are you curious about how Zepto delivers groceries in 10 minutes? To learn more, continue reading the article below.
How does Zepto deliver groceries in 10 minutes?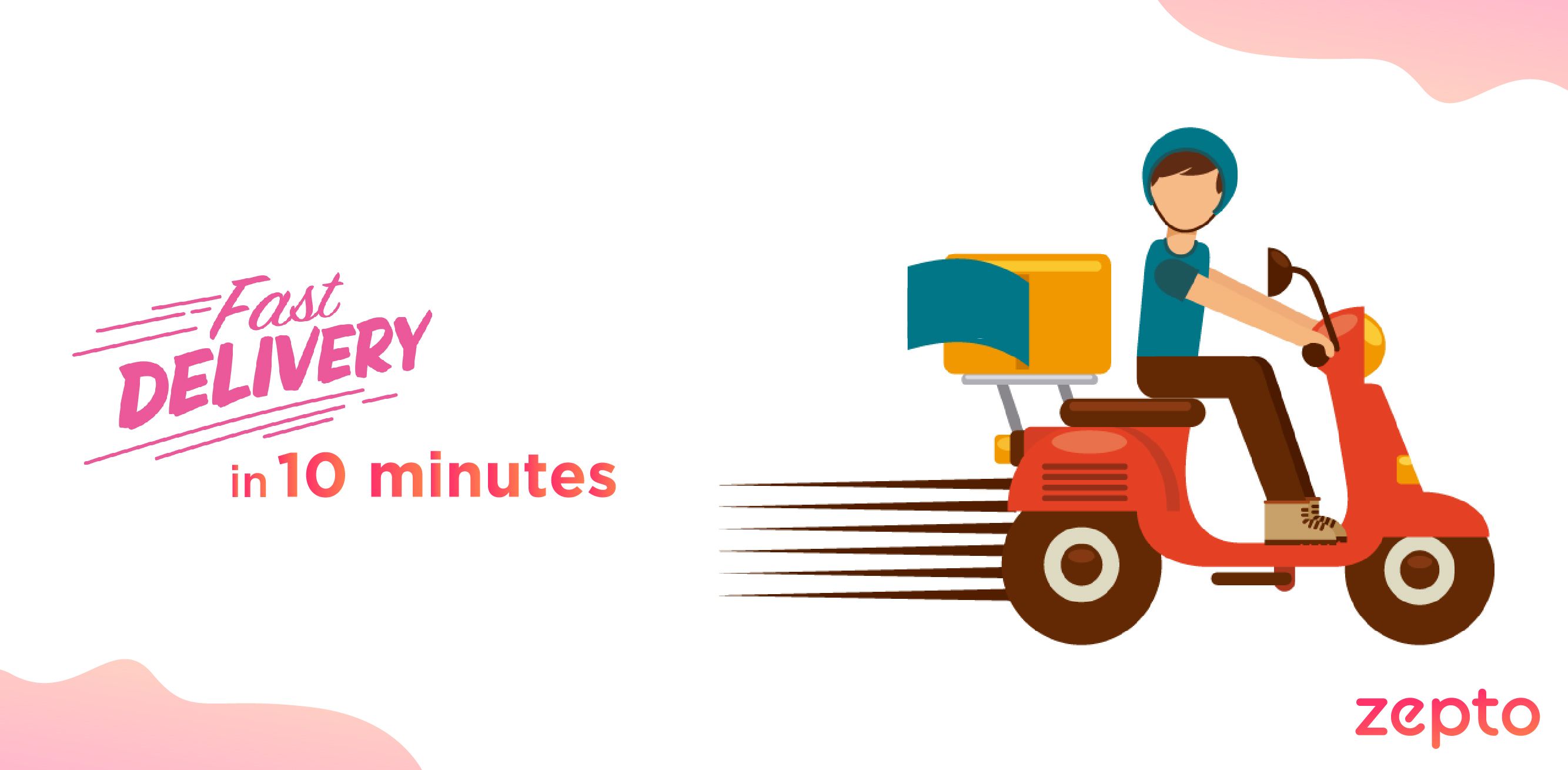 Zepto delivers groceries in 10 minutes (on up to 90% of orders) through its dark stores and micro warehouses.
To ensure a smooth delivery experience, Aadit, the co-founder of Zepto, claims their median delivery time is 8 minutes and 47 seconds.
This Mumbai-based firm uses a hub-and-spoke system to cater primarily to online shopping and distribute products at retail distribution centers.
Zepto employs various strategies and technologies to achieve its goal of delivering groceries in 10 minutes. Here are some key factors that contribute to their fast delivery:
Proximity to Customers: Zepto strategically locates its dark stores and micro-warehouses in urban areas near its target customer base.
This allows them to reduce the distance between the warehouse and customers, minimizing delivery time.
Optimized Inventory: Zepto carefully curates its inventory, focusing on popular and high-demand products.
By maintaining a limited but well-stocked selection, they ensure faster order picking and packing processes.
Efficient Order Fulfillment: Zepto has implemented advanced technology and automated systems to expedite the order fulfillment process.
This includes the use of smart algorithms to optimize routes and minimize picking time, as well as automated packing and sorting systems.
Dedicated Delivery Fleet: Zepto maintains its own fleet of delivery personnel who are trained to handle orders quickly and efficiently.
The fleet is equipped with real-time tracking systems and communication tools to ensure seamless coordination and timely deliveries.
Data-driven Operations: Zepto utilizes data analytics and machine learning algorithms to analyze customer behavior and predict demand.
This allows them to better plan inventory, stock popular products, and optimize delivery routes for faster order processing.
Streamlined Operations: Zepto focuses on continuously improving operational efficiency.
They minimize time wastage by optimizing processes such as inventory management, picking, packing, and delivery coordination.
Seamless Technology Integration: Zepto leverages technology systems to streamline the entire process, from order placement to delivery.
Their user-friendly app and website enable customers to quickly browse products, place orders, and track their deliveries in real-time.
The concept and application of Dark Stores have significantly contributed to Zepto's success.
So what exactly are these dark stores, and what obstacles did they help overcome? Let's find out.
AppsRhino offers the best Tech-driven solutions for Home services, Laundry delivery, Alcohol delivery, Grocery Delivery, Food Delivery, and Taxi Services:
What is a Dark Store?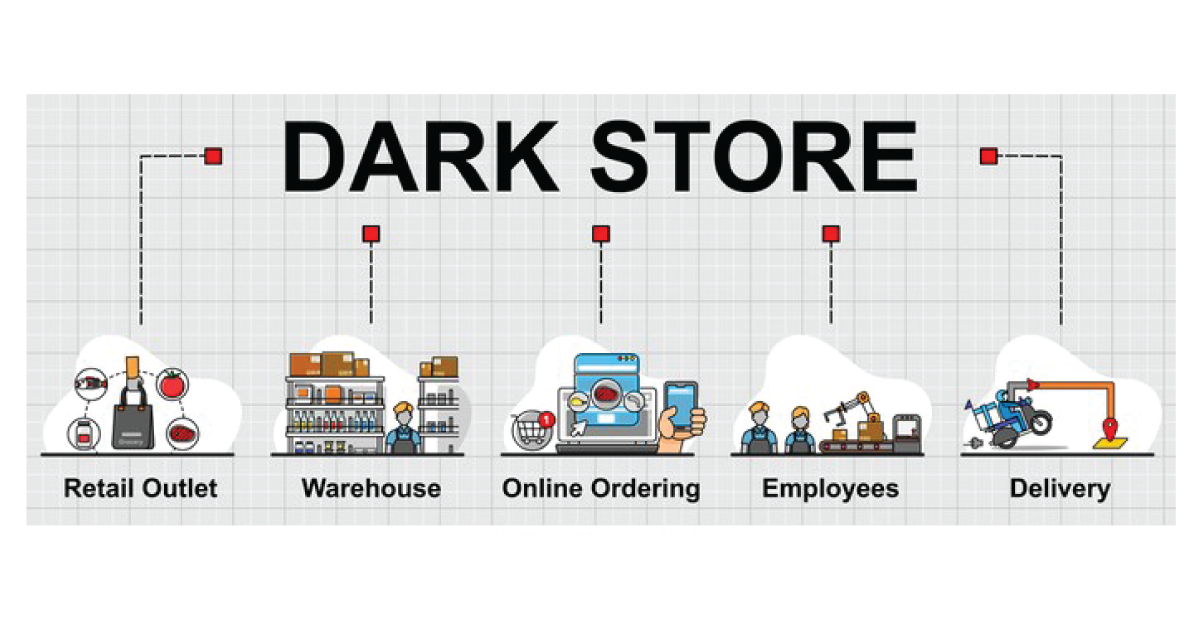 "Dark stores" is a term for retail grocery stores whose only purpose is to fulfill last-mile pickup and delivery orders. They are typically located within a few miles of the customer, are smaller than a typical grocery store, and stock a lower variety of products in exchange for sub-hour delivery times.
Dark stores are not new, as such stores are common in the USA, Russia, and other large economies. However, starting operations in India was challenging due to chaotic traffic and congested streets.
As a result, planning and location of the 'Dark Stores' were crucial.
How is Zepto managing it all?
Zepto has mastered the strategy behind locating such stores in India and has over 40 stores in various cities.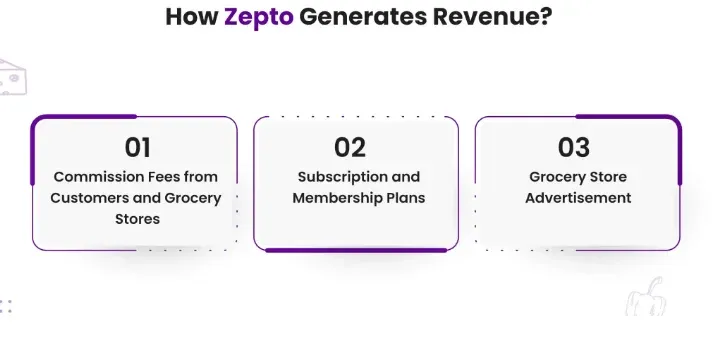 A critical challenge India faces due to its size is—handling the volume of deliveries. Since Dark stories are typically meant to store products in smaller quantities, Zepto had to consider the variety that comes with managing deliveries within any Indian city.
The second problem that the dark stores have seemed to solve for Zepto is Connectivity. Due to the size of the country and its inhabitants almost everywhere, it would have been difficult to achieve last-mile connectivity without dark stores.
Furthermore, the startup's dark stores and cold rooms are built specifically to meet requirements such as ease of navigation. This allows packers to move as quickly as possible to pack an order.
Moreover, Palicha, the startup's second co-founder, says that its dark stores are fast and reliable.
In order to optimize its network, Zepto uses location intelligence and geospatial data, including geography, demography, road patterns, traffic dynamics, weather, last-mile supply availability, and real estate prices.
In a nutshell, Zepto is on a strong development trajectory and has successfully executed its infrastructure setup methodology.
Conclusion
Zepto, one of the fastest-growing startups in India, has grabbed headlines as it is unbelievably quick.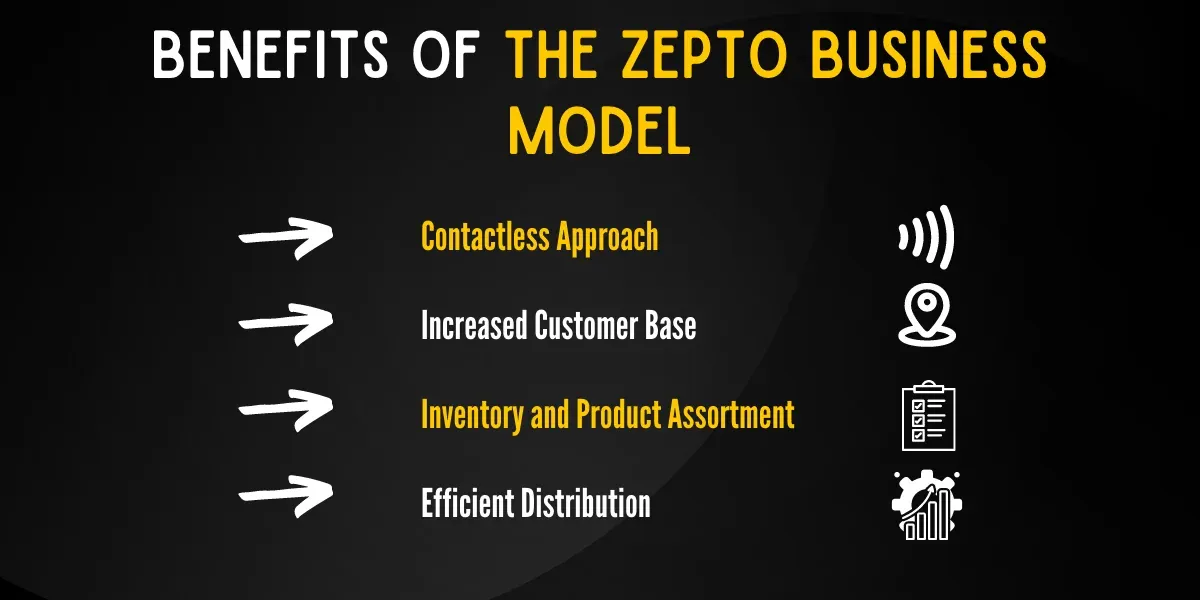 With a bulletproof focus, fast-paced execution, and strong team-building, Zepto believes it will be a long-term success in the Indian Q-commerce market.
Fast delivery, however, does not compromise the quality. With its 10-minute delivery of products, the company receives great feedback from its customers.
It is their mission to make 10-minute delivery the norm. Although it may seem unrealistic to you, it works. Don't believe us? Try for yourself now!
Nonetheless, if you want to create an on-demand app for your business, it's imperative to collaborate with a renowned app development company.
Who better to turn to than—AppsRhino!
AppsRhino offers the best Tech-driven solutions for Home services, Laundry delivery, Alcohol delivery, Grocery Delivery, Food Delivery, and Taxi Services:
This market-leading platform for on-demand app development works with customers to help them succeed in their endeavors! AppsRhino delivers quality solutions that fit your budget.
Get in touch with us today! Thanks for stopping by.
Frequently Asked Questions (FAQs)
To assist you with any queries regarding the Zepto delivery app, we have provided answers to some frequently asked questions below:
What is Zepto and how does it work?
Zepto is a grocery delivery service that claims to deliver groceries in just 10 minutes. It operates by partnering with local stores and utilizing a network of delivery personnel to quickly fulfill and deliver orders.
How is Zepto able to deliver groceries so quickly?
Zepto is able to deliver groceries quickly by strategically locating its warehouses near urban areas and partnering with local stores.
This allows them to have a wide inventory and minimize the distance between the products and customers, reducing delivery time.
How is Zepto different from other grocery delivery services?
Zepto differentiates itself by focusing on ultra-fast delivery times, aiming to deliver groceries in just 10 minutes.
It also partners with local stores, providing customers with a wider selection of products and supporting local businesses.
What types of products does Zepto deliver?
Zepto delivers a wide range of products typically found in grocery stores, including fresh produce, pantry items, beverages, snacks, household essentials, and personal care products. They aim to provide a comprehensive selection for customers' convenience.
Is there a minimum order requirement for Zepto?
Zepto does not have a minimum order requirement, allowing customers to order as little or as much as they need. This flexibility makes it convenient for customers who only require a few items at a time.
How does Zepto ensure the freshness and quality of products?
Zepto maintains partnerships with local stores to ensure that the products delivered are sourced directly from trusted suppliers.
They prioritize freshness and quality and may have protocols in place to handle perishable items appropriately.
Is there a delivery fee for Zepto?
Zepto may charge a small delivery fee for each order to cover the operational costs associated with ensuring quick deliveries. The fee may vary based on factors such as the distance to the delivery location.