Introduction
It's reasonable to state that the world is changing quickly and that we have made great strides. The proliferation of on-demand applications in today's technologically advanced world is evidence of this.
You no longer have to leave your house and spend hours scouring the grocery stores for your necessities!
Today, you can order groceries online and deliver them right to your doorstep.
Nevertheless, did you ever imagine that your grocery order could be delivered in the blink of an eye? Yes, you read it right.
Zepto—India's fastest grocery delivery application, promises to deliver your orders straight to your residence in 10 minutes!
Whenever you order your groceries through Zepto, you won't have to worry about the waiting time or your groceries getting spoiled during transportation.
Regardless of where you are or what you want, Zepto will have it delivered to you ASAP!
Are you curious about how Zepto delivers groceries in 10 minutes? To learn more, continue reading the article below.
How Does Zepto Deliver Groceries In 10 Minutes?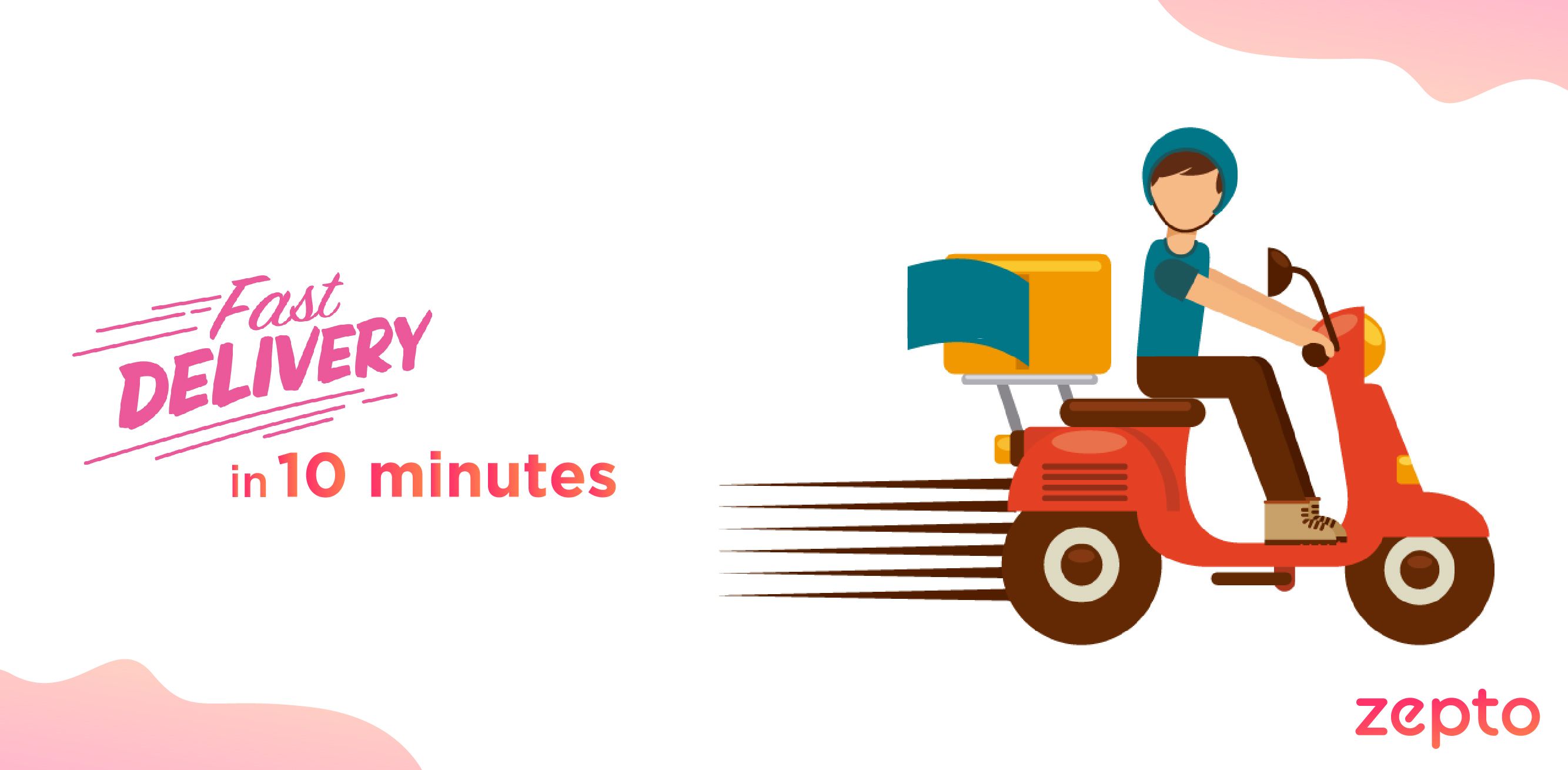 Zepto delivers groceries in 10 minutes (on up to 90% of orders) through its dark stores and micro warehouses.
To ensure a smooth delivery experience, Aadit, the co-founder of Zepto, claims their median delivery time is 8 minutes and 47 seconds.
This Mumbai-based firm uses a hub-and-spoke system to cater primarily to online shopping and distribute products at retail distribution centers.
The concept and application of Dark Stores have significantly contributed to Zepto's success.
So what exactly are these dark stores, and what obstacles did they help overcome? Let's find out.
What Is A Dark Store?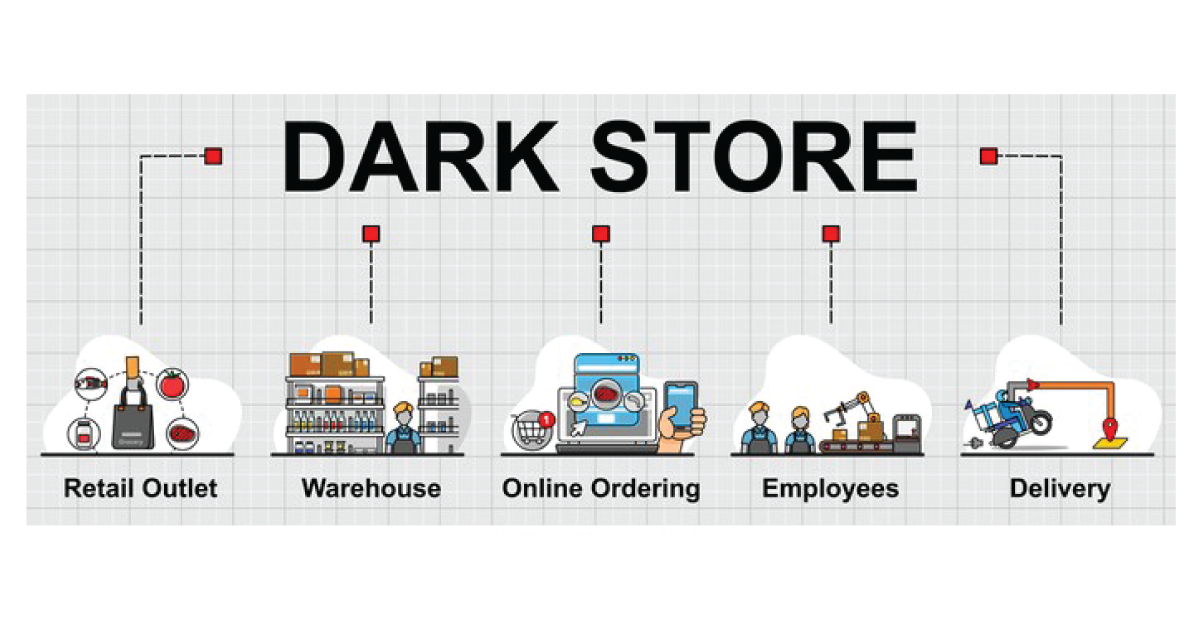 "Dark stores" is a term for retail grocery stores whose only purpose is to fulfill last-mile pickup and delivery orders. They are typically located within a few miles of the customer, are smaller than a typical grocery store, and stock a lower variety of products in exchange for sub-hour delivery times.
Dark stores are not new, as such stores are common in the USA, Russia, and other large economies. However, starting operations in India was challenging due to chaotic traffic and congested streets.
As a result, planning and location of the 'Dark Stores' were crucial.
How is Zepto managing it all?
Zepto has mastered the strategy behind locating such stores in India and has over 40 stores in various cities.
A critical challenge India faces due to its size is—handling the volume of deliveries. Since Dark stories are typically meant to store products in smaller quantities, Zepto had to consider the variety that comes with managing deliveries within any Indian city.
The second problem that the dark stores have seemed to solve for Zepto is Connectivity. Due to the size of the country and its inhabitants almost everywhere, it would have been difficult to achieve last-mile connectivity without dark stores.
Furthermore, the startup's dark stores and cold rooms are built specifically to meet requirements such as ease of navigation. This allows packers to move as quickly as possible to pack an order.
Moreover, Palicha, the startup's second co-founder, says that its dark stores are fast and reliable.
In order to optimize its network, Zepto uses location intelligence and geospatial data, including geography, demography, road patterns, traffic dynamics, weather, last-mile supply availability, and real estate prices.
In a nutshell, Zepto is on a strong development trajectory and has successfully executed its infrastructure setup methodology.
Frequently Asked Questions
To assist you with any lingering queries regarding the Zepto delivery app, we have provided answers to some frequently asked questions below:
1. What Is The Zepto App?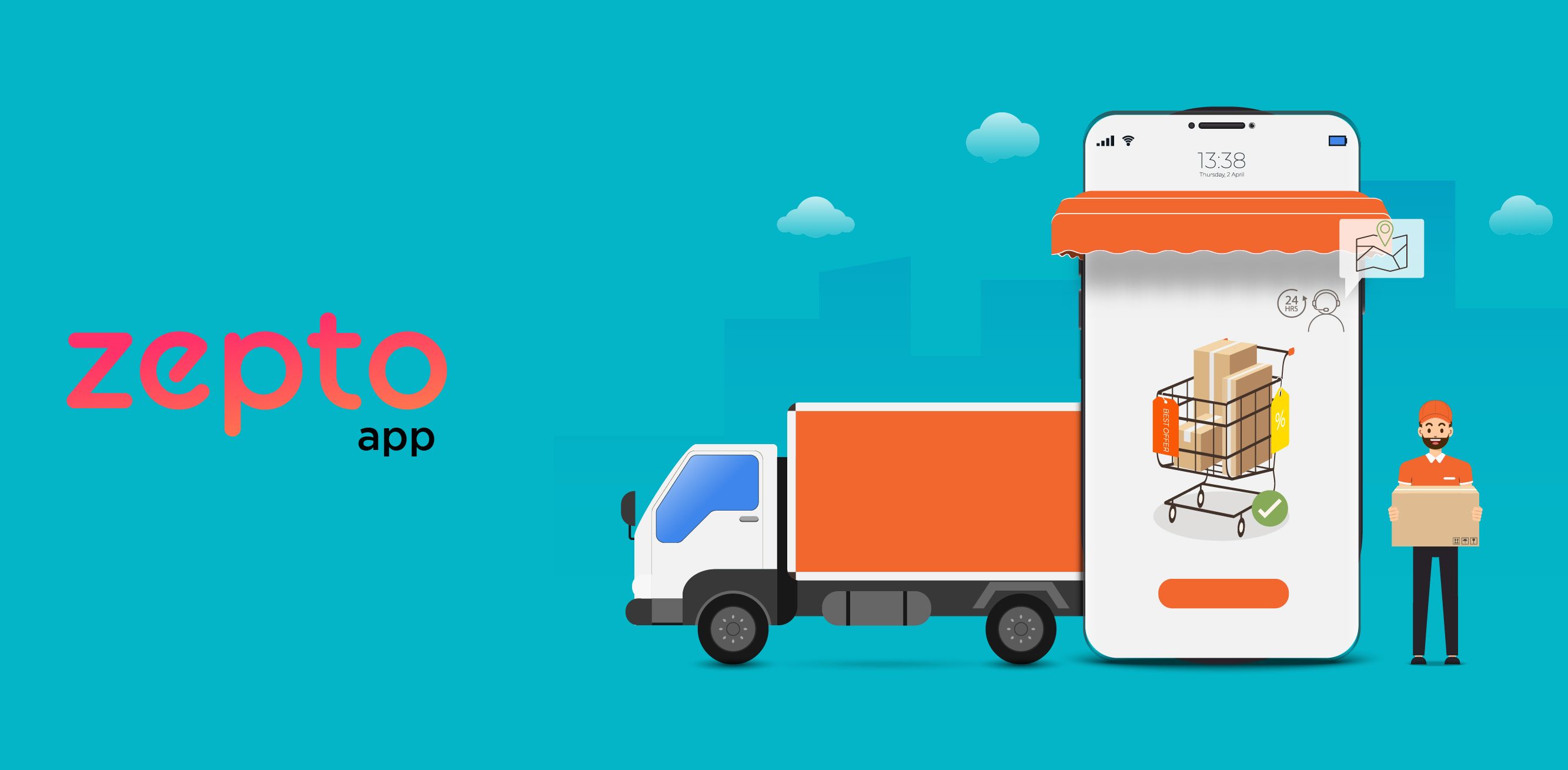 Zepto has a name that intelligently uses a mathematical term to define and describe the app, beating its rivals through speed.
According to the startup, the word 'ZEPTO' is an acronym for the factor of 10⁻²¹, signifying its one-of-a-kind 10-minute delivery service.
Customers get the option to choose from a wide range of products. They have a variety of fresh farm vegetables and fruits, groceries, dairy products, and much more on display. These products are available at the best and most affordable prices.
Zepto takes care of its customers and ensures they have a hassle-free experience while using the app. It has ensured that the platform is user-friendly and customers get everything they want in one place.
Zepto schedules the delivery time for all its customers to make it convenient for their customers. Users can order their groceries and set their time of delivery.
According to its co-founder, Aadit Palicha, "Today Zepto is growing at 200% every single month with an unstoppable team, robust product infrastructure, and deep access to institutional capital." This app has significantly disrupted India's overcrowded, highly developed, and competitive online grocery delivery market.
Just a few months after it was launched, Zepto has become the talk of the town thanks to the zeal and passion of two 19-year-old entrepreneurs.
2. Who Founded The Zepto App?
Zepto app was founded by 19-year-old—Aadit Palicha and Kaivalya Vohra. They were both Stanford dropouts who wanted to pursue their entrepreneurial interests.
During the pandemic, they devised a unique and innovative business idea of building an online grocery delivery app.
Their idea found merit among investors, and they were able to raise enough funds to start this venture.
In partnership with Y Combinator, these young entrepreneurs successfully developed Zepto, India's fastest delivery service that delivers groceries in 10 minutes!
Zepto is currently operational in—Mumbai, Delhi, Bengaluru, Gurugram, and Chennai and is about to start operating in—Hyderabad, Kolkata, and Pune.
To address some of the execution errors that other conventional grocery apps have been grappling with, Zepto came up with the unique idea of setting up dark stores.
These dark stores have helped this delivery app optimize its operations and provide fast customer deliveries.
With dark stores, the startup is able to penetrate further into cities with traffic congestion, thereby increasing conversion and retention rates.
3. What Do You Get At Zepto?
Zepto offers an extensive range of products. Customers are given the option to choose from 1000+ items. You name it, and they've got it!
Zepto also segregates the articles based on brands and product types to provide ease and convenience to its customers.
Customers can shop for groceries, fruits and vegetables, personal care products, beauty and wellness, home essentials, baby care, organic products, and more.
They can also order a single item and get them delivered in a wink!
Users of this app can order groceries at any time of the day between 7 am to 1 am.
4. What are some attractive features Of the Zepto App?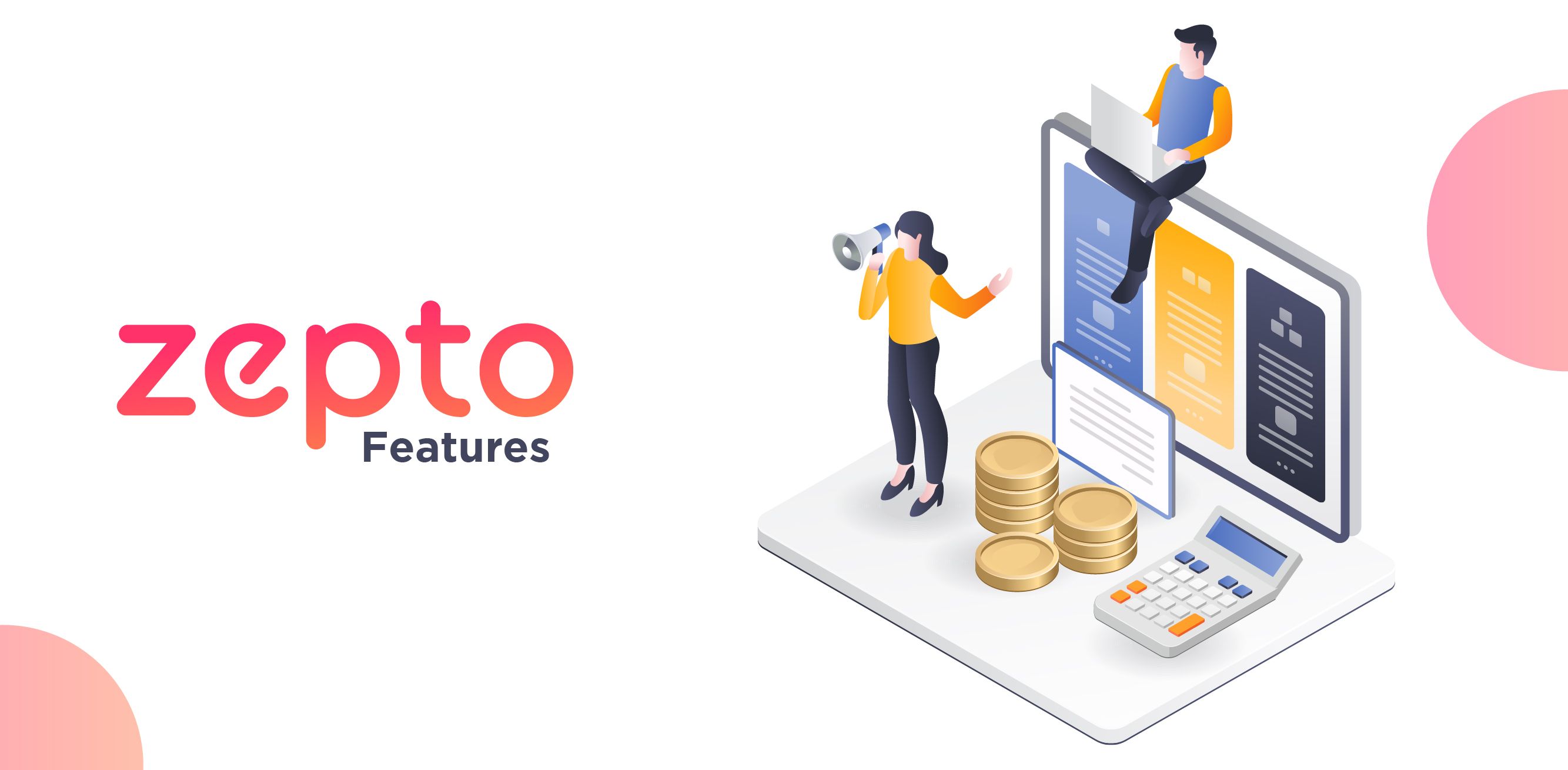 Zepto offers a wide range of local specialties to its customers. The users can order locally made products from the comfort of their homes.

Zepto also delivers your favorites from the local grocery store.

Zepto ensures lightning-fast deliveries for its customers. It delivers the products in just 10 minutes.

Zepto prioritizes the safety and security of all its customers and products.

Zeptonian drivers are trained in the best hygienic protocols and are equipped with masks and sanitizers.

Zepto also provides the feature of no-contact delivery.

Zepto keeps a check that warehouses conduct mandatory temperature checks, sanitize their storage areas, and periodically change their gloves and masks.

Zepto fixes no minimum order condition. The order can be as little as one item, and Zepto will deliver it to you.

Customers can live track their order status and check its updating status.
Conclusion
Zepto, one of the fastest-growing startups in India, has grabbed headlines as it is unbelievably quick.
With a bulletproof focus, fast-paced execution, and strong team-building, Zepto believes it will be a long-term success in the Indian Q-commerce market.
Fast delivery, however, does not compromise the quality. With its 10-minute delivery of products, the company receives great feedback from its customers.
It is their mission to make 10-minute delivery the norm. Although it may seem unrealistic to you, it works. Don't believe us? Try for yourself now!
Nonetheless, if you want to create an on-demand app for your business, it's imperative to collaborate with a renowned app development company.
Who better to turn to than—AppsRhino!
This market-leading platform for on-demand app development works with customers to help them succeed in their endeavors! AppsRhino delivers quality solutions that fit your budget.
Get in touch with us today! Thanks for stopping by.
Related Articles
What is the business model of the grocery delivery app Zepto?