Grocery delivery is a booming sector in terms of focus, participation, and investment. Changing consumer behavior and customers becoming more accustomed to online shopping has been the key factors for the growth of online grocery in these markets.
Thus the grocery delivery sector is seen to be a very optimistic market. On similar lines, the Indian grocery delivery business was valued at USD 2.9 billion in 2020 and is expected to expand at a compound annual growth rate of 37.1 percent from 2021 to 2028.
But Swiggy Instamart, Blinkit, BigBasket, Amazon Fresh already exist in the field. Is there any scope for a new business to set up?
Yes! Not only is an aggregator booming, but it is also disrupting the grocery delivery space. Yes, It is Zepto that we are talking about.
Zepto is simply the fastest grocery delivery service and also the fastest-growing startup. Zepto claims to deliver groceries to your doorstep in less than 10 minutes. But how does the superfast delivery take place?
While the other grocery delivery services take around 30mins. This blog entails the core of Zepto. Stick to the end of it to know more.
Zepto Introduction
Zepto was developed by Aadit Palicha and Kaivalya Vohra, two teen Stanford dropouts. In an interview, they said they were facing trouble with grocery delivery during their homestay in the pandemic.
As a saying says, the problem is the mother of a brilliant startup, so came Zepto.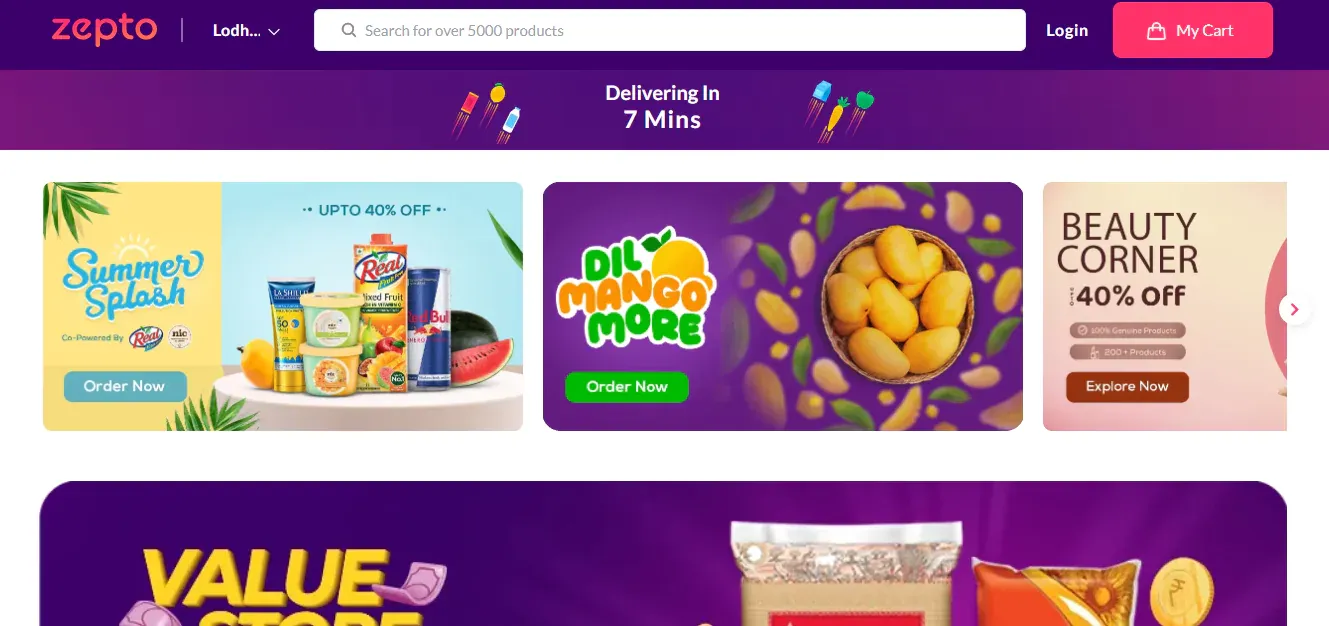 Though Zepto wasn't the firstborn, they started with KiranaKart. They played with a couple of models before morphing it into Zepto. And after its inception, it has been in the headlines.
Their idea was simple: build the fastest grocery delivery service ecosystem in the subcontinent. However, the proposition is difficult to achieve accounting for traffic congestion, roads, and discount-seeking Indian consumers.
So, they had to do enough brainstorming to plan the execution of their business, which now seems to pay off.
In an interview with YS, Aadit says, "I think a lot of the competition in the space is either in executing grocery delivery or is focused on multiple different models, which is where we saw the opportunity."
The Mumbai-based startup Zepto operates in Mumbai, Delhi, Bengaluru, Gurugram, and Chennai. Also, it is about to venture into Hyderabad, Kolkata, and Pune markets. Up till now, the startup has had an amazing customer response.

Suggested Reading:

Zepto Business Model: Dark Store model
Dark stores may seem sinister, but it undermines one of the many bright ideas that have helped several retail businesses stay afloat during the pandemic. Dark stores are distribution outlets that are not open to visitors.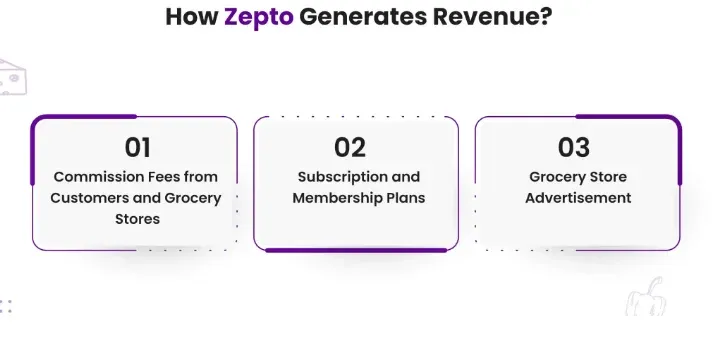 These micro warehouses quickly and accurately fulfill orders and thus provide shoppers with resources and options like purchasing products online, same-day delivery, or pickup in-store.
The founders said that the magic of the dark store model is how they pick, pack and dispatch goods in under 60 seconds. However, the last mile is like any other delivery model.
Such a model has been implemented in developed nations, but the model was never explored in the Indian context. The "dark store model" curbs the trivial challenges any delivery service faces, traffic congestions, navigation, and connectivity.
Zepto states that utilizing location intelligence, geography, population, road patterns, traffic dynamics, weather, last-mile supply availability, real estate values, and so on has improved the network's performance. And currently, it has over 40 dark stores in various locations.
However, dark stores are meant for instant deliveries and can't handle sales volume.
But Zepto didn't compromise with the shortcomings of this model. They have over a thousand products on display: fresh produce, milk, meat, kitchen refills, and more at the best bargain.
Moreover, their AI-powered tools ensure a smooth transition from picking, packing, and delivering.

Benefits of Zepto Business Model
There are numerous benefits of the business model that Zepto employs. Here we have mentioned a few.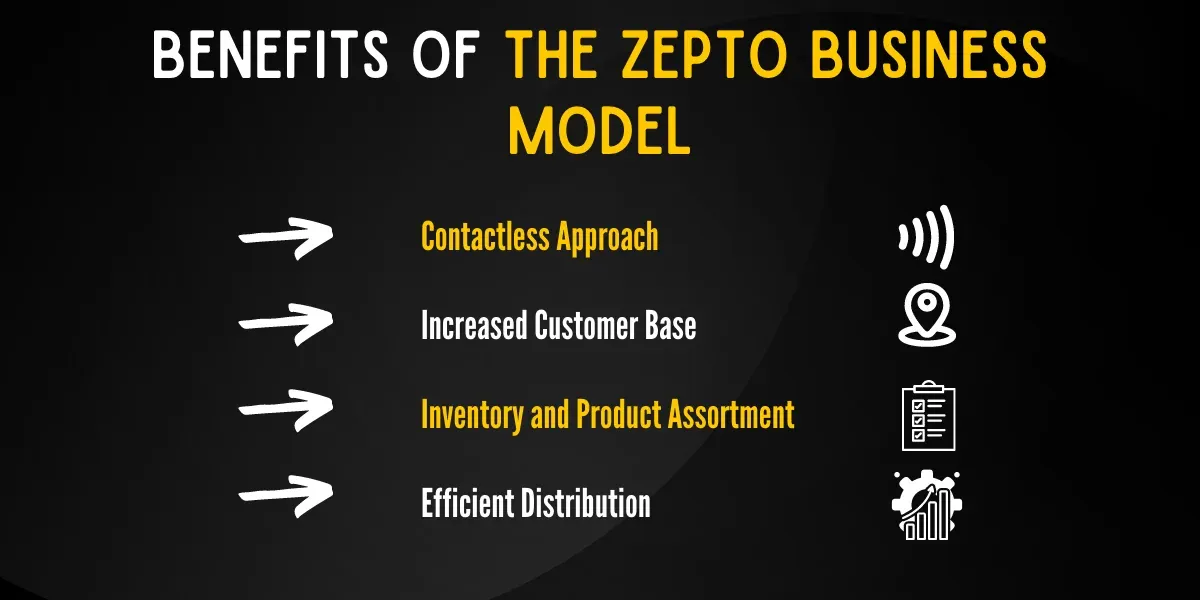 Improved Distribution and faster delivery
The dark store enables Zepto to fulfill orders more quickly and efficiently. Micro and cold warehouses provide several distribution choices and physically bring groceries closer to a certain market segment.
This way, Zepto has more control over the market spread and Distribution.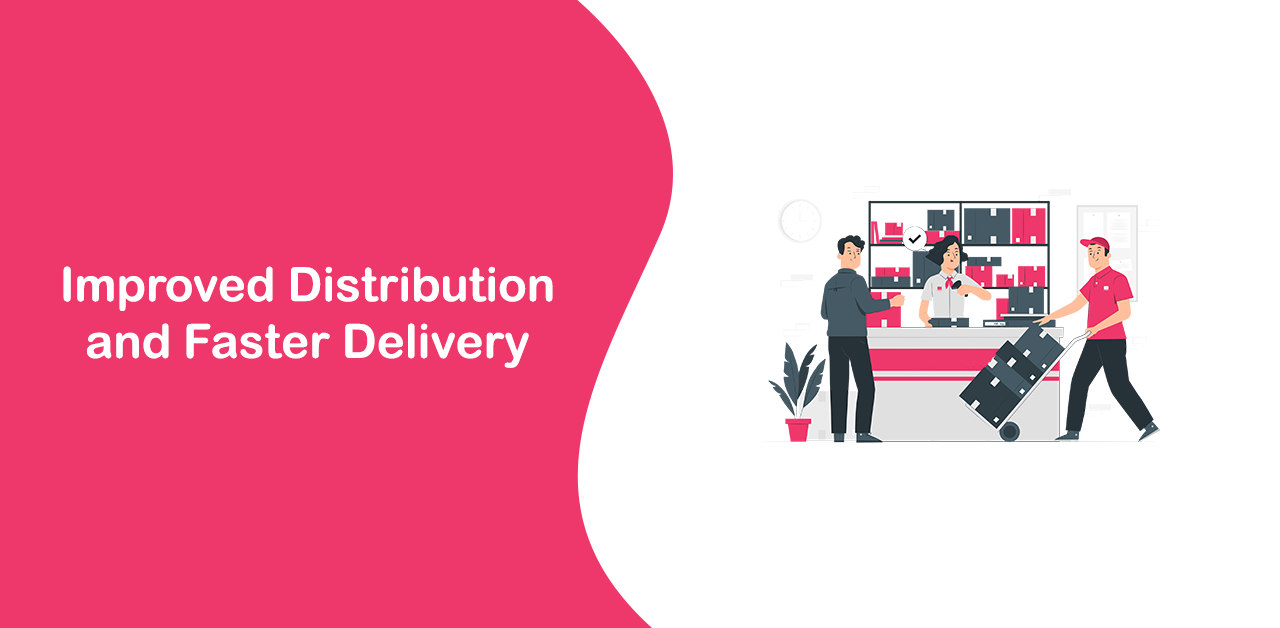 Broader Customer Reach
The dark stores bring distribution centers closer to consumers, and the stores are always online to take in orders. This brings consumers to such platforms and to use their services.

Suggested Reading:

Why on-demand grocery delivery apps reach out to more customers?

Contactless Shopping
The requirement of contact-free shopping has been a key factor for businesses to adopt the 'dark store' approach. Dark stores allow consumers to purchase groceries without coming in contact with others or entering a physical store.
They place online orders, get them instantly delivered.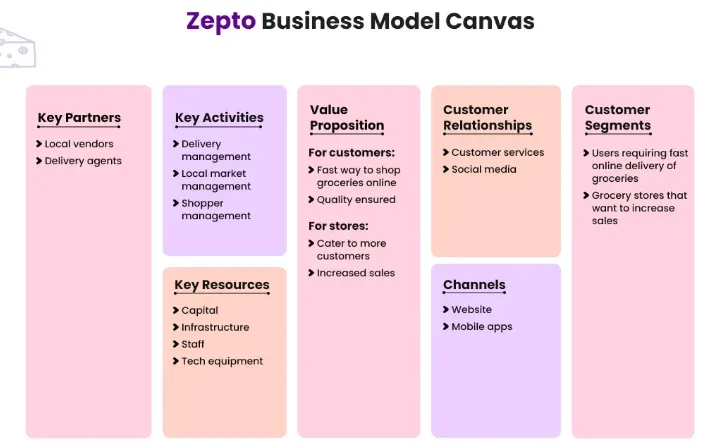 Improved Inventory Control and Better Product Assortment
Dark stores are customer-free zones and have better control inventory and manage larger order volumes. The dark stores are specifically designed for easy navigation, allowing packers to move as quickly as possible to pack the items in an order.
Further, Zepto's AI-powered tools keep inventory stock track and product assortment.
And if you wish to build an app like Zepto, then contact AppsRhino. AppsRhino is a custom app development platform that caters to the need of various industries: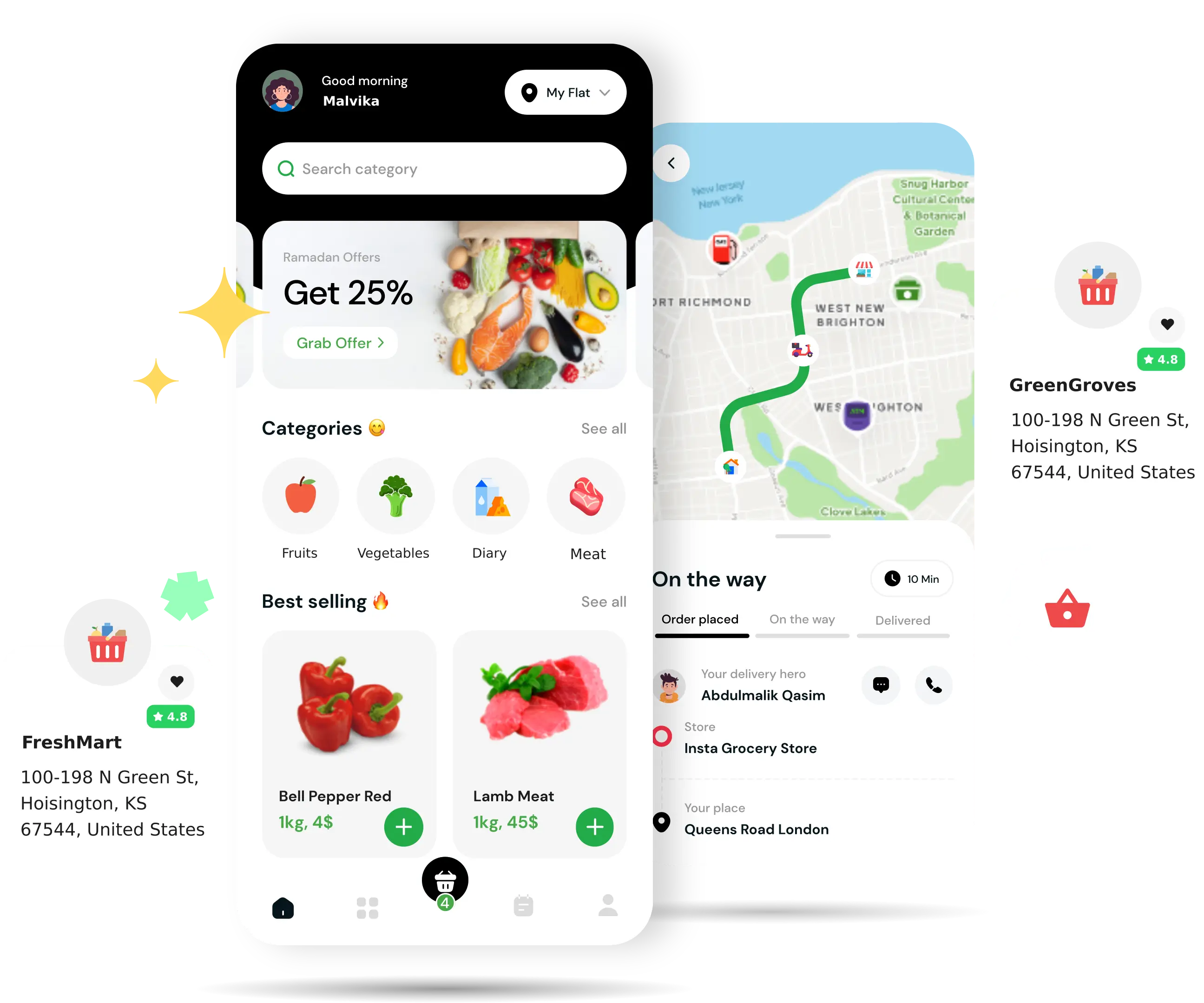 Zepto's USPs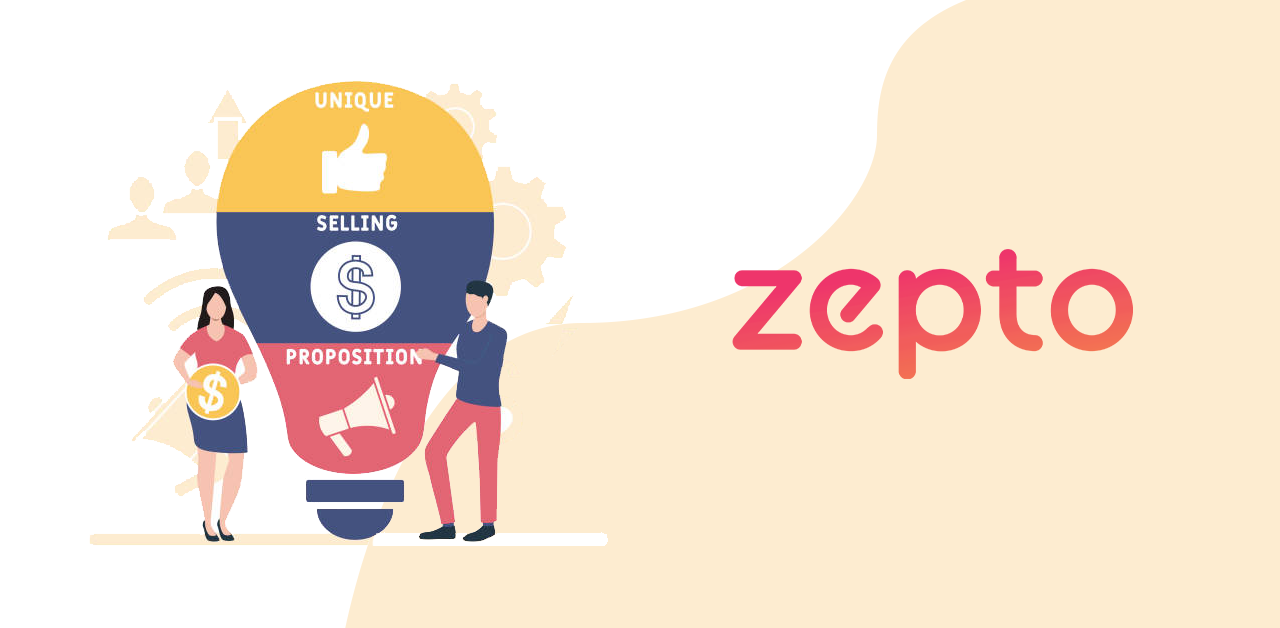 Zepto's business model is indeed a customer-centric and instant service model. However, Zepto too provides certain selling points that set it apart from its competitors. Still, these are also included in the model.
Zepto has instant delivery and is regarded as quick commerce. It fulfills grocery delivery within 10 mins and claims to have a median delivery time of 8 mins 47 seconds.
The founders said that by the time a user checks his order, the order is already shipped out for delivery. Also, almost all orders are fulfilled in under 10 minutes, but one percent of the orders might take 15-16 minutes or a little more.
Zepto provides free shipping. This USP has got dim beside the former, but it doesn't charge a delivery fee. Whereas Instacart, Amazon Fresh, and others have certain delivery fees.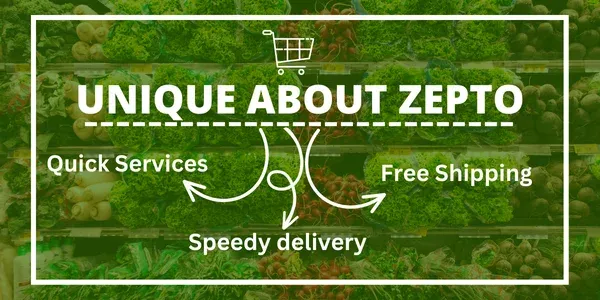 The free service doesn't mean costlier products. Yet another USP is it provides some fascinating discounts on the listed products and groceries.
Conclusion: A Way Ahead
Zepto has raised $100 million in Series C funding led by Y Combinator's Continuity fund, valuing $570 million. The founders say that investments in Zepto will help it reach more customers and provide them with better service. As of now, Zepto operates in the Indian metros.
However, it has not revealed its consumer count, but sources say Zepto is growing at 200% every month.
As we mentioned earlier, the 10 min grocery delivery service has disrupted the grocery delivery space. Blinkit (December 2021) announced a temporary shut down of its service in areas where it couldn't deliver groceries in under 10 minutes.
While incumbent Swiggy announced a major investment of $700 million in its grocery delivery vertical -- Swiggy Instamart, and will make deliveries in 15 minutes by January 2022. Fraazo-- a Mumbai-based grocery delivery service, also announced a tripling of its dark stores to 750 by the end of Q2 in FY22. BigBasket and Dunzo are bucking to launch into the quick-commerce space.
Coming back to Zepto, it's a combination of razor-sharp focus, quick execution, and a strong-headed team. Moreover, it timed perfectly into the grocery delivery space.
Though Zepto is just a 5-month-old company, any prediction can be a fallacy. But we are confirmed that it has raised customer expectations, and we are thriving towards a more consumer-centric business.
If you also want to develop a Zepto-like mobile app then contact AppsRhino to get the app within your budget and desired delivery time.
Suggested Reading:

Frequently Asked Questions (FAQs)
What is Zepto's revenue model?
Zepto's revenue model is based on charging a commission fee from the grocery stores for every order placed through the app. The commission fee is a percentage of the total order value and varies depending on the store's agreement with Zepto.
How does Zepto make money?
Zepto makes money by charging a commission fee from the grocery stores for every order placed through the app. Additionally, Zepto may charge a delivery fee from the customers for the delivery service.
How does Zepto differ from other grocery delivery apps?
Zepto differs from other grocery delivery apps by offering a wide range of grocery stores to choose from, including local and independent stores.
Additionally, Zepto offers a subscription service that provides free delivery for a monthly fee.
How does Zepto ensure the quality of the products delivered?
Zepto ensures the quality of the products delivered by partnering with reputable grocery stores and conducting regular quality checks.
Additionally, customers can rate and review the products and the delivery service, which helps Zepto to improve its service quality.
How does Zepto handle customer complaints?
Zepto has a customer support team that handles customer complaints and queries. Customers can contact the support team through the app or website, and the team will respond promptly to resolve the issue.
How does Zepto ensure the safety of its delivery personnel?
Zepto ensures the safety of its delivery personnel by providing them with personal protective equipment (PPE) and training on safety protocols. Additionally, Zepto conducts regular health checks and provides sick leave to its delivery personnel.
How does Zepto ensure the security of customer data?
Zepto ensures the security of customer data by using encryption and other security measures to protect the data from unauthorized access. Additionally, Zepto has a privacy policy that outlines how it collects, uses, and protects customer data.
How does Zepto handle refunds and returns?
Zepto handles refunds and returns by following the store's refund and return policy. Customers can contact the store or Zepto's customer support team to initiate a refund or return request.
How does Zepto ensure timely delivery?
Zepto ensures timely delivery by partnering with reliable delivery partners and using advanced logistics technology to optimize delivery routes. Additionally, customers can track their orders in real-time through the app.
How does Zepto plan to expand its business?
Zepto plans to expand its business by partnering with more grocery stores and expanding its service to more cities and regions. Additionally, Zepto may introduce new features and services to enhance the customer experience.