Laundry is a small yet essential part of peoples' everyday lives. They want their clothes to be clean and neatly ironed every day. However, time constraints make it difficult for them to do the laundry themselves. It is where the laundry business comes to the fore. The laundry business has been exhibiting an upward growth trend recently. It can develop into a rapidly growing industry, but scaling it and managing it on a large scale becomes difficult. It is where the industry can leverage technology.
Globally, according to research, the market was valued at $66.6 billion in 2017. And the U.S.A. contributed around 26.9% of the global laundry service market share. Zion Market Research evaluated the online on-demand laundry business at USD 9,358 million in 2016. The market is expected to show a CAGR of around 34% between 2016-and 2024.
The future is as bright as sunshine, but managing an on-demand laundry business is not easy, mainly when cut-throat competition occurs. You should have complete knowledge about the market and understand blending technology and marketing with the company.
Some key areas for managing on-demand laundry business
Customer Analysis
We focus on the other factors so much that we ignore the most crucial aspect of business, i.e., our customers! Customers are essential elements to improve or manage a business. A thorough customer analysis will do wonders in the way you handle the on-demand laundry business. It will help you understand their order trend, what time of pick up and delivery they prefer, how many garments they send per month, etc. Consequently, this will help you formulate better customer-oriented strategies and implement marketing techniques accordingly.
Diverse Marketing
Acquiring new customers is the top goal. But in this race, you should not forget about the existing customers. Customer retention is equally important as customer acquisition. Diverse marketing, along with marketing service, helps in the same. The following methods can be used for various marketing to manage on-demand laundry business or to get better insights into laundry business ideas:
Prepaid Packages
Once you have done the customer analysis, you will now know the needs and preferences of the customers. And can launch customized packages for them. Acquire and retain the customers by providing them with prepaid packages. Let us suppose you have two different types of customers. A father who spends 2k every month on laundry and a bachelor who sends 25 clothes per month on average.
You can launch a prepaid offer by paying 10K in advance and getting services worth 12K for six months for the father. On the other hand, you can launch another package for the bachelor as pay 1K advance and get unlimited on-demand laundry service for the next one month, who actually would not give an order worth more than 500. It shall go a long way in achieving growth in your on-demand laundry services.
Special Discounts/ Offers
Special discounts or offers help improve customer satisfaction, attracting and retaining them. You can offer discounted prices to boost the orders on weekdays. Launch offers as pay for five and gets one service free, free pickup and delivery on orders above a specific limit, etc. Such offers and discounts keep the customers interested in your on-demand laundry business as they are always on the lookout for what's next.
Online Advertising
Offline marketing has been here for centuries, and you can sure use it to increase the reach of your business. Still, nowadays, online advertising has overpowered offline; with online advertising tools like search engines, social media, email, messengers, and websites, you can reach millions of users at a lot less cost than offline advertising. Customers buy any service only when they are made aware of that service.
Advertisements are a powerful tool to reach a vast audience and boost the sale of services. It is an effective method for brand awareness as well. Increased audience reach will automatically increase the number of leads and orders. Consequently, it will help promote brand awareness, customer retention, and customer loyalty. You can hire an advertising agency to do all the work for you while you sit back and relax. Thus, spending a little money on advertising is harmful when the returns are higher.
Website Marketing
You can create a website tailored to your business and customer needs and promote it over the internet through search engines, social media, advertisements, referral websites, email, and messenger approaches.
Referral Marketing
You can list your business on various referral channels over the internet. Your potential customers may come to look for answers about your business or link with an influencer who may be writing about your industry and getting millions of visitors.
Email and Messenger Marketing
This approach will be based on your contacts; suppose you have a list of emails of potential customers or mobile numbers or Facebook contacts; with all this contact information, you can reach all of them with tools like MailChimp, WhatsApp Business, and ManyChat.
Social Media
Social media is one platform to connect or reach millions of people digitally instantly. People use social media for interactions and to connect with people and customers alike to grow their businesses and profits. You might have seen people selling their products/services on Facebook, Instagram, and WhatsApp platforms. With Instagram taking the lead in business marketing, you sure as hell do not want to lag. It must be in your online laundry business services plan to use this channel. Social media marketing is the new thing that can enhance your business conversions and brand awareness.
Sell your services digitally, not just through a website but also through social media platforms. You can manage it on your own by just signing up on their websites or apps, or you may hire a social media marketer or outsource it to a company to do the work for you.
As I mentioned earlier, you need to understand blending technology with the business. Technology has revolutionized the way we do business these days. Conventional business models do not last long these days. But, what makes them last is their capability to blend in with technology moving at an exponential pace. Technology has made it possible to have a broader reach in the global laundry service market.
We can maintain better customer relations through tech. I will take you through two major technology collaborations that will offer great help to manage the on-demand laundry business, which are:
App Development
Needless to say that app development has changed the way of doing business. We can talk all day about its invention, growth, and whatnot. But let's come straight to the point, how will it help you manage an on-demand laundry business?
It is easy to use and convenient for customers. Because let's be honest, a customer would instead place an order with a few taps on the app than dial the number and call the business for the same.

It helps in scheduling pickup and delivery for the customers.

The customers can track their order status, and the entrepreneur can keep track of orders, laundry workers, etc.

It keeps the customers updated on when the order is ready, and its status through prompt.

The app software for on-demand laundry business keeps track of the charges and other important client information. Consequently, it helps you analyze data, and you can have an eye on its progress.

It is cost-effective because, in the long run, the returns are higher than the investments.
Business Chatbots
The holy grail technology that we swear will manage your laundry business better is Chatbot. A chatbot is an AI-powered software that simulates a human conversation with customers on digital platforms. The Chatbot will help you in better management in the following ways:
It automatically answers customer queries and frequently asked questions.

A chatbot can chat with hundreds of users at once. It will ask them their requirement, their pickup and delivery time, etc., and assist the customers in placing an order becoming a super capable virtual assistant for your on-demand laundry service in no time.

It will help you generate leads by collecting data from the visitors and transferring it to your CRM so that your sales team can work on the conversions.

Chatbot never sleeps. It is there 24/7 to provide customer support services and handle customers any time in your absence.
According to many businesses, their conversion rates increased by 300-400% just by implementing a chatbot, and we think a chatbot will prove to be a game-changer for on-demand laundry business management as well.
Customer Services
A satisfied customer is the best business strategy of all. Especially when you are into the laundry business, customer services have to be the topmost priority.
How to Start a laundry pickup and delivery service business
Pickup and Delivery
Provide your consumers with convenient pickup and delivery timings, doorstep pickup, and delivery facilities. You can offer them convenient options to drop and pick up their laundry from the store as well. Schedule the service as per their request and date and time preferences.
Availability
Keep an eye on the competitor's timings(a chatbot that provides analytics can manage this for you). Some extra late night-hour availability can fetch you more customers and beat your competitors. You can also charge extra for late-night availability services. It will help you gain college customers who generally don't have much time in the day to do such chores.
Updating customers
Update your customers on their order status through their preferred means of communication. It could be through a call, SMS, Skype, WhatsApp, email, etc. Know what your consumers prefer.
Variety of laundry services
Offer them a range of laundry services such as wash and fold, wash and iron, dry cleaning, stain treatment, organic or synthetic detergent options, and much more.
Customer experience
Excellent customer experience is the key to retaining a customer. Even if a client is slightly dissatisfied with your services, he might come back again just for the experience you offer. Laundry services more or less are the same in all companies. The experience matters, the way you deliver the benefits to your customers. It makes them feel that they are valued. A welcoming vibe and conversation to help them as soon as they step in and a big smile with thank you when they leave will surely make them happy. You can offer a comfortable sitting space while customers wait for their clean laundry at your store. A cup of coffee or other drinks with some newspaper or magazine will enhance the experience too.
Laundromat
Provide self-laundry services with laundromats in your store. Many people cannot afford their machines for doing laundry or might not have one due to space in the apartment. Laundromats will attract such customers to your store and help your business grow.
How to grow a laundry service business
Equipment Management
To manage the laundry business, you must invest yourself in equipment management. You have several appliances, such as driers, washers, etc. You never know when a mechanical error or electric failure occurs and disrupts the business process. To deal with such uncertain circumstances, one must always pay attention to the maintenance of the machines. It is vital to have a backup if a device goes out of service. These are your most critical assets, after all.
Utility Cost Reduction
Pay attention to your utility bills to effectively manage the offline or the on-demand laundry business. Reduced utility costs will undoubtedly increase profits. Install energy-efficient lighting and cost-effective machines and equipment. Also, regular maintenance, more efficient HVAC, and water utilization will help you reduce the business's utility cost.
Competitor Analysis
Through competition analysis, you can know your competitors better. What services they offer, what technologies they use, etc., will help you identify where you lag. After identification, you will understand what things you need to work on, which will help you outstand those competitors in the market.
Employee Management
A business is practically nothing without its employees. Train your employees to behave professionally in their work. Upskilled laundry workers will perform to the utmost of their potential. Make your staff understand the importance of customer service and teach them how to deliver it to the customers. Employee stability is another factor to be taken care of. Please make sure the employees are on a good payroll and pay attention to their individual needs. Thus, employee management is essential to managing the on-demand laundry business as a whole
Quality over quantity
Do not get indulged in quantitative data only. Quality is what makes your business prosper. The work should speak for itself. Focus on the quality of work. Customers are no cost or zero cost promotional tools. Quality work will keep your customers satisfied, and it will earn you a lot of new customers just through word of mouth.
Feedback
Lastly, the most crucial element of any business process is feedback. Encourage the feedback culture in your company, be it from staff or customers. Feedback is essential to know the customers and the areas you need to improve on. Analyze customer activities as well. If you see a customer placing fewer orders than usual or canceling them, take their feedback. You may or may not retain that customer, but that feedback will help you refine your business and, thus, manage it more effectively.
AppsRhino offers the best Tech-driven solutions for Home services, Laundry delivery, Alcohol delivery, Grocery Delivery, On-demand Cannabis, and Taxi Services: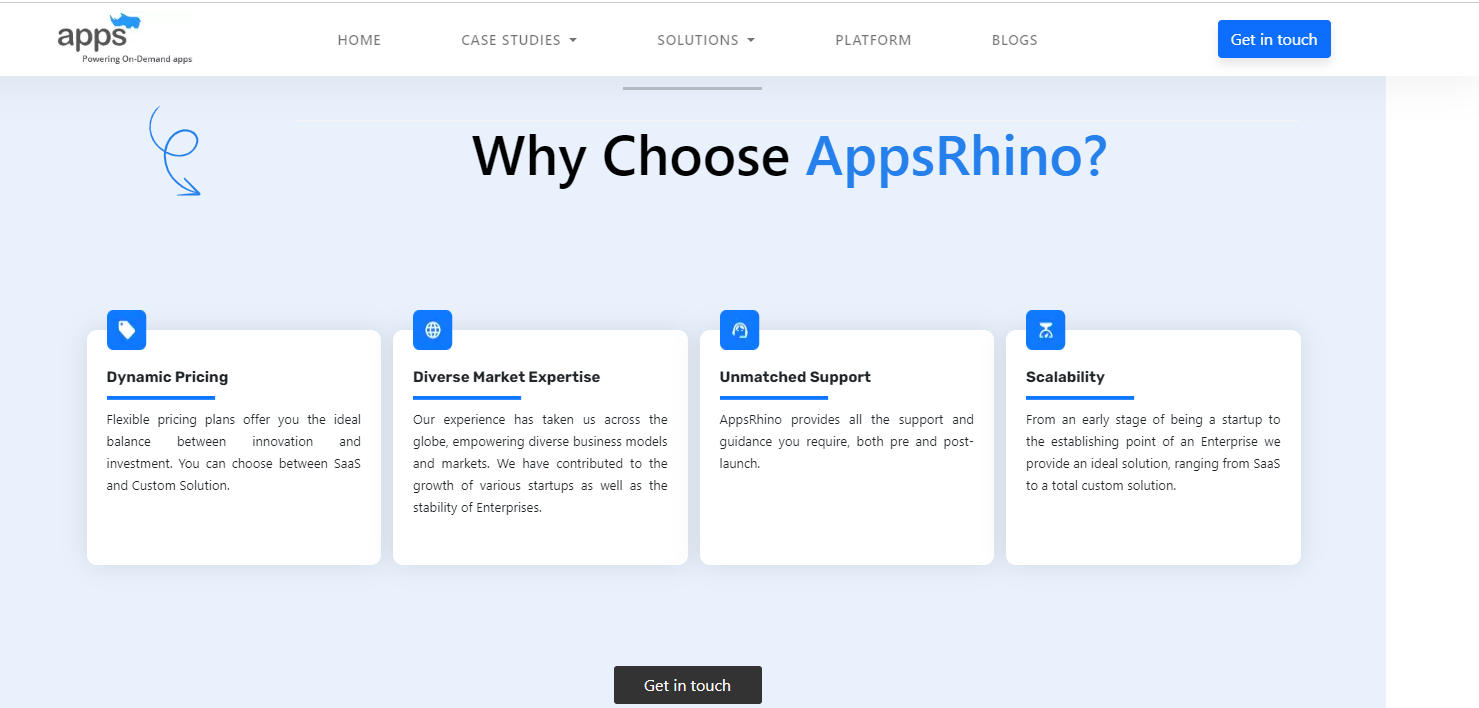 Case Study - CLEANY
Business Overview
Cleary is a laundry service company based in Luxembourg. The company aims to provide laundry services that fit the customer's budget and requirements. It values the importance of time and thus, encourages the clients to save their precious time by handling the laundry chores to cleany.
Business Management
One of the company's agendas was to save their customer's time. It wanted to provide its clients with a quick, on-the-go, yet innovative platform for placing orders according to their budget and preferences. It was very passionate about designing an app that could be UBER for laundry. And at the same time could help the company to grow.
Solution
To meet the requirement and manage the laundry business more effectively, Cleany reached out to a mobile app development company. The on-demand app developer company came out with the solution of a mobile app called 'CLEANY.' It was an on-demand laundry service app that revolved around the users' convenience. The app addressed laundry tasks for users in an innovative way, as the company required. Customers could now make a booking for a driver who took their clothes to be cleaned. Afterward, washed clothes were delivered according to their scheduled time slot. It provided one-click laundry services with an on-time delivery system. The app was built for both ios and android in Swift and Java, respectively.
Outcome
The business collaboration with technology in the form of a mobile laundry app proved to be a significant boost to the company's growth. The real-time tracking in the app-enabled the company and the customers to track their orders. With analytics, Cleary got better data insights into business growth and customer behavior. The feedback through the app enhanced customer satisfaction because it was being addressed. Meanwhile, it also helped the company because they were improving on the shortcomings of the services through the feedback. The app was convenient and easy to use, which helped improve customer acquisition and retention.
Overall, the business started thriving. Manage an on-demand laundry business is sure as hell a challenging job in the present market scenario with the ever-changing needs of the customers. But, focusing on the ten critical areas mentioned above will make it a lot easier. It will result in effective business management. You will also see noticeable business growth with better business management. Still, got doubts? Ask below. We will be happy to assist you.
Frequently Asked Questions
What is an on-demand laundry business?
An on-demand laundry business provides convenient laundry services where customers' clothes are picked up, washed, and delivered to their doorstep.
How can I start an on-demand laundry business?
To start, develop a business plan, secure equipment and supplies, establish partnerships with laundry facilities, create a user-friendly online platform, and market your services.
What are the key benefits of an on-demand laundry business?
The benefits include convenience, time-saving, professional cleaning, doorstep pickup and delivery, flexible scheduling, and outsourcing laundry tasks.
How can I ensure the quality of laundry services?
Ensure quality by partnering with reputable laundry facilities, training staff, implementing inspections, using high-quality detergents, and proper handling techniques.
What pricing model should I use?
Consider per-pound pricing, tiered pricing for different clothing items, or subscription-based plans with varying service levels.