Let's revisit patient care with end-to-end medical app development. It's no surprise that healthcare has eventually evolved from its contemporary ways, such as hospital visits or a doctor's office.
The present advancements in the medical field have made it possible to access care at the touch of a button. Medical apps, in particular, are designed to improve patient care, facilitate communication, and provide access to health resources.
We've explained about Medical Apps development in detail in the upcoming sections.
What are Medical Apps?
Healthcare apps, also called medical apps, are simple tools designed to help patients and healthcare providers take care of health matters.
These apps make it easy to watch over important bodily signs, keep an eye on symptoms, handle reminders for medicines, connect with healthcare professionals, and do much more.
Why is Medical App Development Important?
Ever wondered how technology can transform healthcare? Medical apps are the answer. These digital tools play a crucial role in today's healthcare industry.
Let's dive into why developing these innovative tools is pivotal for the future of health and wellness.
Advancing Patient Engagement and Empowerment
Patients usually, with the help of Medical app development, are able to take the lead on matters regarding their healthcare.
Features like health tracking, personalized education, and self-care tools are offered by Medical apps to the patients. This empowers them with the capacity to manage their health proactively.
Improving Healthcare Accessibility and Convenience
The approachability of healthcare services is relatively improvised with the introduction of Medical app development.
Healthcare is made more convenient and accessible by offering patients access to virtual consultations and the ability to organize appointments and receive medical advice that too on a remote basis.
Enhancing Healthcare Provider Efficiency
The overall workflow efficiency for healthcare providers has improved with Medical app development.
Streamlined communication, electronic health records integration, and automated appointment management are offered by these apps , making it easier for healthcare providers to manage their patients' care.
The Process of Medical App Development
In order to establish user-friendly, secure, and compliant medical apps that cater to the needs of both healthcare providers and patients, certain measures must be taken into consideration, which are discussed in detail below.
Identifying the Purpose and Target Audience
When working on an app that aligns with the user's expectations, a brief idea of the needs, challenges, and pain points of your users must be obtained.
Complete research is the only way to discover the specific pain points of your target audience. Ask yourself certain questions, such as whether you are building an app to assist doctors with diagnosing rare diseases.Or perhaps you're developing a fitness- tracking app for health-conscious individuals. Defining your purpose and audience sets the course for a successful medical app.
Planning and Gathering Requirements
A thorough roadmap that outlines the features, functionality, and user interface design of your app must be laid down.
Technical aspects such as regulatory compliance and integration requirements with other healthcare systems must be kept in mind. Integration with healthcare professionals is required as it would make sure your app aligns with industry standards and regulations. The more thorough your planning and requirements gathering, the smoother your development voyage will be.
Designing User-Friendly Interfaces
A simple and intuitive platform can work wonders for your medical app. Craft clear layouts, use intuitive navigation, and prioritize responsiveness across various devices.
Ensure that the user interface is accessible to all, including individuals with disabilities. Remember, a well-designed interface is like a friendly, knowledgeable crew guiding users through their healthcare journey!
Developing and Testing the App
Engage your users early on, seeking their feedback and incorporating it into your app's evolution. Continuously test for performance, usability, and bug fixes. The smoother the sailing, the better the experience for your users!
Ensuring Security and Compliance
In the world of medical app development, protecting patient data and ensuring regulatory compliance is of utmost importance.
Encrypt data, secure communications, and implement user authentication protocols. Comply with healthcare regulations, such as HIPAA, if applicable. Remember, a secure and compliant medical app is a trustworthy vessel that users can confidently rely on!
Launching and Marketing the App
Target your marketing efforts towards healthcare professionals, patients, and relevant communities. Engage with users through social media, blog content, and email campaigns. Build a community around your app, encouraging user feedback and testimonials.
A successful launch and marketing campaign can make your medical app shine like a beacon in the vast digital sea!
AppsRhino offers the best Tech-driven solutions for Home services, Laundry delivery, Alcohol delivery, Grocery Delivery, Food Delivery, and Taxi Services: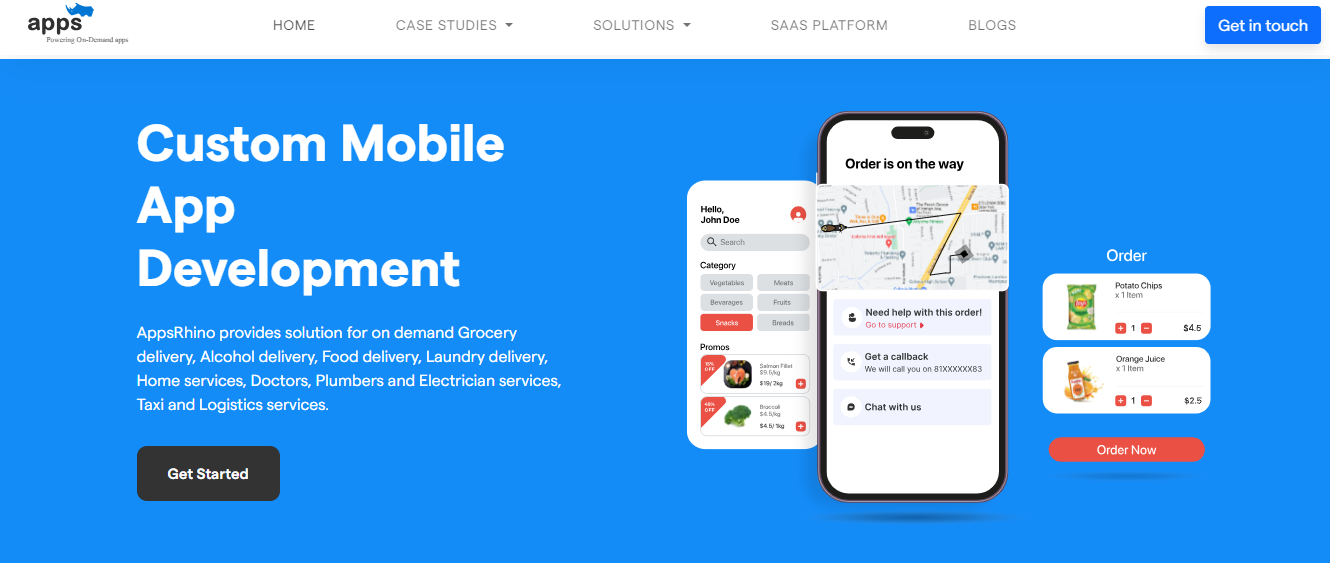 Challenges and Considerations in Medical App Development
With adventures come challenges. Listed below are some challenges and considerations that are exclusive to this industry. A detailed description has been provided about each of them.
Regulatory Compliance and Privacy
The healthcare industry is heavily regulated, with data protection laws and regulations such as HIPAA that must be followed.
Careful handling of sensitive health information, maintaining patient privacy, and adhering to data protection regulations are all critical. Robust security measures, such as encryption, two-factor authentication, and secure communication protocols, are essential to protect patient data. Failure to comply with regulations can result in fines, legal action, and a loss of user trust.
Interoperability and Integration
This integration potential allows for the exchange of data between various healthcare providers, enabling continuity of care.
However, interoperability and integration can present some unique challenges and considerations. A lack of standardization in data format and content can make integration with existing systems difficult. Additionally, each healthcare system may require different data elements or fields. Integrating with multiple systems can be time-consuming and costly.
Designing medical apps that can integrate easily with various healthcare systems ensures that users can share data and healthcare providers can work efficiently.
Usability and Accessibility
Many users of healthcare apps are elderly, have limited mobility or low vision, or have other disabilities. It is essential to make the app accessible to all and easy to use.
Designing an interface that is user-friendly, clean, and intuitive is key. Considerations such as font size, color contrast, and assistive technologies like text-to-speech can be implemented to accommodate different disability profiles. Also, developers must ensure compliance with the Americans with Disabilities (ADA) Act.
Maintenance and Updates
As healthcare delivery rapidly evolves, so should your app. Ongoing updates and bug fixes are essential to provide users with optimal performance and security.
Additionally, developers must be prepared to accommodate evolving user needs. Conduct focus groups and surveys to gather user feedback and insights into potential areas of improvement. Remember that user satisfaction and engagement are key to the success of your app.
Future Trends in Medical App Development
The potential impact of artificial intelligence and machine learning, as well as the revolutionary concept of the Internet of Medical Things (IoMT) is described below.
Artificial Intelligence and Machine Learning
These technologies have the potential to transform the way we deliver healthcare.
With the help of AI and ML, medical apps can provide personalized medicine tailored to individual patients. Imagine an app that analyzes a patient's genetic makeup, medical history, and lifestyle factors to recommend the most effective treatment plans.
Additionally, predictive analytics powered by AI can help identify patterns and predict disease outbreaks, enabling early intervention and prevention.
Intelligent health assistants are also becoming popular in the world of medical apps. These virtual assistants can provide round-the-clock support, answering questions and offering advice based on vast amounts of medical knowledge. They can even assist doctors in diagnosing diseases by analyzing symptoms and medical records.
Internet of Medical Things (IoMT)
IoMT is a revolutionary concept that involves the integration of medical devices, sensors, and mobile apps, all working together to transform the way we approach healthcare.
IoMT enables remote patient monitoring, allowing doctors to keep a close eye on patients without the need for frequent in-person visits. Through wearable devices, patients can track vital signs, activity levels, and other health indicators, sending real-time data to healthcare providers.
Real-time data collection is just the beginning. IoMT also unlocks the potential for predictive healthcare analytics. By analyzing the vast amount of data collected from patients, medical apps can identify trends, predict health outcomes, and offer personalized recommendations for better health.
Conclusion
Tools like AI and ML offer medical apps the ability to provide personalized medicine, predictive analytics, and intelligent health assistants, improving the lives of patients.
Meanwhile, the IoMT aims to transform the way we approach healthcare, enabling remote patient monitoring, real-time data collection, and predictive healthcare analytics.
These future trends hold immense benefits for patients, healthcare providers, and the healthcare industry as a whole. We have the opportunity to improve patient outcomes, increase efficiency, and create a more connected and proactive approach to healthcare delivery.
Frequently Asked Questions (FAQs)
What impact do healthcare apps have on patient engagement?
Healthcare apps enhance patient engagement by providing personalized health information, facilitating communication with healthcare providers, and empowering individuals to make informed decisions about their well-being.
How do healthcare apps enable remote patient monitoring?
Healthcare apps connect patients and healthcare providers remotely, enabling real-time monitoring of vital signs, chronic conditions, and medication adherence, leading to proactive interventions and timely healthcare support.
How are healthcare apps transforming telemedicine services?
Healthcare apps enable virtual consultations, remote diagnosis, prescription management, and follow-up care, expanding access to healthcare services and eliminating geographical barriers for patients and doctors.
What role do healthcare apps play in preventive care?
Healthcare apps promote preventive care by offering personalized health assessments, providing wellness tips and resources, tracking fitness activities, and encouraging healthy lifestyle choices to prevent diseases.
Can healthcare apps integrate with other healthcare systems?
Yes, healthcare apps can integrate with Electronic Health Records (EHRs), laboratory systems, pharmacies, and wearable devices, allowing seamless exchange of data and facilitating comprehensive healthcare management.
How do healthcare apps contribute to medical research and population health?
Healthcare apps facilitate data collection for medical research studies, enable remote patient monitoring for population health management, and provide insights for public health initiatives, fostering advancements in medicine and healthcare outcomes.