Have you ever wondered why people love Jewelry?
Those little shiny ornaments display multiple things in our lives. Many people say they connect their emotions to the Jewelry they have. They can recognize and recollect events with what they wore that day!
Others say that ornament gifting is the best present for their loved ones on special occasions.
What if you could bring joy and happiness to customers from their homes? You can help your customers by letting them find and select Jewelry through Online Jewelry Stores!
The users won't have to visit you in person. Moreover, you can deliver the purchased items to their doorstep.
Do you want to know everything about Online Jewelry Store Development? Well, you have reached the ideal place!
Follow this blog to find the definitive Online Jewelry Store Development Guide in 2022!
The perfect Online Jewelry Store Development Guide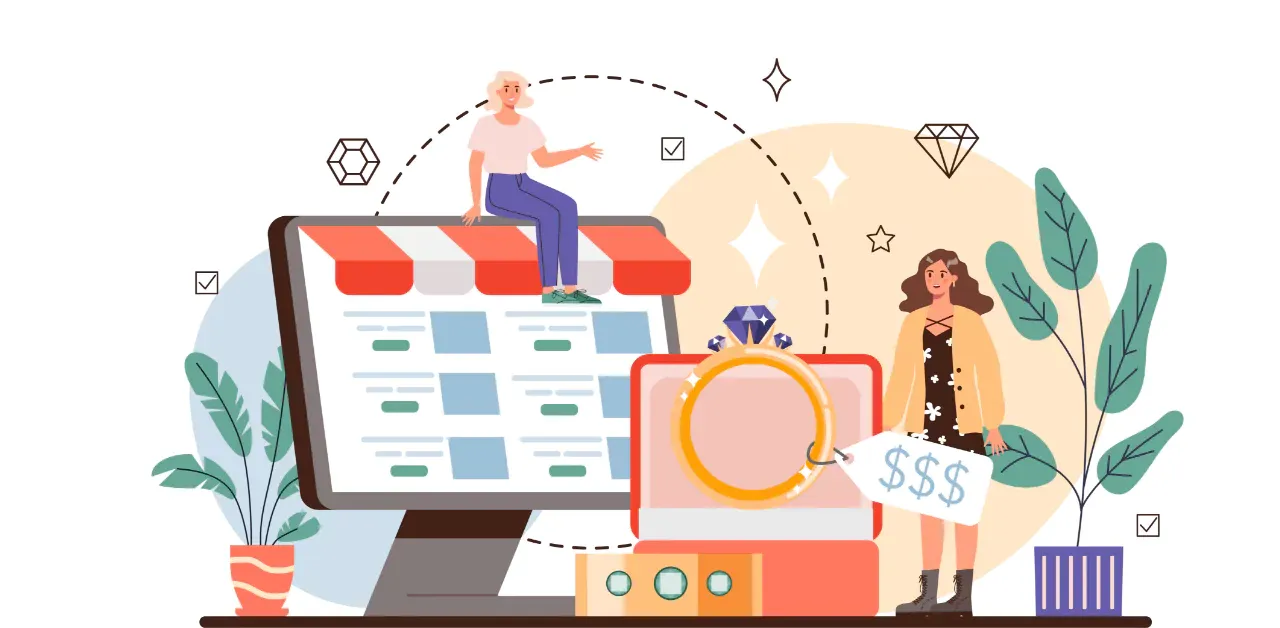 You will find numerous sub-sections here. Each part will contain something essential about creating an Online Jewelry Store!
As every section ends, you'll learn something new that you can use while developing your App or Website. This is a step-wise guide, so remember to read every step carefully. We wish you the best!
Gaining inspiration from the best Online Jewelry Stores in 2022
Before planning for your own Online Jewelry Store Development, you should look for inspiration. You won't have to stick to one design. Take ideas from different websites and Online Jewelry Stores.
Further, start gathering and putting together concepts in various ways to create an App that is unique yet inspired.
As an Online Jewelry Store Development team, your ultimate motive is to attract customers and let them buy what they wish for while scrolling through your App!
Here is a list of the most popular Online Jewelry Stores in 2022! Remember to visualize your App while going through these stores. Happy searching!
Tiffany & Co.
Who hasn't heard of the little Tiffany box for the perfect engagement ring when one wants to plan a memorable proposal for their soulmate?
Customers visit this Store to buy rings primarily. Buyers can browse through multiple brands, try rings virtually and ask for expert help!
Moreover, as a customer, you can contact the team and locate local stores for in-person shopping appointments with expert help.
Further, users can buy necklaces, pendants, bracelets, and earrings from this Store. Do you want a magical moment? Tiffany and Co bring it to you!
Kay Jewelers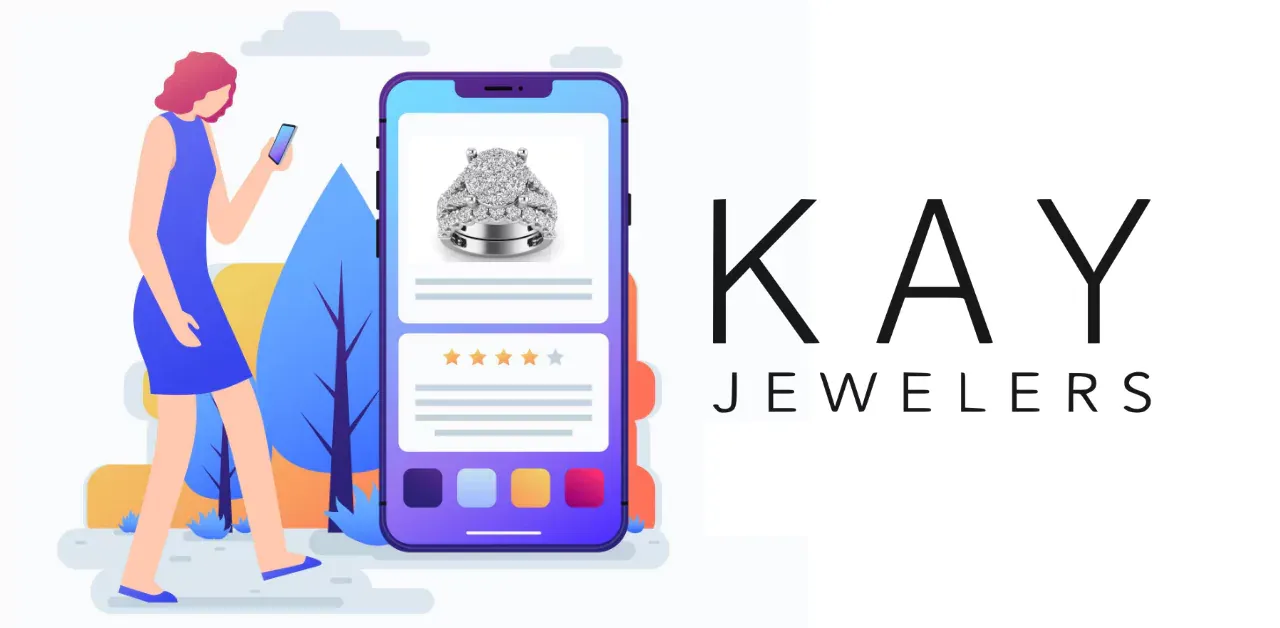 Kay Jewelers claims to be one of the best Online Jewelry Stores in the USA. You can find this Store on the Play Store and AppStore on different devices.
The online and offline stores of Kay Jewelers will leave you in awe.
This Store wants to provide the best Jewelry search results and allow customers to find their preferred Jewelry. Customers can find the in-app ring sizer feature to help buyers find their ideal ring size!
Ross and Simons
If you are in the USA, you must have heard the name Ross and Simons!
Their motto says that they provide fabulous Jewelry at great prices.
Ross and Simons have been in the Ornament market for 65 glowing years. They started their Online Jewelry Store Development early and have been with the customers since.
Buyers can browse through five thousand plus designs in gold, silver, diamond, and other materials. This App comes with offers, hot deals, and regular sales to invite more customers!
Learn about different types of Online Jewelry Store Development
Congratulations on completing your first step to the Online Jewelry Store Development Guide! Since you have inspiration from the various stores you searched, you know what you want in your App.
Now, let's learn about the types of Jewelry Stores in 2022. This step will help you analyze your Online Jewelry Store Type. Here is a list of classifications you should consider.
Single Brand Dedicated Online Jewelry Store
You can opt for your App to sell ornaments from one brand only. This Online Jewelry Store Development perfectly suits if you own a Jewelry Store and want to launch it on the internet for your customers.
Moreover, you can tie up with one brand and engage in a development plan for their Online Jewelry Store.
Either way, you'll be selling products of a single company only. This brand may include multiple ornament types like rings, earrings, necklaces, pendants, etc.
Multiple Brand Dedicated Online Jewelry Store
After Online Jewelry Store App Development, you can partner with multiple brands and expand your business. You can allow your customers to visit your App, search for any product from numerous brands, compare two brands and prices, and buy it for home delivery.
Your buyers would love the idea of coming to one out of numerous Online Jewelry Stores and getting world-class Jewelry.
Catalog App for Small businesses
The third category for Online Jewelry Store App Development is a Catalog App. You can integrate with Small businesses and let customers reach them through your App.
You can display the products with listing and price details. Your App can monetize by getting advertisements from brands and small businesses you work with for ornaments and accessories.
Features for Online Jewelry Store Development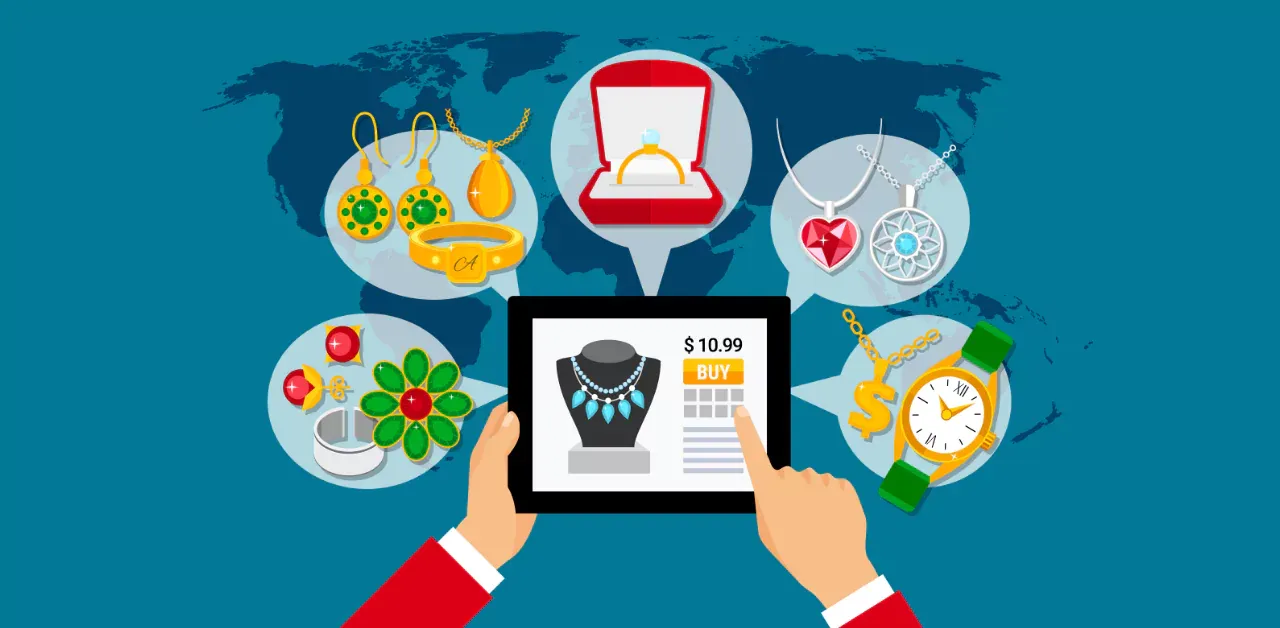 The third and most crucial part of the Online Jewelry Store Development Guide is the Features of the App. You shall decide on features you wish to add to your Store to bring in maximum customers.
Moreover, the users should find the signing and buying process effortless! If customers face difficulty using Online Jewelry Stores, they are most likely to switch to another App.
Here are some suggested features as a part of the Online Jewelry Store Development Guide.
Accessible Customer Service
Customers may face queries while browsing through your App. They will need Customer Services to report their issue and seek answers.
Therefore, you should opt for numerous user service measures like calling, service centers, and chatbots.
BotPenguin is the perfect place for installing a chatbot on any website or Application. Visit their website to start your services today!
Search and Filters
Imagine that a customer has reached your website. They have come to look for an engagement ring for their partner. However, your Store shows them everything! They go through all the products and lists to search for the ring they like.
Would they leave your App? You should add Search and Filter options to your Store so customers can easily find what they want.
Numerous Payment Options
Let your customers buy Jewelry using any payment type. Here are some payment methods you can allow.
Cash-on-Delivery (Although this method is not safe with costly products)

Credit Cards

Debit Cards

Bank Transfer

E-wallet payments
And more.
Return Feature
Sometimes customers may like an accessory online but not like it after they wear them. Moreover, buyers may have size issues or want to exchange their Jewelry items.
Therefore, users like Online Jewelry Stores that provide 100% Return options with minimal cancellation charges.
Hiring Developers, buying a domain, launching the App for customers
Your work doesn't end here. After completing the planning process for your Online Jewelry Store Development, you should register for your website or start hiring Developers for Online Jewelry Store Development.
The hiring process is delicate, and you can opt for Outsourcing companies to hire the perfect team of skilled Developers, Designers, and Engineers. Perhaps, you can go for AppsRhino's Outsourcing team. Hire employees with the best qualifications and experience for your App!
Next, focus on Quality Assurance Testing and marketing. Let your customers know about your products and services. Moreover, provide them with the best!
Final Words
Sometimes, businesses might come across problems while developing an App. Therefore, always follow the Online Jewelry App Development Guide while creating an online store!
Moreover, don't be afraid to make mistakes. Instead, allow yourself to make errors so you can learn from them and come back better!
You might stumble on the way, but you have your partners, friends, and family behind you, supporting you at every step.
For successful results, cross-examine your plan multiple times. Don't leave anything unseen, and evaluate every step of your strategy.
Additionally, do not hurry! Online Jewelry Store Development takes time. Enjoy every part of the process, and never rush to reach results.
After the launch of your Store, don't get disappointed if you get low customer response at first.
Remember that you performed a great job, and look for methods to improve your customer count. Don't lose hope. Your team is with you!
AppsRhino is an App Development platform. If you want an experienced team to work on your Online Jewelry Store App Development, you should go for AppsRhino!
Our team has proven outstanding communication and response, so you never have to worry!
Book your demo today!