Introduction
Are you curious about UI/UX development? Do you want to know what it takes to become a top-notch UI/UX developer? Look no further! This guide will uncover the secrets of this exciting and in-demand field.
From the roles and responsibilities of a UI/UX developer to the skills and qualifications you'll need to succeed, we'll give you the inside scoop on what it takes to thrive in this dynamic industry.
So whether you're a business owner looking to improve your website or app, or an aspiring developer looking to break into the field, this guide has everything you need to know about UI/UX development.
Let's get started!
Who is a UX developer?
The term "UX" stands for "user experience." They simultaneously perform the functions of designers and developers. When building a website, they must consider a variety of factors. They offer websites a visually pleasing layout. They can examine and analyze web programs since they have excellent analytical abilities. They also use the Adobe Creative Suite for development.
Skills required to become a UX developer
Knowledge of several coding languages, including HTML, CSS, JavaScript, and others, and programming languages like Ruby, PHP, Java, XHTML, Dot Net, and others.

Understanding of Adobe Illustrator, Photoshop, and other programs

Knowledge of social networking websites' Restful APIs

Knowing how to use different content management systems, like WordPress, Magento, Joomla, and WooCommerce.

Knowledge of SEO
What does a UX developer do?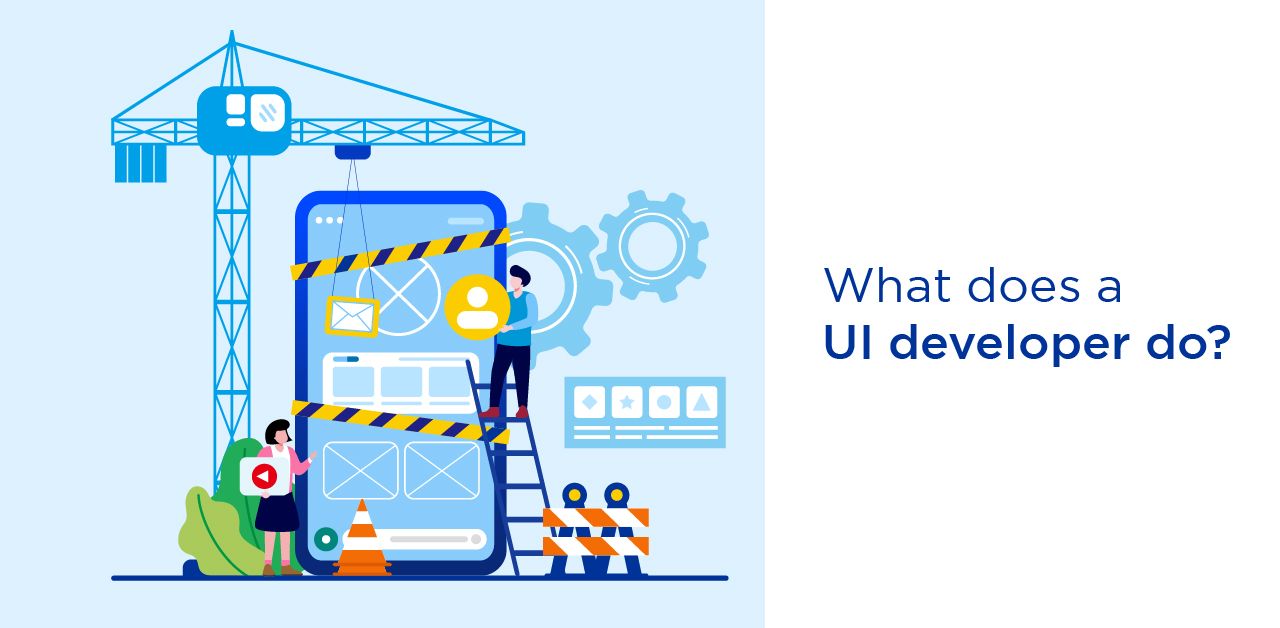 Identify the user and the brand.

Study of consumers

Analysis of what you found.

Create site maps, wireframes, or prototypes.

Utilize user testing.

Deliver the design solution to the client or company.
Roles and responsibilities of a UX developer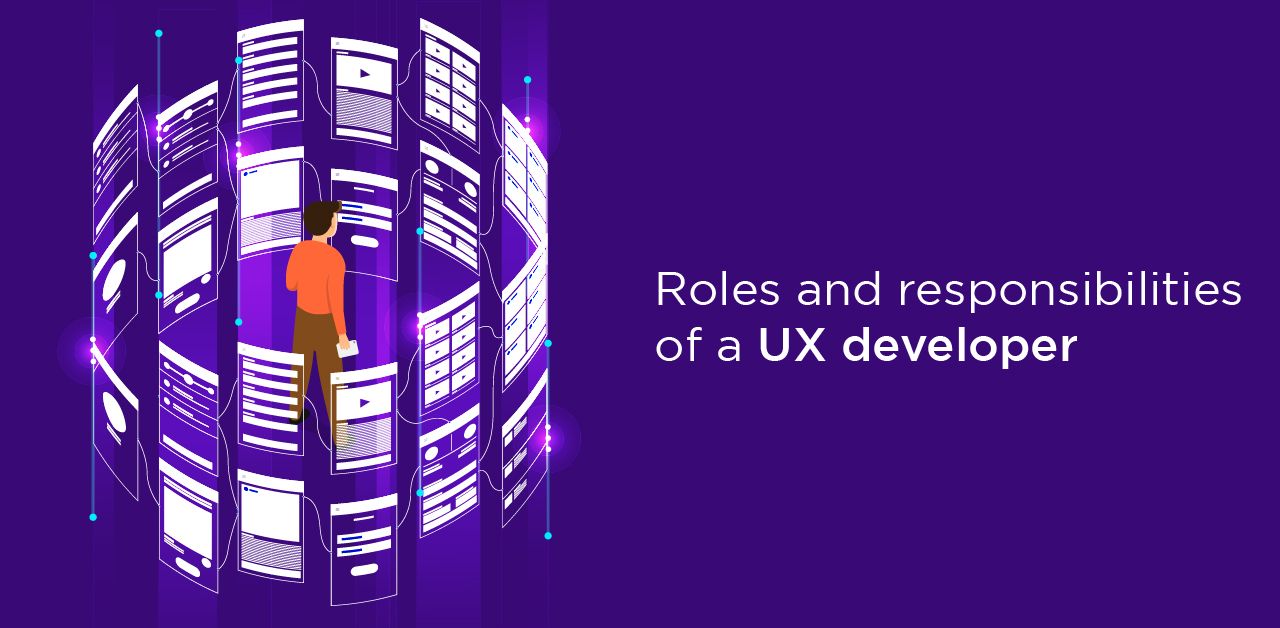 To ensure that online applications and other projects offer a fantastic experience, adopt an attractive user interface.

Inform viewers about your website's design principles and UI layout.

When creating web applications, pages, and user interface designs, keep the user experience in mind.

To determine how users interact with a website or app, run usability tests and then examine the data.

A

UX developer

typically makes $100,287 per year.
Who is a UI developer?
A UI developer is a creative force behind software design. They process the UX developer's design and turn it into engineering software. However, they begin by correcting all of the design's flaws. This job path aims to improve the user experience by creating clear, engaging, straightforward, easy, and efficient software interactions.
UI developers work with clients in the software, mobile, and auto industries through complex technological systems, among others.
The task of this user interface necessitates extraordinary design skills focused on how the application entices users into a favorable experience. The design process includes consumer usage research.
Skills required to become a UI developer
Java developers are often used to build websites. You might add dynamic behavior and other effects to the website if you are familiar with this language.

The visual design includes more elements than just how a website looks and feels. It must also clarify what each icon stands for and which can be clicked without verbal instructions.

To affect how the user interacts with the product, interaction design offers a lot of weight to factors including appearance, sound, physical environment, motion, and more. The user interface developer must successfully construct an intuitive interaction design for the user to do the necessary activities with the least effort.
What does a UI developer do?
They are skilled programmers who use Adobe Illustrator for graphic design and HTML.

Make sure the customer has a positive user experience.

They exhort clients to utilize your service, platform, or application.

All types of design, including software design, internet design, and industrial design, are included in the UI developer sector.

Conducting a consumer study will help you create a user-friendly interface.

By following the latest developments in contemporary design.

Evaluating the user interface to determine whether it meets user needs.

Having a good knowledge and understanding of the following will help you to succeed as a UI developer:

HTML

CSS

Javascript

Jason

AJAX

Adobe Illustrator

Adobe Photoshop
Roles and responsibilities of a UI developer
Run tests on finished software, apps, and websites to evaluate the user experience.

You can make storyboards to help users see designs and project plans.

Access a multitude of digital tools and interfaces with ease.

The aesthetics of a product or website, such as drop-down menus, layout menus, fonts, and colors, are created using code.

Work with programmers and back-end web developers to increase usability.

The average yearly salary for UI developers is between $69,000 and $76,929.
How to become a UI/UX developer?
Study the foundation of UX design
Because the user's experience on a website is unquestionably the most important component of any successful design, it is imperative to comprehend the fundamentals of UX design.
Discover more
Courses and blogs can teach many fundamental UI/UX design principles separately. You will be able to meet the increasing demands of this freshly emerging professional field if you have the necessary education and skills. It includes an understanding of wireframes, prototypes, and path maps.
Spend money on top-notch design tools
The next stage is to spend money on UI/UX tools so you can start putting your designs into practice and applying what you've already learned.
Although there are many great programs available, we suggest testing out a few leaders in the field, such as Figma and Sketch, to see which you prefer.
Steps to follow if you want to become a UI/UX developer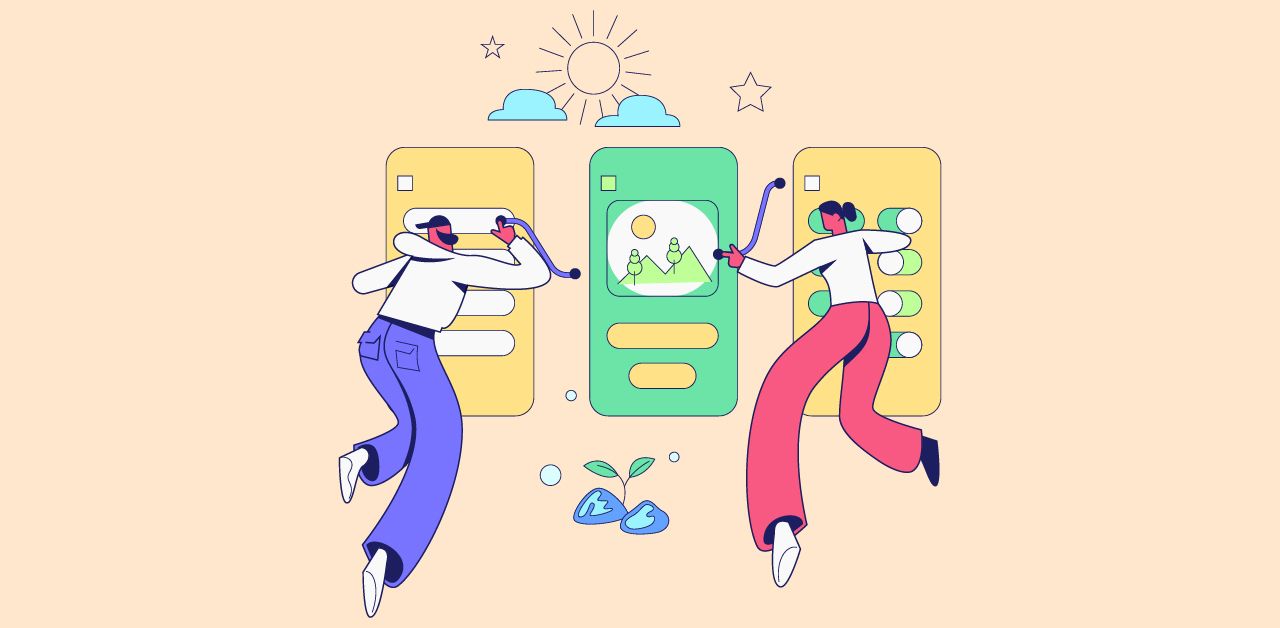 Get a solid user experience design foundation first

Develop your sense of aesthetics

Spend money on the appropriate design software

Create a portfolio of your work

Gather criticism (and learn from it)

Get real-world experience working
Conclusion
In conclusion, UI/UX development is an exciting and in-demand field that offers a wide range of opportunities for creative and talented individuals. With the right skills and qualifications, UI/UX developers can help businesses improve their digital products and provide a better user experience for their customers.
Whether you're a business owner looking to hire a UI/UX developer or an aspiring developer looking to break into the field, it's important to understand the roles, responsibilities, and skills required for success.
By choosing the right developer and investing in developing your digital products, you can improve customer satisfaction and drive growth for your business.
Overall, UI/UX development is a valuable and rewarding field that offers many opportunities for those with the right skills and qualifications.