Introduction
Thanks to modern innovations, buying and selling anything is easier than ever. This is partly because more and more people worldwide are using e-commerce platforms to buy and sell goods quickly and easily. As a result, entrepreneurs would be wise to consider entering the multi-vendor e-commerce market. Suppose you want to establish yourself in this industry. In that case, creating a full-fledged e-commerce solution that completely satisfies people's purchasing and selling demands globally is essential. But how exactly do you create one? To create an excellent multi-vendor e-commerce site with cutting-edge inclusions, a ready-made and comprehensive Etsy clone app would be the ideal option. Learn more about Etsy clone apps by reading on!
What is Etsy?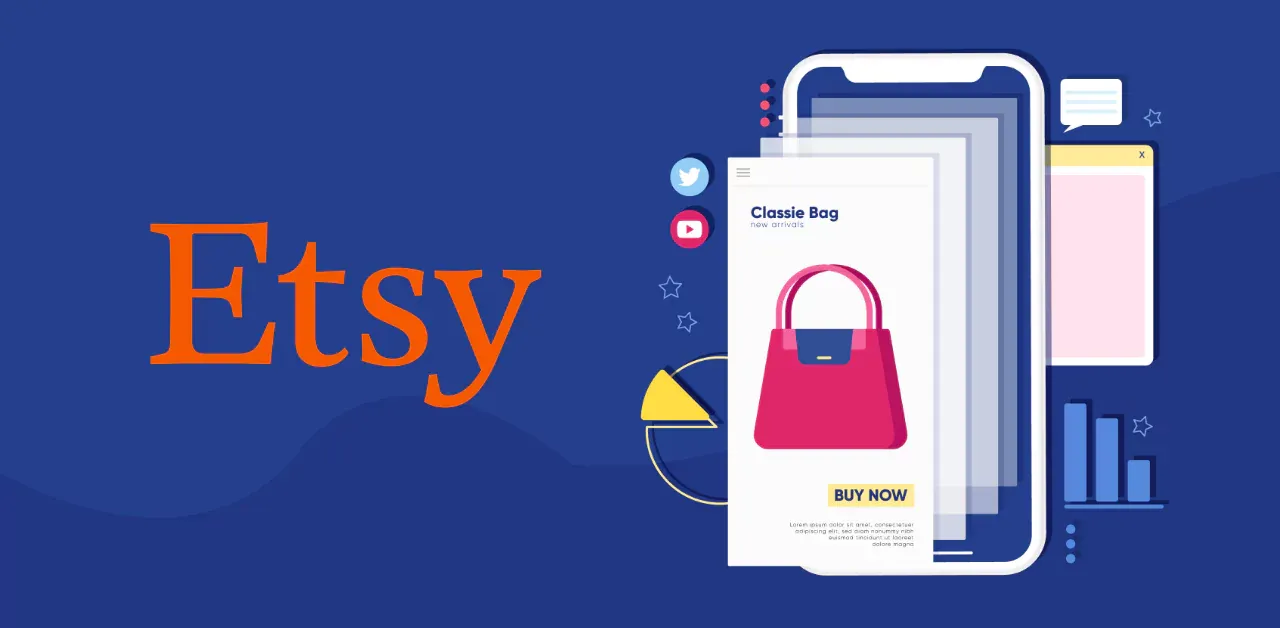 Etsy is an e-commerce website focusing on antique, handcrafted, and artisan goods. It is the ideal place for those who wish to showcase their creativity to a global audience. Etsy has become the preferred sales platform for beginners looking to make money off their handcrafted goods. It is also a fantastic venue for artists adept at producing one-of-a-kind goods, whether toys, jewelry, home decor, or crocheted items. Everything on the website is manufactured, gathered, curated, and sold by its vendors. These small-business operators manage their orders and inventory while manufacturing their products. Etsy serves as a middleman, providing smaller, independent entrepreneurs with a platform to connect with and draw customers. Countless shoppers have flocked to Etsy because it has over 4.36 million active merchants on its platform. Etsy is the world's largest marketplace for unique and innovative products.
How Does The Etsy Script Work?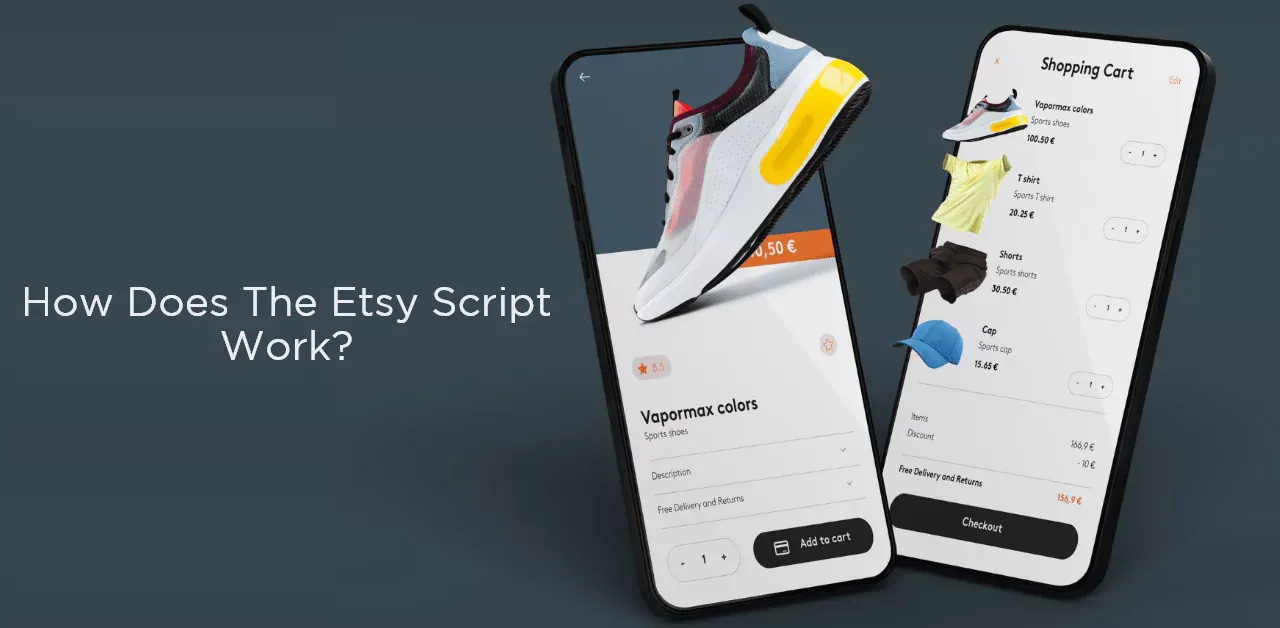 Etsy started as an indie platform created by creative people for other artists. Still, as it developed, this feature gradually faded away. The project took a couple of years to build, and their team had to work hard to make the platform user-friendly for the first two years. A monetization model was also developed for the project. Each item on Etsy costs $ 0.20. Merchants also had to pay a commission of 3.5% on each sale. Rather than withdrawing money at each transaction, an invoice was sent to the merchant after a month of accumulated transactions. This service tax was priced according to the magnitude of the promotion done by the customer. In addition to handmade goods, Etsy also offers opportunities to trade in vintage items, another essential development. However, Vintage products must be over 20 years old to qualify. In response to the success of Etsy, many startup organizations and entrepreneurs started looking for clone scripts to create their Etsy-like applications.
What Is An Etsy Clone App?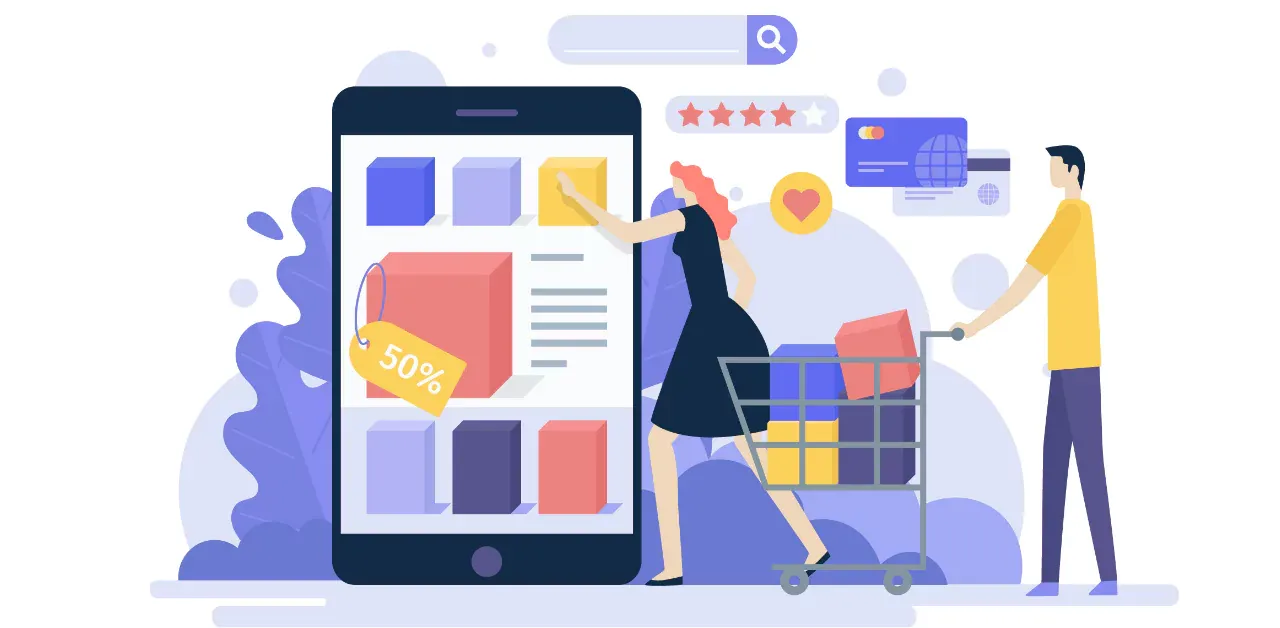 For millions of people, online sales are increasingly becoming a substantial source of income. There are enough e-commerce platforms available to make things easier for everyone who wishes to work in this sector. Such platforms significantly ease the work of online vendors by giving them a top-notch user experience and a massive influx of customers. It assists and helps them during the early phases of their online business. Despite this strategy, the existing platforms covered not all market niches. First of all, entrepreneurs who offered well-known products had the opportunity to open their online stores. At the same time, other market segments continued to operate in the background. Etsy's introduction revolutionized everything. The majority of the merchants on Etsy are handcrafters who are scrambling to figure out how to advertise their goods on other platforms. They now have access to a practical tool for starting their own business. The platform built with the Etsy Clone Script is advantageous to both shoppers and sellers. Buyers can readily get what they require because sellers can showcase their products. Hence, many business owners seek an Etsy clone app and contemplate constructing a site similar to Etsy due to the platform's success.
Features Required For An Etsy Clone App
Listed below are some features that your Etsy clone app must have.
1. Simple Registration
There must be no difficulty in registering. Users should be able to register using their social media login information, email address, or phone number.
2. Integration of social media
By integrating social media, you may instantly allow users to sign up for your Etsy clone app. Additionally, users of your app can share referral discounts, purchase information, and app reviews with their loved ones via social media channels.
3. Multiple Options for Payment
Your Etsy clone app should always give your consumers various payment options to use the most suitable payment gateways. Debit or credit cards, COD, PayPal, Stripe, and other payment methods should be available.
4. Compare Prices
Thanks to this feature, customers now find it simple to assess a product's price and compare it with other sellers.
5. Multi-language and Multi-Currency Support
This feature is fantastic if you want to market to an international clientele. Customers from other countries can utilize your Etsy clone app in their native tongue and start making payments in that currency.
6. Loyalty Initiatives
Use the loyalty function to increase user engagement on your Etsy clone app. Reward clients who have been using your app to make purchases for a while now. Also, use the Loyalty feature to reward your sellers when they accomplish their objectives.
7. Internal Chat
The in-app chat tool facilitates smooth communication between buyers and sellers. The user can quickly get in touch with the seller in case of any queries and get them answered.
8. Tracking shipments
The delivery status of purchase is something that customers always desire to know. For customers' convenience, your Etsy clone app must include shipment tracking.
9. Easy Cancellation And Refunds
Suppose a customer orders anything accidentally or isn't satisfied with it. A simple refund is issued to their account, and the item is transported back to the warehouse without hassle.
10. Ratings And Reviews
Allowing customers to rate and review purchased products will improve user engagement.
Benefits Of An Etsy Clone App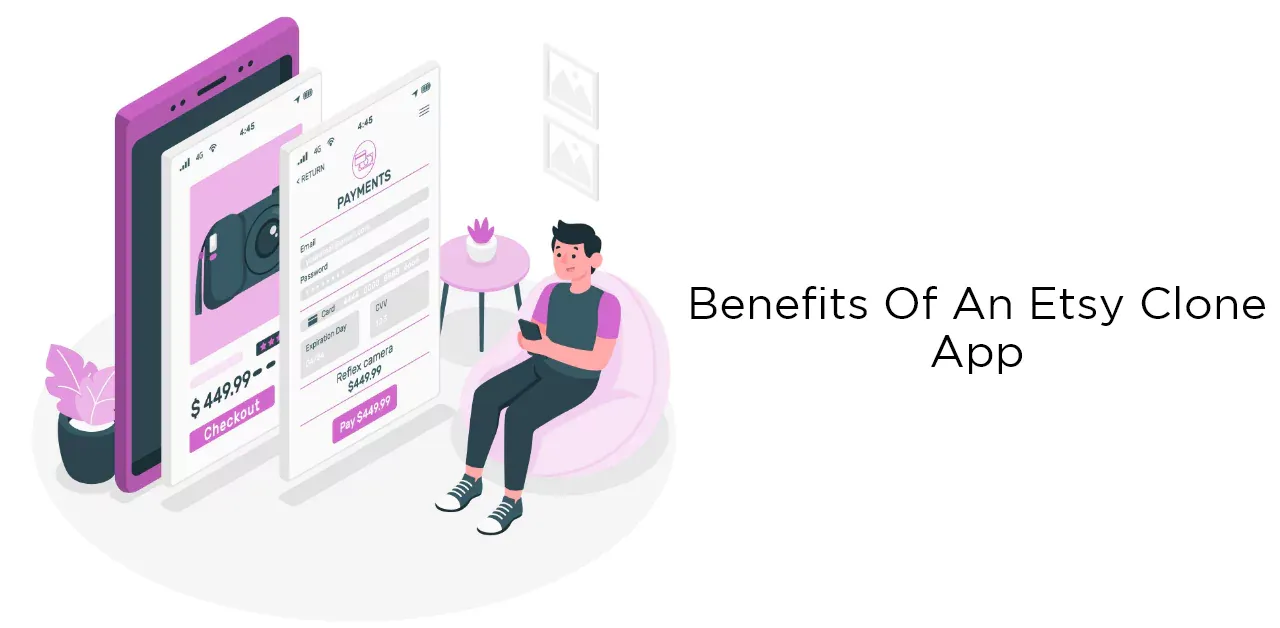 By introducing a groundbreaking idea of a digital store and marketplace, the e-commerce industry has revolutionized the entire face of the business. Modern e-commerce sites like Etsy dominate the industry with powerful features and functionality. There is no need to open a physical store, pay for its upkeep, and recruit a vast workforce. Etsy Clone App offers a more cost-effective yet lucrative alternate solution. Here are a few benefits of an Etsy clone app:
It offers the chance for merchants who want to market their unique handmade goods.
It facilitates the discovery of new artists and art enthusiasts.
Customers have the choice of purchasing their items directly from third parties.
Customers can select an item based on various factors, including pricing, shipping options, payment options, and seller preferences.
As it gives access to different sellers, it minimizes the need to visit individual online stores to find the best deals.
Cost Of Development Of An Etsy Clone App
To survive and provide unparalleled UI/UX design and customer experiences, Etsy uses several development tools and technologies. As a result, the development will be expensive due to the need for advanced tools, systems, and skilled labor. The cost of development estimated may vary depending on business requirements and the features you choose to include in your application. Hence, the most crucial step is to recruit an app developer who would integrate the user's concepts and design parameters with coding to produce a fully functional clone app. Since this requires developers to include the specific features the users desire and make it Android and iOS friendly, it requires significant app development time and expense. When these aspects are considered, it is predicted that it will take 1400+ hours, or roughly about $35000, to develop an online shopping application similar to Etsy. The price will be the highest in the range established for an Etsy clone development and may increase if you are discovered. In summary, if the cost of developing the app has been assessed, it will likely fall between $25,000 to $35000.
Conclusion
Nowadays, selling handcrafted goods doesn't necessitate a physical storefront. You may connect with countless sellers and customers and market your one-of-a-kind artisanal goods worldwide using an Etsy clone app. If you have an app like Etsy, you can reach a broad audience, even if it's just for your venture. Do you want to create a shopping app like Etsy? How about designing an Etsy-like website or an app? Would you like to build a website with the help of a skilled developer or web development company? Well, you don't have to worry! AppsRhino is one of the top solution providers for those looking to create an Etsy clone app script and expand your business internationally. Creating your dream application has never been easier! Get in touch with AppsRhino right away!