Whether you are an around-the-clock worker or want to escape everyday humdrum cooking or planning an in-house dinner date, the food delivery apps are a way to look for. Technology has been corridors of all forms and sorts of business.
However, reaching out for good food does not require fancy technology; instead, we need a hungry stomach. However, that couldn't be made out in the lockdowns. With cafes, bars, restaurants, and eateries shut, we had to seek digital marketplaces to fetch prepared meals.
One such digital food marketplace is Seamless. You browse, order, checkout, and get the delivery- just the easy way. Besides, food delivery apps like Seamless are far more convenient for us. In-diners know the waiting time at any restaurant and the loud individuals who intrude on our private space.
However, some intrinsic details are essential for the seamless operations of Seamless. A wise man says that you just can not eat good food. You need to talk about it. And we have a lot to talk about Seamless in this blog.
What is Seamless?
Seamless is one of the most popular web-based food ordering platforms on the east coast. It offers food from nearby cafes, restaurants, and popular fast food joints near our area for pick-ups and deliveries. In 1999, a group of people decided to take takeaway orders online.
They devised a web-based system for ordering food from restaurants and cafes and called it Seamless Web.
Seamless Web attained success after serving corporate clients in New York and offered free diner cards as a complimentary service.

Moreover, in the early 2000s, New York-based business periodical, Inc. recognized Seamless as the 4th fastest-growing private company in the United States. In 2006, Seamless Web was acquired by Aramark. However, in 2011, it was re-privatized and financed by a Boston-based investor firm.
The company then dropped the Web to Seamless to distinguish its renewed brand. App refurbishments were useful in consolidating the lost grounds. And by the end of 2012, it saw an $85 million revenue inflow. As they grew on the east coast, another food aggregator extended its offerings in the midwest, GrubHub. They started to encroach on each other's service areas. So, they decided to merge in 2013. From the merger, Seamless brought 58% of the equity of the combined business.
Anyhow, Seamless and GrubHub have app experience. For example, they have almost identical designs and pricing and cover the same service areas. After their merge, their combined revenue tripled, bringing in $1.8 billion in revenue in 2020. Now Seamless partners thousands of delivery and take-out restaurants located in more than 900 cities and sees a million orders in the United States and London.

How Does Seamless Delivery Work?
Through Seamless, you can choose from a wide variety of cuisines, including Italian, Chinese, and so on. It allows us to browse eateries that cater to our area or who can deliver food at our location. Seamless makes food ordering very simple.
It allows you to search for food by mood, rating, and price. Besides these filters, you can also search according to the delivery time.
Seamless has more features in the bucket to ease searches. It displays delivery time reviews, besides every partnered restaurant. Also, if the restaurant has a minimum order quantity or a delivery cost is given on the order page, This thus allows us to make quick and easy selections.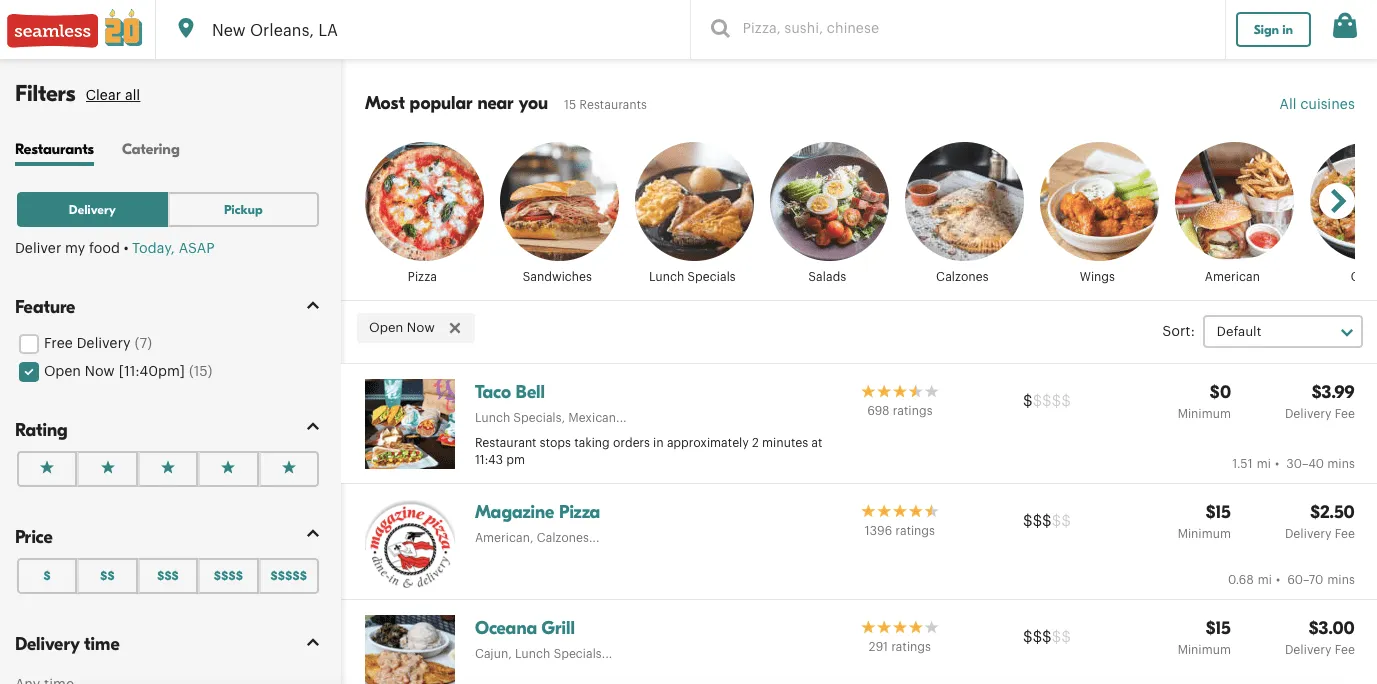 After choosing an order and adding it to the cart, the app allows us to make in-app payments or pay on delivery. However, pay on delivery was exempted due to the pandemic. While we check out, the app lets us choose between pick-up or waiting for home delivery.
Seamless aims to provide a seamless user experience, yet it and GrubHub struggle to bring much profit as they have wafer-thin profit margins. Initially, these food aggregators did not deliver food, but GrubHub offers delivery to a few partners due to the nip and tuck market.
To sum up, how Seamless works, we find that it works in three easy steps.
Step 1:
You place an order for food from an eatery and pay online through merchants.
Step 2:
The chosen restaurant receives the notification of the order placed through the restaurant app.
Step 3:
The app charges a commission on the fulfilled orders and pays the rest to the restaurants.

Customers
1. You download the app from the app store or play store, which allows you to order food from nearby restaurants.
2. You can also place orders from a desktop or laptop computer by using a web app.
3. The app allows you to see a list of restaurants offering online ordering in your area, close to the address you chose.
4. You can schedule orders at a specified day and time.
Restaurants
1. Seamless partners thousands of delivery and take-out restaurants in several cities.
2. These businesses have increased their revenue through the partnership.
What Values Do Seamless Provide?
In general, apps prove to be of immense value to their users. The customers directly contact and reach the businesses without any hiccups.
At the same time, businesses get to know their users and their preferences, helping them drive more business.
Exact Searches
Typically, a user looks for their favorite item on the menu card of their favorite fast-food restaurant.
Seamless ensures that the menu card has all the dishes that a customer may want. Also, provide them filters to make it easier to find the food.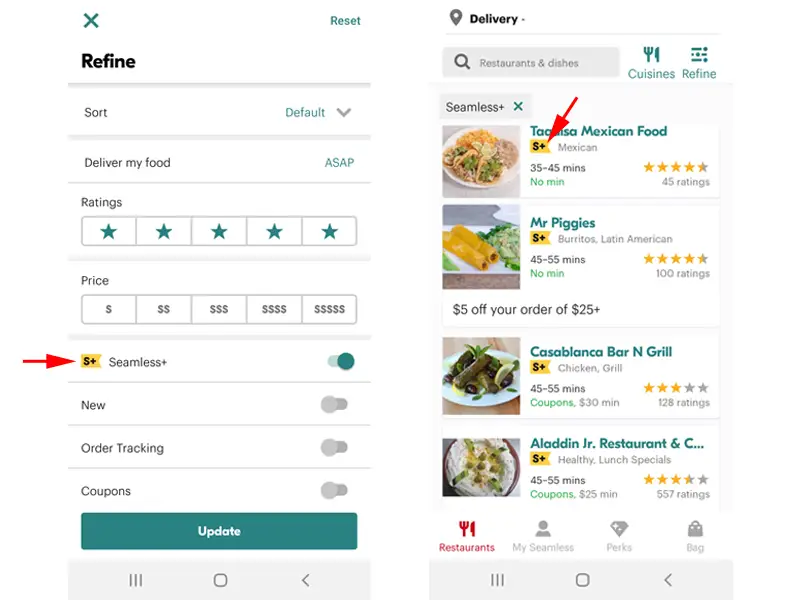 Simple Payment Process
The payment process has been made as simple as possible. It offers all payment methods, including GPay, Paytm, pay on delivery (POD), Card on Delivery, and so on.
Any user, at any moment, can make a payment using a feasible payment option and receive their tasty cuisine.
Favorite Ordering
You may add your long-time favorites in the Seamless app directly to your shopping basket.
Menu choices are always available, and they may be added immediately from your preferred location with a single click. It enables any user to subdue their eating cravings quickly.
Discounts and Coupons
Everyone is attracted to discounts and additional perks. An app that provides users with new coupons and discounts is beneficial to both the customer and the company.
Seamless provides timely coupons and various categorized discounts to increase sales and business.
Track Order Indeed
we are curious to know where our orders are. Is it prepared? Has it proceeded to delivery? Or how far is it from us? Waiting for food is difficult considering the carvings. So, Seamless provides an in-app order tracking feature to make us patiently wait till the food arrives.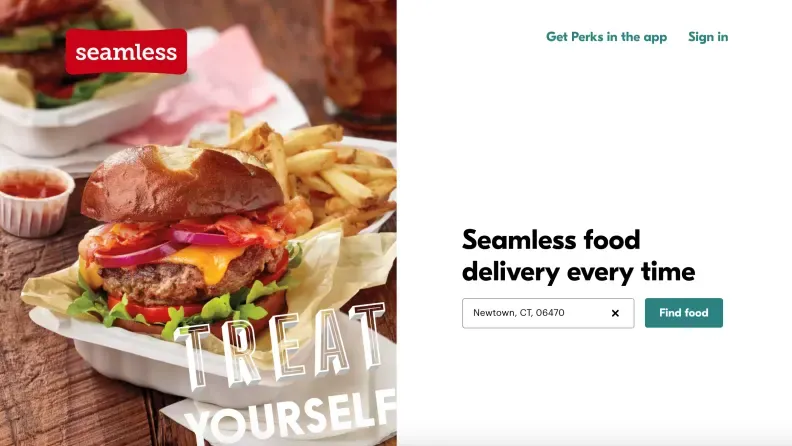 Simple and Quick Ordering
To attract more customers to Seamless, it provides a quick and simple ordering experience. It is made as simple as possible to find options, choose them, add them to the cart, and make payments.
What Are The Money Making Sources for Seamless?
Seamless contains multiple revenue sources. It has been seeing millions of dollars in revenue each year. However, there are only three sources that majorly contribute to those figures.
Commissions
Every large name in the food business is represented on Seamless. Any user from any location may have their favorite fast-food chains delivered to them.
Seamless has ties with many well-known restaurants and cafes, resulting in enough income on their listings. The income received is from the Commission, and there are around 12000+ restaurants and cafes listed on Seamless on an aggravated basis, on its London and the United States operations.
The Commission is paid out in a certain percentage, decided on certain grounds. Usually, the client must pay a larger percentage of commissions for a top listing, but for a dropped listing, the client pays a lower percentage of commissions. With the increased participating market, clients or restaurant partners of Seamless bring large profits by receiving appropriate commission deductions, as they see hundreds of orders every day.
AppsRhino offers the best Tech-driven solutions for Home services, Laundry delivery, Alcohol delivery, Grocery Delivery, On-demand Cannabis, and Taxi Services:
Advertising Campaign
Another source of money for Seamless is ad campaigns. On its app, Seamless gives new restaurants and eateries marketing promotions.
It promotes their business for it to appear at the top of the search results. It boosts the number of orders each day and, as a result, earns direct money for Seamless. Similarly, its marketing campaign generates more users and money.
Advertisements on social media handles and in search engines increase customers and provide additional business prospects.
Seamless
The regular Seamless customers can avail subscriptions or memberships, Seamless+, for several bumpers. By purchasing a membership, a user has access to the best restaurants in the world. As for subscribing members of the application, they will receive cool offers, excellent discounts, and other perks. The fees are often between $10 and $20, which is quite a bargain.
Wrapping Up
Some time back, food ordering was a hassle, limited catalog, limited delivery locations, and more. But with the advent of seamless on the east coast, things changed.
In a certain way, Seamless and GrubHub pioneered today's food delivery and service catering industry when drive-throughs and takeaways were only available in the States.
They together controlled over 70 percent of the food delivery in the early 2010s. However, landscapes and consumer behaviors have changed since their inspection.
Deep-pocketed start-ups and firms have arrived, gaining much of the food delivery market. Though Seamless and GrubHub together have seen $8.7 million in food sales in 2020, bringing in $1.8 billion in revenue. There will be much to watch in the coming years. AppsRhino is a mobile app development company powering on-demand mobile apps and business apps for entrepreneurs and enterprises.

Frequently Asked Questions (FAQs)
What is Seamless and how does it work?
Seamless is a food delivery platform that connects customers with local restaurants. It works by allowing users to browse menus, place orders, and track deliveries through the app or website.
How can I order food on Seamless?
To order food on Seamless, simply download the app or visit their website. Create an account, enter your location, browse local restaurants, select items from their menus, and proceed to checkout.
Are there any fees for using Seamless?
Seamless charges a small fee for their services. This fee can vary depending on the restaurant and location. Additionally, some restaurants may charge a delivery fee or have a minimum order requirement.
How long does Seamless delivery take?
Delivery times on Seamless can vary depending on the restaurant's location and their current workload. Estimated delivery times are typically provided during the ordering process and can range from 30 minutes to an hour.
What payment methods can I use on Seamless?
Seamless accepts various payment methods including credit/debit cards, Seamless Pay, and PayPal. You can securely save your payment information for easy checkout in the future.
Can I track my order on Seamless?
Yes, Seamless provides order tracking features so you can stay updated on the status of your delivery. You can track your order in real-time and receive notifications when it's out for delivery.