Introduction
What is the benefit of owning a mobile app for my grocery store? What effect will the online grocery delivery app have on my business's sales? What's the best way to invest in a profitable grocery delivery app?
If these questions are buzzing in your head and you seem perplexed about their answers, you've come to the right place! Today's era is characterized by digitalization, where everyone uses a cell phone to maximize their comfort and lifestyle.
Mobile phones and other hand-held devices have become integral to our online shopping experience, reducing the need to visit offline markets or stores. This has made people's lives easier and more complacent. A grocery delivery app adds to the convenience of people who want to shop for groceries online. Therefore, investing in a fruitful grocery delivery app must cater to a significant niche in this market!
This article will examine the importance of owning a grocery delivery app and how AppsRhino, the market-leading company for on-demand application development, can benefit your business.
Check out the rest of this article to learn more!
Grocery Delivery App: A Brief Overview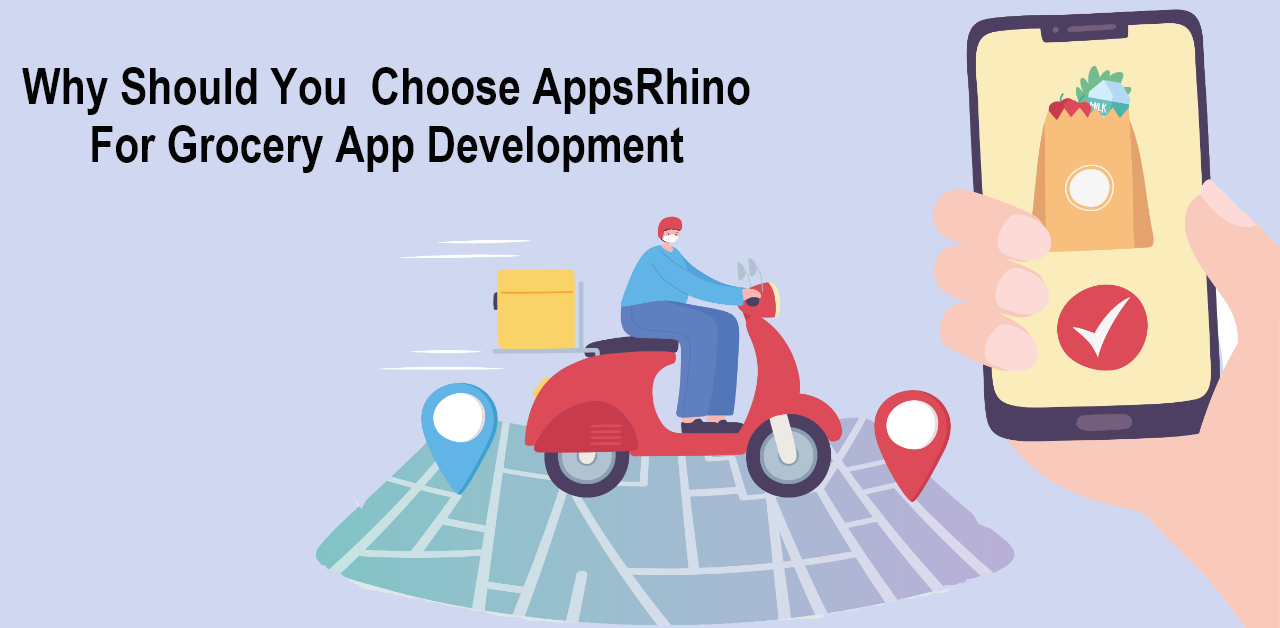 Grocery delivery apps enable users to order groceries online from the comfort of their own homes.
We live in a time-constrained society. Shopping for groceries is not physically engaging for many people. In place of that, they prefer the convenience of grocery shopping online through apps.
There has been a tremendous increase in these apps due to the high demand for instant grocery delivery. There are different types of grocery delivery apps that startups can develop.
The two prominent types of grocery apps are:
Aggregators: In basic terms, aggregators show users nearby grocery stores. Generally, aggregators include Walmart and other significant grocery retailers.
Marketplaces: With the help of this app, grocery stores within an area may advertise their products, and customers can get in touch with them. It facilitates communication between buyers and sellers.
Why Do You Need A Grocery Delivery App For Your Business?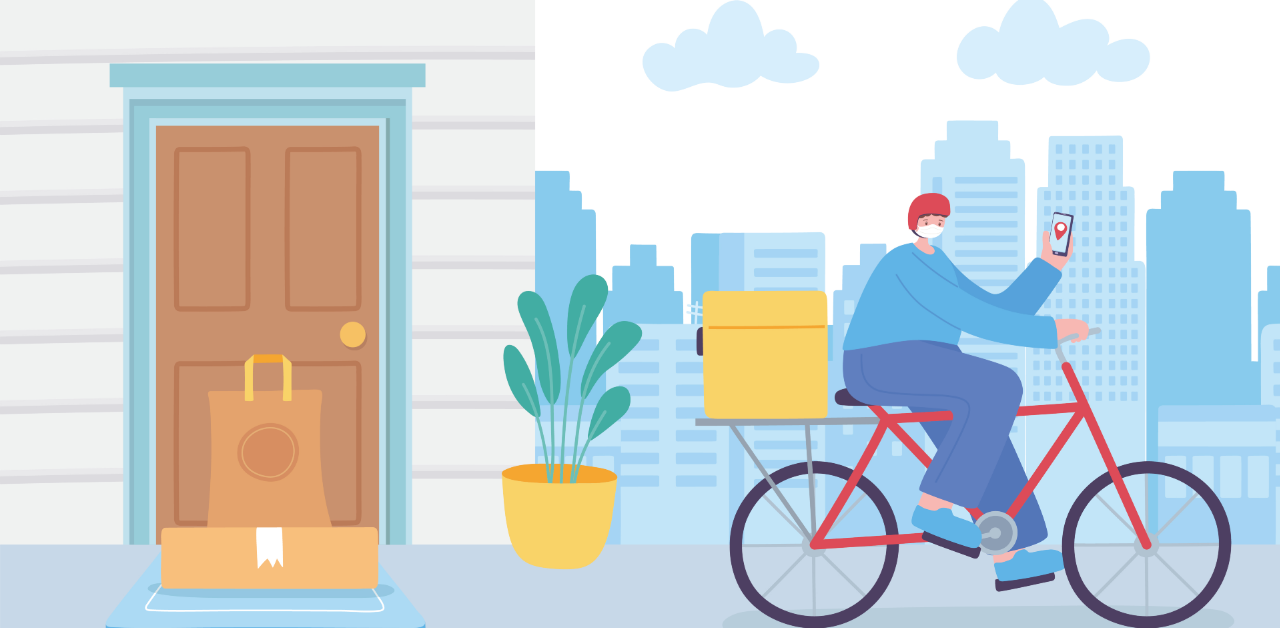 In 2021, the global online grocery market was valued at USD 285.70 billion. Over the next decade, it is predicted to have an annual growth rate of 25.3% (CAGR).
As a result of the pandemic and the unrelenting growth of the e-commerce industry, consumers' shopping preferences are expected to change. Online grocery stores offer various options for online payments and the assurance of contactless delivery, which is expected to drive market growth.
In light of this, the following are five justifications for acquiring an on-demand grocery delivery app:
Establish A Loyal Customer Base
Home delivery is one of the most practical choices for anyone in the digital age. In fact, individuals seldom have time in their busy schedules to visit the market daily. Hence, the most excellent strategy to develop a devoted customer base in the grocery industry is to launch a business with an app.
Enable The Luxury And Ease Of Home Delivery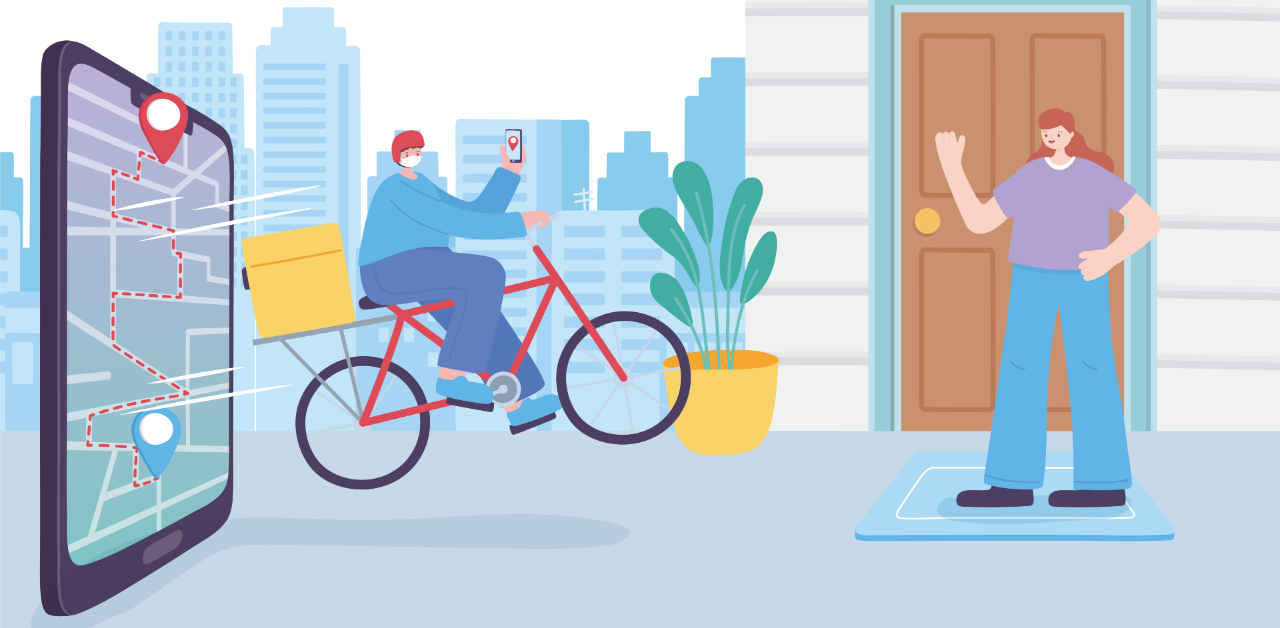 For many people worldwide, receiving delivery at home is a privilege. Online grocery delivery services will be highly advantageous for a grocery store as they will encourage the customers to shop online using the grocery delivery mobile app.
Customer Activity Can Be Monitored
When creating a grocery delivery application, one can easily track customers' purchasing habits. This makes it an excellent investment for individuals who want to grow their business or sales.
Numerous Payment Options
Apps can assist your company with regular payments since they prevent customers from checking out until a payment method has been correctly chosen and initiated.
Pandemic Approach to Business Management
A grocery delivery app is best to control a company's sales during a pandemic or health crisis.
As a result, if there is a pandemic crisis, your grocery sales will soar since groceries are essential for people to consume and survive.
Why Should You Choose AppsRhino for Grocery Delivery App Development?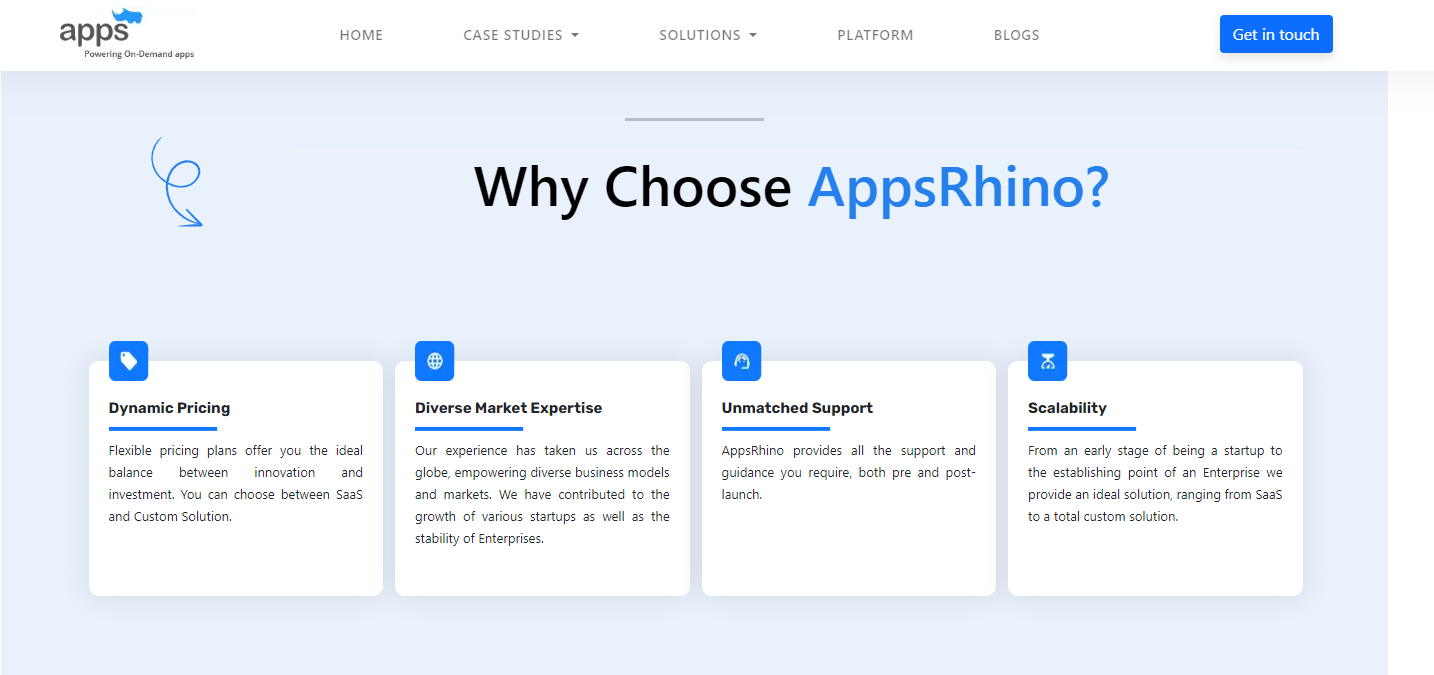 The fact that on-demand applications comprehend and successfully address the consumers' fundamental needs is a great determinant of their success. With AppsRhino, a user can anticipate the same, if not more!
There are plenty of aspects that make this on-demand app development company one-of-a-kind! For grocery delivery app development, AppsRhino is exceptional for several reasons such:
Diverse Market Expertise
Over its first five years, AppsRhino has facilitated the growth of several businesses and sectors. They have assisted several companies to flourish and helped keep businesses stable.
Unmatched Support
This on-demand software offers all the assistance and direction the user needs before and after launch. Hence you can be assured that your grocery delivery app will be one of a kind!
Scalability
AppsRhino offers the perfect solution for your grocery delivery app development, from SaaS to a fully customized solution.
Development and Architecture
A scalable design guarantees excellent performance and prevents system crashes. AppsRhino adheres to database designs and code architectures. Due to this, the grocery delivery application will be designed and constructed meticulously and systematically, making the code generation process easy.
Designing UI/UX
AppsRhino has a fantastic team of talented designers who create eye-catching wireframes and clickables while keeping your vision in mind. Fret not; with AppsRhino, you can create the grocery delivery app of your dreams.
Bug Fixing and Testing
After its development, the grocery delivery app will be reported, tracked, corrected, and retested until it meets the quality criteria specified in the Software Requirements Specification (SRS). This ensures that your app will run smoothly without any glitches.
Quality Control
AppsRhino will extensively test the finished product before launch, even after completing unit testing at each stage, to ensure all use cases are operating smoothly and the app is bug-free.
Beta & Customer Go-live
After design confirmations, the initial release is carried out. Using unit testing, you can be sure that your grocery delivery app will be free of defects when it is ready for deployment.
To guarantee complete client satisfaction, AppsRhino considers the client's preferences. Each iteration is the culmination of feedback and progress. This ensures that your app matches your needs.
Maintenance
As technical partners, AppsRhino makes sure that the customer focuses on operations and marketing while theirs is on sustaining the solution and user experience as smoothly as possible.
Conclusion
There are numerous advantages of owning a profitable grocery delivery app for your business, such as—flexibility, affordability, security, scalability, and ease of tracking.
Hence, it's safe to say that on-demand grocery delivery apps have become a trend for speedy business growth as they allow consumers to tailor their experience wherever and whenever they want!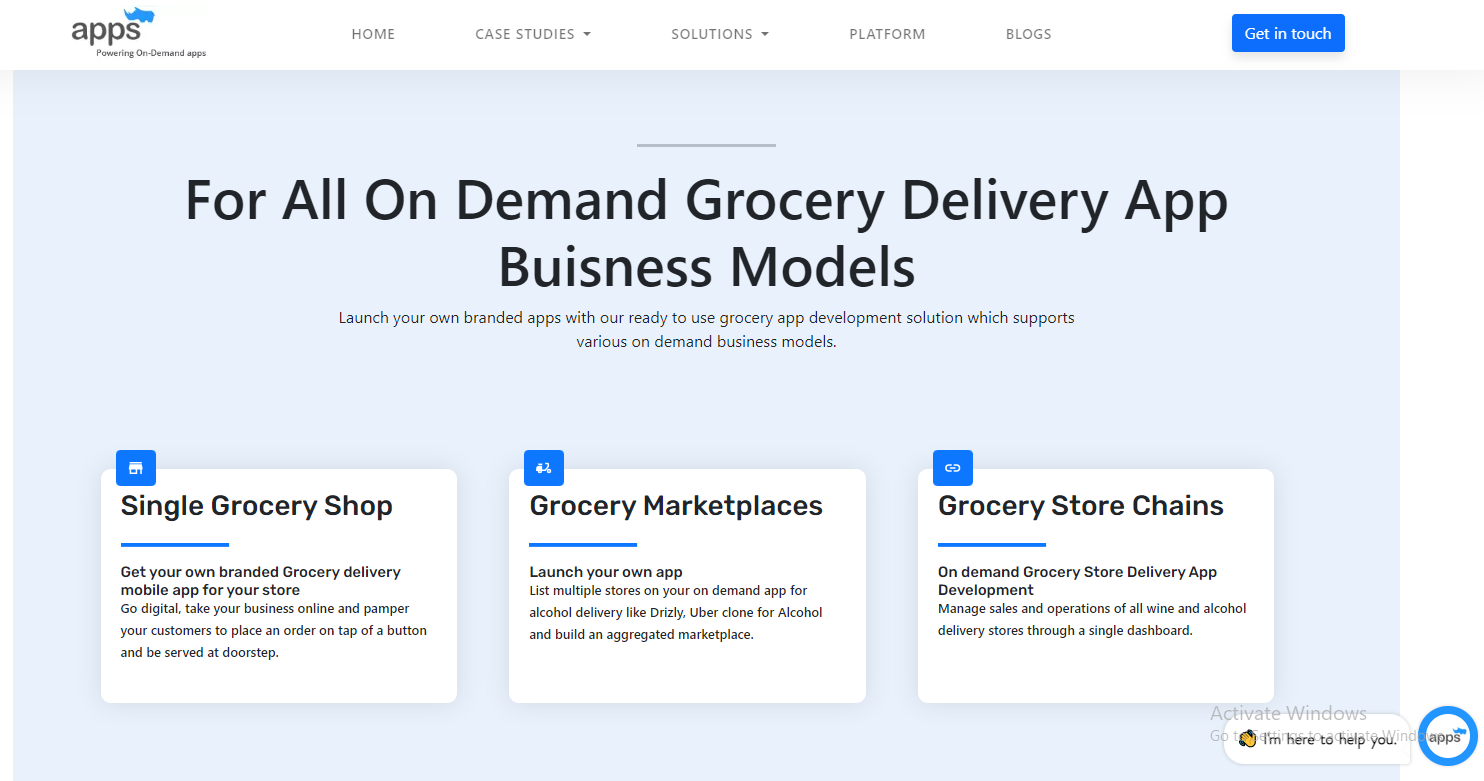 In a nutshell, we can say that businesses that wish to provide effective and reliable customer services should go for on-demand grocery delivery services.
And thanks to AppsRhino, you can take advantage of these wonderful possibilities from the comfort of your home in just one simple step. This market-leading platform for on-demand app development works with customers to help them succeed in their endeavors.
Let AppsRhino make your dream on-demand grocery app a reality! Contact us today.