Let's discuss a scenario where your customer must buy groceries for the next week. They have two options.
They can drive to the local Grocery Store, invest an hour of their busy day in Grocery Shopping and billing, and drive back home. Or, they can open their smartphone, go to any Grocery Delivery App, spend ten minutes on ordering and payment, and get groceries at their doorstep.
What will your customers choose? If they go for your Grocery Delivery App, they will save time. Moreover, they can save money by using discounts and regular offers.
Your customers can search for their products, filter from numerous options, and do effortless shopping!
Do you want to know more ways you can make your customers happy in the future?
Read this blog to understand the face of Delivery Apps in the future and know the Grocery Delivery App Scope!
You can develop new ideas and plans for your Grocery Delivery App, update your application or website per the market requirement, and generate a better strategy!
Grocery Delivery Services: A Brief Journey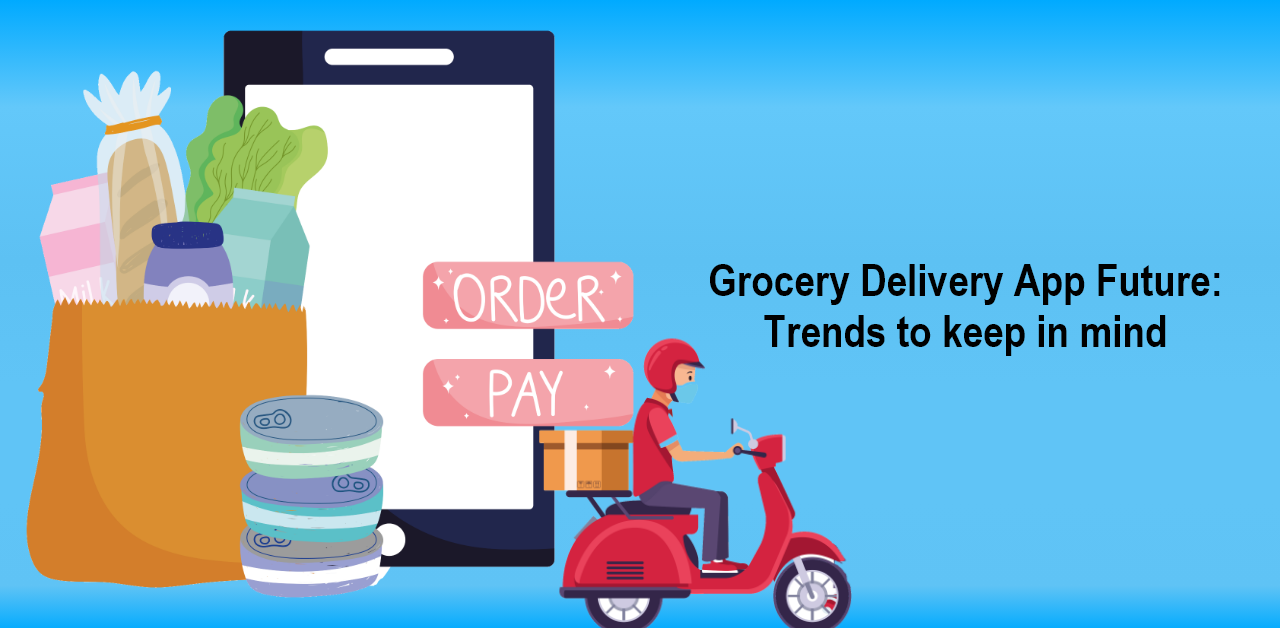 Grocery Delivery App and Services have been around for years. When most people didn't have internet services, and only a few had access to personal computers, businesses wanted to make customers' work effortless.
We may not want to order food, clothes, and other items frequently, but we require groceries and essentials every week/month.
Entrepreneurs like Webvan and HomeGrocer understood the need of customers in 1996 and 1997, respectively. These companies were the first to introduce Grocery warehouses to deliver products to customers in their homes.
While Webvan is spread across 26 major cities in the United States, HomeGrocer achieved approximately a $1 million sale rate daily!
Although these companies faced losses and bankruptcy later due to business models and planning, they became role models for many start-ups and entrepreneurs.
Peapod and Instacart started their journey with a different plan. They collaborated with local Stores and became Delivery partners through their Grocery Delivery App. Consumers are using these applications and websites daily.
Platforms like Google Play Store and AppStore have reported satisfied customers with positive reviews about the leading Grocery Delivery Services and Apps!
Features to Include in Your On-Demand Grocery Delivery App
The following are the features to be included in the On-Demand Grocery Delivery App:
Fast and Convenient Delivery Options
How about giving your app a fantastic upgrade? We've got not one but two amazing delivery modes just for you! With the Fastrack delivery mode, you can have your orders delivered super quickly – no more waiting around. But hey, if you want that instant satisfaction, Fastrack's got you covered! Just a small additional fee, and you'll have your goodies at your doorstep in no time.
Biometric Registration: Next-Level Security!
Hey, we take your security seriously! That's why we're introducing cutting-edge biometric sign-up methods. Forget about old-fashioned phone numbers or social media logins. Now, you can access our app with just your face or fingerprint! How cool is that? This advanced AI technology not only adds a futuristic touch but also boosts your confidence in our software. Say goodbye to worries about unauthorized access and hello to peace of mind!
Integrating Platforms: A Hub of Activity!
We're all about making your app experience the best it can be. That's why we're integrating with multiple platforms! This means you get to access and share content seamlessly from various sources. More user activity on our app and other platforms means more connections and a thriving community for everyone!
Looking for more features of the On-Demand Grocery Delivery App? Here are 10 must-have amazing features for Grocery Delivery App.
Grocery Delivery App Future: Trends to keep in mind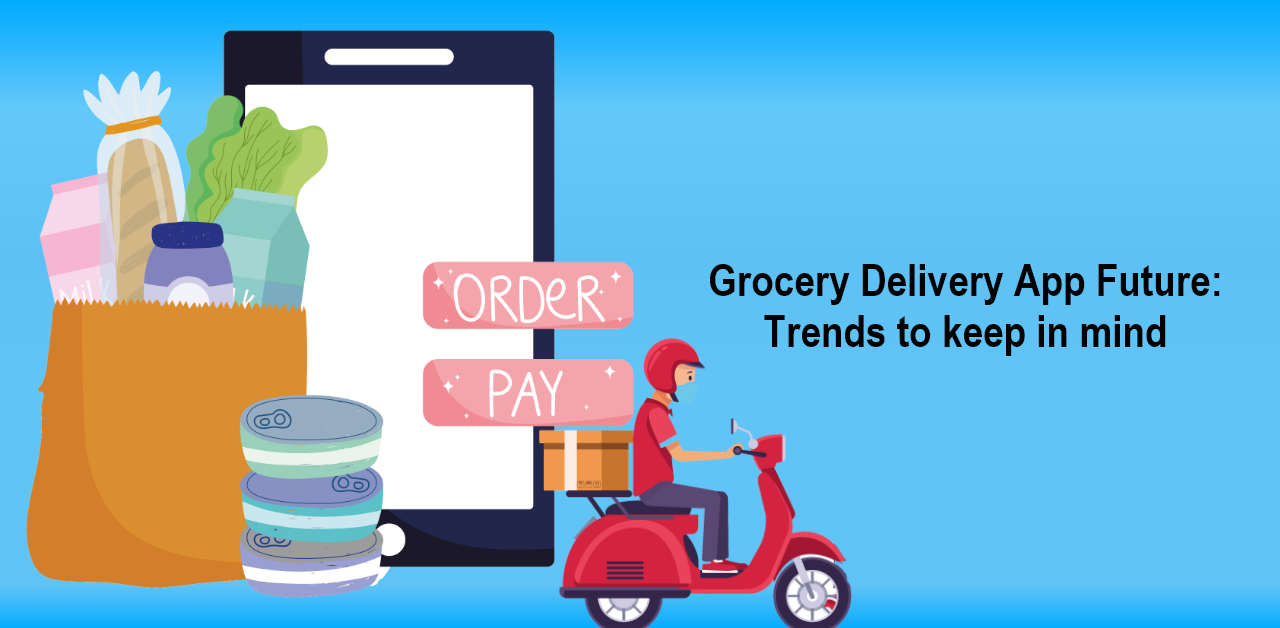 According to Google, the meaning of Trends is "a general direction in which something is developing or changing."
Grocery Delivery is still a new concept for many.
App characteristics allow users to get a friendly experience while shopping. They can get products per their time and schedule at affordable rates.
Although consumers seem content with applications and websites today, the world requires evolution!
Everyone, especially the new generation, has shown interest in emerging technologies. Human nature involves a sense of curiosity and the ability to attract new things. Imagine if the same Grocery Delivery App type goes on, customers may get bored and switch to another application! This procedure will affect your business and profit rate.
Therefore, you should be aware of modifying technologies and trends in the market. Here is a list of these trends you should look out for that would help you in shaping Grocery Delivery App Future!
Grocery Delivery App Scope on Multiple Devices
Imagine that you are talking to a colleague over a phone call. You realize you have to order groceries for the next week. But your conversation with your colleague is important, and you cannot drop the call at that moment. What will you do?
Customers have to open the Grocery Delivery App on their mobile phones or reach their laptops or tablets to get groceries. Companies are user-centric and want to make the ordering experience better.
Therefore, customers can order groceries and other necessities from any device. They may use their smart television or smartwatch to order products.
They may also order food items with their smart-car handles and other platforms primarily used for different purposes.
Additional Floor space for Delivery and Third parties
Take an example of a situation where you are at a Grocery Store and shopping for food products. You place the groceries in your shopping cart and go to the billing counter.
You notice that the store designated the same area for drivers and partners that deliver groceries to online shoppers.
Imagine how hectic the situation will become for you, the store, and the delivery partner.
The concept of Omnichannel in the Grocery Delivery App Future involves providing a separate or additional space for Online customers and third-party businesses.
Most Apps like Instacart and Peapod are collaborating with local stores. This concept will increase with the growth of Grocery Delivery Apps. Therefore, assigning an alternate place will become crucial.
Safety of consumers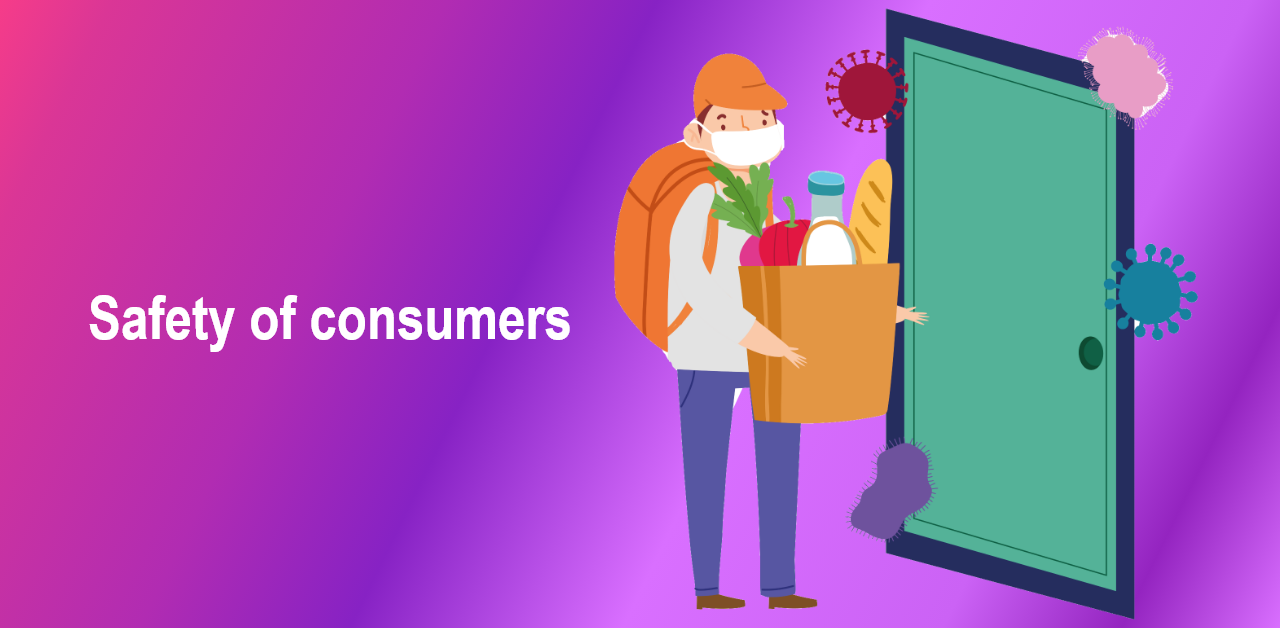 The global pandemic incorporated the idea of safety and its importance for companies, delivery partners, and consumers.
People have become careful about their health above all.
The Grocery Delivery App Scope involves the concept of safety for the customers. These applications and websites will continue to have the option of contactless delivery, vaccinated delivery partners, sanitizer use, etc.
These applications will ensure that customers remain germ-free. Moreover, brands promote organic products for better healthcare and connection with nature!
Swift Solutions and Problem Solving for customers
If you and your company want repeat customers and grocery consumers, you should focus on building their trust.
There are numerous methods to build customer trust and provide them with a satisfactory shopping experience.
One of the best ways to win over your consumers is by solving every problem they might face while and after shopping with you. The user has to trust you! They should know they can hold you accountable and reach out to you in crisis matters.
Although companies concentrate on customer care, they have to expand their services per customer requirements and Grocery Delivery App scope!
More customers equal more user queries, a competent AI-based team, and practical solutions at faster rates.
Last-minute sales feature to avoid wastage.
When customers visit Grocery Stores at late hours, they find some products at low prices. These products cannot last more. Therefore, stores and shops get rid of them with Last-minute sales to clear stocks.
Customers who use a Grocery Delivery App expect fresh products for their homes. In this process, food products and Grocery items go to waste.
We can have a Grocery Delivery App with the Scope of having Last-minute Sales on the same platform! Customers can buy groceries at comparatively lower prices and get leftover stock.
Introduction of Augmented and Virtual Reality
The concept of Augmented and Virtual Reality is fresh in people's minds. You get the ability to make changes in the existing world or create a new one per your wish!
You get new experiences and explore multiple things. The Grocery Delivery App Future concerns the introduction of this emerging concept.
Customers can experience shopping from the Grocery Store by sitting at their homes! They can pick up items and drop them in their carts.
Finally, they can experience going to the billing counter and paying for their shopped groceries!
Saving the Grocery List!
You shop for Groceries once or twice a month. Imagine that you ordered ten specific Grocery items in January. You want to order groceries again.
You have to go to every product again, check their current price, and add them to the cart/basket. Or you'll have to go to your previous orders and remember items from there.
Grocery Delivery App should allow customers to copy and paste their previous Grocery list and edit per requirement. Shopping becomes manageable and faster in this way!
Best Grocery Delivery App development platform
Hey there! Top Grocery Delivery Apps and Websites include Instacart, Kroger, Walmart Grocery, FreshDirect, PostMates, and Amazon Fresh. Now looking for the best grocery delivery app development platform?
Look no further, AppsRhino's got your back! With their user-friendly interface, premium features, and smooth functionality, they've won hearts in the market.
Plus, their team is like a bunch of tech-savvy superheroes, always ready to create the perfect app for you!
So why wait? Go ahead and get your grocery app up and running with AppsRhino!
AppsRhino offers the best Tech-driven solutions for Home services, Laundry delivery, Alcohol delivery, Grocery Delivery, On-demand Cannabis, and Taxi Services: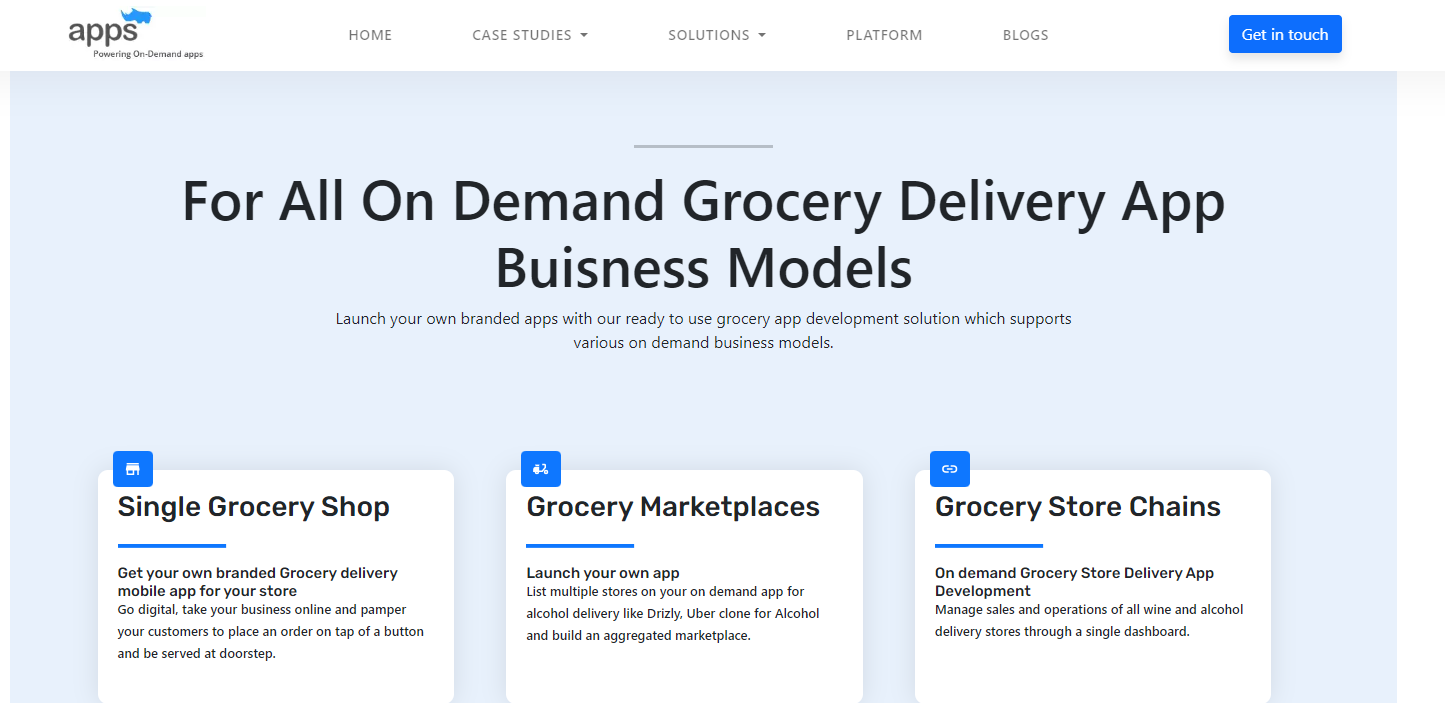 Conclusion
Do you want to create a Grocery Delivery App? The first thing you should understand before developing an application is its ability to help customers.
You shall ask yourself a series of questions. Am I introducing a new concept to my audience? Will my Grocery Delivery App help the customers? How do I want to take care of my consumer needs? Do I want to focus on customer support or profit-making?
Once you obtain the right answers to the above questions, you will be ready to create your Grocery Delivery App!
Moreover, it would be best if you did not ignore the changing trends. New Grocery Delivery services are coming to the market every day.
You have to stand out among all! You have to introduce a new ideology or concept that customers will love.
If you have something in mind and would like to embrace it, contact our team at AppsRhino! We are here for your every App related need. We can help you proceed with ideas and build your Grocery Delivery App!
Frequently Asked Questions (FAQs)
What are some tips for using grocery delivery apps?
Here are some tips for using grocery delivery apps:
Read reviews before you choose an app.
Compare prices between different apps.
Use coupons and promo codes to save money.
What is the future of grocery delivery apps?
The future of grocery delivery apps is bright. As the demand for online grocery shopping continues to grow, grocery delivery apps will become more popular and convenient. We can expect to see new features and innovations in the coming years, such as:
More delivery options, such as drone delivery and same-day delivery.
More personalized recommendations based on customer data and preferences.
More sustainable delivery options, such as electric vehicles and recyclable packaging.
What are the challenges of using grocery delivery apps?
There are a few challenges to using grocery delivery apps, including:
Cost: Grocery delivery apps can be more expensive than shopping in person.
Availability: Grocery delivery apps are not available in all areas.
Accuracy: There is always the risk that your order will be incorrect or incomplete.