"I have to visit the Grocery Store today!"
Most of us had this thought every Sunday morning. Some of us picked up groceries while coming back home after work.
Our question to every reader here is if we are past those days.
Do you prefer Offline or Online shopping? We all agree that Offline shopping has its fun elements. You drive to the store (not so fun), roam around the shopping stations, pick up your groceries, browse through new products, and finally get to the billing counter.
We have such busy schedules today that we can't even find time for ourselves. We spend the day working and networking. Additionally, we spend time with our family and ourselves to improve our health. Most of us have selected Grocery Delivery Apps and websites to order our daily necessities and products.
If you are new to the Online Grocery Ordering experience, we have a list of the 7 Top Grocery Delivery Apps and websites for you!
Why order goods from a Grocery Delivery App?
Let's understand the benefits of ordering from a Grocery Delivery App.
Top Grocery Delivery Apps and websites have become popular among people due to their availability on multiple platforms and other included advantages.
According to invesp, the Grocery Delivery App and website sales were $23.9 billion in 2018. This number will increase to $59.5 billion by 2023!
Here is a list of reasons to help you know why Grocery Delivery Apps are better than Offline shopping.
Order from anywhere
Imagine that you are sitting in your office and want to have pasta for dinner. You realize that you don't have the required ingredients to make it!
What will you do? You can open the Grocery Delivery App and order while sitting in your office or on your way home!
The goods will be there at your doorstep whenever you want. This method is more effortless than going to the store and waiting in a long line to get your groceries home.
Saving Time
A trip to the Grocery Store seems like an additional task for the day. It wastes your time and energy that you could have utilized
in other chores. If you have a Grocery Delivery App, your groceries are one click away!
You won't have to wait in line and buy on impulse.
Moreover, you will save your work and rest hours.
Compare prices and Products.
Imagine that you are at a Grocery Store and you want apples. You find three varieties of apples at the counter. These types vary in shape and price. What will you do?
You will pick the one that suits your taste and budget. If you are shopping online, you can compare the types and prices of different products and types with enlisted descriptions.
Moreover, you can compare different local stores and select any one or more while placing an order for your groceries.
Top Grocery Delivery Apps aim to make the Grocery buying procedure effortless and more user-friendly.
Keeping track of earlier purchases
If you are shopping with the help of a Grocery Delivery App, you can track your cart items. You can go to the shopping cart/basket, scroll, look at the grocery items, and calculate your total before order placing.
The tracking process of purchases is difficult offline since you have to go through every item in the cart.
Know the 7 Best! Top Grocery Delivery Apps and Websites
Here we have a list of the Top Grocery Delivery Apps and websites in the market today! If you are an online shopper or on your way to becoming one, this list can do wonders for you!
After reading this section, you will understand the ratings, approach, popularity, and other crucial things every user should know before shopping online.
Instacart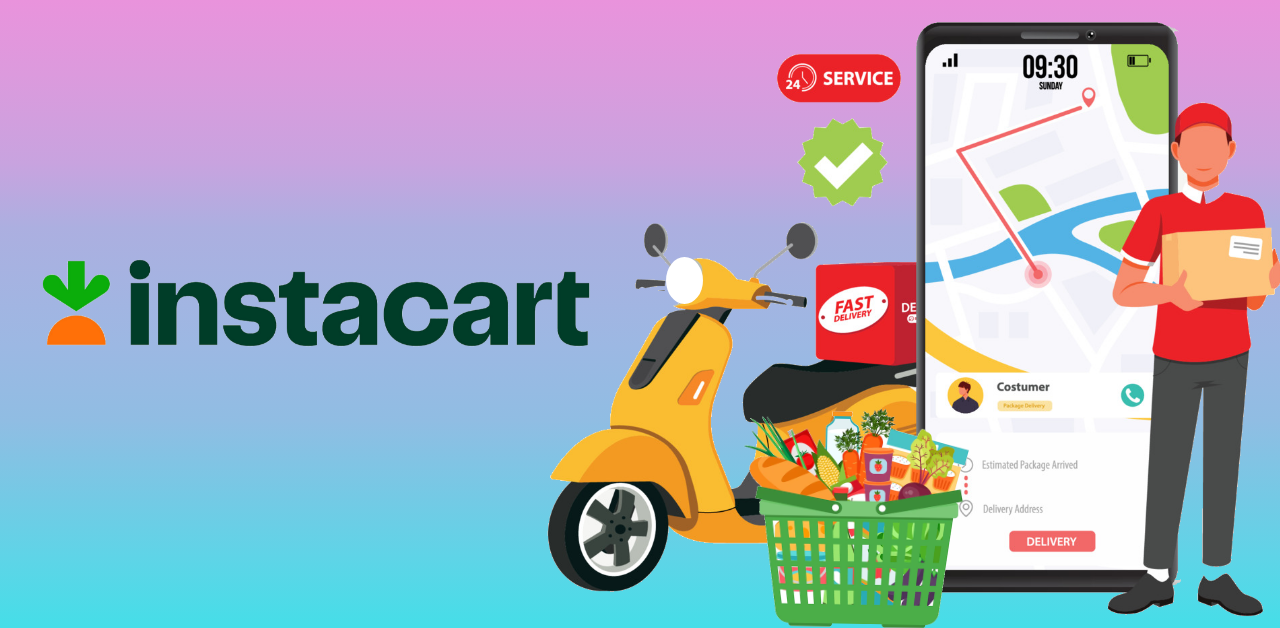 High-five your smartphone if you know about Instacart!
Every regular online shopper knows about Instacart. People know Instacart as it provides same-day delivery to customers and buyers.
Most USA citizens love it and use this Grocery Delivery App daily.
The working of Instacart includes picking your order items from local Grocery Stores and delivering them under said time. Instacart is available for users via application and website.
It has a 4.1 rating on PlayStore and 4.8 on App Store.
Customers can set pick-up and delivery times on the Instacart App per requirements. Instacart is the most obvious choice for many users. It is available across approximately 2400 locations in 18 states.
Kroger
This platform is one of the Top Grocery Delivery Apps. It has 4.4 stars on Play Store and 4.8 stars on AppStore.
Users favor Koger for shopping due to its range of organic food items.
This Grocery Delivery App has more than 35,000 organic products. These items are called Simple Truth.
Koger offers custom discounts and offers for customers. Buyers consider this app as most customer-friendly and cost-saving.
According to People, Koger is named the "most loved" national Grocery Store.
Walmart Grocery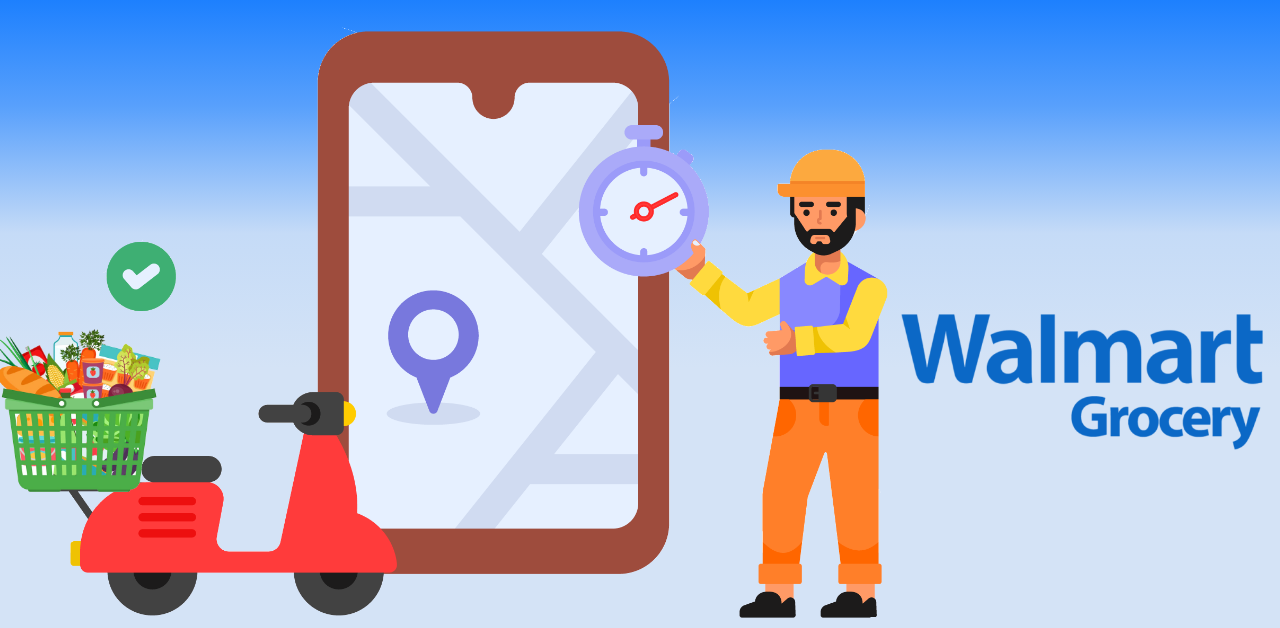 People find the offline Walmart store a perfect shopping place. This company owns multiple supermarket chains that have gained success over the years.
You will find every item on the Walmart shopping plan. Why shop from Walmart Grocery online?
Walmart started testing the Grocery pick-up and Delivery service in 2013. People can download the Walmart Grocery app or shop online from the website.
You can get free shipping with the membership plan at Walmart!
FreshDirect
The Delivery Fee at FreshDirect starts from $6. If you love meat and other non-veg options, FreshDirect is the perfect Online Grocery Delivery App for you!
FreshDirect offers a variety of meat selections. The dairy products and canned goods have the necessary details attached.
You should also order a day before FreshDirect to receive the best services. You can get information about your Fresh foods to come from using FreshDirect.
PostMates
PostMates is one of the Top Grocery Delivery Apps, allowing users to order any product or item. People love PostMates because who doesn't like fast service?
Order anything and get it in an hour! Customers use this Grocery Delivery App to order food from local restaurants and cafes. You will be charged a nominal Delivery fee after receiving the groceries or other food items.
PostMates received 4.2 stars on Google PlayStore and a 4.8-star rating on App Store.
Moreover, PostMates is available for service every hour and every day of the week!
Amazon Fresh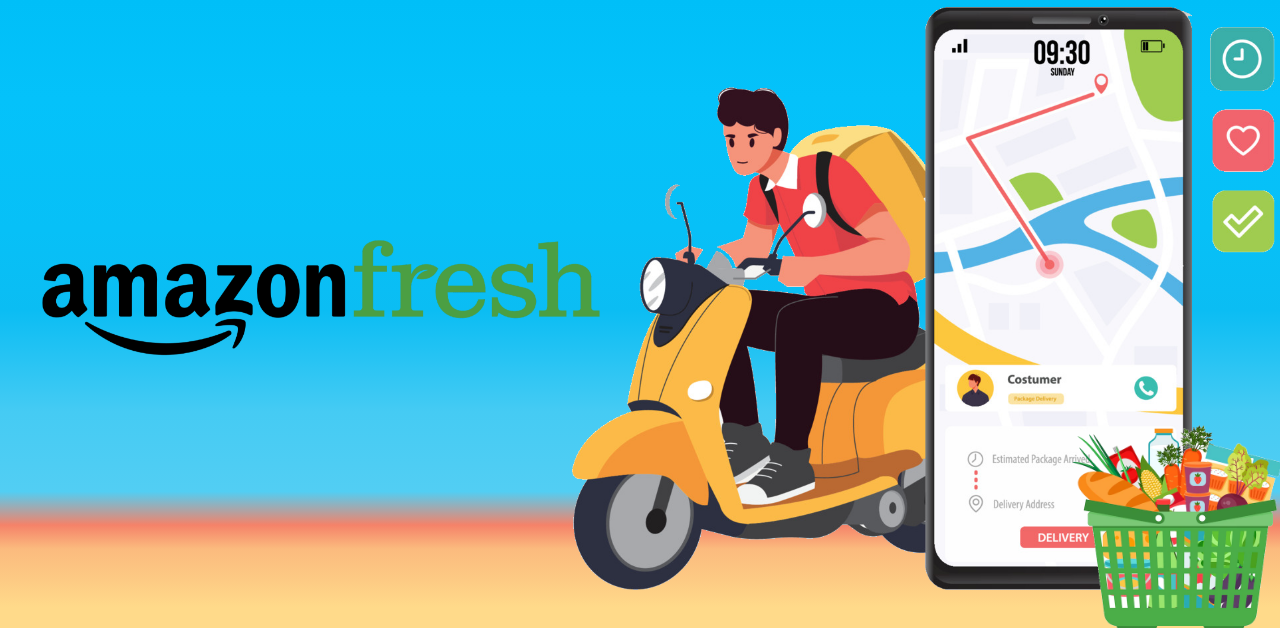 Amazon doesn't leave any domain! One of the best parts of ordering from Amazon Fresh is no minimum order value.
You can order one juice can without having to order additional items.
Moreover, Amazon Fresh membership is free for Prime members on Amazon. You will get free delivery on groceries with the membership card. Amazon offers fresh groceries, fast delivery, and numerous other benefits.
You can get the best goods and products at low costs. Additionally, take advantage of the cashback offers and regular customer discounts on this Grocery Delivery App.
Boxed
If you want to buy groceries in bulk, you should consider Boxed!
Boxed has a rating of 3.6 on the Google Play Store and 4.8 on the App Store.
Boxed doesn't have a membership offer. But, if you are willing to take the annual subscription of this Grocery Delivery App, you get free delivery on orders above $20. These bulk orders are shipped in one to three business days and delivered to your doorstep!
You can opt for Boxed Express to receive early deliveries with minimum additional charges.
Conclusion
Happy customers are equated to a successful business model. You get maximum profits if your customers are delighted and continue shopping from you.
If you are an Online Grocery buyer, purchase from the Top Grocery Delivery Apps. You should never compromise on your service and receive Grocery orders anywhere.
Customers can develop or ruin the market. You are the decision-makers.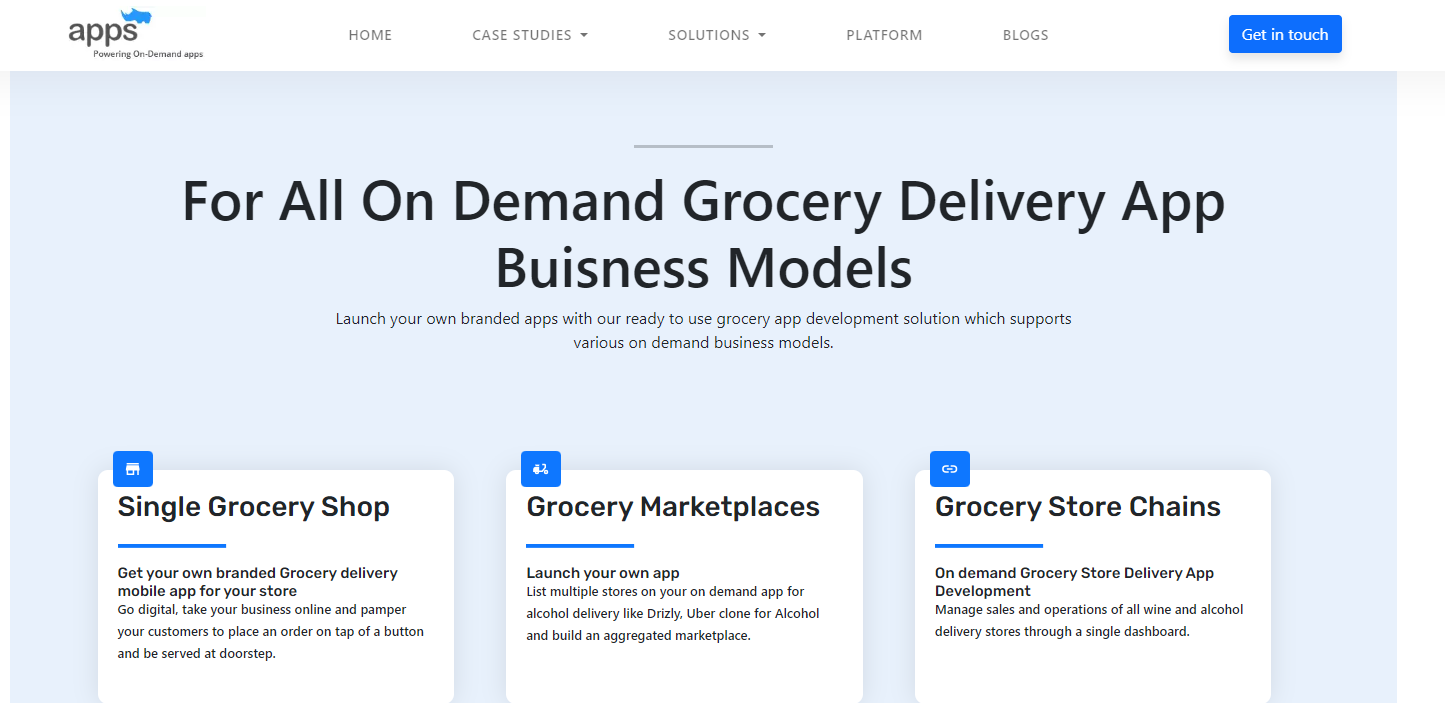 Online services like Top Grocery Delivery Apps are in the making to satisfy customer requirements. Daily updates on these Apps and websites are keys to success!
If you are a start-up or growing entrepreneur, you should be user-centric. Add features you think the customers will love. Provide better search and filter options, launch new offers periodically, and sustain the buyer-customer relationship.
AppsRhino is an app-making platform service. You will interact with the perfect team of developers here. Our Technical and Support team is here to build and explain your business.
AppsRhino offers the best Tech-driven solutions for Home services, Laundry delivery, Alcohol delivery, Grocery Delivery, On-demand Cannabis, and Taxi Services:
Contact us today to create your best Grocery Delivery App!
Frequently Asked Questions (FAQs)
What are the benefits of ordering groceries from a Grocery Delivery App?
Ordering from a Grocery Delivery App offers several benefits, including the convenience of ordering from anywhere, saving time, comparing prices and products, and easily keeping track of earlier purchases.
Which are the top Grocery Delivery Apps and websites?
The top Grocery Delivery Apps and websites are Instacart, Kroger, Walmart Grocery, FreshDirect, PostMates, Amazon Fresh, and Boxed.
What is the main advantage of using Instacart?
The main advantage of using Instacart is its same-day delivery service, allowing customers to receive their orders quickly.
What sets Kroger apart as a Grocery Delivery App?
Kroger stands out due to its wide range of organic food items, particularly its "Simple Truth" brand, which includes more than 35,000 organic products.
Why should I consider using Amazon Fresh?
Amazon Fresh offers no minimum order value, free delivery for Prime members, and a variety of fresh groceries at low costs, making it a convenient option for online grocery shopping.