The online grocery delivery services were limited to a few people before the pandemic and were more of a means to luxury. After the pandemic, grocery services have become a necessity to the people. Online grocery services have had a positive impact on associated businesses.
In 2021, an increase of 108% was reported as compared to 2019. In Fact many companies in the industry have boomed after the pandemic and have shown tremendous growth. Some of the best ones are detailed in this article.
Best Grocery Delivery Services in 2022
Here is a list of the best delivery services:
Walmart Grocery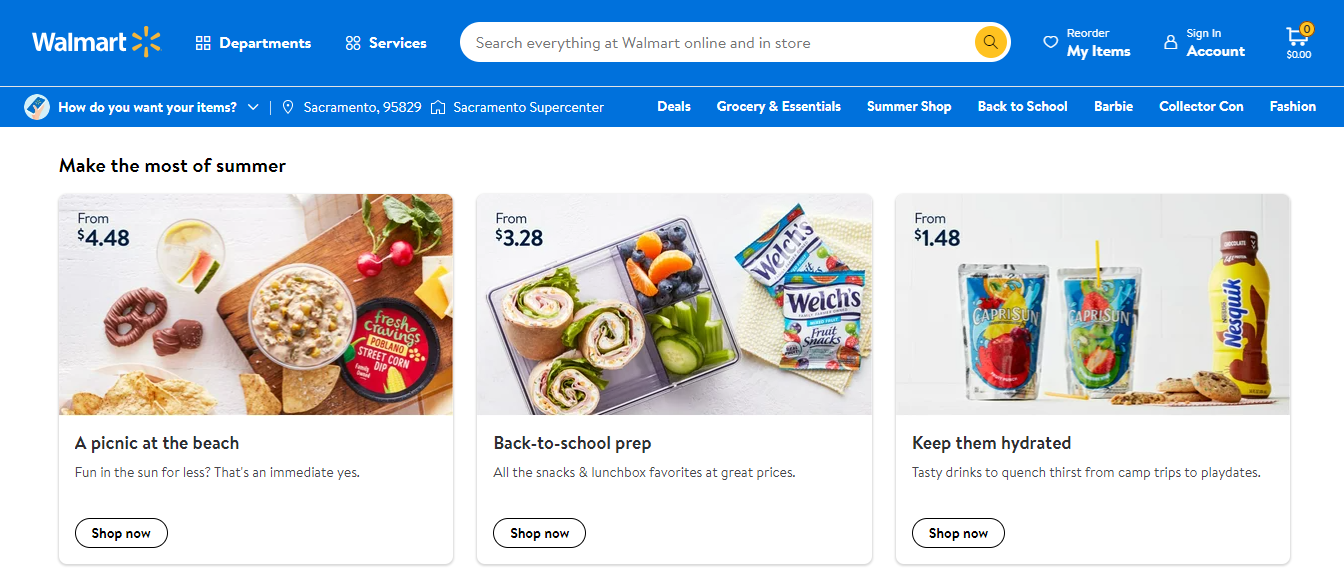 Walmart app became the top brand in grocery shopping as it surpassed Amazon both in google play and google store. Walmart uses all the AI high-tech machines to improve the services and make it easy for the customers. More than 200 mn customers do grocery shopping and purchase 15,000 different grocery products. So they get an idea regarding the consumers' preferences and their behaviors.
Instacart
Instacart helps people to do online grocery shopping through apps or websites. It is one of the most widely used grocery services in the USA. Instacart can deliver the orders to the customers within 5 hrs. Instacart has launched two new features, i.e., Fast and Flexible delivery and the order ahead feature. Local stores in the area can partner with instacart to deliver the goods to the customers. Instacart delivered the groceries to the millions of people in the covid pandemic.
Shipt
Shipt is an online grocery service headquarter situated in Birmingham, Alabama. The mission of this company is to bring things near to the customers through their trusted stores. Through Shipt, the store can access grocery products and other household essential items.
Target
Target is an online grocery service with 15,000 stores all over the USA. Target's online company sells all the perishables and dairy products along with the grocery items. The cold storage facility is also there in the stores for storing the cold foods. It has reached the target of covering the 85% area of the region where the people stay. Today Target company has more than 2,50,000 grocery items.
Kroger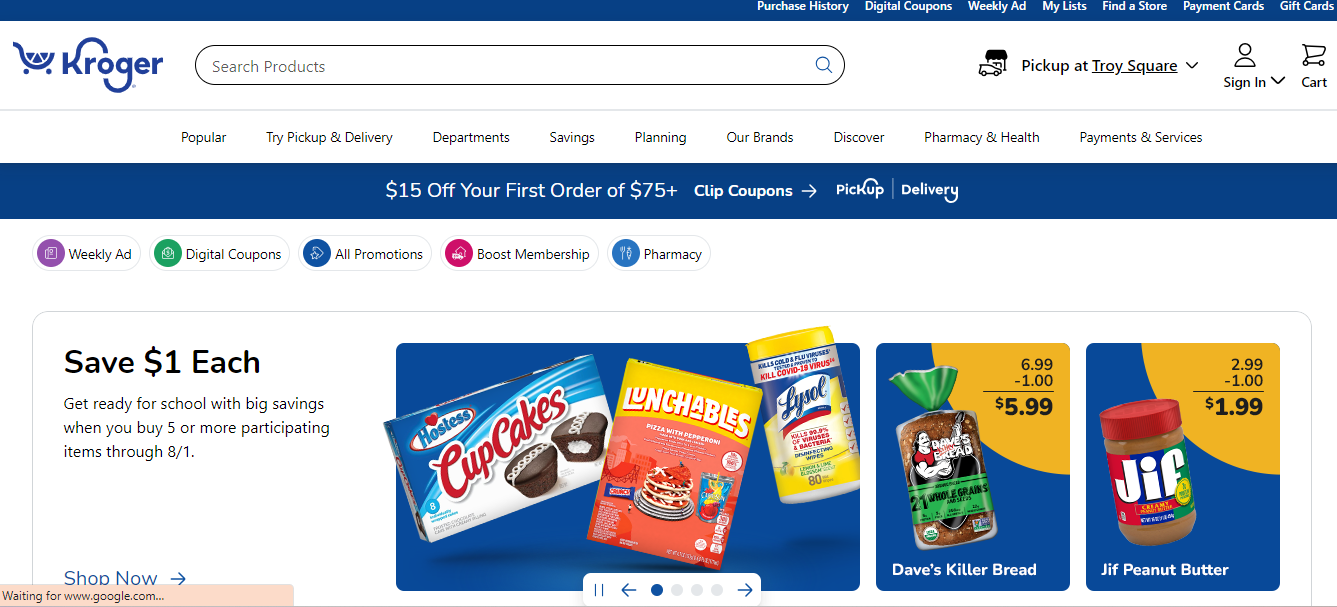 Krogers is also one of the online grocery delivery services. The company has a mission to become a leader in distributing food and other grocery items. Many different suppliers and retailers are connected with it. They offer the services in 1hr. In the pandemic, contactless delivery is provided to millions of customers by Kroger. Using the app, the customer can track the order and communicate with him at every step.
Amazon Fresh
Amazon Fresh grocery store is available in more than 300 cities in India. The online store has a wide range of grocery products. The delivery options are very convenient, and the prices are very affordable. Amazon Fresh has integrated with numerous stores and pantries and is committed to offering the high-level shopping experience of buying grocery products and other household essentials. The company has provided various offers to customers, which helps people to save money through online shopping. Amazon Fresh has launched the e-commerce app on the google play store. It has provided various features to make the shopping convenient and app easy to operate for the users.
Whole Food Market
Whole Foods Market has launched an online grocery service. It is the parent company of Amazon. After seeing the high scope of this type of business. The whole food market has launched in 4 metropolitan cities of India customers of the amazon prime membership. The company has covered a few cities in the USA.
The company has a variety of organic and other natural products of various dietary preferences.
Safeway
Safeway is one of the oldest supply chain markets. They Offer grocery items and other floral and Starbucks coffee they also deliver. The stores of these companies are primarily situated in the western USA region. The headquarters are located in California. They also offer organic products, other fruits and vegetables, and grocery items. The company has expanded in other countries like Canada, Saudi Arabia. With the adoption of AI-based and other Machine learning technologies, the services have become much more effective.
Fresh Direct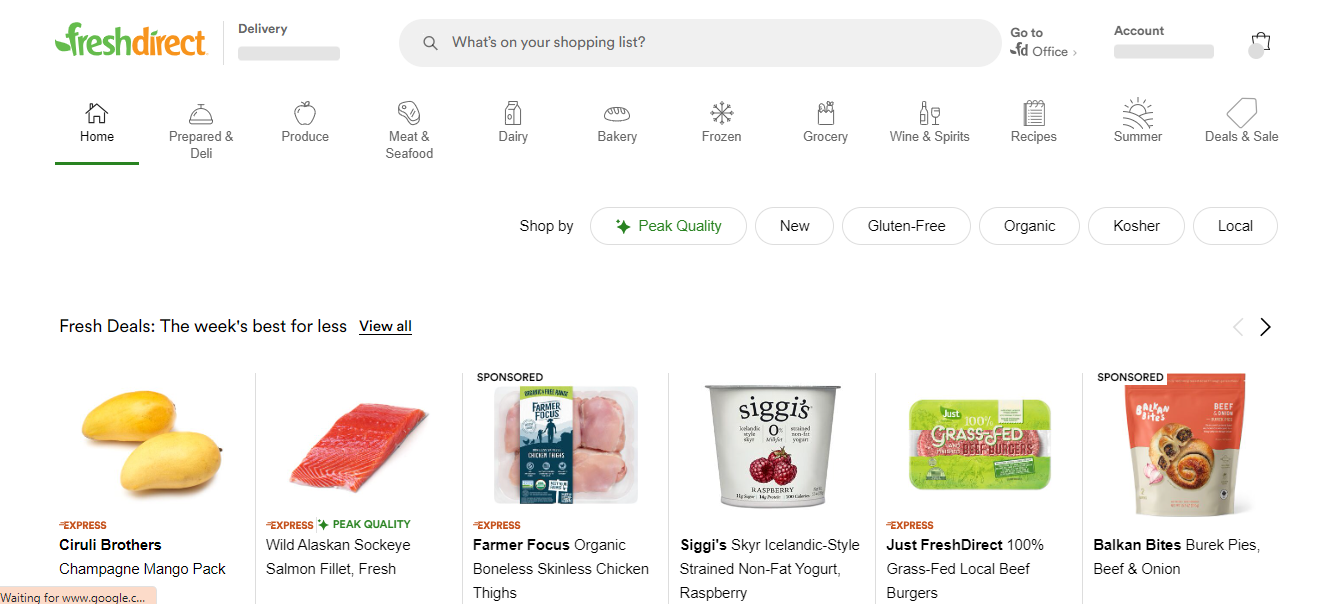 Fresh Direct store established in New York, USA. An online grocery store provides grocery products and meals with quality packaging that reduces wastes and maintains freshness. To minimize travel time, the company sells the products from farms to the doorstep. Organic products and other local farm items are delivered to the given address. Fresh Direct uses high-tech software which manages thousands of orders single-handedly, and they are active 24/7. They have a high-quality storage facility. Products of the orders are scanned before the departure of the order. The vehicles used in the business activities are electric, CNG.
Publix
Publix is an online grocery store headquartered in Florida. The first online platform for selling groceries to customers started in 2001. It operates in the overall part of the USA. It employs around two mn people and has about 1281 retail stores. It is one of the largest employee grocery companies in the USA. Every store of Publix sells grocery items along with dairy products, kinds of seafood, etc. 90% of the stores also sell pharmacies. It is partnered with instacart in delivering grocery products. The stocks of the company Publix are private, and employees and governors own it. Publix has been listed in the Fortune 500.
Peapod
Peapod is an online grocery store that offers groceries of natural and organic products. The company Peapod has headquarters in Chicago. The facilities of the services are available in several parts of the USA. In 1996 the company launched its first website. It ranks 69th among the 500 Inc companies of fastest-growing private companies. In 2012 it launched an app for online grocery products. Recently Peapod has been focusing on the metro cities of the USA. It uses advanced software technology and high-tech devices to provide high-quality services to customers.
Thrive Market
Thrive Market is another online grocery store that sells products at a 20 to 25% discount. Thrive market store contains products of various famous brands. They have many varieties of organic products in their store. If someone finds protein-rich foods, healthy diets, and food items, they can consider visiting this company's website. The membership rates are very cheap, which helps save on buying grocery items. Along with the grocery, they have colossal meat and other seafood items options. Thrives Market launches various free campaigns for poor people in the USA.
Boxed
Boxed is an online grocery wholesale retailer that sells all the grocery-related products through a website and app. It was established in 2013, and the headquarters is located in New York. Boxed companies have many investors from the USA and other countries. The grocery company uses machine learning software, which helps the company's services effectively. This device helps to know the customers' preferences, and it all helps the company increase sales. The boxed company launched various campaigns; one such is for women. The company sells hygiene pads to women free of cost.
AppsRhino offers the best Tech-driven solutions for Home services, Laundry delivery, Alcohol delivery, Grocery Delivery, On-demand Cannabis, and Taxi Services:
The Perks of Using Grocery Delivery Apps
Effortless Browsing and Delivery Picture this: you're sitting on your cozy couch, scrolling through the grocery delivery app, and effortlessly exploring all the categories of products at your fingertips. It's like having a virtual store right in your living room! Once you've made your selections, just sit back and relax as your goodies are swiftly delivered right to your doorstep. No need to brave traffic or stand in long queues anymore – it's all taken care of!
Fast and Budget-friendly Deliveries Worried about waiting ages for your groceries? Fear not!

Grocery delivery apps

are all about speed, ensuring your orders reach you in a jiffy. Plus, they often offer affordable delivery options, making it easy on your wallet too. Quick and cost-effective – now that's a winning combo!
Discounts and Offers Galore Who doesn't love a good deal? With online grocery delivery apps, you're in for a treat! They love to spoil their customers with exciting discounts and special offers. So, keep an eye out for those money-saving deals – your wallet will thank you later!
Helpful Chatbots and AI Got questions? Don't worry, these apps have got your back! They've got nifty chatbots ready to answer your routine queries and clear any doubts you might have. And hey, with smart artificial intelligence handling routine tasks, the store employees have more time to focus on giving you top-notch customer service. It's a win-win!
A Rich and Seamless Experience Get ready to level up your grocery game! Grocery delivery apps are not just about delivering your shopping list; they're here to enrich your experience. You'll find detailed descriptions of products, handy tips, and a smooth shopping process that guides you every step of the way. It's like having a personal grocery guru right in your pocket!
Safety First: Contactless Deliveries Remember the post-Covid world? Grocery delivery apps have your back there too! They've implemented personal protection measures and adopted contactless delivery options for your safety and peace of mind. Safety first, always!
Top-notch Services: These apps are all about going the extra mile for their customers. Expect 24/7 delivery options, fresh groceries with every order, speedy deliveries, easy replacements, and hassle-free cancellations with quick refunds. They've got your satisfaction in mind!
How Grocery Delivery Apps Work
From Luxury to Mainstream
Not so long ago, grocery delivery was considered a luxury, only accessible to a select few with deep pockets. But when the pandemic shook the world, everything changed! Grocery delivery apps became a savior, attracting hordes of customers eager to order groceries online. And guess what? They're here to stay! It's the revolution we didn't know we needed.
Connecting Grocers and Shoppers
So, how do these nifty apps actually work? It's all about connecting the dots! Grocery delivery apps bring together three main players in this grocery shopping dance:
The Buyers: First things first – the shoppers! Buyers can easily log into the app and create their accounts. Once inside, they'll find a virtual paradise of groceries waiting for them in the product catalog. From fresh produce to pantry essentials, it's all at their fingertips! After adding items to their carts, they proceed with payment options like cash, cards, or online transactions. Easy peasy! Once the payment's done, they get a confirmation notification and, wait for it... real-time GPS tracking to keep tabs on their precious orders!
The Grocers: Let's not forget the amazing grocers behind the scenes. These superheroes offer a wide range of products and services. They showcase all the goodies they have in stock, even those temporarily out of reach. No worries, though – they let customers place future orders for those unavailable items. And hey, if something's not available, they've got your back with a prompt refund. Top-notch service, right?
The Admins: Here comes the secret sauce! The admins play a crucial role in making the magic happen. They skillfully manage both buyers and grocers, sort products into handy categories, process new orders, and keep everything running like clockwork. If any issues pop up, they swiftly handle customer refunds like pros!
A Seamless Shopping Experience
Thanks to these grocery delivery apps, shopping for groceries has never been smoother! They've taken the hassle out of the process, allowing buyers to explore a wide array of products and place orders with just a few taps. Plus, with real-time tracking, you can practically follow your order's journey to your doorstep – talk about excitement!
Conclusion
The established companies we have discussed. Few have started their services long back. They have expanded their services, but their sales in recent years are fascinating. They have experimented with a few things to remain competitive in the market. They used various strategies to attract users. They have improved their services and utilize multiple loyalty programs to retain their customers. Every online grocery company has a different vision and purpose. These companies follow different business models and establish their uniqueness in the market.
Every online grocery company has a different vision and purpose. The market has a huge potential and rewards the most efficient ones. With a m=nojir boom in the market and still a lot of penetration to be achieved, there is a lot of scope for newer players to make their mark and the older ones to consolidate their positions.
Frequently Asked Questions
What are grocery delivery services, and how do they work?
Grocery delivery services are online platforms that enable customers to order groceries from the comfort of their homes. Customers can browse through a wide selection of products, add items to their virtual carts, select a suitable delivery time, and complete the order by making payment through various accepted methods.
Which areas do these grocery delivery services cover?
The top grocery delivery services generally have extensive coverage, serving customers in many regions. However, the availability of services may vary depending on the location.
Can I schedule my grocery deliveries in advance?
Absolutely! Most grocery delivery services offer advanced scheduling options, allowing customers to pick specific delivery time slots that align with their convenience.
Do these services offer fresh produce and perishable items?
Yes, reputable grocery delivery services take special care to provide fresh produce, including fruits, vegetables, dairy, and meats, ensuring high-quality items are delivered to customers.
What payment methods are accepted by these services?
Customers can typically pay for their orders using credit/debit cards, mobile payment options, and sometimes cash on delivery, providing flexibility in payment.
Is there a minimum order requirement for delivery?
Some grocery delivery services may have minimum order requirements to be eligible for delivery. These minimum amounts may vary depending on the service and location
Can I track the status of my grocery delivery?
Certainly! Order tracking features are commonly available, enabling customers to monitor their deliveries in real-time and receive updates on their orders' progress.
How much does the delivery cost?
Delivery fees may differ among services, based on factors such as the size of the order and the delivery location. Some services may offer free delivery for orders exceeding a certain amount.
Are there any additional fees or service charges?
While the delivery fee is standard, some grocery delivery platforms may apply service charges or suggest optional tips for the delivery personnel, so it's essential to review the terms before finalizing the order.
Are there any perks or loyalty programs for regular customers?
Yes, many grocery delivery services offer loyalty programs, discounts, or exclusive deals for their regular customers, providing added benefits for frequent shoppers.