On-demand grocery delivery apps proved to be a silver lining during the dark and crucial months when coronavirus devastated the global economic order. Customers could not visit stores, and both demand and supply of goods and services fell considerably.
People moving out of their homes became a rare sight, and business activities across the globe were shattered. Customers had to struggle a lot to fulfill even their basic needs of groceries and other essential items.
On-demand grocery delivery solutions developed a new space for the grocery segment, which gave rise to innovative trends. Many startups and small enterprises saw this as an attractive opportunity to make profits. They shifted their businesses online by developing their on-demand delivery apps.
These delivery apps have proved to be very convenient for ordering groceries and have reached out to a large audience. This article will give you an overview of these apps, discuss some grocery delivery apps, how they cater to a large audience, and their advantages. So let us get started!
How on-demand grocery delivery apps have reached out to more customers?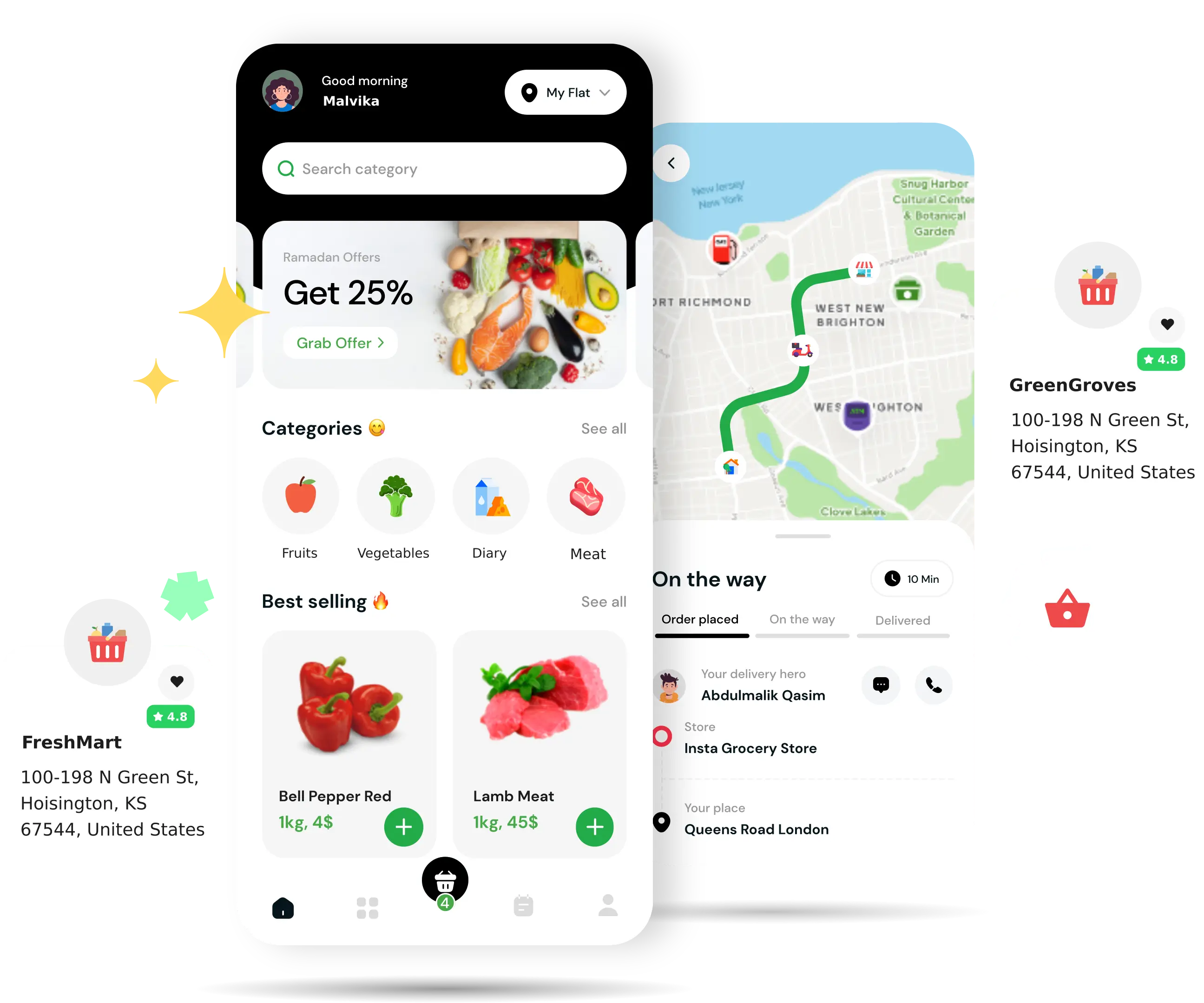 They help create your brand
To be a great business brand ruling the hearts of your customers, gain their trust, and provide them reliable and affordable services. It will make them come back to your app, and they will also promote it among other people.
Through on-demand delivery apps, customers have the freedom to order their products around the clock, and the apps can entertain these orders at any time of the day.
The apps can also enable in-app notifications to keep their customers updated about their orders and deliveries. These features provide great convenience to the customers and create a good image of your business in their minds.
Cashless deliveries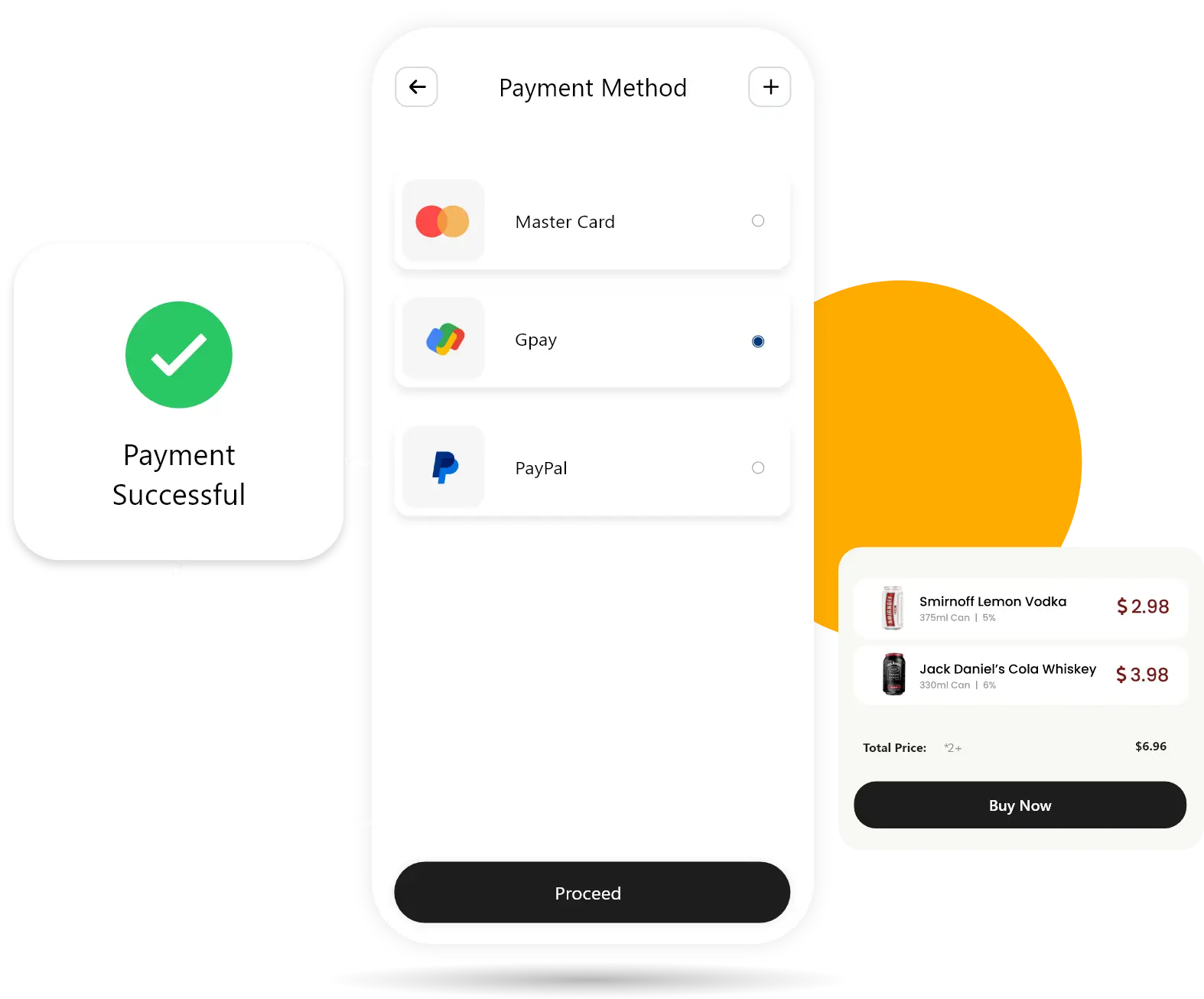 As economies are going cashless and shifting to online modes of transaction, people are more comfortable with transactions that do not require cash exchange.
During the pandemic as well, people avoided cash transactions to avoid touch and practice social distancing.
Contactless delivery systems are becoming the new mode of transaction and let buyers make payments through multiple digital methods without worrying about carrying cash in their wallets.
Online payments are also straightforward, easy to use, and are more safe and secure to use when compared to cash payment methods.
Real-time tracking
It is an essential feature of on-demand delivery app systems. It has helped the apps reach a large number of audiences by gaining their trust. Real-time tracking helps the customers to track and monitor their order deliveries.
This feature allows customers to get their deliveries quickly by assigning the correct number of orders to the drivers and delivering all orders from the same region together.
The owners also benefit from this as they can manage their grocery stores in a better way by tracking their drivers and keeping a record of the deliveries.
Seamless business management
The Admin panel helps on-demand grocery delivery apps full of features help owners and the staff to manage their business of orders and deliveries efficiently. It is loaded with data and provides essential metrics to the owners to operate their business model carefully.
The Admin panel also keeps a record of the stocks and manages the stock status so that the goods can be managed well; their inventories can be replenished timely. Customers never have to wait due to the unavailability of certain products.
Track deliveries in real-time
Customers can place their orders and then track their delivery from the comforts of their homes.
Sitting on their couches, customers can track if their order has been accepted, packed, being transported, and how long it would take to reach their doorstep. They are updated about the complete status of their order.
Some apps also provide an estimated delivery time; customers can customize the delivery time to suit their needs and information on their order status.
Suggested Reading:

Personalized offers
To understand what the customers desire and what they want to buy, it is essential to know how they make decisions while purchasing products.
Buyers are affected by different cultural, regional, social, individual, and psychological factors which shape their chives and preferences. When the app can delve into these factors, it becomes easy to know the customer preferences and provide personalized offers to their users.
But how to know these factors? The simplest way is to track the users' browsed products and the previous purchases made by them. Lucrative schemes and discounts attract a large gathering of customers. The apps can retain the old customers and also attract new people.
Apps can also spread the word about discounts and offers through in-app notifications, emails, messages, and social media platforms to attract the attention of potential customers. This helps extend the app's reach and increases the number of people who would download the app.
Elaborate product catalogs
The 'Smart Search' feature of the on-demand grocery delivery apps provides an elaborate catalog of the products available on the app.
Customers can easily browse through the products. For their ease and convenience, apps also offer filter and sorting options to make the search more skewed, suiting the customers' requirements.
This gives a better and more personalized ordering experience to the customers. It lays a good impression on the customers and increases the popularity of the app in the market.
Grow your store offerings
Traditional grocery stores usually have limited products. They often run out of stock for products in popular demand or often do not have stocks of new products launched in the market.
To solve this problem of limited stocks and to reach out to more customers, developing a digital on-demand delivery system is the best way to resolve these problems.
Through online platforms, customers can find a wide range of products under a single roof. It saves their time and effort, reduces travel costs, and does not have to travel long distances to buy their stuff. Everything is available just a click away, and customers do not have to worry about anything.
And if you wish to build a grocery delivery app for your own business, then you can opt for AppsRhino- the home of custom mobile app development that caters to the needs of various industries: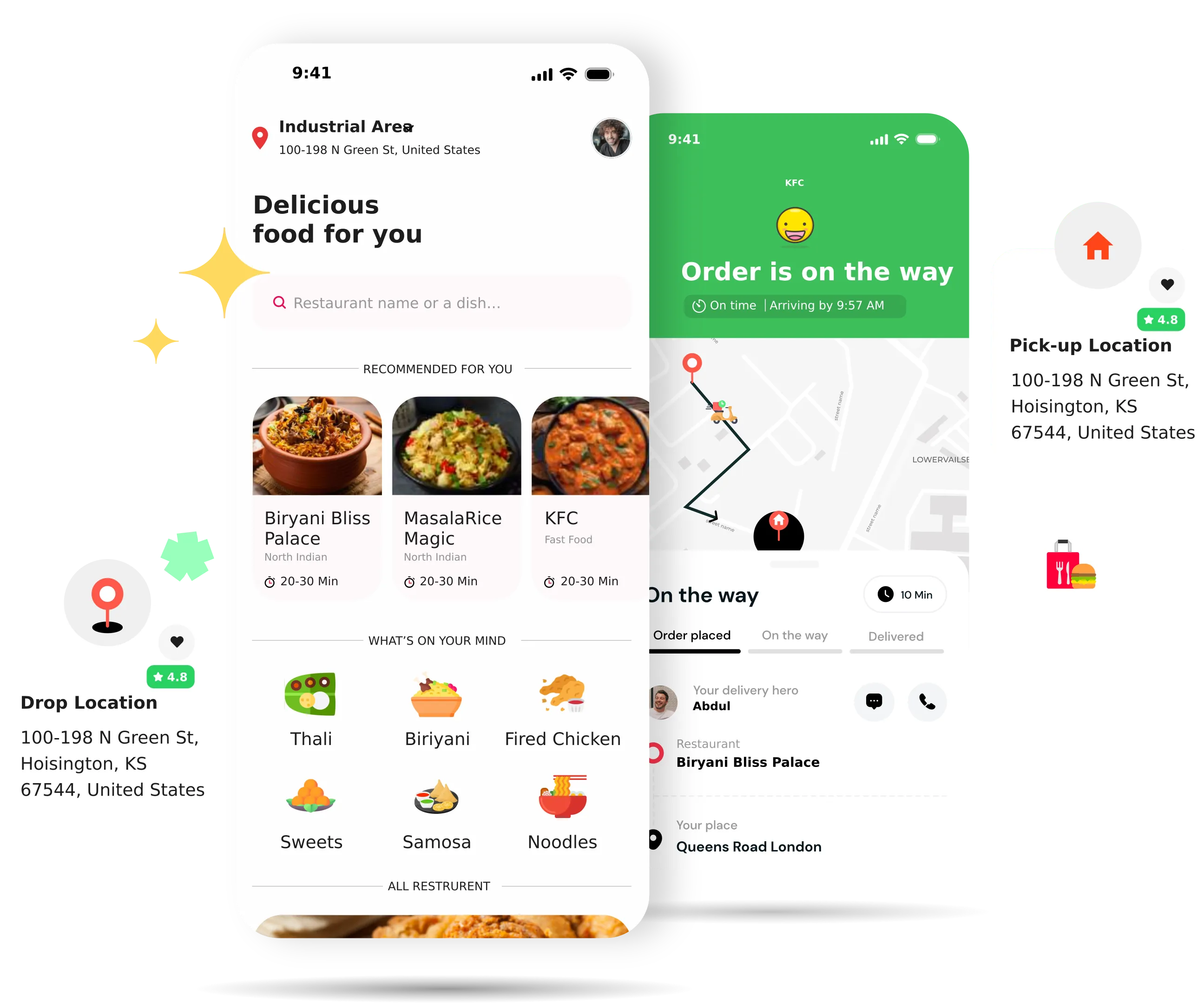 Some on-demand grocery delivery apps
One cart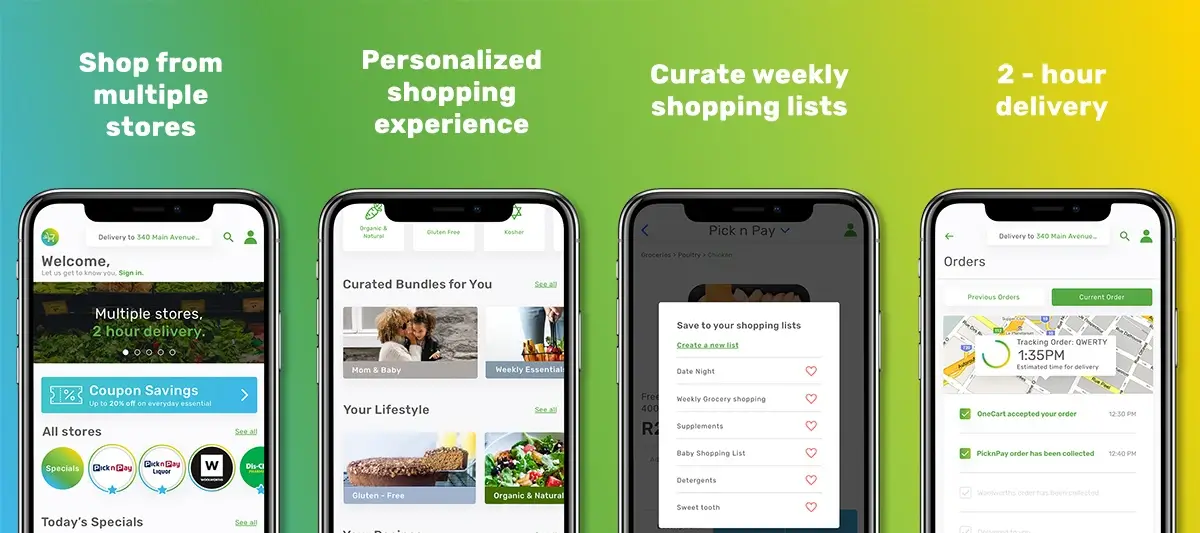 This on-demand grocery delivery app is based in Cape Town. Lynton Peters founded it. It has made customers' lives easier by connecting a large chain of grocery stores to its portal and delivering groceries at its customers' doorsteps.
The users can set their location, browse through various products and order them anytime through the app. At present, One cart is operational in more than 40+ locations and catering to more than 6000+ shoppers.
Zulzi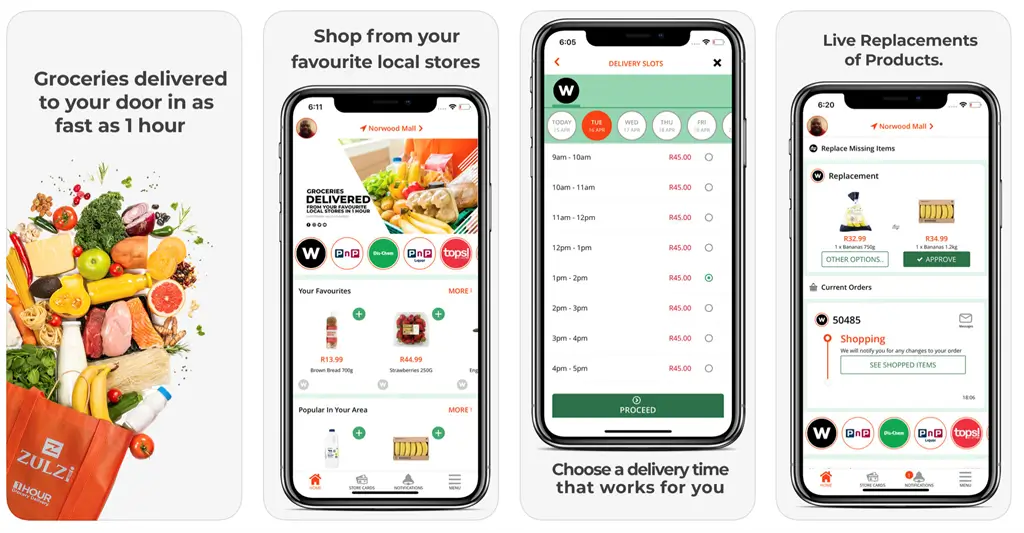 It was created in 2013 by Vutlharhi Valoyi. And It was launched in 2016. It is currently operational in Johannesburg.
The app allows customers to create their virtual shopping lists and prevents them from visiting the actual stores. This saves the traveling cost and also the precious time of the customers.
It was initially created to target students and help them access and order products directly through this on-demand delivery platform.
But with increasing demand and its convenient services, the platform was extended to incorporate a large number of audiences. Customers can now order their groceries sitting at their homes, and Zulzi will deliver these in no time.

Suggested Reading:

Woolworth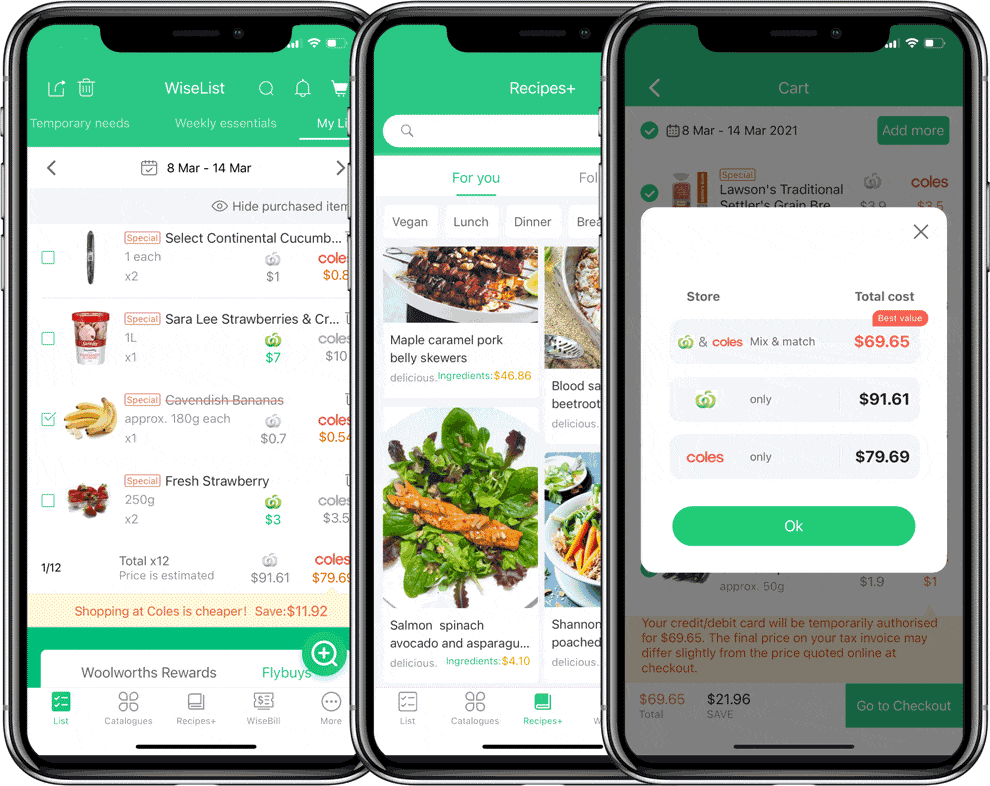 It was founded by Australian entrepreneurs in 1924. It has comprehensive coverage and caters to a substantial Australian population, covering around 80% of its market share.
Woolworth delivers grocery items and specializes in beauty products, health items, household goods, baby supplies, and much more.
Woolworths has ensured the availability of convenience stores for its customers close to cater to their demands efficiently and accurately. Woolworths has also taken an essential step of banning plastic bags at the time of the checkout process.
Yebo Fresh
Founded in 2018 in Cape Town by Jessica Boonstra. Yebo Fresh is an online on-demand grocery delivery app that caters to every customer's needs.
It has created a highly customized and personalized platform for its customers to locate and order products of their choice.
During the pandemic, Yebo Fresh expanded its business and reached customers across different countries. It has also tightened its grip in Cape Town markets and is in high demand and praise among the customers.
Conclusion
During the pandemic, strict lockdown restrictions and social distancing norms made it difficult for consumers to move out of their homes.
They were forced to shop for groceries. And other essential items online. Customers hesitantly shifted to online portals to buy their products and to cope up with the new normal situation.
The on-demand delivery system proved to be a great revolution in the way businesses are and will be conducted from now on. According to a report published by the BCG, the first-time users of on-demand delivery apps in the USA reached around 41%.
The grocery delivery services have remodeled the business scenario completely and it has witnessed a drastic growth in the last few years in general and 2020 in particular.
If you own an offline grocery and want to expand your business, then this is the best time to start a venture of yours by making a consumer-friendly grocery delivery app that has numerous advantages that will increase your popularity and help you gain a high ROI in a very short time.
AppsRhino is an on-demand mobile app provider that has delivered multiple grocery delivery apps across the globe.
Online delivery apps are not software, they are virtual marketplaces catering to the customers' needs and preferences. To be a part of this digital market and to make profits, launch your grocery delivery app now and start outsourcing your services to the people out there!
Frequently Asked Questions (FAQs)
Why are on-demand grocery delivery apps so popular among consumers?
On-demand grocery apps offer convenience, time-saving options, a wide variety of products, and doorstep delivery, catering to the fast-paced lifestyles of customers seeking efficient shopping experiences.
What sets on-demand grocery delivery apps apart from traditional shopping methods?
Unlike traditional shopping, these apps provide a seamless interface, personalized recommendations, quick reordering options, and 24/7 accessibility, enhancing convenience and efficiency for users.
How do on-demand grocery delivery apps ensure the freshness of products?
These apps often partner with local stores or dedicated fulfillment centers, employing strict quality control measures, efficient inventory management, and fast delivery to maintain the freshness of items.
What benefits do customers gain from using on-demand grocery delivery apps?
Customers enjoy time savings, reduced physical effort, access to exclusive deals/discounts, precise order tracking, and the flexibility to shop from anywhere at any time.
Do on-demand grocery delivery apps offer a wide range of product choices?
Yes, these apps typically feature a vast inventory of groceries, including fresh produce, pantry staples, specialty items, and even household essentials, meeting diverse customer needs.