Introduction
Look around, and you will find yourself in a world where new apps arise daily. We have apps for booking a doctor's appointment, booking a cab, ordering groceries, getting delicious meals at the end of a hectic day, etc.
Have you ever wondered why these businesses have an app in the first place?
The answer is- to stay in people's minds. Yes, when you have an app, people start recognizing you. You establish yourself as a brand. The same goes for grocery shopping. If your business has an app, you will see an influx of customers!
According to research, 6 percent of consumers have asserted that they have been ordering groceries online more than once a month.
A popular grocery delivery app named Instacart had 9.6 million active users in 2020. Those users bought items online more than once a month.
Another interesting fact is that around 70 percent of United States shoppers will buy groceries online by the end of 2022.
Is it, not great reading such marvelous numbers? You can also achieve such numbers for your venture by getting an excellent app for your business.
Now you might wonder how you can do so. The easiest way to get an excellent grocery delivery app is coming to AppsRhino. If you want to know more, read the blog below!
What is the best Grocery Delivery App?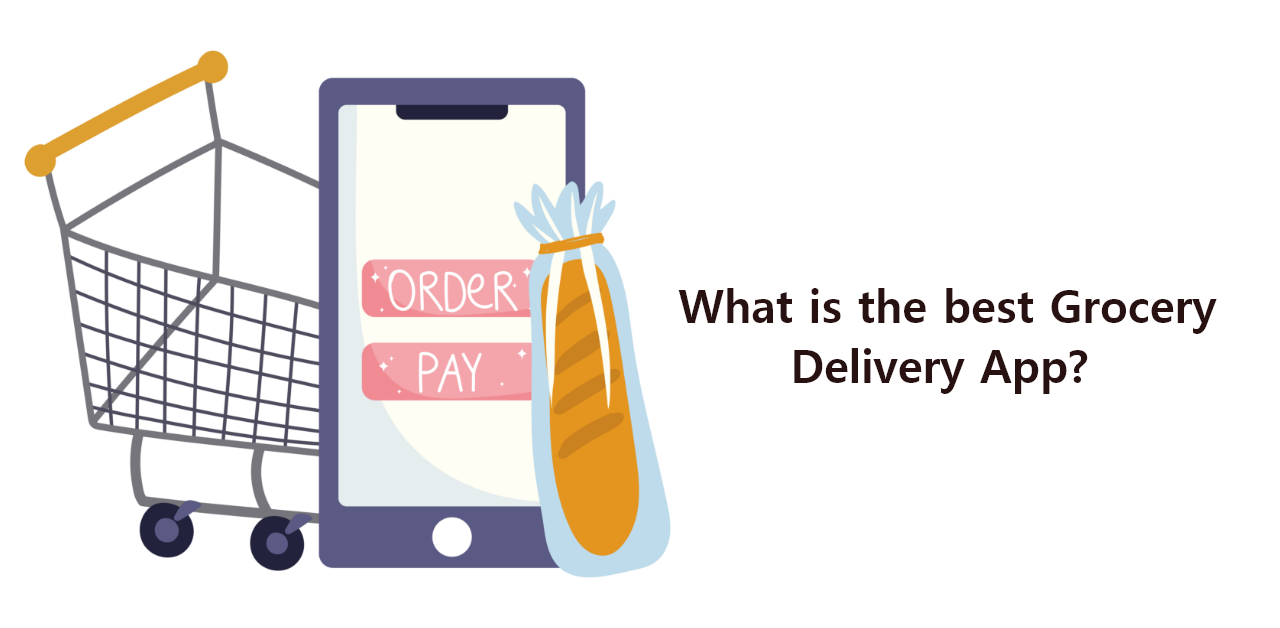 The best grocery app is the one that helps you grow as a business, caters to the needs of your staff and customers, and increases your reach and customer base. As our grocery delivery app developers know this, they ensure that the app we develop gives your customers the following.
Convenience
The first thing grocery delivery apps give your customers is convenience. Convenience means people won't have to stand in long queues at a grocery store. However, they can enjoy such convenience only when they find it easy to use your grocery delivery app.
Hence, our developers ensure that your app's interface is elegant and simple simultaneously.
Time saver
We know that people use grocery delivery apps to save time. After a grueling day at work, no one likes to go to grocery stores and stand in long queues after roaming every store aisle.
Thus, users love to go for grocery delivery apps to shop. And to increase your app's demand, we ensure the page load speed is high.

Money saver
Grocery delivery apps ensure that they stay relevant by rolling out various discounts, loyalty points, and programs. However, they impact users only when accompanied by exquisite app designs. Hence our developers keep in mind the designs that would attract users.
Shop for others easily
A good app also gives users the facility to order for their friends and family. Therefore, our grocery delivery app developers ensure that entering new data and retaining the actual user's data is hassle-free.
What are the different Grocery Delivery Apps available?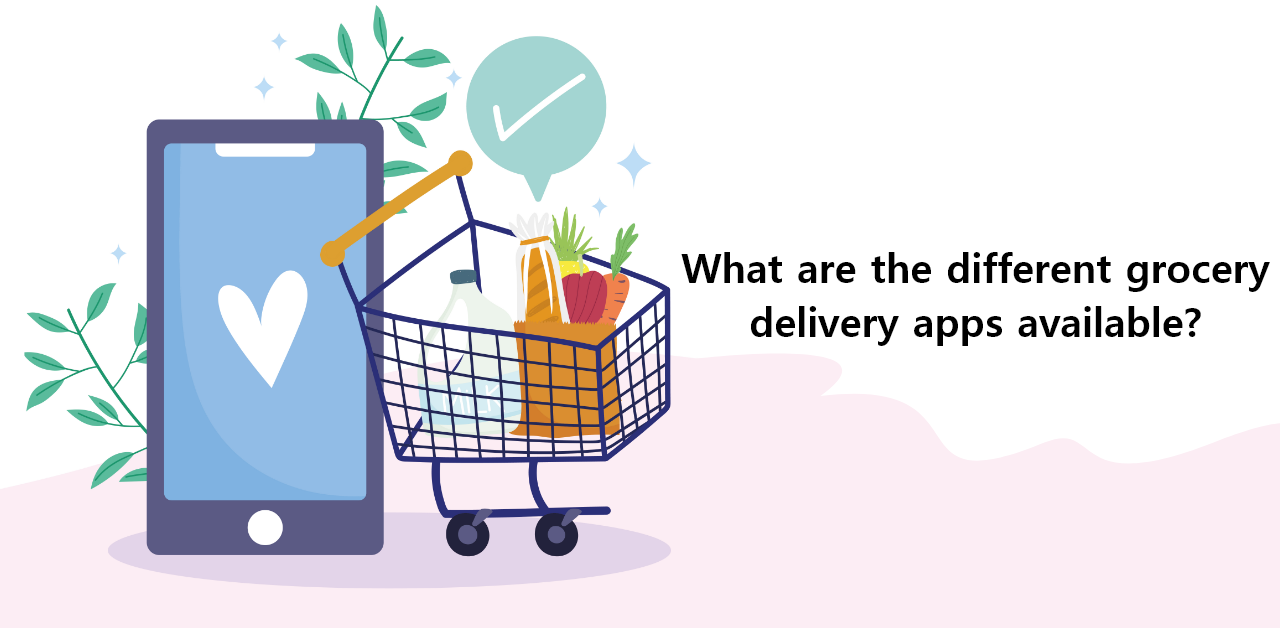 Before you decide anything further, you must first ensure the type of grocery delivery app you want to develop. Here we list the common categories or types of grocery delivery apps.
Our grocery delivery app developers can work on whatever type you want.
Aggregators
In this model, you list nearby grocery stores for your users, who select one based on the distance from their house. Users see an online model and add whatever they want to their cart. The quantity does not matter here. Once the user checks out the cart and makes the payment using the medium of their choice, they need to wait for the store to confirm their order.
Once confirmed, they can now track their order in real-time.
Marketplaces
This type of grocery store is similar to the previous one, with only one distinction. Here, the marketplace has a team of delivery agents to deliver groceries to people's houses.
Single stores
A single owner runs this form of grocery delivery app, commissioning their own branded app and overseeing everything from app maintenance to keeping an up-to-date version of their menu.
It is the onus of the grocery store owner to ensure that people receive their orders and pay in return.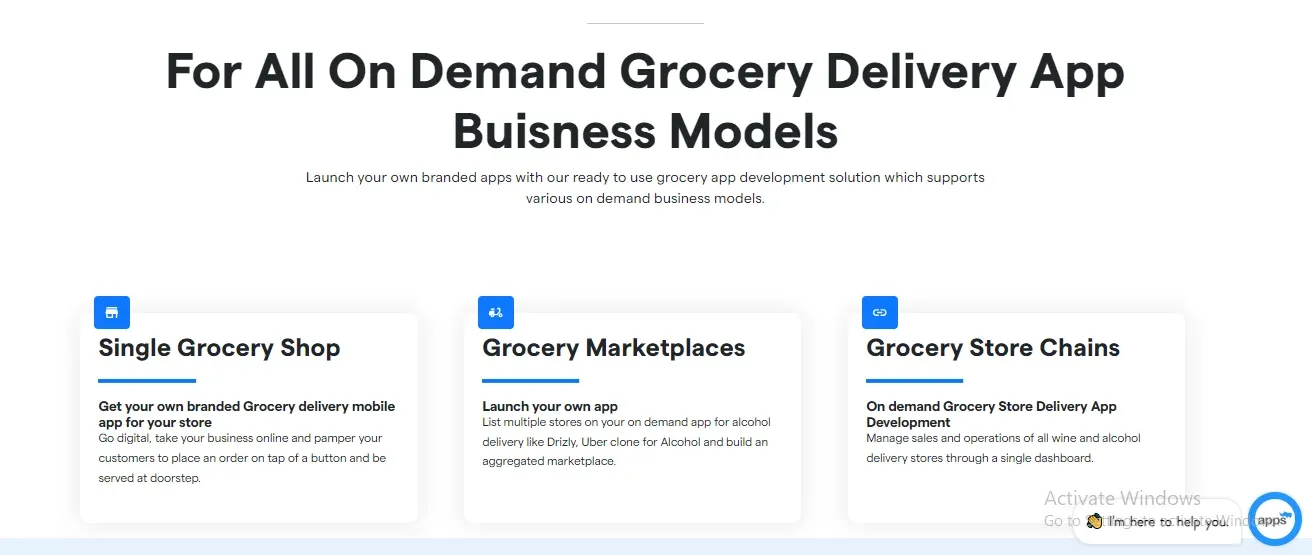 Grocery chains
In this, a grocery store has its own on-demand mobility solution. It is similar to a single store at micro-level operations.
Personalized Grocery apps
This grocery delivery app is developed for shoppers to help them plan their grocery shopping effectively. Such an app also lets them execute the following tasks:
Setting reminders

Creating a grocery list

Sharing grocery information with contacts.
You must first decide on the type of grocery delivery app you want to develop. The purpose of such an app is to simplify the overall process and provide comfort and a great user experience
Let us now see how our grocery delivery app developers go about developing your app.
AppsRhino offers the best Tech-driven solutions for Home services, Laundry delivery, Alcohol delivery, Grocery Delivery, Food Delivery, and Taxi Services: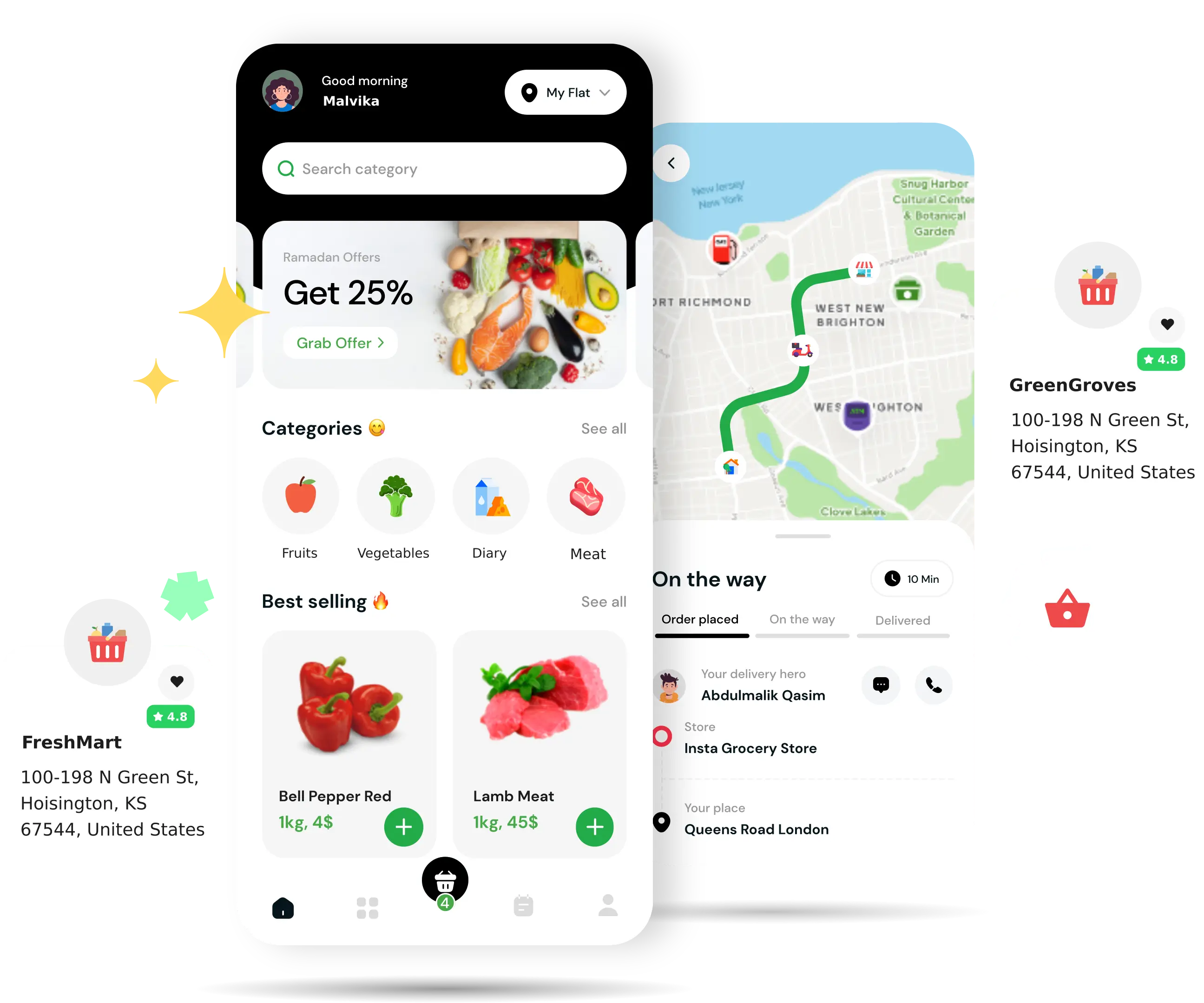 What are the features to include in a Grocery Delivery App?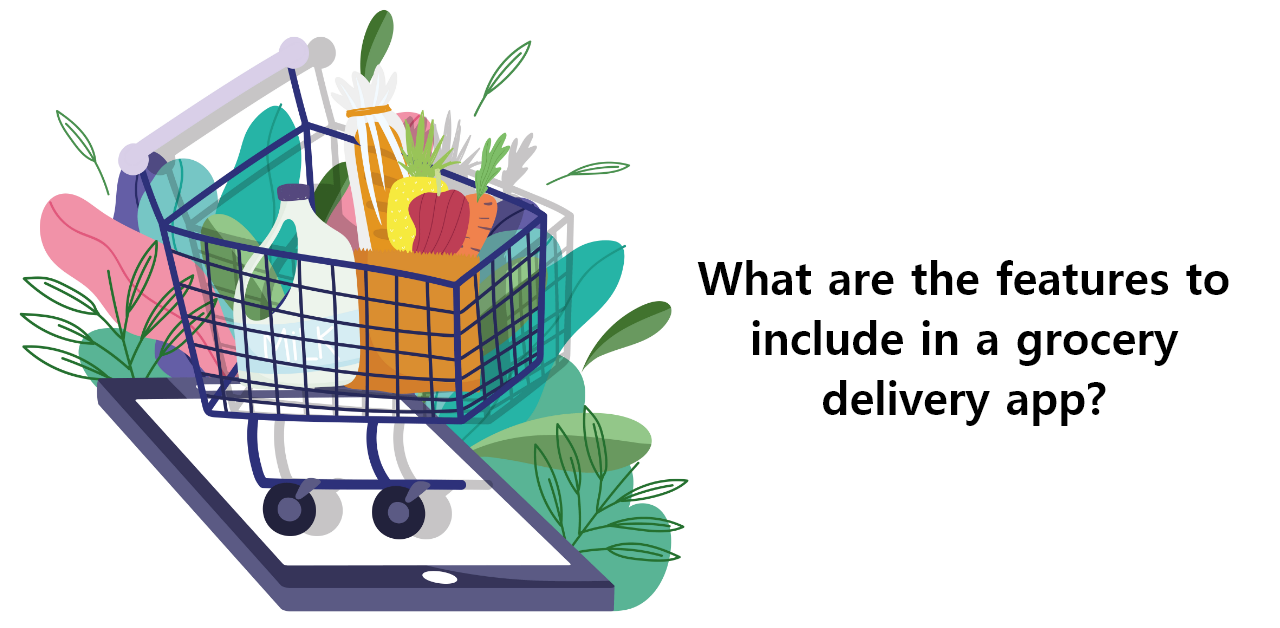 Features are the make-it-or-break-it factor of any app you have on the market today. Although a grocery delivery app has a set of features that qualify it for its role, adding one or two extra features that none of its rivals offer is always beneficial.
Since every on-demand app needs to know who the app's owner is, your grocery delivery app will also require the same.
Our grocery delivery app developers ensure that your app has the following to identify the person ordering groceries.
A sign-up page

A sign-in page

A user profile

A forget your password page

A Facebook login page

A page to edit profiles

A page to verify their phone number and email
We add the following features to your app to learn the customer's demands and how they would like to pay for their orders.
An order menu.

A search bar to look for products

Search filters to facilitate shopping

Search suggestions

A counter to keep track of the item quantity

A shopping cart

A checkout page

A page where users can see various discount coupons and programs

Various payment gateways
Our grocery delivery app developers include the following things to know where your customers want their orders delivered.
Customer's location

Address Search

Switch delivery location

Set some addresses to favorites

A feature that lets users pin addresses on the map.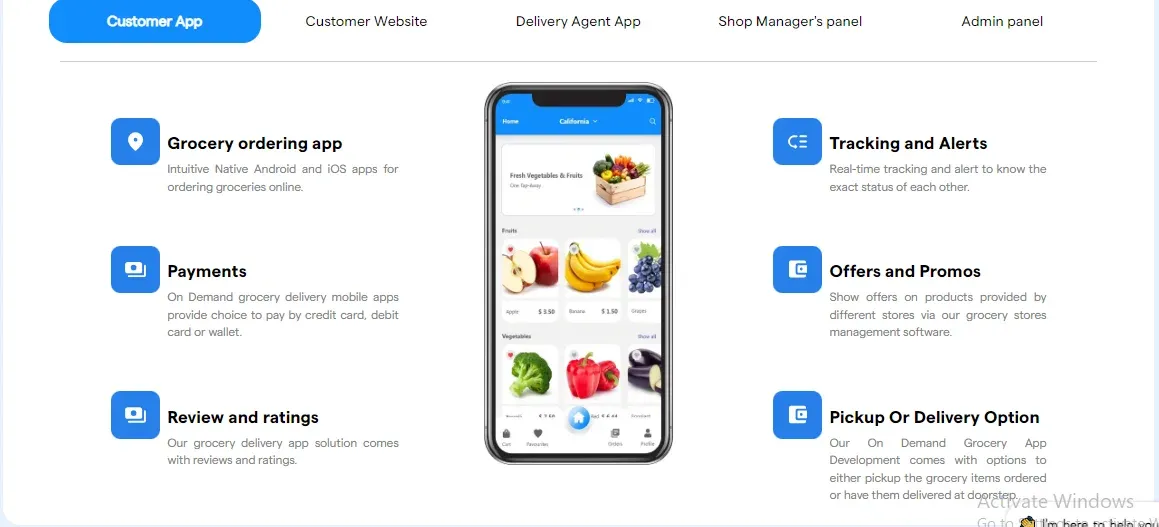 Our grocery delivery app developers add the following features to your app to know when your customers want to receive their orders.
You can have a feature:
that lets them pick a time slot

to use express delivery

to track their delivery agents

to contact the delivery person

to cancel orders
Our developers add the following features to your grocery delivery app to receive feedback from your customers to help you work upon the pitfalls.
You can have a feature:
to rate your services

to rate delivery agents

to rate your product quality

to write reviews and send them to you

to let your customers contact you for help and support.
How to build a food and Grocery Delivery App?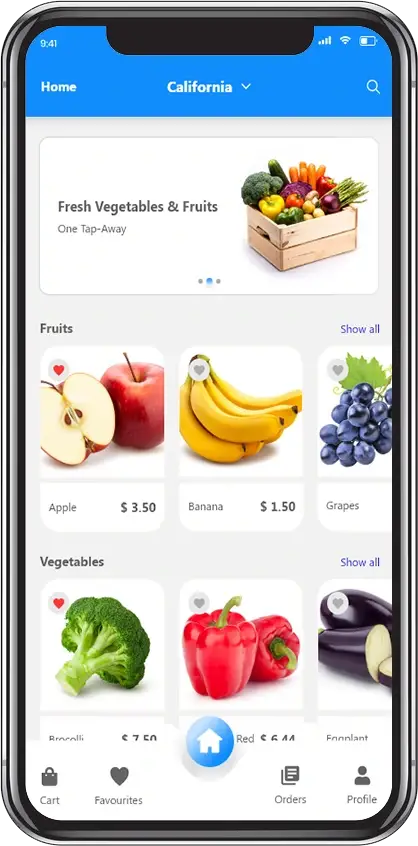 You can build a grocery delivery app in the following steps.
Concept and objective
The first step is to create a concept and analyze your grocery delivery app's objective. It would help if you thought of your target audience, the app type you intend to develop, what services the app will provide to people, etc.
As you find the answers to these questions, you will also realize the technology stack you need for grocery delivery app development. Simultaneously, you will discover the period in which you can complete the app development process. Besides this, you will also understand how many human resources you will require.
Thus, this stage requires you to examine your rivals' apps and understand how they work and why they are successful or a dud.
Wireframes and prototypes
You need to focus on your UX/UI design at this stage. It will be easier to do so as you have already made a roadmap for your grocery delivery app.
Also, creating user stories and flows will be easier as you have already analyzed your target audience, their requirements, pain points, etc.
When you design your wireframes and prototypes, you also develop the visual side of your apps. Later, check whether you want to change something before you commence the development process.
It is advisable to keep polishing your designs until you feel satisfied.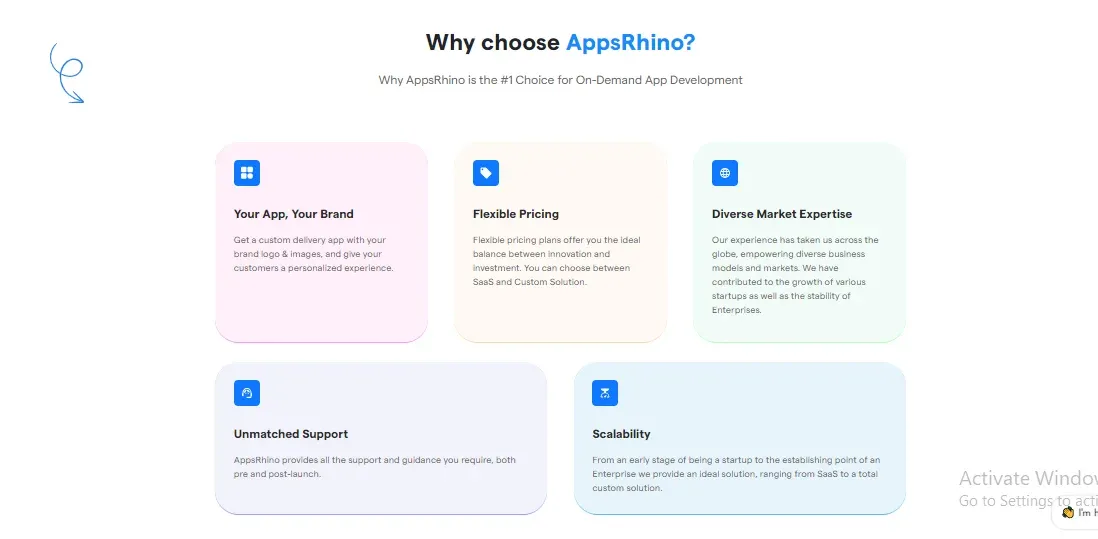 Development
At this stage, our coders will translate our UI/UX team's designs into reality during the iterative development process. They will develop every part of your app's functionality. The resultant will be tested by our Quality Assurance team later.
Testing
When the grocery delivery app is ready, it is tested by quality assurance testers in the final stage of the development process. Our QA testers perform the following tests:
Acceptance testing

Unit testing

System testing

Integration testing
Launching
The final stage of your grocery delivery app development is maintenance and launching. Once you check your grocery delivery app and ensure it works well, you can launch it on the marketplace of your preference.
Once you roll it out, you must seek people's feedback and see what you can improve. Also, you should update your grocery delivery app after every few months!
Suggested Reading:
7 Reasons why a Grocery Delivery App is necessary for your Offline Store

Conclusion
Reading this guide might have helped you immensely as it tells you the various types of grocery delivery apps that you can develop. Before you commence any development process, you must decide on your app type.
Another thing you might be oblivious of is how crucial it is to get the right technology partner. It is one of the common reasons why several grocery delivery apps do not get successful. Suppose you are using an app that does not function properly.
It functions for a minute and then stops working, and you need to open it again. In that case, you will obviously want to go for its alternative.
The same is the case with your audience. If your app does not suit your audience, they will hop on to its alternative. Thus, choosing the right technology partner is very significant.
If you are an entrepreneur in need of a grocery delivery app to boost your sales, you can come to AppsRhino to make your dream a reality!
Frequently Asked Questions (FAQs)
Are AppsRhino's grocery apps customizable to my unique business requirements?
Yes, AppsRhino offers fully customizable grocery apps, allowing you to incorporate your branding elements and tailor the app functionalities to match your specific business processes.
Can AppsRhino integrate essential features like real-time inventory tracking and payment gateways in my grocery app?
Absolutely! AppsRhino specializes in integrating cutting-edge features like real-time inventory tracking and secure payment gateways to ensure a seamless shopping experience for your customers.
Can AppsRhino integrate third-party APIs into the app?
Yes, AppsRhino can seamlessly integrate various third-party APIs like location services, inventory management, and analytics tools, enhancing the functionality of your grocery app.
How can I get started with grocery app development with AppsRhino?
To get started with grocery app development with AppsRhino, simply contact their sales team. They will be happy to answer any questions you have and help you get started on your project.