Introduction
Over time, mobile technology has gained popularity and made significant progress in the retail industry. With the rise of internet usage and eCommerce apps, more people turn to the internet to shop for clothes, pay bills, learn new skills, and buy home items and groceries. E-commerce smartphone apps are increasing at an incredible clip these days, and grocery-related apps follow suit.
Grocery delivery apps: A true boon to online grocery shoppers
People who use supermarket delivery apps with tap-and-collect capabilities, several payment choices, and same-day on-door deliveries have put brick-and-mortar out of business. Furthermore, on-demand grocery delivery apps make shopping more accessible and convenient for customers. Still, they also assist businesses in increasing brand awareness and customer loyalty. Many companies consider opening an online grocery store or developing their grocery delivery apps.
Summary
The supermarket industry is currently experiencing rapid growth, and there are numerous prospects to succeed. Traditional grocery supply networks are being tested in new ways due to the COVID-19 problem. Malls, grocery stores, and supermarkets are all shuttered. Developing a supermarket delivery app is a must in these challenging times. In this blog, we have discussed the best way to make a good grocery delivery app by covering:
Grocery ordering app must-have features for buyers
Simple registration process
Improved product research
Personalized wishlist
Cart sharing
Recommended products
Order and delivery status
Multiple payment methods
Voice search
Grocery delivery app must-have features for the app
Hassle-free registration
Management of profiles
Wallet administration
Order processing
Geographic location
History of the delivery
Business model to create a good grocery delivery app
Create your own branded grocery delivery app for a single grocery store
Get your market platform
On-demand grocery store chains
Five steps to make an app for grocery delivery?
Choose a business model
Examine the main concept
UI/UX design
Create
Retain
Grocery Ordering App Must-Have Features (Buyer App)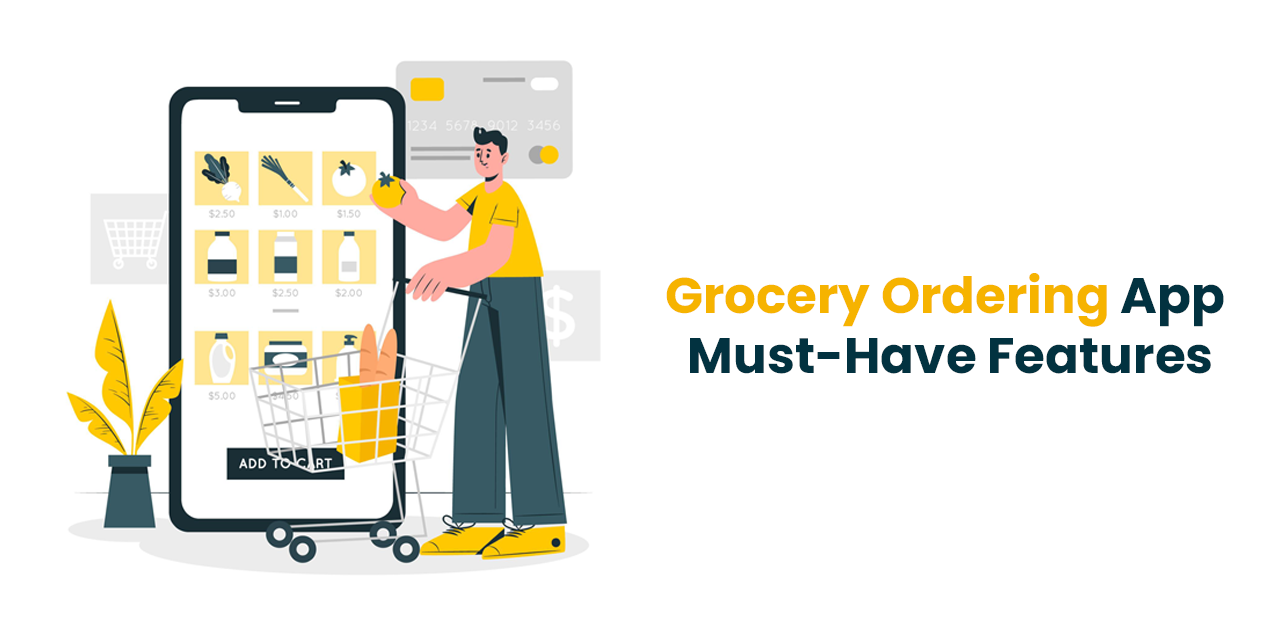 Customers can order goods without leaving their houses using a grocery ordering app. These apps make online grocery shopping a great experience for all customers. They can shop for groceries online and have them delivered to their homes at their convenience using a grocery buyer app. A grocery shopping app should have the following features:
Registration Made Simple
The registration process should be straightforward and straightforward. Giving clients fast access to numerous social media profiles could be a terrific way to keep them and attract new visits.
Product Search Improved
Intelligent search should integrate into your on-demand grocery app. It will allow customers to identify desired items using precise keywords without navigating the entire app.
Wishlist
This tool allows customers to save items for later purchases. Customers can add groceries to their wishlist and then purchase them later.
Sharing a Cart
It's a fantastic feature for improving cart value and decreasing cart abandonment. Customers can use the cart sharing tool to share their shopping carts with their friends and family.
Recommended products
This feature will show a recommended product list based on the user's past search preferences. Furthermore, delivering targeted product recommendations could significantly help your online store's average order value rise.
Comparing Prices
Another must-have feature of a grocery shopping app is comparing prices between brands for identical products. Customers can compare similar effects without having to exit the app.
BOPIS (Buy Online, Pickup In-Store) is a self-pickup option
This function, also known as click and collect, allows customers to place an order online and set a pick-up time that is convenient for them.
Order and Delivery Status
This real-time tracking function will keep users informed about their order status, from order dispatch to projected delivery time.
Multilingual Capability
Including a bilingual function in your grocery shopping app will help you reach a wider audience and stay ahead of the competition.
Repeat orders
It will assist your supermarket shoppers in swiftly selecting commonly utilized items from their buy history.
Voice search
Including voice search in your grocery shopping app could improve the user experience significantly. Users will be able to place orders or search for products using voice commands.
Scheduler for Deliveries
It allows users to plan their deliveries ahead of time at their leisure. Consumers can choose a delivery date for their product during the checkout process.
Push notifications
It's a terrific way to boost client engagement and encourage the app usage. You may use push notifications to keep your clients informed about flash sales, continuing deals and discounts, etc.
Various Payment Methods
Include several payment methods in your grocery app. Options like cash on delivery, credit and debit cards, digital wallets, and net banking will make your consumers feel at ease. It will make payments easy and quick.
Rewards & Coupon Codes
The majority of clients are constantly searching for discounts and special offers. As a result, combining discount coupon codes with loyalty reward schemes will increase customer engagement and motivate them to make additional purchases.
Checkout is simple
This functionality is critical for providing customers with a great shopping experience. Users can place an order in just a few simple steps, which will enhance conversion rates.
Reviews and Ratings
Customers can share their shopping and browsing experiences through review and rating systems. This functionality will be essential in establishing customer trust.
Grocery Delivery App Must-Have Features (Delivery App)
A Grocery Delivery Boy app makes the grocery delivery procedure easier for all delivery boys and ensures on-time deliveries. Consider the following functionalities of a grocery delivery app:
No-hassle registration
The delivery kid can sign up for the grocery delivery app by providing basic information such as his name, email address, and phone number. Once the delivery boy has registered, he can use his login and password/OTP to log into the app at any time. You may also incorporate social network profiles to provide users with fast access to the app.
Management of Profiles
This tool will aid delivery boys in effectively managing their profiles. They can quickly update their profile by adding personal information, a profile photo, and bank account information.
Wallet Administration
Drivers will be able to manage all of their payments and virtual credits using Wallet administration. It also allows a delivery boy to check and manage withdrawal requests.
Order Processing
The delivery agent will be able to see how many orders have been placed, track their progress, and accept or reject orders.
Notification through Emails
When the order is out for delivery, these notifications will appear on the customer's smartphone. This function will send order status emails, cancellation emails, funds, replacement requests emails, withdrawal request emails, gift card emails, share-earn emails, and so on to buyers, vendors, and delivery guys.
Geographical Location
A must-have feature lets the delivery boy get the customer's location using GPS. Using route optimization, the delivery boy can determine the optimal route suggestions to make many deliveries easier.
History of Delivery
The delivery boy can view his order delivery history and how many orders he has delivered in a day, and the total amount of order requests received to date.
Status of Earnings
This tool will make it easier for delivery drivers to track their earnings. Furthermore, delivery guys will be able to deposit their profits into their bank accounts whenever they want.
Business model to create a grocery delivery app.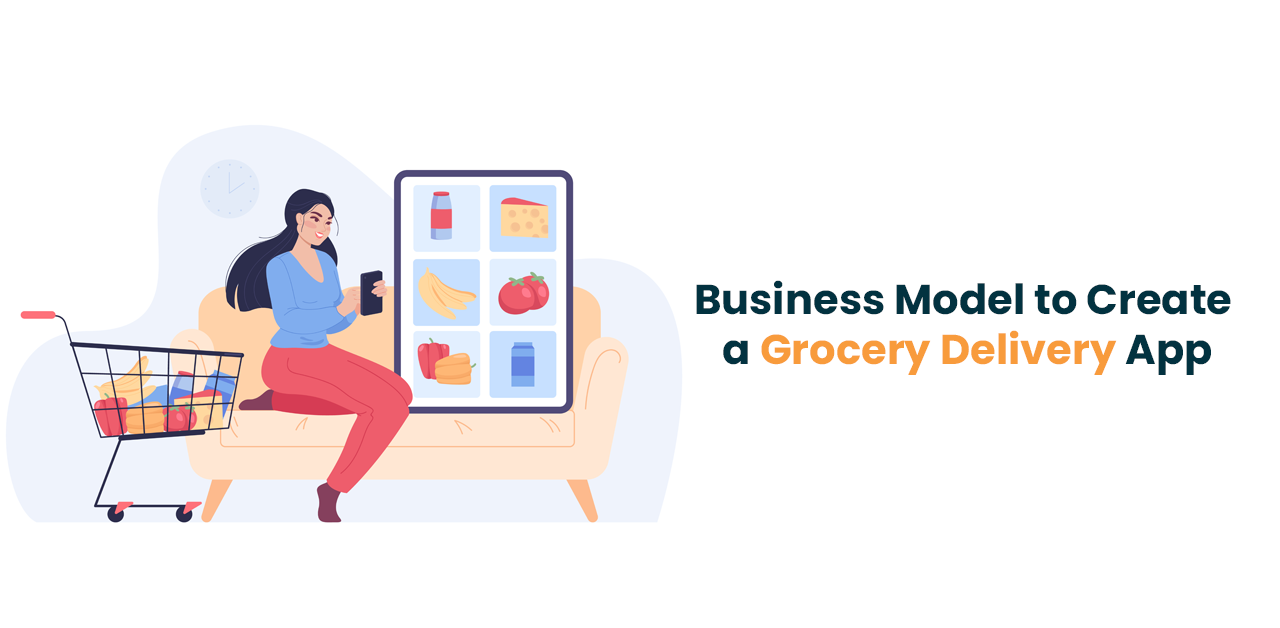 Our grocery app development solution supports the following business models, allowing you to create your own branded apps similar to Instacart. Check it out.
Create Your Grocery Delivery Mobile App for a Single Grocery Store
It is a simple way to start a grocery business. Get an Instacart app for your grocery store to go online. Your customers will be able to place orders almost instantly and dispatched right away.
Get Your Market Platform Like Instacart With Grocery Marketplaces
Another business strategy is to build an aggregated platform by listing multiple stores on an on-demand grocery delivery app like Instacart or an Uber for groceries.
On-Demand Grocery Store Chains App Development for Grocery Store Delivery
It is the method for you to expand your current business. Get an on-demand grocery store delivery app and use a unified dashboard to manage all retail and supermarket distribution shop purchases and operations.
How do you make an app for grocery delivery?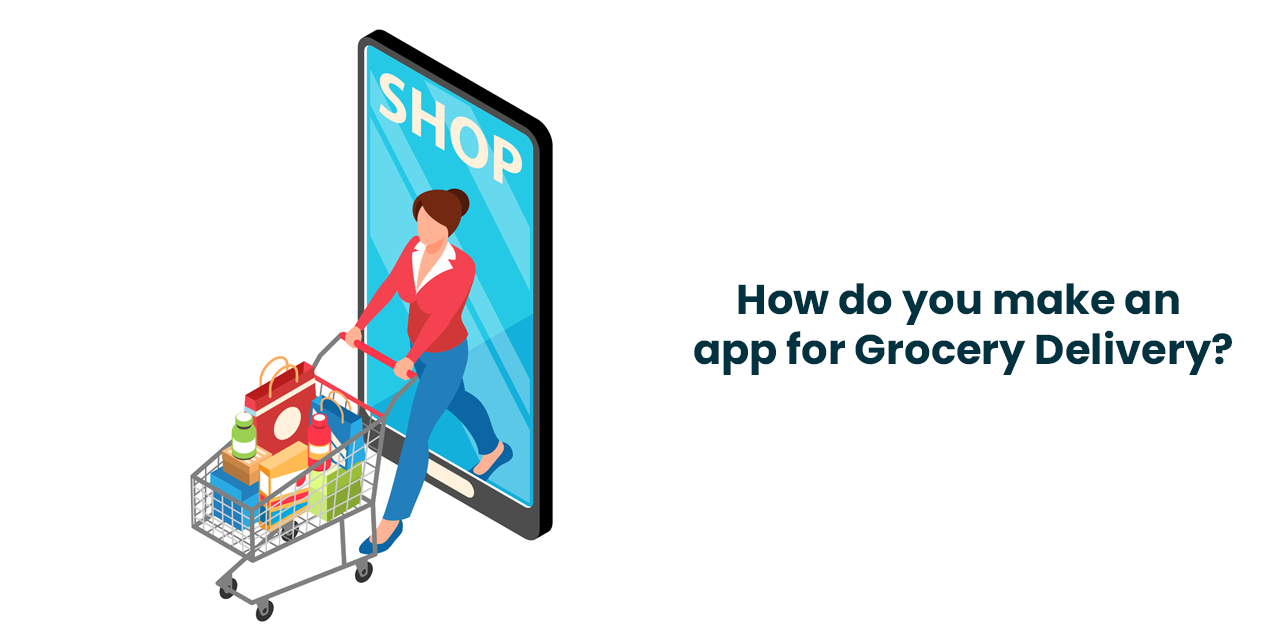 Step 1: choose a business model.
The most important things to remember are a supermarket, a single store, aggregators, and a supermarket chain when discussing a business model. It will help determine the most popular app concepts for businesses.
Step 2: Examine the Main Concept
We begin by looking at the project's central vision and aim and the product specs and end-user if you've chosen a business model. It enables one to assess which ideas will perform nicely and estimate the time and human capital needed to build a product from the ground up.
Step 3: UI/UX design
After the pre-design step, we move to UX/UI design. User flows and stories are created with product specifications, user personas, and pain points. Then, using wireframes and examples, we put up the visual component of a smartphone app and show it to our clients.
Step 4: Create
All of the design accomplishments are vital during the iterative creation process. We build a specific piece of app functionality at each iteration, which is then rigorously tested and delivered to the customer. To create a mobile app similar to Instacart, you can engage skilled mobile app developers in Canada.
Step 5: Retain
The final stage after the launch of your on-demand grocery delivery app is maintenance. When users begin to use the solution, we provide support for unanticipated difficulties and vulnerabilities. After the initial release and weeks of use, client feedback may show which features require fine-tuning and which are not required.
Conclusion
This blog covers the distinctive features, the importance of successful partnerships, and monetization tactics that can help you with your grocery shopping app. The next step is to hire a firm for grocery delivery app development.
AppsRhino can help you double-check your idea. We have expertise in designing apps for Android and iOS platforms in various genres. If you have any questions about the cost, method, or timing for developing an on-demand grocery app. Contact AppsRhino Today!
Related Articles:
Best Apps for Grocery Delivery in the USA in 2022
Why is having a grocery delivery app like grofers beneficial for your business?