Technology creations in mobility have revolutionized the process across different commerce sectors. And if assessing the impact, we cannot deny that technology has streamlined operations in this channel. Customers have got their hands on a wide variety of products, including groceries and other daily necessities. This is what the current trending scenario says. The customers are looking for constant changes in their shopping habits, which pushes them to provide better customer experiences using technology. One such service has been the coming up of online supermarkets and grocery delivery apps.
Market Statistics
Let's see what the market trends say about how flourishing had the grocery market been.
According to GroceryDive, more than 30 million users will prefer to use mobile apps for ordering groceries by 2022.
Online grocery sales in 2019 were found to be around 22 billion, and are expected to cross 29.7 billion by 2021.
It was found that online grocery sales doubled in the past four years in the US alone.
A survey found that 10% of US consumers do their grocery shopping online daily.
On average, it was found that people spent around $40 doing grocery shopping.
Latest advancements in technology
The changing technology trends in the market have led to the emergence and adoption of better methods in the commerce sector. Some of them have been:
On-demand mobile apps
On-demand mobile apps can be considered as the mediators between customers and service providers. It provides a single platform for both to interact effectively. These on-demand mobile apps have helped in managing businesses effectively and building brand value for them. They have found their significance in every possible sector.
Chatbots
Chatbots is an artificial intelligence-based computer software that has been adopted as human substitutes to enhance customer services. They behave like humans and provide a solution to all the queries. Chatbots are of great importance as they can interact instantly without getting exhausted like humans.
Challenges encountered in the traditional setup
The need to build these on-demand mobile apps was seen due to some issues with the traditional marketing method. Some reasons are listed below.
Absence of varied product and inventory cost
Local stores are good at keeping local brands most of the time. They may not even have all the essential requirements needed by a customer, as stocking all the things together is very difficult due to the extra costs involved in all. The extra cost involved is the cost of carrying the inventory as well as the safety and security of the same.
Geographical constraint
Local stores are mostly dependent on the local crowd nearby them for their sales. It restricts them to a particular area and business expansion has little scope.
The cost of property
With the rising cost of properties in the market, it seems complicated to maintain the stores and pay the raised rents. With such stiff competition in the market, it becomes more challenging to stand amongst other better service providers.
Varying customer preference
With varying global markets, customers are more willing to accept new technology innovations. They want things to be available to them readily, which the traditional market fails to provide.
Expected impact on the grocery business
Since technology has simplified the task of customers by helping them in getting groceries delivered to their doorstep. Local stores would have to make arrangements for deliveries. Thus, increasing their expenditure.
Online grocery stores provide a better variety of products which is not possible for the local stores to do as they need larger physical inventory.
The expenditure of physical inventory and storage is reduced significantly for online grocery stores whereas the local grocery stores have to take out ways to maintain the same expenditure if they want to provide similar services as the online stores.
Online stores provide various discounts and coupons to the customers which the local stores are not able to do. This shifts the customer's interest more towards the online platform making it a challenge for local stores to retain customers.
On-demand grocery stores have the advantage of receiving regular feedback and reviews from customers which helps them in providing better customer satisfaction which the local stores cannot do.
With the local stores still following the traditional method of business, they will not be able to sustain in the long list of competitors in the market. On-demand, grocery apps will overcome all the above-mentioned shortcomings and help them in improving their business in the long run.
Boons by the grocery delivery app
With the online methodology of grocery shopping, many advantages were seen among businesses.
Brand building
Brand building is one of the essential motives to build an on-demand mobile app. Developing an app helps in providing a better customer experience and allows you to expand your business to new areas. The multidimensional features help in making your app stand out, amongst others.
Better stock and order management
Grocery mobile apps have an admin panel using which the service provider can quickly log in after he has got himself registered. With the help of this panel, he can manage his entire online market. They also have the option to set notifications regarding the stock they have. This helps them to get familiar with their stock purchases also.
Enriched convenience
Convenience is the essential advantage that you can provide with the launch of your grocery delivery app. Earlier during the traditional grocery shopping system, the customers had to stand in long queues and take out a particular time from their tight schedules. At times they could not even find all the essentials in one place, and for this, they had to search at different locations. Altogether, it seemed like a very tedious task. When the service providers came up with the concept of an on-demand mobile-based grocery delivery app, the customer came at ease. They could get their groceries delivered now at any location and at any desired time.
Evaluating customer behavior and delivering personalized service
Examining customer behavior is one of the critical points that the grocery delivery company had to keep in mind for its continuous growth. As a company, you need to keep track of the customer's ordering trend and the kind of products they prefer to purchase. With all this knowledge, you can provide personalized offers to them. This will help in attracting more customers to the app. To add to this, you can give the customer suggestions regarding the items they regularly purchase.
Strengthening customer loyalty by proposing loyalty programs
Customer loyalty is one of the vital factors in building a company or business. The primary purpose of developing a grocery app is to provide loyalty programs to customers and retain them. One of the ways is by giving the customers regular discounts and reward points. You can also try to organize sales on products that are more popular among customers.
Reduction in overheads
In the traditional setup, you need to hire staff who can look after the store's different sections. Moreover, it would be best if you saw that all of them are efficiently working. According to all this, you will provide them with salaries. This whole process is time as well as resource-consuming.
On the other hand, launching a grocery delivery app will decrease all this overhead work of yours. You can approach a good grocery app development company that not only helps you build your dream app but gives your after-launch benefits too.
Order tracking
Order tracking is one of the must-have features in an app. This helps keep the customers up to date with their orders and helps build trust among both the customer and the service provider.
Different payment options
By developing a grocery delivery app, you can provide different payment options to customers. He can pay either in offline or online mode according to his convenience.
Steps that can be taken to be in power with the competitors
To be a part of the competitive market and have a better hold of the customers, you need to adopt the upcoming technology. The service provider has to take steps to:
Create your grocery app
The service provider can reach out to a mobile app development company that can help him build a grocery app. The service provider can give his ideas for the app according to his needs and the services he wants to provide.
And one need not look far enough as AppsRhino's grocery delivery app development solution makes sure that you get all your features covered in one mobile app.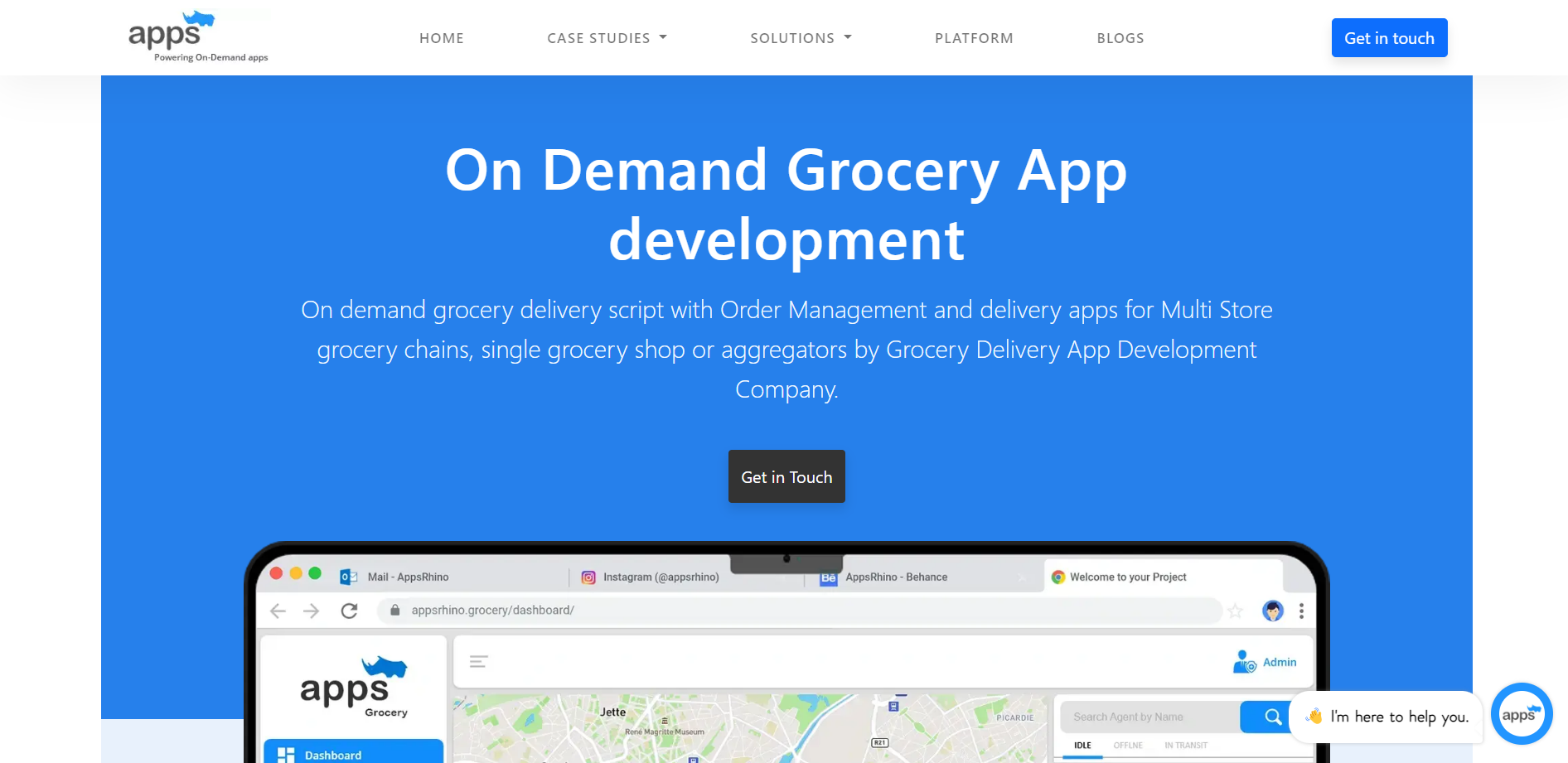 Apart from custom mobile app development, AppsRhino offers the best Tech-driven solutions for Home services, Laundry delivery, Alcohol delivery, Grocery Delivery, On-demand Cannabis, and Taxi Services:
Partner with existing apps
The service provider can collaborate with already existing and well-established grocery apps like Instacart. With this, the service provider gets associated with a better brand and brings his services at power with the competitors.
Other technology adoption
The service providers can adopt other technological advancements such as Alexa for a business that can be used to help in better organization of the business. Cloud computing Is also one of the trending technologies gaining momentum in the market.
Conclusion
Grocery delivery apps can change the boring traditional methods of shopping uniquely and conveniently. The need for grocery companies to adopt skillful strategies to get their businesses to the top is the need of the hour. If you want to build a grocery delivery app, you can quickly check with appsrhino.com to provide you with the best solutions to all your problems and take your business ahead.
Want to build an on-demand grocery app for your store? Want mobile app developers? You can contact AppsRhino, they provide you with the best solutions to all your queries. And help you build your business!
Frequently Asked Questions (FAQs)
How can a grocery delivery app benefit my grocery business?
A grocery delivery app can expand your customer base, increase sales, and enhance customer loyalty by offering convenience and ease of shopping.
What impact will a grocery delivery app have on my business revenue?
Integrating a grocery delivery app can potentially boost your revenue as it opens up new sales channels and encourages repeat purchases.
How can a grocery delivery app improve customer satisfaction?
A grocery delivery app provides customers with a convenient shopping experience, quicker deliveries, and personalized recommendations, leading to higher satisfaction levels.
What changes should I make in my inventory management strategies?
To accommodate grocery delivery, optimize inventory levels, prioritize perishables, and implement a real-time inventory tracking system to ensure accuracy and availability.
Can a grocery delivery app help me reach a wider audience?
Yes, a grocery delivery app can reach a broader audience, including busy professionals, elderly customers, and those with limited mobility, expanding your market reach.