Introduction
The lockdown made many people open to the idea of ordering groceries online. Thanks to the pandemic, it has become a habit and an integral part of our lifestyle. Do you know that Instacart stated that it achieved its 2022 goals only three weeks into the lockdown? With so many grocery delivery apps on the market, it becomes confusing for users to choose one. Though there are many grocery delivery apps, only a few stand out from the rest. Here we present some of the best grocery delivery apps for you to choose.
What are grocery delivery apps?
Grocery delivery apps allow people to buy groceries without stepping out of their houses. These apps aim to make users' shopping experiences easy. From university students with no time for grocery shopping to the aged, it benefits them all. Apart from the comfort of shopping from home, it saves time by saving your usual orders on the apps. Grocery delivery apps have proven to reduce impulse buying. In IRI's Consumer Connect Q4 2017 survey, 51% said they make fewer unplanned purchases online.
Indeed, waiting in a long queue at a grocery store has become a thing of the past.
Before looking at the best grocery delivery apps, let us see how the pandemic changed shopping behavior.
How did Covid-19 alter shopping behavior?
The pandemic made people avoid crowding as everyone was afraid of spreading the virus. It meant staying away from public places, including the grocery store. Three-fourths of US shoppers said they were likely to avoid shopping centers and malls (February 2020). Over 75 percent of Americans said they would probably buy groceries online due to the virus (March 2020).
Thus, the pandemic paved the way for grocery delivery apps.
How did Covid-19 change lifestyle?
Apart from affecting shopping behavior, the pandemic changed our everyday life also. Most Americans started staying at home more and followed social distancing when going out. People were unlikely to use cash and went for online payments.
Living with such changes was possible as grocery delivery apps stepped in; they ticked all the boxes.
Now, it is time to look at some of the best grocery delivery apps in the USA.
Best Grocery Delivery Apps in the USA
Kroger
Kroger has made it to the list of best grocery delivery apps. You are required to download the app or create an account online to use Kroger. Once you create your account and enter your name and password, you can log in to your account; even earn fuel points, and enjoy exclusive savings while shopping online. Upon signing in, enter your ZIP code or the address of delivery. By doing so, Kroger directs you to the nearest shops in your area. Once this gets completed, you can start filling your cart. You should know that a Kroger associate or a third-party service shops groceries for you. So, to ensure smoothness, you are required to select substitutions. Substitutions are necessary as sometimes the item of your interest might be unavailable. If you don't allow substitutions, the shopper skips them, and your total price is adjusted.
The typical Kroger delivery fee ranges from $9.95 to $11.95. The Kroger app allows you to view purchase history & create standard orders to save time & effort.
Pros:
It is convenient to use Kroger, and it saves you time. Apart from this, it reduces impulse shopping.
It offers you the same-day delivery feature. You can also place orders in advance.
You enjoy in-store sales and earn fuel points upon getting a Plus card; there are other benefits of a plus card also.
Cons:
Its delivery fee is a bit higher than other grocery delivery apps. It is avoided by going for in-store shopping or grocery pickups.
There are limited substitution preferences; whatever you pick will be the same preference selected for all items.
Instacart
It is one of the largest online grocery delivery apps in the USA. Users view, choose, and purchase products from the store of their choice through the app. Once the payment is made and a delivery slot is picked; an independent contractor, a shopper, will pick up the order and deliver them. The store you choose depends on where you live. Instacart delivery fees usually start from $3.99 and vary according to the time of day, your location, and the order size. At present, Instacart offers its services to all 50 American states.
Pros:
It has a wide range of partners and allows same-day and scheduled delivery.
Cons:
It might be more expensive than in-store shopping. Its delivery fees make it costly.
The services might be unavailable in more rural places.
Walmart Grocery
It is one of the best grocery delivery apps; and lets its users shop for groceries, like baked goods, fresh produce, organic food items, pantry staples, market specialty products, etc. It also provides a favorite option for fast ordering; moreover, you can get extra discounts on existing in-store discounted prices while shopping online. It lets you track and transfer prescriptions as well as refills.
Pros:
Walmart

is famous for selling its goods at much lower prices than other retailers.
It does not charge a membership fee for you to benefit from savings.
Cons:
Plastic packaging and containers are its cons.
Shipt
It offers services in Wisconsin, Texas, Virginia, Tennessee, South Carolina, Oklahoma, Ohio, North Carolina, Missouri, and more. This grocery delivery app has a partnership with retailers in each of the 72 cities where the service is available. To use Shipt, you need to choose a membership plan; an annual fee of $99 or a monthly plan of $14. Shipt offers you a four-week free trial before asking you to move to the paid app. Some of Shipt's retail partners also charge a small service fee which they add at the time of checkout. A few of its partners are HEB, LIDL, Costco, etc.s
Pros:
It is convenient to use Shipt, and it saves you time. Apart from this, it reduces impulse shopping.
It offers you the same-day delivery feature; you can also place orders in advance.
Cons:
To use Shipt, you need to buy an annual membership; you can buy Shipt Passes though they cost $10 each and are suitable for only one delivery.
It charges higher prices than in-store prices; you are likely to pay $5 more per $35 order when bought in-store.
7NOW
7Now is another one of the best grocery delivery apps. It lets you choose from over 3000 food items; they include Ice Cream, Baked goods, Frozen food items, Grocery, Personal Care, Household essentials. Its services are available in more than 200 cities and over 40 metro areas.
Checkout51
One more best grocery delivery app is Checkout51; it gives new weekly offers on top brands. This app offers rewards and loyalty points to its customers. Besides such points, it also allows users to earn amazing cashback every weekend. Walmart, No Frills, Superstore, Shoppers Drug Mart are collaborators.
Pros:
The offers it gives are not store-specific; you can also claim the same offer more than once.
You can avail of coupons and loyalty cards.
The minimum cast out possible is as much as $20.
Cons:
Its offers are available temporarily.
You are required to upload receipts by a weekly deadline.
In addition to limited payment options, a packing slip is necessary for online redemption.
Peapod
Peapod rolled out in 1989, and today, it serves over 24 US markets, including Wisconsin, Washington D.C., Virginia, Rhode Island, Pennsylvania, New York, New Jersey, New Hampshire, Massachusetts, Maryland, Indiana, Illinois, and Connecticut. It gives its new customers sixty days of free delivery. It has a feature called "order genius"; that recommends items based on your past and frequent searches.
Pros:
It allows you to use coupons, you show coupons at the time of delivery, and the delivery guy credits your account.
Peapod also offers gas points, a way to save money.
Cons:
If your delivery is not free, it costs $6.95 for delivery.
There is produce risk since the shopper might not shop carefully.
FreshDirect
Another grocery delivery app present on the best grocery delivery apps list is "FreshDirect". Its services are available in New York, New Jersey, Delaware, Pennsylvania, Connecticut, etc. The app has collaborations with local farms, dairies & fisheries to help you get fresh produce quickly. You can place an order in advance and even at 11 p.m. before delivery; they deliver within a day, given you place a minimum order of $30.
Pros:
It offers a wide range of fresh and fully prepared products.
It also provides scheduled delivery to preserve freshness.
Cons:
It is available in selected areas.
A bit more expensive than offline shopping.
Limited options for organic and specialty ingredients.
Postmates
It not only takes care of your groceries but also delivers food from your favorite restaurants. Postmates provides its customers with tracking and real-time tracking and delivery progress; with over 500,000 collaborators, it delivers in more than 4200 cities.
Pros:
It lets customers order food from local stores and restaurants round the clock.
Besides grocery and food, it allows you to order alcohol and beer.
Cons:
High delivery charges can be heavy on your pocket.
Conclusion
Here we picked out the best grocery delivery apps from a pool of grocery delivery apps available on the market. These are your go-to apps if you live in the USA and need to buy groceries but have no time.
And when it comes to getting started with an online grocery business, AppsRhino jumps right in as a handy option for all your business needs. Being a custom mobile app development company, AppsRhino also helps grocery businesses go online. So if you are thinking business, head over to AppsRhino and get in touch.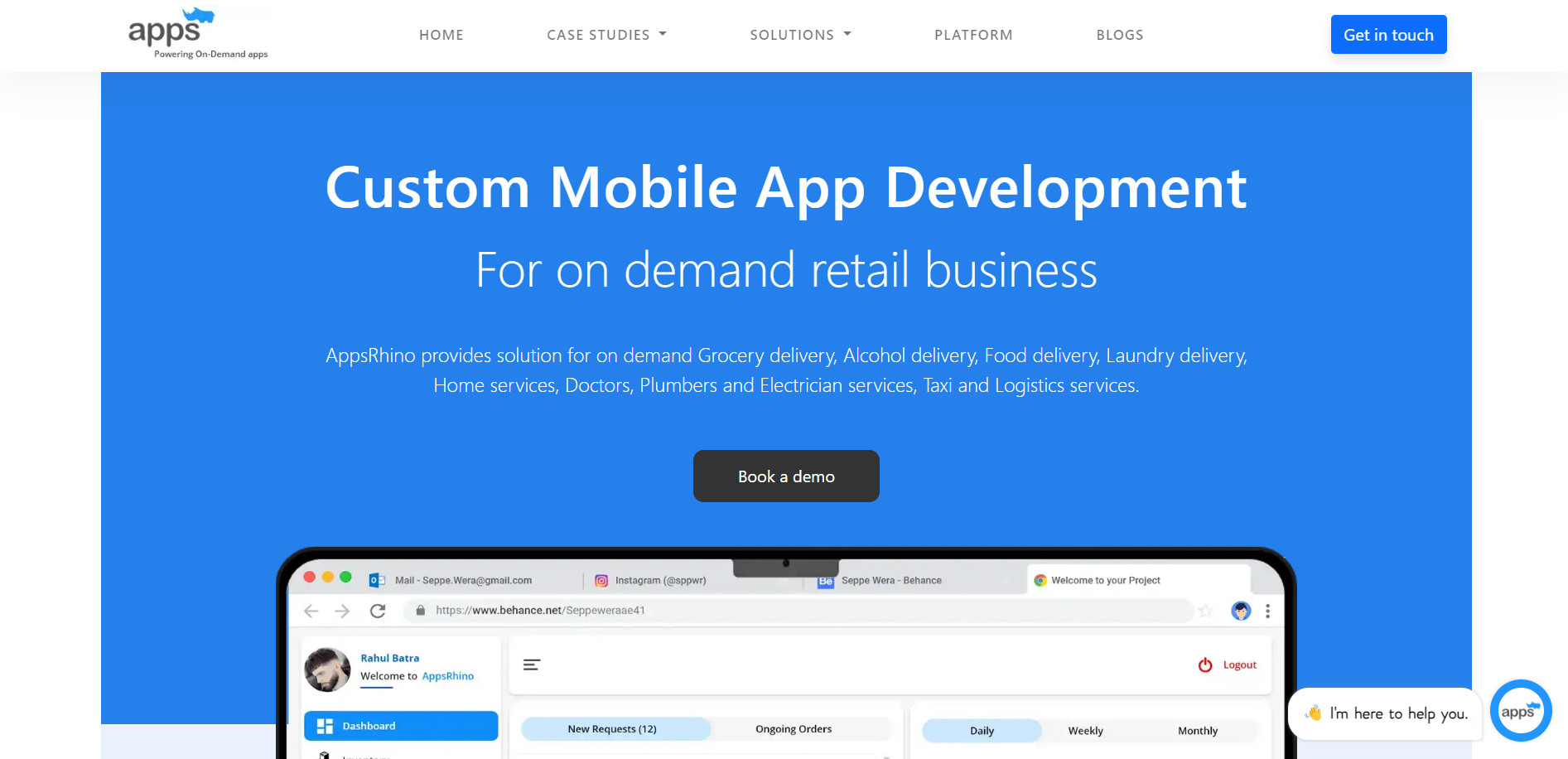 AppsRhino offers the best Tech-driven solutions for Home services, Laundry delivery, Alcohol delivery, Grocery Delivery, On-demand Cannabis, and Taxi Services: