Introduction
Do you ever wonder whether your eCommerce platform is the right one to sell things online? Have you ever come across new and more functional services that are cheaper than the ones you use now? Are you a small business that wants to use the right platform but does not know which one to use?
If yes, you do not need to worry any longer. Ecwid is the right solution for you. Ecwid is a famous and successful platform that has raised over $5 billion in merchant revenue since its birth in 2009. Stick around to know more about Ecwid if you are interested in using it.
What is a Plugin?
Plugin, a piece of software, lets websites display content they did not previously. It is an add-on to websites, giving them additional functionalities. In short, it allows users to add new features or extend the functionalities of an existing website.
What is Ecwid?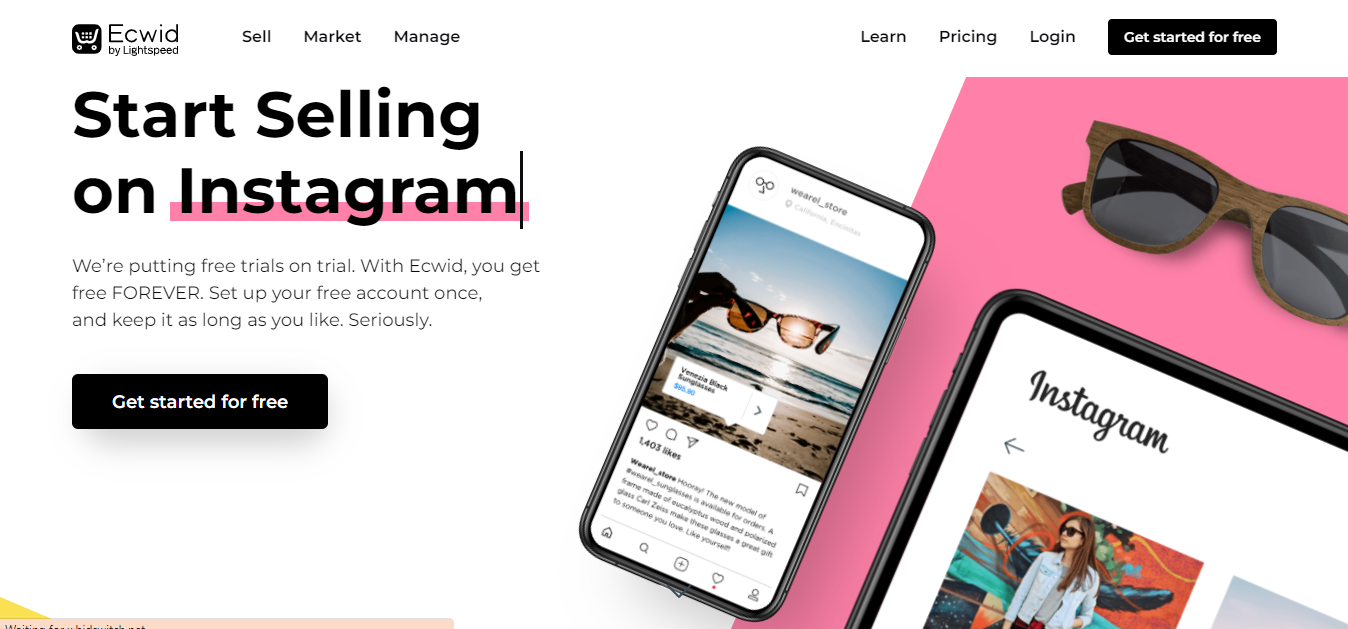 Ecwid, an eCommerce plugin, lets users add eCommerce functions to their websites. It also helps individuals and businesses create their online stores. The good thing about Ecwid is that it does not demand its users to create a new website; users have the ease of extending their websites without starting from scratch. Therefore, we formally define Ecwid as a platform that builds and manages an online shop in the cloud.
More than one million sellers across 175 countries use Ecwid because it is the easiest way to connect websites, marketplace, social media platforms, and online shops under one unified interface.
Ecwid comes with intuitive building functionality that allows users to create online catalogs and use features like flexible payment options, photos, etc. It also has a unified control panel that syncs all your Ecwid storefronts making store management easy.
Let us see its features before reading about Ecwid pros and cons.
Ecwid Features
Ecwid offers the following features:
Automatic Updates
Inventory Tracking
Shopping Experience
Sell Digital Goods
Save Favorite Products
Smart Shipping Calculator
Easy Checkout
Customer Address Book
Boost Sales
Accept Payments
Language Detection
Sell on Multiple Sites
Manage Product Options
Define Shipping Options
Customizable Design Schemes
Benefits of Ecwid
Ecwid has numerous benefits, and we list a few below.
Build an Online Store Fast
As said before, using Ecwid means you need not develop an e-commerce website from scratch. It means the online store you create using this platform is something that you only have to embed to your existing websites, mobile apps, blogs, etc. It makes setting up an online store easier, faster, and cost-effective.
Ease of Installation
Users need only a few JavaScript or HTML lines on an existing website to install Ecwid. It means your Ecwid stores piggybacks on your already existing site.
Therefore, it saves you from wasting time and effort creating a new e-commerce site or separate online store.
Responsive Storefronts
Ecwid not only makes the creation and installation of an online store easy, but it also lets users optimize their online stores for all operating systems and devices.
You can display your catalogs and products with a responsive storefront on all types of devices, including desktops, tablets, and smartphones.
POS Functionality
Ecwid gives a POS functionality that lets users accept products via online payments using a tablet or an Apple smartphone. This functionality allows users to accept payments in physical locations such as malls, concerts, etc. It also allows users to go for online payment, thus offering unmatched flexibility.
AppsRhino offers the best Tech-driven solutions for Home services, Laundry delivery, Alcohol delivery, Grocery Delivery, Food Delivery, and Taxi Services:
Ecwid Pros
The

Ecwid free plan offers

decent features.
A starter Site package for merchants without websites is available.
Ecwid houses dropshipping businesses.
It gives plugins for integrating with numerous dominant web hosting platforms.
Ecwid is responsive.
Users can set up a multilingual online store on Ecwid.
Ecwid is compliant with GDPR.
Ecwid provides a wide range of eCommerce features at considerably reasonable plan prices.
Users can benefit from the POS functionality of Ecwid to put up a supplementary offline store.
The Ecwid App Store gives a range of eCommerce applications.
Ecwid Cons
The Free Plan of Ecwid does not provide SEO editing capabilities.
Users can not edit their product URLs for SEO purposes.
Ecwid does not support product page AMP versions.
Users can not build a complete eCommerce website on Ecwid.
Only premium subscribers have the phone-support facility.
Advantages of selling on Ecwid
Opening your online shop on Ecwid gives users numerous advantages.
We mention some of the features that Ecwid users value the most below:
Ecwid users can connect it with most platforms: Wix,

WooCommerce

, Squarespace, and social media platforms.
Users can create an online shop on Ecwid fast and free.
It gives users multiple payment gateways.
Disadvantages of selling on Ecwid
Users can not fully translate the platform into other languages.
Users can not completely customize Ecwid.
Alternatives to Ecwid
Here are some alternatives for ecwid:
NetSuite SuiteCommerce

The SuiteCommerce eCommerce solution helps B2B and B2C merchants provide fascinating and relevant online experiences. It aids users to drive more traffic to their web stores, convert shoppers into customers and increase online revenue with a mobile-optimized, feature-rich cloud eCommerce platform; the platform is easy to operate and enhance.
It gives a single view of the customer, order, inventory, and other vital data by unifying eCommerce with its users' core NetSuite operational business systems. It also provides real-time visibility across your business while powering personal and relevant cross-channel experiences.
BigCommerce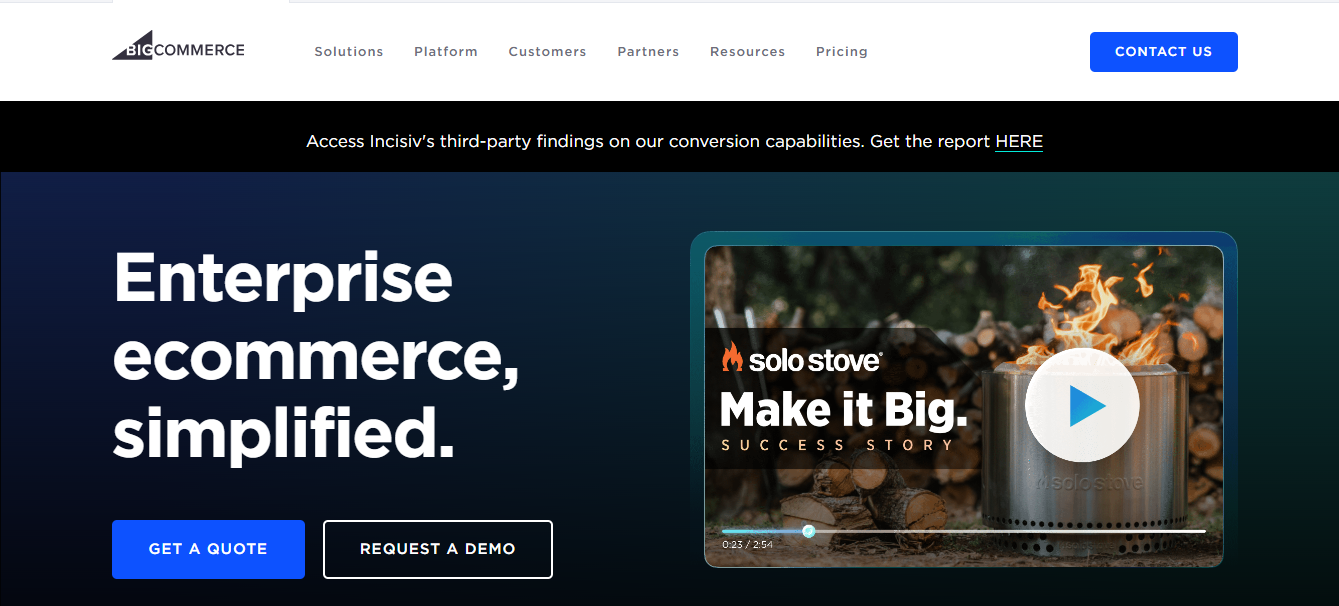 BigCommerce, a NASDAQ-listed eCommerce platform, supplies software as a service type of service to retailers. The BigCommerce platform comprises online store creation, search engine optimization, hosting, and marketing and security from small to enterprise-sized businesses.
Shopify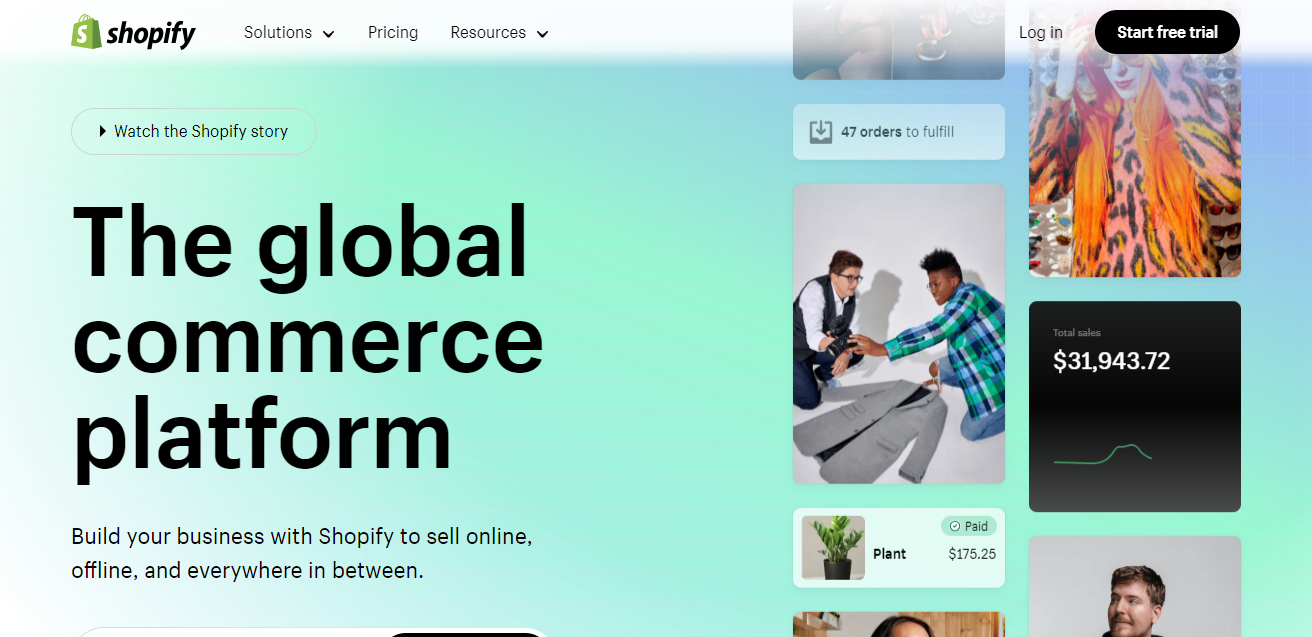 It is a platform for online stores and retail point-of-sale systems. Shopify presents online retailers with a suite of services, including payments, marketing, shipping, and customer engagement tools.
Shopify, the company, said that it had over 1,700,000 businesses in roughly 175 countries using its platform as of May 2021.
1.58 million websites run on the Shopify platform, According to Builtwith(2021). The total gross merchandise volume surpassed US$61 billion for calendar 2019.
PrestaShop
PrestaShop, an open-source e-commerce platform, is freemium. It was published under the Open Software License (OSL).
PHP programming language is its coding language, and it supports the MySQL database management system. It has a software dependency on the Symfony PHP framework. Presently 300,000 shops worldwide use PrestaShop, and it is available in 60 different languages.
3dcart
Shift4Shop, a technology company, developed 3dcart, an e-commerce software for businesses.
Founded in 1997, Shift4Shop has its headquarters in Tamarac, FL.
We provide a brief overview of Shift4Shop below:
Industry: E-Commerce
Founded: 1997
Headquarters: Tamarac, FL
Products: Hosted Shopping Cart
Wix
Wix or Wix.com, an Israel-based company, provides cloud-based web development services to people who lack the skills to build a website. It allows users to create HTML5 websites and mobile sites using online drag and drop tools. They offer the following options:
Wix Editor
Wix ADI (Artificial Design Intelligence)
Corvid by Wix
Avishai Abrahami, Nadav Abrahami, and Giora Kaplan established Wix in 2006.
Conclusion
These are the Pros, features, and benefits of Ecwid. Along with its Cons, we have also provided you with a few Ecwid alternatives. If you are interested in expanding your already existing website, Ecwid is the best choice for you.
It is always better to involve professionals in your business-related websites and stores. AppsRhino is a mobile app development company that powers on-demand mobile apps and business apps for entrepreneurs and enterprises.
Frequently Asked Questions (FAQs)
What are the main advantages of using Ecwid for my online store?
Ecwid offers easy setup, seamless integration with existing websites, mobile-friendly design, and a wide range of features like inventory management, multiple payment options, and global shipping.
Can I use Ecwid with my current website?
Yes, Ecwid can be easily integrated with various website builders, CMS platforms, and social media platforms, allowing you to add an online store to your existing website without any hassle.
Does Ecwid support mobile commerce?
Absolutely! Ecwid provides a responsive and mobile-friendly design, ensuring that your online store looks great and functions smoothly on smartphones and tablets.
What payment options does Ecwid support?
Ecwid supports a wide range of payment gateways, including popular options like PayPal, Stripe, Square, and Authorize.net, giving your customers flexibility in choosing their preferred payment method.
Can I manage my inventory effectively with Ecwid?
Yes, Ecwid offers robust inventory management features, allowing you to track stock levels, set up low stock notifications, and manage product variations efficiently.
Does Ecwid provide shipping options?
Ecwid integrates with various shipping carriers, enabling you to offer real-time shipping rates, print shipping labels, and provide accurate delivery estimates to your customers.
Is Ecwid SEO-friendly?
Yes, Ecwid provides SEO tools and features to optimize your online store for search engines, including customizable meta tags, clean URLs, and integration with Google Analytics.