Introduction
Kick the habit of using traditional ways to witness a steady increase in your staff's productivity and profits. Are you wondering what this habit is? I know that you already know what I am talking about.
You must drop your traditional ways of managing appointment booking and administrative tasks if you do not want to lose relevance. Years ago, people were comfortable visiting a hospital to book appointments.
Later this approach changed, and people adopted the telephonic method to book appointments. However, even this option had its drawbacks resulting from the manual errors that are prone to happen when dealing with numerous patients.
And you are here to know how you can weed out these errors and improve your administrative processes while maintaining your budget. And your answer is a "doctor appointment app."
A doctor appointment app will help you better manage your patients and ensure you face no loss from no-show episodes.
Do you want to know how? Read the blog to understand why a doctor appointment app is essential for you!
How does the Online Doctor Appointment Software work?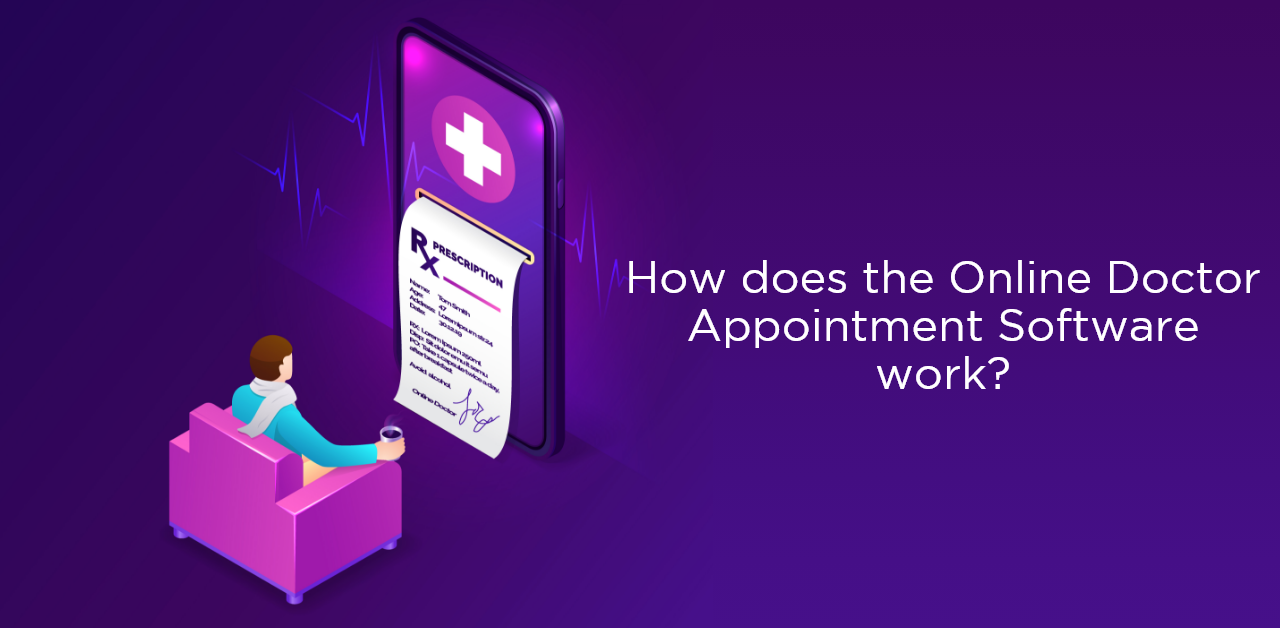 Improve customer service
When you send notifications to people instead of calling them regarding their appointments, you avoid bothering them. And this causes them to appreciate your services as now they will not need to attend a phone call while busy somewhere.
Reduce no-shows and cancellations
You also prevent losses associated with no-shows and cancellations by providing your patients with regular notifications and reminders until the day of their appointments.
This way, your patients have ample time to cancel or reschedule their appointments if they need to be elsewhere that day.
Shrink your waitlist
Sometimes patients get frustrated with waiting for weeks and months until their appointments come. And it also happens at times that some patients cancel their appointments, creating free time slots.
Suppose you have an automated system for the management of your appointments. In that case, your patients who have appointments scheduled for later can take up the empty slots created by the no-show of their peers.
Accessibility 24/7
Approximately 30 to 40 percent of medical appointments are made online after the working hours of a hospital. If you have a doctor booking appointment in your arsenal, you will have appointments even when your front office is closed.
Thus, you will not miss out on patients you would have otherwise.
Reduce the number of unused time slot
It is a common practice for patients who book appointments only on the day they need to see a doctor urgently or just a day before. If you have a doctor appointment app, such patients can see your free slots for the day or the next and decide accordingly.
This way, you will have patients even on the days when some of your patients with prior appointments decide to skip their consultations.
Improve office efficiency
The traditional way of managing appointment bookings requires your receptionist to be constantly on the telephone and note every new booking.
This approach makes it more likely that your staff might bungle the task at hand, which is confusing.
However, when you have an automated system to receive bookings, your staff will not be burdened with monotonous chores and can focus on other essential things.
Enhance the reputation of your practice
Adopting new and emerging technologies into your work makes people trust you more and view you as someone who keeps up with the changing time. Thus, incorporating a doctor appointment app into your system will help you gain a competitive edge in the industry.
Better Medical Appointment tracking and analytics
A doctor appointment app consolidates all doctors' appointments and associated records in one place, making it easier for medical practitioners to get their hands on valuable insights quickly.
This app also lets them see who all skip their appointments generally and can thus develop policies and solutions for such people.
Get your Custom Solution with AppsRhino. AppsRhino offers the best Tech-driven solutions for Home services, Laundry delivery, Alcohol delivery, Grocery Delivery, Food Delivery, and Taxi Services:
What are the basic features of a Doctor Appointment App?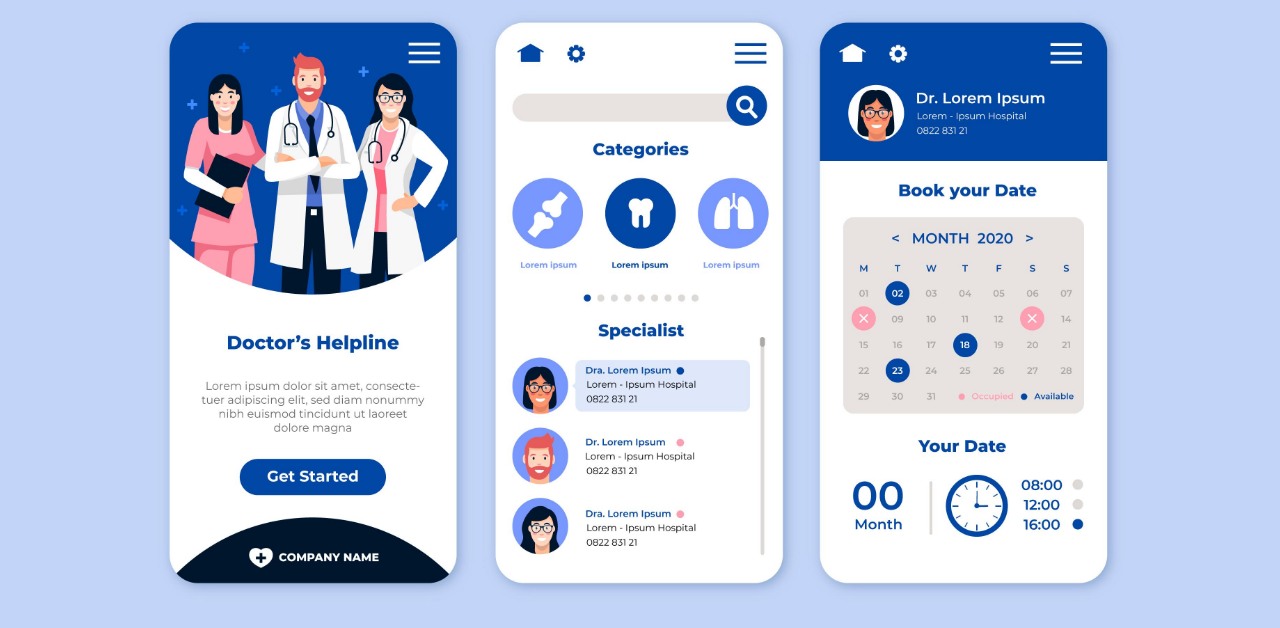 You must have the following features in your doctor appointment app.
Doctor profiles
Since it is a doctor appointment app, many patients will visit your app/ website for the first time. Therefore, your app must have profiles of every doctor who works with you with good photographs, experience, competencies, etc., to help your visitors make decisions.
Besides these things, you can also add their consultation fees and treatment costs.
Patient profiles
A patient profile is necessary as it helps doctors to get the required data before their first meeting or a follow-up session.
Search option
You must add this feature to your doctor appointment app if you have an extensive database. A comprehensive database will make it tedious for patients to explore your platform's doctor profiles.
Therefore, adding the search option feature will enable people to find doctors by setting parameters to locations, treatments, doctor ratings, etc.
Booking form
Once your visitors select a doctor of their choice, they can then proceed to book an appointment with them by checking out the available dates and time slots.
You should keep the appointment booking process short.
Notifications
Notifications are an integral part of a doctor appointment app as it is the only way in which you can contact your patients and keep them abreast of the latest developments in your hospital.
Besides providing such updates, you can also send them reminders regarding their appointments so that they do not forget about their consultations or reschedule if needed.
Medical records
This feature helps make your system more transparent by enabling patients to monitor their treatment progress and obtain their test results online. You can also include another feature where patients can share their diagnostic scans with the concerned doctors.
Electronic prescriptions
The Electronic Prescription feature lets your patients request a refill online, saving your doctors and patients their precious time. These refills are then available at several in-network pharmacies.
Payments
You can even let your patients pre-pay for their imminent appointments and minimize no-show incidents.
Directions
Your doctor appointment app should also have maps to help new patients know the route to your hospital.
How to develop a Doctor Appointment App?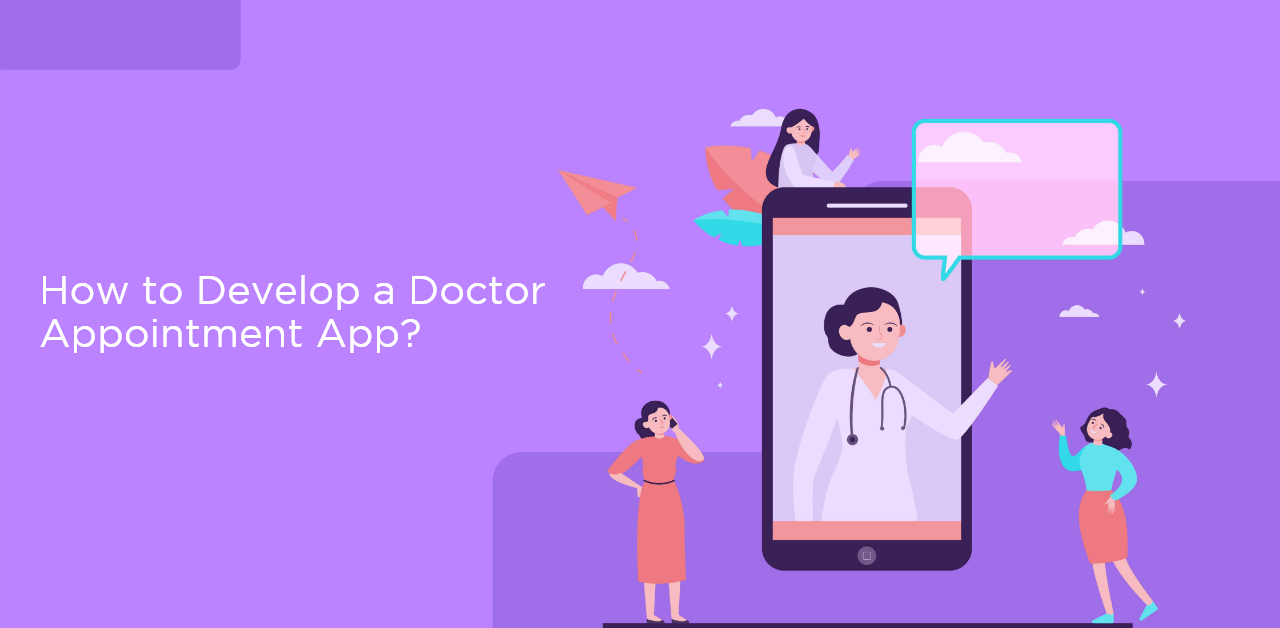 Research
The first step demands you analyze your idea and market proposition and study all the doctor appointment apps available today. And when you check your rivals, you should see what worked for them, what did not, and what their missed opportunities are.
Planning
The planning stage involves you making a list of features you want to include in your doctor appointment app while keeping your doctors, patients, and administrative staff in mind.
After you know what your app will be like, all you need to do is hire a talented team to get the work started. You can also opt for mobile app development companies like AppsRhino to tap into their experience and expertise in the field.
Design and Prototyping
This stage entails that your software engineers design your doctor appointment app's architecture and technology stack to make sure that your customers get the best possible seamless experience while using the app.
Besides them, your UI/UX designers should also work at this stage to develop elegant, mesmerizing, yet simple interfaces.
Development
The coding part of your app development must be carried out by frontend, backend, full stack developers, or any other specialist per your selected technology stack.
Quality Assurance
Before you implement and introduce your doctor appointment app, you must test your product for bugs and eliminate those you discover in this stage. Once your Quality Assurance team green lights it, you can implement it.
Implementation
The last step is the time when you have a fully-functional doctor appointment app waiting to get implemented into your healthcare practice and does its magic.
From here on, you need to perform regular tech maintenance & resolve any bugs and errors that arise while your staff, doctors, and patients use it.
Factors affecting the cost of developing a doctor appointment app?
No one can tell you the exact cost of developing a doctor appointment app. However, a few factors affect the total cost of development, and knowing what they are can help you come up with an estimate.
These factors are:
The number of features you wish to add to your doctor appointment app.

The tech stack you choose for app development.

The composition of your team.

The number of third-party API integrations you have.

The time you want to have your doctor appointment app in your hand.
Conclusion
Now that you know why a doctor appointment app is necessary for your hospital, doctors, and patient, we are sure that you will want to get one for you. Since you will be using the app, you must prepare a list of features you desire your app to have.
Some features are indispensable. Thus, you can not do away with them. However, you can provide your users with a set of features to get a competitive edge in the industry.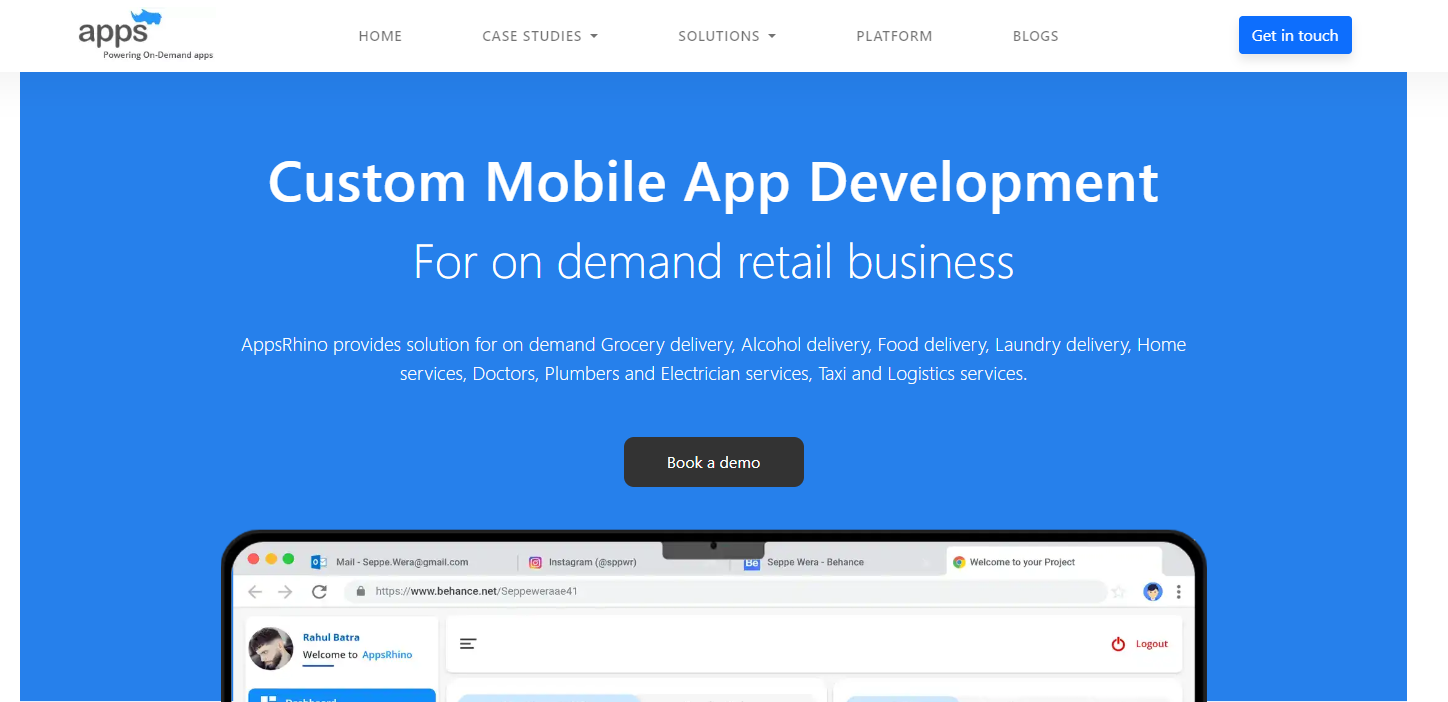 All you need to do is that you come to AppsRhino, and we will help you with the whole process. We have proficient developers who can make iOS and Android apps while keeping the present much-in-demand technologies in mind.
To know more about our developers and to get working on your doctor appointment app, contact AppsRhino today!
Frequently Asked Questions
What is an online doctor appointment software and how does it work?
An online doctor appointment software is a digital platform that allows patients to schedule and manage appointments with healthcare providers online. It typically involves features like appointment booking, calendar integration, and secure communication channels.
What are the benefits of using an online doctor appointment software?
Using an online doctor appointment software offers several benefits, including convenience for patients in booking appointments anytime, anywhere, reducing administrative tasks for healthcare providers, and minimizing waiting times for patients.
Is it secure to share medical information through an online doctor appointment software?
Yes, reputable online doctor appointment software providers prioritize data security and comply with privacy regulations. They use encryption and secure servers to protect patients' medical information and ensure confidentiality.
Can I use an online doctor appointment software for different specialties or only for primary care?
Most online doctor appointment software platforms cater to various specialties, including primary care, specialists, and allied healthcare professionals. You can typically find options to book appointments with doctors from different fields.
Are online doctor appointments covered by insurance?
Insurance coverage for online doctor appointments may vary depending on the insurance provider and the specific plan. It is advisable to check with your insurance company to determine if online consultations are covered and to what extent.