The conveniences of mobile apps undoubtedly influence businesses to enter the world of intelligent mobility. On-demand Laundry service is also one of them.
The on-demand laundry business is the perfect solution to the busy humans running around. Due to high-pressure jobs and the growing pace of life, a "business segment" arises that takes care of more minor but essential needs of people. And people are ready to pay a little extra for this service. It offers them a great deal of convenience and is available in just a few taps via phone, saving much of their time.
But there is always one or the other on-demand app available for every type of service to make it easy for the users to access it. As per Rockbridge stats, the total consumers of on-demand products and services in the U.S. were about 42M in 2017, which will reach 93M in 2022.
Therefore, we can assume that this trend will not fade away; instead, it will escalate more after 2025 at a faster pace. But before going deep into the working and advantages of the on-demand laundry app, first, learn about the few successful online laundry businesses. Clearly, in 2015 Cleanly competed in Y Combinator and raised $2.3 million in seed funding. Following this, $5 million more in the series A. Cleanly, declared in 2016, their annual revenue in NYC alone reached $2.5 million.
RinseRinse is a US-based laundry startup venture which provides dry cleaning, ironing, and laundry services. It was founded in 2013 and raised $23.5 million in total. Laundrapp, as per Crunchbase, saw $2 million in revenue and has raised 14.5 million in 4 funding rounds.
What are the benefits of an on-demand laundry app?
Saves time
On-demand laundry service saves the user's significant bunch of time. There is no need for customers to waste a couple of hours washing dirty clothes or taking clothes to a laundry shop. Such apps also offer dry cleaning and ironing services. All it requires is a few taps, and all dirty clothes will be clean in a couple of days.
Schedule pick up as per user's availability
Customers can schedule pickups and deliveries. They can customize their orders. Like, a customer can ask for washing with specific detergents or softener. After placing an order, users can check the laundry status in the mobile app. They can watch whether the order is in the queue, progressed, or already done.
An on-demand laundry app can be an excellent way to upgrade your manual laundry business. The laundry management software helps you get better customer loyalty and add new customers who don't want to spend their time searching for a laundry shop. You can add more automated features in the future.
A mobile laundry app can also be a platform that connects customers and laundry providers. Therefore, you can start a business from forming, and in this case, the app work as a marketplace, where customers can find the nearest laundry shop. You need not invest in equipment but will profit based on the interest rate. All you are required to do is find a laundry worker who can pick up and deliver clothes.
How does the on-demand laundry business model work?
A typical app requires a phone number, email login, or social account to onboard the app. It becomes a very convenient way to avail the laundry services. Also, the app features- view nearby Laundry Service-It lets the user recognize the laundry service providers near their current location, thus enabling them to fetch the services within a minimized time.
The workflow of an on-demand laundry app is like: Select laundry type and view prices; select the suitable laundry options such as washing, ironing, or dry-cleaning along with the price list to set the reasonable laundry budget. Select the pickup date, and delivery date users can choose the convenient pickup date for the clothes and set the delivery date as well, as per their availability. Once the users see the price list and services, they can place orders or laundry requests.
You can also track laundryman on Google map users can watch the location of the laundryman in real-time and the order status (Picked, washed, En-route, Drop). On the order confirmation notification, a user can verify the status of the orders he made. Pay via COD or In-app (Card, Net banking)View Order history, current and previous orders. View Offers and Discounts, refer your friend, and earn rewards. Write your reviews and rate the laundry service. The service provider or the laundryman log in similarly.
Some of the must-have features to have in a laundry app are:
User Panel
View and Manage Profile
Manage laundry charges
View and Request order
Manage Orders, and their status
View Order history
Manage Offers and discounts
Push Notification
In-app Messaging
Payment gateways
Reviews and Ratings
Admin Panel
Effective Management of Laundry Man
User Management
Laundry Category Manager
Manage Commission
Payment Management
Content ManagementAnalytics ( App usage, total users)
AppsRhino offers the best Tech-driven solutions for Home services, Laundry delivery, Alcohol delivery, Grocery Delivery, On-demand Cannabis, and Taxi Services: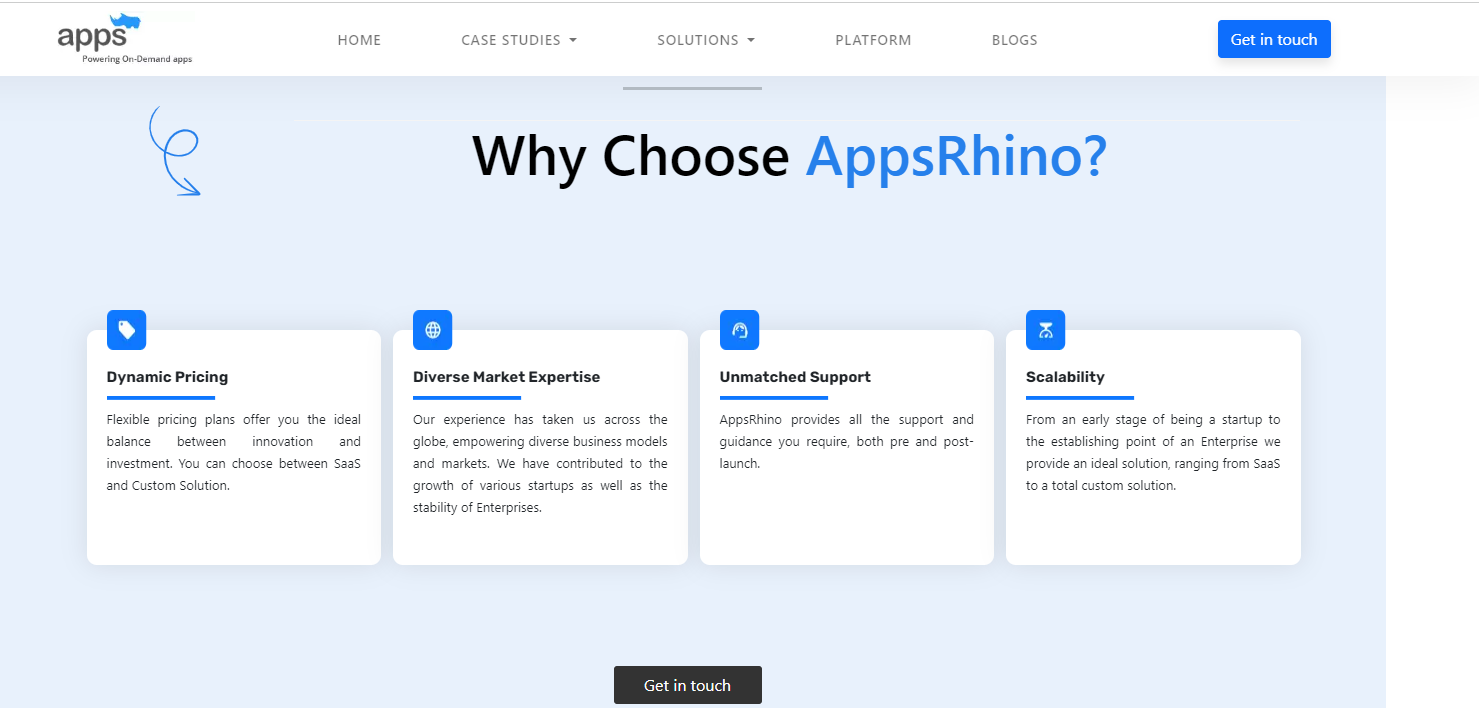 How to grow a laundry service business
Managing Equipment for Success
When it comes to running a successful laundry service business, efficient equipment management is key. With various appliances like washers and dryers, it's crucial to stay prepared for any mechanical or electrical issues that may arise. Regular maintenance and having backup devices in place will ensure smooth operations. Remember, your machines are valuable assets, so taking care of them is essential.
Reducing Utility Costs for Higher Profits
Keeping a close eye on utility bills is essential for effective management of your offline or on-demand laundry business. By reducing utility costs, you can increase your overall profits. Consider installing energy-efficient lighting, cost-effective machines, and equipment. Additionally, prioritize regular maintenance, opt for more efficient HVAC systems, and implement water-saving measures to minimize utility expenses.
Analyzing Competitors for Strategic Advantage
Conducting a thorough analysis of your competitors allows you to gain valuable insights into their services and technology usage. By understanding their strengths and weaknesses, you can identify areas where your business can excel. This knowledge will guide you in making improvements and differentiating yourself in the market. Stay ahead by constantly adapting and enhancing your services based on competitor analysis.
Challenges in the on-demand laundry industry
Finding Professional labor
The sector is majorly dependent on skilled laborers. The industry may involve machinery and software, but you cannot remove dependency on manual work. A fair paycheck can reduce this problem in the industry, but companies backfoot on these as it gets into their profit margins.
Lower margins
Maximum times the customers want to get their laundry delivered at home. However, no one wants to pay extra for it. Therefore, the sector's main challenge is finding out the customers who can pay some increased price. In addition, the highly competitive business push the services to sustain on wage-thin margins.
Experiences of the customers
Due to customers' high expectations, there is absolutely no space for human error. Therefore, it is a great challenge to personalize the customer's experience and make them delight every time.
Customer Retention Rate
There are various options for the customer to go for online and offline services. Therefore, it is challenging to retain the customer with all these options, and low customer loyalty leads to lower customer retention.
Establishment in the market
There must be some luring policies to engage the skilled laborers towards the on-demand laundry platform. Attracting these skilled laborers will be the most significant milestone for establishing the on-demand platform in the market.
Add to this customers need to be also attracted. However, this can be done by several discount policies which attract customers.
Conclusion
Grab the opportunity on-demand services are the future. And also, the tech has advanced, catering to a better user experience. A mobile app can bring many new opportunities for your on-demand laundry business. In this cutting-edge competition, it is essential to ensure the easy availability of your products or services across various platforms.
Ordering product using mobile phones is more prevalent than ever in present times. You only need to place an effective marketing strategy to it and let your on-demand laundry mobile app earn money for you. If you think your business needs an on-demand app to take your online business to a new level, contact AppsRhino's "on-demand analysis team." Our best on-demand app developers will try their level best to construct a unique and feature-rich cross-platform app that will align with your business goals.
Frequently Asked Questions
How can I attract more customers to my laundry service business?
There are several effective ways to attract more customers, such as offering competitive pricing, promoting your services through targeted marketing campaigns, providing excellent customer service, and leveraging online platforms for increased visibility.
What are some key strategies for expanding my laundry service business?
Expanding your laundry service business can be achieved through strategies like opening additional locations, diversifying your service offerings (e.g., adding dry cleaning or alterations), partnering with local businesses for mutual promotions, and investing in marketing to reach new customer segments.
How can I improve customer retention and loyalty?
To improve customer retention and loyalty, focus on delivering exceptional service quality, implementing loyalty programs or discounts for repeat customers, actively seeking and addressing customer feedback, and consistently meeting or exceeding customer expectations.
What role does technology play in growing a laundry service business?
Technology plays a crucial role in business growth. Utilize laundry management software for streamlined operations, implement online booking and scheduling systems, leverage social media and digital marketing platforms, and consider adopting automation and smart technologies to enhance efficiency.
How can I optimize my laundry service workflow for better productivity?
Optimize your workflow by implementing efficient sorting and organization systems, investing in high-capacity and energy-efficient machines, training staff on time-saving techniques, and regularly reviewing and improving processes to eliminate bottlenecks and increase productivity.
What marketing strategies can I use to reach a wider audience?
To reach a wider audience, consider digital marketing techniques such as search engine optimization (SEO), social media advertising, email marketing, and partnering with local influencers or community organizations to expand your reach and brand visibility.
How important is customer satisfaction in growing a laundry service business?
Customer satisfaction is paramount for business growth. Happy customers not only become repeat customers but also act as brand ambassadors, referring others to your service. Prioritize excellent customer service, address concerns promptly, and consistently strive to exceed customer expectations.
What are some effective ways to manage operational costs in a laundry service business?
Managing operational costs can be done by monitoring utility usage, negotiating bulk supply deals, implementing cost-saving measures such as optimized machine loads, minimizing water and detergent waste, and regularly reviewing expenses to identify areas for potential savings.