The on demand platform has created new avenues for almost every niche. With work load and time shortage, people tend to look for simple ways of performing tasks. Traditional way of laundry service has completely gone out of the way with the arrival of on-demand trend. Since the rapidity of an individual's life is increasing day by day, the demand for instant service has grown to leaps and bounds.
The demand for laundry services has increased in the last couple of years. Sources say that many Australian citizens face an imbalance between their work life and daily chores. Laundry is one among those, and it could be anything like washing, dry cleaning or ironing. New strategist research reveals that on an average a person spends around 275 hours every year on his laundry services.
The millennials are the largest group of smartphone and internet users. They are the ones who bolstered the use of on-demand services owing to the convenience. The on-demand laundry platforms have alleviated stress and load of many corporate people who don't have enough time to spend on doing laundry and also solved the question of business owners about how to grow a laundry business. On-demand laundry apps have allowed them to remotely schedule their pick up and delivery of laundry from their doorstep with some extra charge.
While the Asia Pacific is the largest region which accounts for $25 billion of the global laundry market, leading the U.S which attracts trade of approximately around $18 billion of the global market. The global online market of this vertical is estimated to touch $96 billion in 2018-24, rising from $9 billion since 2016, with a compound annual growth rate of 34% between 2017-24.
If you can earn a dollar, you can earn millions more.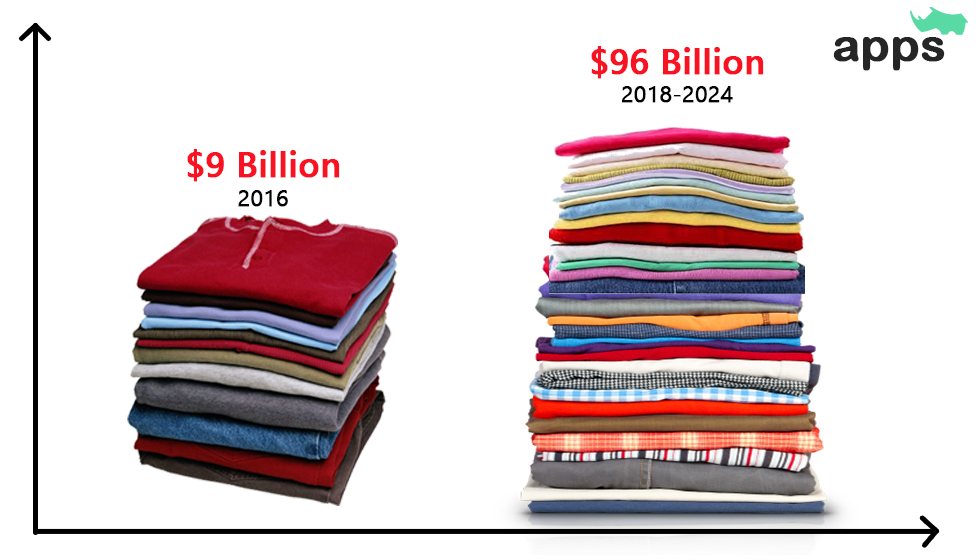 Key Stakeholders:
Generally, there are three key stakeholders involved in on demand Laundry Business.
Customer (one who orders the service)

Business Owner (The company/ start-up or the business runner who's actually bringing the service to the platform)

Drivers/Agents

Merchants/Partner Laundry stores.
So Basically, How to grow a laundry business
On-site business Model
If you are planning to upgrade your laundry business on a digital platform then the on-site business model will work best for you.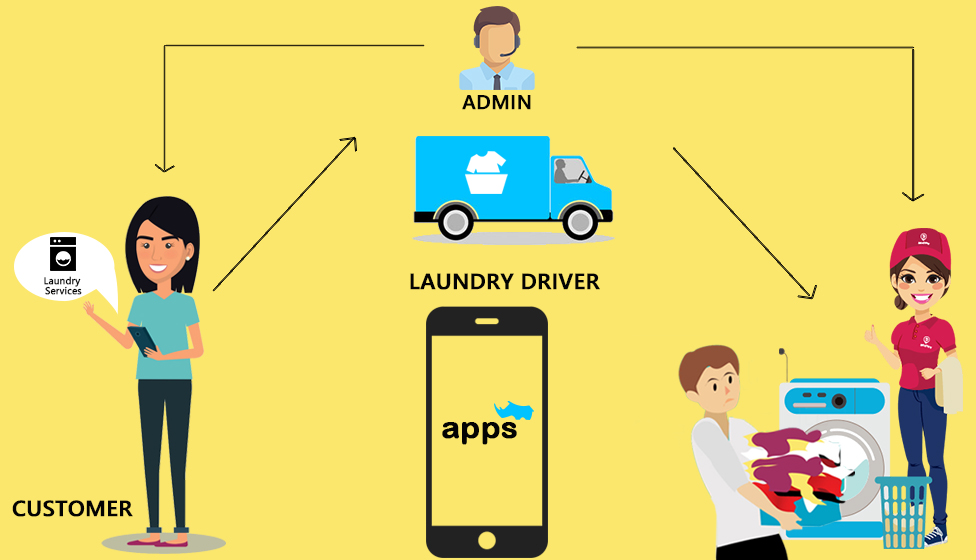 In an On-site business model of laundry, you are providing services under your own brand name.The on-site business model lets you integrate technology with your current running offline laundry business. With the help of the On-site business model, you can:
Schedule pickup and delivery time of clothes as per the convenience of customers.

Automated system for tracking customer's orders, tracking of delivery squad and status of laundry in particular stage of the laundry process.
Getting instant alerts about the completion of orders.Technology will aid you to track your delivery fleet through GPS, geo-fencing, scheduling of orders, estimating delivery time of each order.

Payments to be made either by card or by cash, whichever method suits your customer.

Thus, by providing quality-assured services, offering customers desired offers, discounts, and other perks, more customers will be loyal to your brand. Hence, you can monitor the needs of customers at regular intervals of time and can make certain amendments in your business model accordingly to grow your laundry business. Eventually, this platform can help you to dig huge profit from the business.

Aggregator Business Model

Planning to start a hot-buzz on-demand laundry business but don't own a laundromat? Then, this model perfectly suits your purpose. In simple terms, Aggregator model of laundry business can also be called as 'Uber for Laundry'. Marketplace in this model is an app. The front-end operations like booking a service, selecting a preferable time for pickup will be carried out through the app. All back-end operations like washing, dry cleaning, delivery are carried out by third-party contractors/merchants.

Key stakeholders in this model are customers, drivers, merchants, and admin/entrepreneur. All vital data is integrated and stored in a large central database which helps to take 'just-in-time' decisions. Through Aggregator Business model, customers can:

Select any laundry store based on its reviews and feedback on the app.

Select any laundry store as per his/her price range, quality of service and location.

Give reviews and feedbacks to laundry store.

Track delivery of laundry through in-built GPS feature of the app.

Making payments either by card or by cash.

Still dreaming how on-demand laundry business will resonate with your business needs? AppsRhino will offer you a complete solution to your problems by providing high speed, scalability and rich user-friendly interface of the app.

How will an app help you?

On-demand platforms have become an integral part of the individuals' lives. Therefore, creating an on-demand application for your laundry business will certainly help you in these ways:

Order Management:

Gone are the days when a service provider used to use pen and paper for registering and managing the orders received on a particular day as per the priority. An online platform is an effortless way to manage and arrange orders online as per their priority. This helps a business to make a proper array of orders which further increases customer experience and satisfaction, helping a business to grow exponentially.

Another benefit is that it will maintain a record of the number of orders received on a particular day from a particular location which helps the management to forecast the future. Hence, the online platform reduces overall investment in terms of efforts, time and money in an efficient way in order to grow laundry business. The customers love a systematic approach, so, with an easy booking of pick up and delivery, availing wide options of selecting a detergent to wash their clothes give them a friendly experience hence pursuing them to use the service again and again.

Operations Management:

The on-demand technology will also enhance the operations management right from the scheduled pickup of the laundry to its successful delivery within time. The driver's version of an app will enable him to track the exact location of the customer in no time. The geo-fencing, route mapping, and route optimization will further reduce capital investment. The admin version of an on-demand app will help him to keep a check on every transition stage, like which service (washing, ironing or dry cleaning) is required to be done on a particular laundry, alert of completion of service. It will have a report of every staffer involved in the business.

Sources reveal that in the United States, 38% of people work as freelancers the number is increasing every month. So, in the aggregator type of business model, working offline involves risk and individual glitches. AppsRhino expertise in information technology bridges the gap here and with its virtue, management of manpower and machinery in operation becomes easy and traceable, enabling an entrepreneur to save his time and precious money.

Easy to Expand:

In case if an entrepreneur plans to set up a new unit of his machinery to serve more people at remote locations, he needs more physical capital investment to rent or buy machinery, rent a watershed area to keep them and a team of professionals to supervise them. This may burn the pockets of an entrepreneur. An on-demand platform is a solution to grow a laundry business, where a business can increase its market reach with the help of technology with a single watershed base maintained in a particular area.

The successful examples are Washio and Laundromat who serve people in multiple locations without having a watershed area in that particular location. AppsRhino expertise provides technical assistance to an entrepreneur in handling a large scale business on a simplified online platform.

Communication:

Walking down to the store or sending emails online used to be an old-fashioned time-consuming way of communication. A proper communication channel is the most essential tool to master in your business. This is the channel from where you can build and earn the trust of potential customers. An on-demand app bridges the communication gap and allows a customer to ask questions freely, notifying entrepreneur instantly to answer the same question immediately or lately. This lets an entrepreneur earn the customer's trust. It is the responsibility of the technical partner of a business to provide a user-friendly communication channel.

Data-Driven Decision:

This trend has the greatest impact on the business' growth, driving traditional ways of doing business out of fashion. Automated systems in any niche of business have reduced the delays and made the decision making very efficient. As, when a customer places an order, an order ID is generated, his/her ordering time is stored in the central database which helps in estimating the delivery time as per the type of service required by him. Further, through his profile, it is easy to analyze the pattern of frequency of availing the type of services and accordingly you can opt various strategies and make alterations in business accordingly to grow your laundry business. For example, if a person or a nuclear family is giving a good business, then upselling can be introduced to them. Thus, integrated and centrally located data is a valuable asset to the organization.

Interacting with the consumer as per his data available will generate a sense of loyalty in the consumer. Wishing him on his birthday or another life event will make professional relations more healthy. Such kind of warm gestures triggers more business from the respective customer.

Analysis:

With the well-maintained record of each and every activity involved in the business of concerned stakeholder, an entrepreneur can do a thorough analysis of the further expansion of his business. The on-demand platform gives a detailed analysis of a type of customer, his frequency of orders, his attitude towards payment and scheduled pick up and delivery. Some customers may cancel pickup or delivery frequently. This keeps a record on them.

On the driver's side, reviews and rating enable them to take the needful actions, an excellent rated driver who's doing more than 5-7 pickups in a stipulated time may be offered bonus and incentives which will motivate him to devote his more time and efforts in the welfare of the business. On the other hand, an average rated driver working inefficiently may need some dose to boost his efforts.

On the working staff and machinery side, analysis of discarding old machinery which does not provide timely results, preferred detergent of customers and the requirement of new inventory can be done in order to cope up with the growing on-demand and business. A record of this will be stored in virtual storage and can be accessed anytime from anywhere.

How Cleanly and Laundromat emerged?

Let us take examples of successful Laundry business giants like Cleanly(U.S.A.) and Laundromat(Australia). They both provide door-to-door pickup and delivery of laundry. They let consumers choose a time for pick up and delivery as per their convenience. They also provide 'current' status of a customer's package by providing real-time tracking of each stage of the laundry process scheduled right from pick-up to delivery. Customers can also track the live location of the concerned driver through the navigation system and enjoy the facility of making cash or cashless payments. Thus, these start-ups offered a lot of convenience to customers and bridged the gap between their busy schedules and balance of other household work.

Cleanly, generating revenues of $2 million per year and Laundromat focusing to target $3 million revenue each year show that there's huge potential in the laundry business. As per analysts, the on-demand laundry business is intended to achieve 36.54% growth. Many VC were likely to invest in such businesses as in 2017, around $5 million funds were raised by Cleanly which further let its expansion in technology, entering new markets, increasing its fleet etc. In the case of Laundromat, Dan Carter, former All blacks rugby player, is supporting this business and has 10% equity shares through his own business. During 2014-15, estimated revenue generated by approximately 30,000 companies of on-demand laundry is envisaged to be $10 billion.

Based on these statistics you can definitely go ahead and try your Luck in laundry business!

Conclusion

The commercial laundry industrial comprises of around 3600 shops and this fragmented sector is worth $8 billion annual opportunity. Many of these small businesses have less than 10 employees serving and many players are eying on this on-demand opportunity to aggregate them on an online platform. This is the perfect time to step into the digital world where numerous options are available to scale up your laundry market by choosing the trusted technology partner. There are many companies available which give on-demand business solutions but choosing a reliable one is not easy. Any company can develop an app to grow your laundry business but only a few take the responsibility to upgrade offline business on an online platform. AppsRhino work tirelessly to help you increase revenues and improve margins on your laundry business.

Know More: On-Demand Startup Fundraising