Hiring dedicated developers can be daunting, especially if you're unsure where to start.
However, with the right approach, you can find and hire top-quality developers who will be an asset to your team; and here's exactly where AppsRhino comes into play!
AppsRhino is a leading software development company in India that provides creative design solutions for web and mobile applications.
We're focused on building beautiful yet functional products that are easy to use and understand.
AppsRhino's developers use a user-centric approach to every project, ensuring that we understand our client's needs before developing any solutions.
We combine this with extensive UX research, prototyping, wireframing, and usability testing to create intuitive applications that are easy for anyone to use.
In this blog, we'll explore the benefits of hiring dedicated developers through AppsRhino, as well as the process for finding and onboarding developers through the platform.
Benefits of Hiring Developers through AppsRhino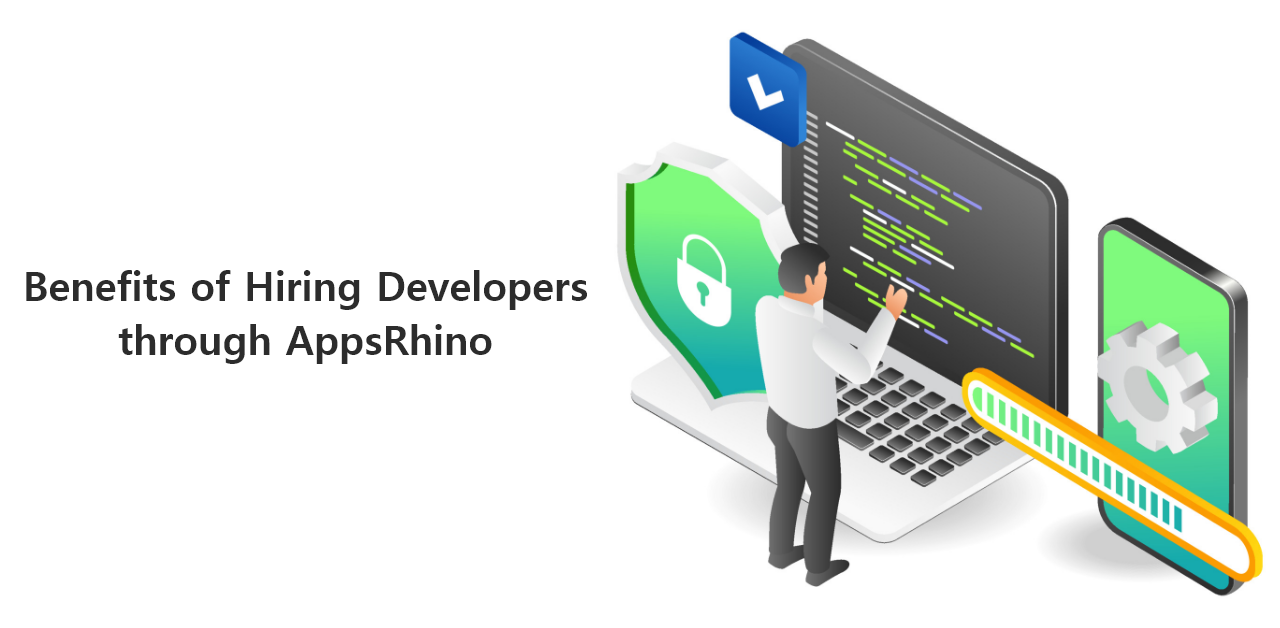 AppsRhino's developers are mindful of the latest technological advancements and have a holistic way of working.
There are several benefits to hiring competent developers through a company like AppsRhino.
Some of the key benefits include:
1. Expertise
AppsRhino has a team of experienced developers who are proficient in a range of programming languages and technologies.
This means that you can find developers who are specifically skilled in the areas that you need, whether it's developing a custom web application or building a mobile app.
2. Scalability
With our dedicated developers, you have the ability to scale your team up or down as needed.
This can be especially useful for businesses that experience fluctuating workloads or need to ramp up their development efforts quickly.
3. Cost efficiency
Hiring dedicated developers through an outsourcing firm like AppsRhino is often more cost-effective than hiring in-house or freelance developers.
You'll have access to a team of experienced developers without the overhead costs of hiring, training, and managing a full-time staff.
4. Quality assurance
AppsRhino has a rigorous hiring process that ensures that all its developers are highly skilled and experienced.
In addition, the company provides ongoing training and support to ensure that its developers are up-to-date on the latest technologies and best practices.
5. Unmatched support
AppsRhino's developers offer all the assistance and direction the user needs, both before and after launch.
AppsRhino offers the perfect solution for any level of development, from startup to enterprise, spanning from SaaS to a fully customized solution.
How to Hire Dedicated Developers with AppsRhino?
Now that we've covered some of the benefits of hiring dedicated developers through AppsRhino, let's delve into the process of finding and onboarding developers through the platform.
The process for hiring developers with AppsRhino typically includes the following steps:
1. Initial consultation
During this step, you'll discuss your project requirements with the AppsRhino team and provide them with any relevant information about your business and target audience.
Upon receiving your requirements and project brief, AppsRhino's team will shortlist candidates accordingly.
2. Request a quote
Based on the information you provide, AppsRhino will provide you with a quote for the development of your project. This quote will outline the project's cost, timeline, and scope.
3. Choose a hiring model
There are several hiring models that clients can choose from. The 4 primary types of hiring models are:
Full-time basis.

Part-time basis.

Project-by-project basis.

Hourly-basis.
Following that, we screen candidates according to your requirements, budget, and chosen hiring model.
4. Screening
A list of selected candidates, along with their resumes, will be sent to you by the AppsRhino team. Ultimately, you decide which candidates to interview further.
Once you have made your decision, you can finalize the candidate(s) of your choice.
5. Kick-start your project
Now, you're ready to embark on the journey of turning your dream project into a reality!
You will work with the development team at AppsRhino to define the project requirements and deliverables and to ensure that the project stays on track and meets your expectations.
Types of development services offered by AppsRhino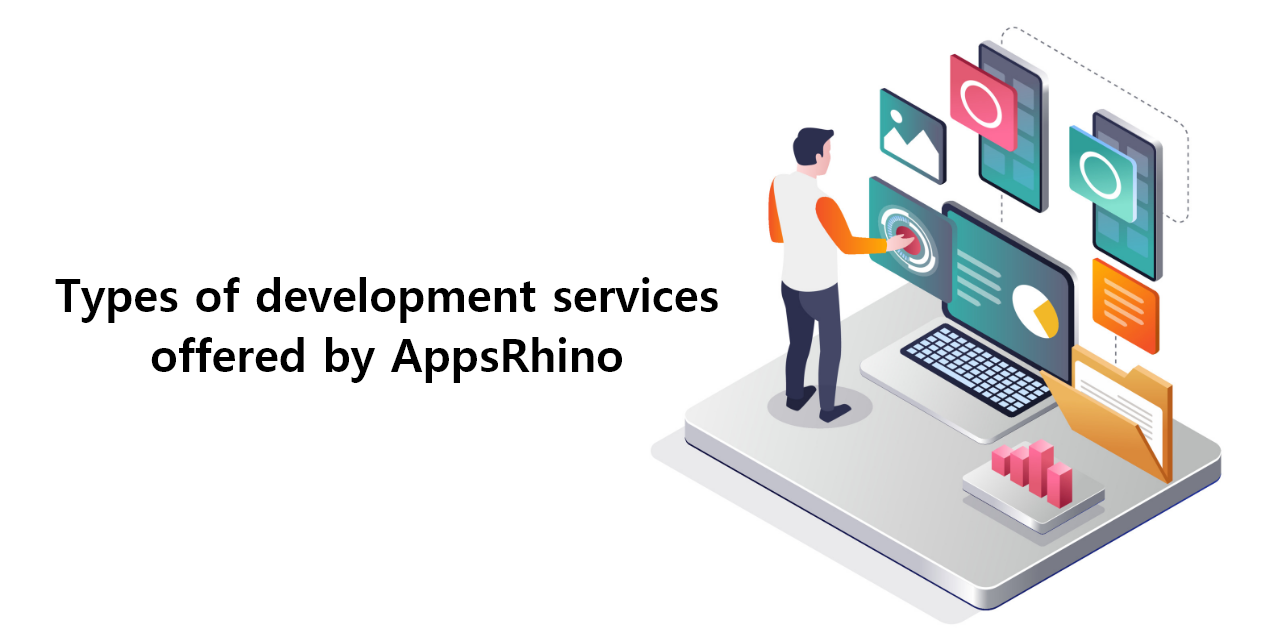 AppsRhino is a leading provider of development services for businesses of all sizes.
They offer a wide range of services to help clients bring their ideas to life, including web and mobile development, custom software development, and IT consulting.
With a team of experienced and skilled developers, AppsRhino is able to deliver high-quality solutions that meet the unique needs of each client.
Whether you are looking to build a new website, create a custom software application, or simply need guidance on your IT strategy, AppsRhino has the expertise to help you succeed.
AppsRhino also offers a range of development services, including hiring developers with expertise in various programming languages and technologies.
One can hire the following types of developers through AppsRhino:
These developers specialize in developing applications for the Android operating system, which is used on a wide range of mobile devices, including smartphones and tablets.
Angular developers build and maintain apps using this framework, including designing and implementing the user interface, handling data binding and rendering, and creating reusable components.
React.js developers are responsible for building and maintaining web applications using React, including implementing interactive components, optimizing performance, and ensuring the application is scalable and maintainable.
These developers specialize in developing applications for Apple's iOS operating system, which is used on iPhone and iPad devices.
PHP developers build and maintain web applications using PHP, including implementing server-side logic, integrating with databases, and handling data validation and security.
Node.js developers are responsible for building and maintaining server-side applications, including implementing server-side logic, handling data persistence and retrieval, and integrating with external APIs and services.
7. MongoDB developers
MongoDB developers build and maintain applications that use MongoDB, including designing and implementing data models, optimizing database performance, and ensuring data integrity and security.
8. Joget developers
Joget developers use this low-code platform for building and deploying business applications. They also design and implement custom workflow processes and integrate them with external systems.
9. Java developers
Java developers are responsible for building and maintaining Java applications, including implementing business logic, integrating with external systems, and optimizing performance
How does AppsRhino's development team function?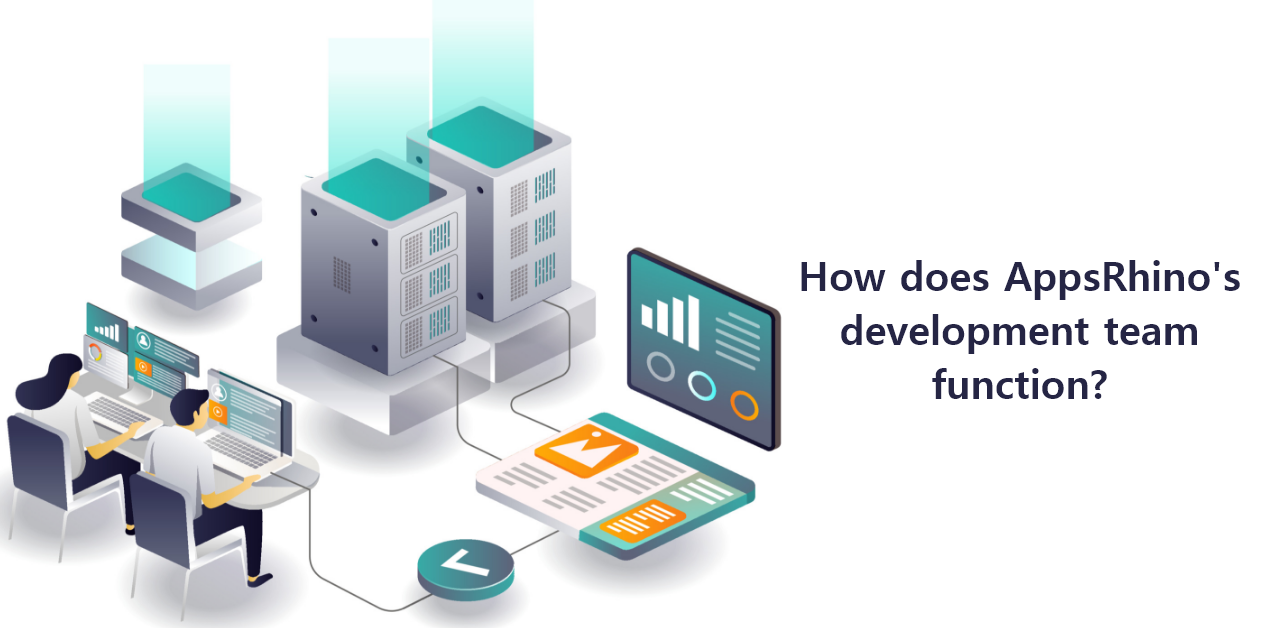 Being a high-quality and well-marketed platform, AppsRhino combines a variety of special tools when creating products for its clientele.
There are plenty of aspects that make AppsRhino's developers one-of-a-kind!
Our developers use agile methodologies to create top-notch solutions within the stipulated timeframe.
Here, we have listed the process that AppsRhino's developers employ to create excellent web and mobile applications:
1. Planning for development & architecture
A scalable design guarantees excellent performance and prevents system crashes. Our developers adhere to database designs and code architectures to create the perfect solutions for your business.
2. Designing UI/UX
AppsRhino has an amazing team of designers who create eye-catching wireframes and clickables while keeping the customer's story in mind.
3. Development
Our developers construct the product, and the design is carried out thoroughly and systematically, making code generation simple.
4. Bug Fixing & testing
The product is reported, tracked, corrected, and retested by the developers until it meets the quality criteria specified in the Software Requirements Specification (SRS).
5. Quality control
The developers extensively test the finished product before launch, even after completing unit testing at each stage, to ensure all use cases operate smoothly and the app is bug-free.
6. Beta Go-live
After design confirmations, the initial release is carried out. Using unit testing, a user can be sure the system will be free of defects when it is ready for deployment.
7. Go live with the app
To guarantee complete client satisfaction, AppsRhino's developers take into account the client's input. Each iteration is the culmination of feedback and progress.
8. Maintenance
As technical partners, our developers ensure that the customer focuses on operations and marketing while theirs is on sustaining the solution and user experience as smoothly as possible.
In a nutshell…
To sum it up, if you want to build a great product and make your business thrive in the marketplace, hiring dedicated developers from AppsRhino should be your #1 choice.
They are top-notch specialists who can help you with anything, from converting your idea into profit to creating an innovative and captivating app.
One of the benefits of working with a company like AppsRhino is that they handle all of the logistical and administrative tasks involved in hiring a dedicated developer.
This allows businesses to focus on the core aspects of the project, rather than getting bogged down in the details of hiring and onboarding.
Overall, by working with AppsRhino, businesses can access a pool of highly skilled and experienced developers, streamline the hiring process, and bring their projects to fruition with confidence.
At AppsRhino, we're interested in becoming your go-to strategist and technology partner, so don't hesitate to contact us if you have any questions, comments, or concerns.
It would be our honor to serve you in the near future.
What are you waiting for? Call us right away!