Nothing pleases customers today more than food delivery to their homes. Do you want to know about one of the most popular grocery delivery apps that started its service in India? Well, this blog will be the perfect place for you!
We will together discuss Dunzo, a grocery delivery application for Indian customers. Moreover, we will talk about Dunzo's business model and learn about its features. The business model will help you understand the inside working of grocery delivery applications and websites like Dunzo.
Do you know about Dunzo alternatives? We will examine them and their qualities as well.
Finally, a journey towards starting Dunzo clone app development will be the perfect beginning for your company!
If you are interested in Dunzo clone app development or want to understand how Dunzo's business model works, you are in for a treat!
Why are we waiting? Let's start and keep learning!
What is Dunzo?
Kabeer Biswas Jha, Ankur Aggarwal, and Dalvir Suri are the founders of Dunzo. This grocery, medicines, food, and pet supplies delivery application started its journey in 2014 with the customers.
Dunzo has its operating quarters in Banglore, India.
Do you know about the limits of the Dunzo delivery service? Customers have been using Dunzo in many cities across the country, like Delhi, Mumbai, Pune, Banglore, and Hyderabad.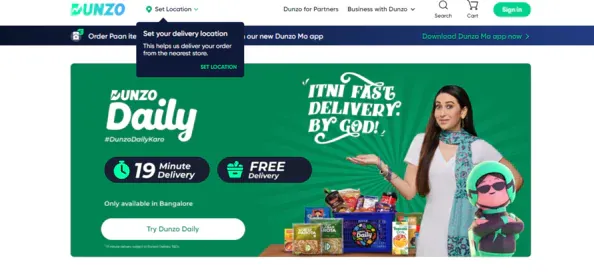 This app is one of the fastest-expanding startups. They are receiving love from customers and getting excellent reviews.
Now, let's talk about Dunzo's logo and its meaning. A logo for any company depicts its significance for the company and the customers. Dunzo's logo is black and green in color. The application's symbol is not only colorful but also stylish. The first letter, D, is black and has a lightning symbol meaning fast and efficient delivery.
This application has positive features, which we will discuss in the next section. However, if we compare the delivery charges between Swiggy and Dunzo, delivery charges for Dunzo are cheaper for the customers. Moreover, users can also order items from the application after duty hours and holidays with extra charges.
What is the Dunzo Business model?
Let's talk about the Dunzo business model and the strategy that is working for the company's success. This grocery delivery application connects the local stores with the customers.
The local stores are grocery shop chains where users get their products.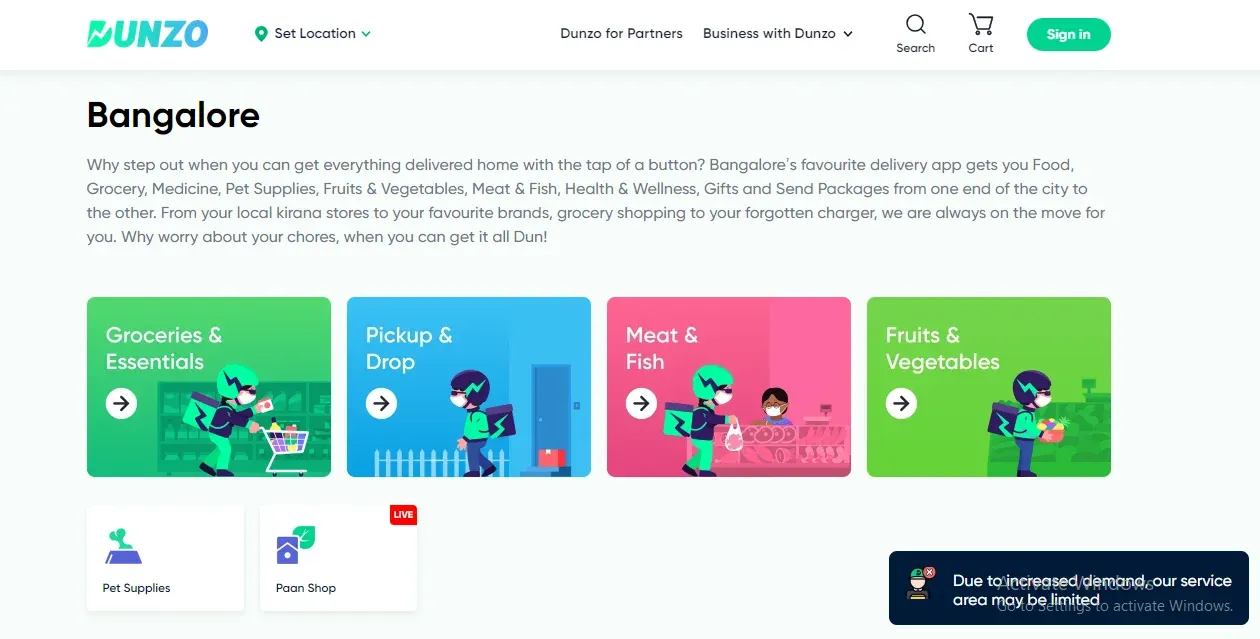 How does Dunzo earn?
Well, the company earns based on the commission and sale percentage from the total order value. The application gets a 5 to 15% profit margin on every order based on the category and grocery store location. Moreover, convenience fee from the customers adds to their money.
A user can sign up for the application and order a variety of items from the Dunzo platform. They can buy numerous things like groceries, medicines, pet supplies, and food from nearby stores and restaurants.
After a customer places their order request, independent delivery partners take orders from the stores and deliver them to the customer's address and their doorstep in some hours.
Partnering with local businesses and offering promotions, discounts, and offers to customers is an additional way for Dunzo's business model to get money and retain customers at the same time!
Now, let's talk about how the Dunzo business model technology is helping customers and helping them get the required products at their homes. Dunzo streamlines the delivery process and provides the perfect delivery experience for the users and delivery partners.
The application uses modern technology and tools like machine learning to find the appropriate route, calculate delivery time, and take customer reviews for better service.
AppsRhino offers the best Tech-driven solutions for Home services, Laundry delivery, Alcohol delivery, Grocery Delivery, Food Delivery, and Taxi Services:
Innovative ideas, exponentially growing technology, grocery store partnerships, and a customer-based model basis the application's success resulting in profits for the company. Moreover, the customers are content with the service and order essentials for their homes.
Dunzo clone app Features
Now that you know about the Dunzo business model, we shall talk about the Dunzo comprehensive guide for a clone application.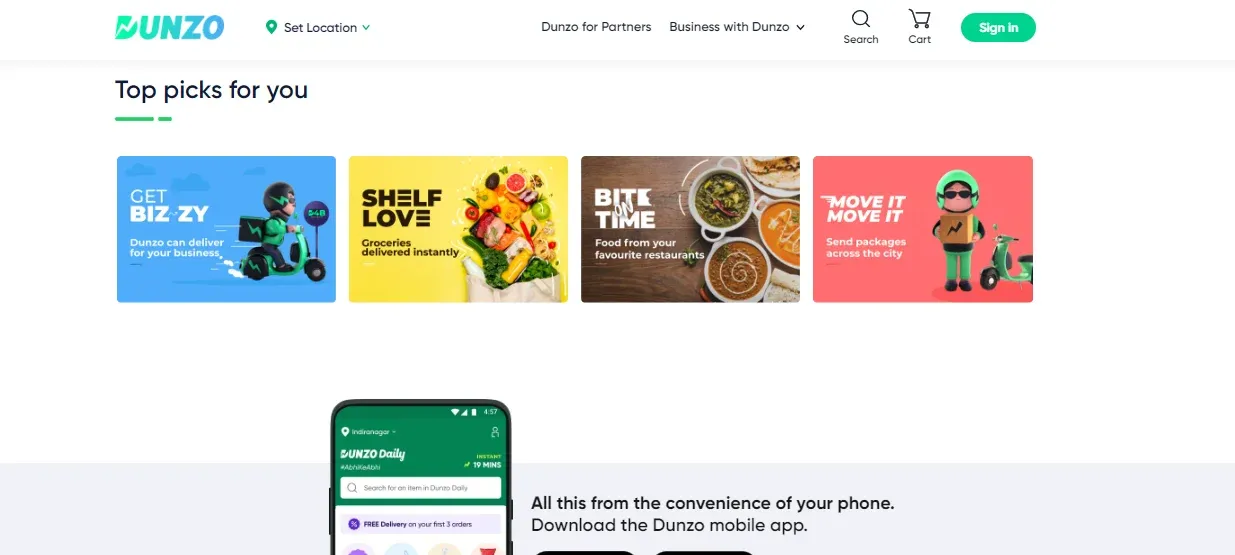 You can create a Dunzo clone app for your customers and target users. Moreover, you can generate profits while doing so.
Multi-Category Ordering
If you are developing a Dunzo clone application, you can allow your customers to order numerous products like groceries, pet supplies, and food. Dunzo provides these features and lets the user choose what they want.
24/7 Availability
What do customers like more than the 24/7 service of doorstep delivery? Your Dunzo clone app features include letting application users choose from multi-category products at any time of their day.
You can connect with 24/7-hour stores or establish a warehouse facility to keep the products fresh and available for on-demand delivery.
Your delivery partners or logistic owners can restock the warehouse regularly or as per requirement.
Imagine a customer willing to order some crackers and cold drinks at 2 AM in the morning. If your Dunzo clone app offers all-time services, you will have a better value for customers among all delivery platforms.
Personalized Experience
All the applications today use data management and artificial intelligence tools to personalize customers' ordering and scrolling experience.
Your Dunzo clone app feature will let the customer order once after searching for the products. Further, the application will run an algorithm and provide history and order-based results for the repeating customers.
Multiple Payment Options
Imagine a customer ordering grocery items for the upcoming month. Now, they wish to pay for the products via their credit card. However, your Dunzo clone application allows cash-on-delivery only. What will the user do? Will they go to another application and order food from there?
As your Dunzo comprehensive guide, you shall have multiple-payment options for the clients and customers.
You shall allow them to pay for their purchase via credit cards, debit cards, cash, e-wallets, etc.
Discounts, rewards, and coupons
Tell me about one customer who prefers something other than discounts and offers. Coupons and offer codes are some of the best ways to retain customers and get new ones.
You can create festive, holiday, or weekend discount sales for the users and let them order within a limited time. Believe us, this feature has been working for numerous stores and will help you boost your sales in no time.
Ratings and reviews
You can get honest customer reviews with this feature. You will know if your application users like the service, getting their orders on time, and receiving good-quality items.
You can provide a feature where the customers rate the service, grocery item, delivery partner, and store after receiving the order.
Conclusion
Now you know about the features and alternatives of the Dunzo application. Do you have an interest in creating a Dunnzo clone app? Well, here is the perfect way you can start!
The first step is planning. You shall gather your team and develop the perfect plan for hiring and development. Further, create user interface designs for the application and start the app development process with the required programming language. You can go for Android or iOS development or web application development.
Further, testing and launching the app are the last steps toward your Dunzo clone app journey. Finally, any app's maintenance, redevelopment, and bug checking will always continue.
If you want to create a Dunzo clone, you can contact an app development company like AppsRhino. You can tell us about your project, and we will take care of the rest. Companies around the world remember us for unmatched customer support.
We are here for you throughout the development process and will also help you with the launch. Connect with us right away and learn more!
Frequently Asked Questions (FAQs)
What is Dunzo's business model?
Dunzo operates on a hyperlocal delivery business model. It provides an on-demand delivery service for a wide range of products, including groceries, medicines, food, pet supplies, and more.
Dunzo acts as an intermediary platform that connects users with local vendors and delivery partners to fulfill their delivery needs.
How does Dunzo's business model work?
Dunzo's business model works by leveraging a network of delivery partners who collect and deliver orders placed by users through the Dunzo app.
Users can browse various categories, place their orders, and track the delivery in real-time. Dunzo partners with local stores and businesses, enabling users to access a wide selection of products and services.
What types of products and services can I get through Dunzo?
Dunzo offers a diverse range of products and services through its platform.
Users can order groceries, household items, medicines, pet supplies, food from restaurants, and even get services like laundry, courier pickups, or document submissions.
The availability of specific products and services may vary depending on the location.
How does Dunzo generate revenue?
Dunzo generates revenue through various streams. It charges users for the delivery services provided, which includes a delivery fee based on the distance and time required for the delivery.
Additionally, Dunzo may charge partner businesses or stores a commission on the orders fulfilled through the platform.
How does Dunzo ensure the quality and reliability of its deliveries?
Dunzo strives to ensure the quality and reliability of its deliveries by partnering with trusted local vendors and delivery partners.
These partners undergo a screening process and are expected to maintain high standards of service. Dunzo also incorporates user ratings and reviews to monitor and improve the quality of its delivery network.
Can I track the status of my Dunzo delivery?
Yes, Dunzo provides a tracking feature that allows users to track the status of their deliveries in real-time.
Users can see the location of the delivery partner, estimated time of arrival, and receive notifications about the progress of their order through the Dunzo app.
Does Dunzo operate in multiple cities?
Dunzo initially started its operations in Bengaluru, India, but has expanded to several other cities across India.
However, the availability of Dunzo may vary depending on the specific location. It's recommended to check the Dunzo app or website to determine if the service is available in your city.
Can I schedule deliveries in advance with Dunzo?
Yes, Dunzo offers the option to schedule deliveries in advance. Users can select a preferred date and time slot for their delivery during the checkout process.