In today's digital age, where user experiences drive the success of products and services, the role of UI/UX designers has become paramount.
From mobile apps and websites to virtual reality experiences and smart devices, UI/UX designers have emerged as the unsung heroes who shape our digital interactions.
With their expertise in creating seamless and delightful user interfaces, they are undoubtedly ruling the industry and transforming the way we engage with technology.
Want to know why & how UI/UX designers are ruling the industry? Then, keep on reading!
Benefits of UI/UX designing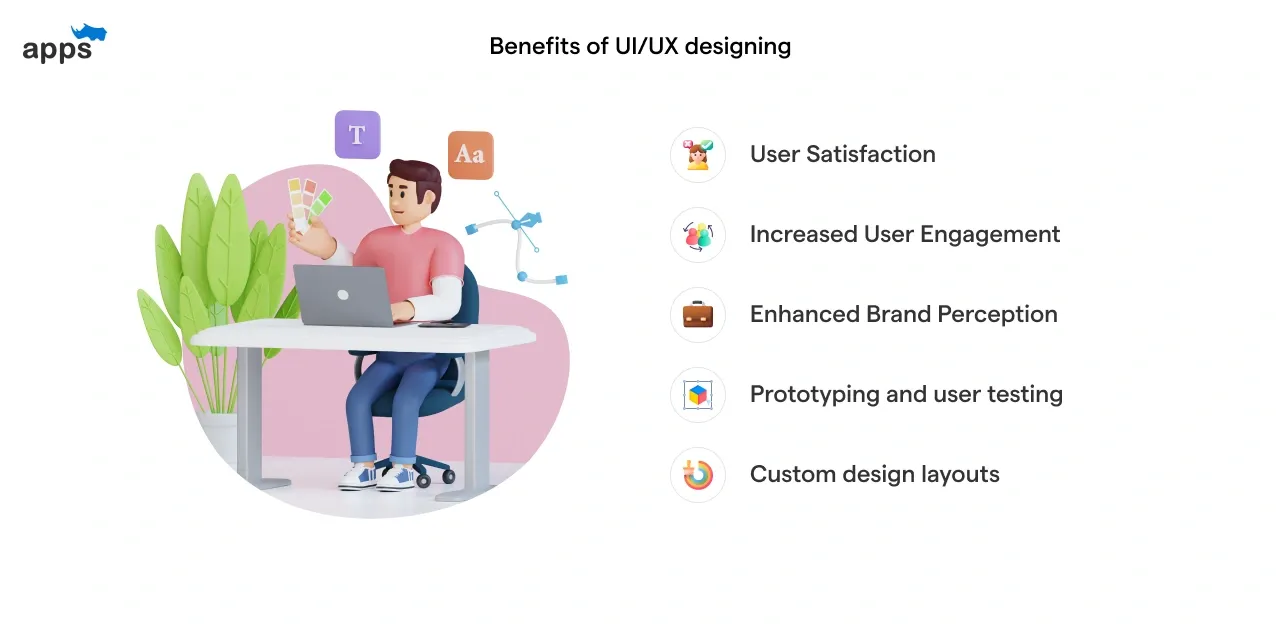 The technical team of a corporation benefits from a smooth and objective workflow thanks to strong UI/UX design.
Poor typography can ruin an exemplary interface layout, and disconnected color choices make it difficult to traverse a website.
These elements highlight the significance of brands and companies partnering with an experienced web design company.
Employ a designer due to the following reasons:
Prototyping and user testing
For your technical team, incorporating complicated functionalities could be too much.
You can find potential flaws immediately with UX/UI designers' wireframing, prototyping, and user testing services.
Specific development requirements
Based on the use cases that your consumers have for your product, UX designers define your development requirements.
Custom design layouts
To integrate all the exciting elements in a straightforward, streamlined, and natural way, UI/UX designers construct design layouts.
Reduce bounce rate significantly
People dread using sluggish apps with unstable code and outdated interfaces. A significant bounce rate might result from this.
These mistakes can be avoided with a thoughtfully planned and tested UI/UX design.
Improve conversion rates
You can look to effective UI/UX design to show you how to draw in, keep, and please your customers so they become paying customers.
You can rely on your consumers to be delighted by their pleasant experience because the goal of UX design is human-centric and is deliberately employed to drive users via a preset pathway toward a sale.
A drop off of the incoming flywheel before they convert due to poor UX.
Also, adopting the proper font hierarchy, writing content with a UX foundation and a conversion goal, and strategically placing links and CTAs will keep users on your site longer and increase their likelihood of becoming paying customers.
How do UI/UX designers help a business?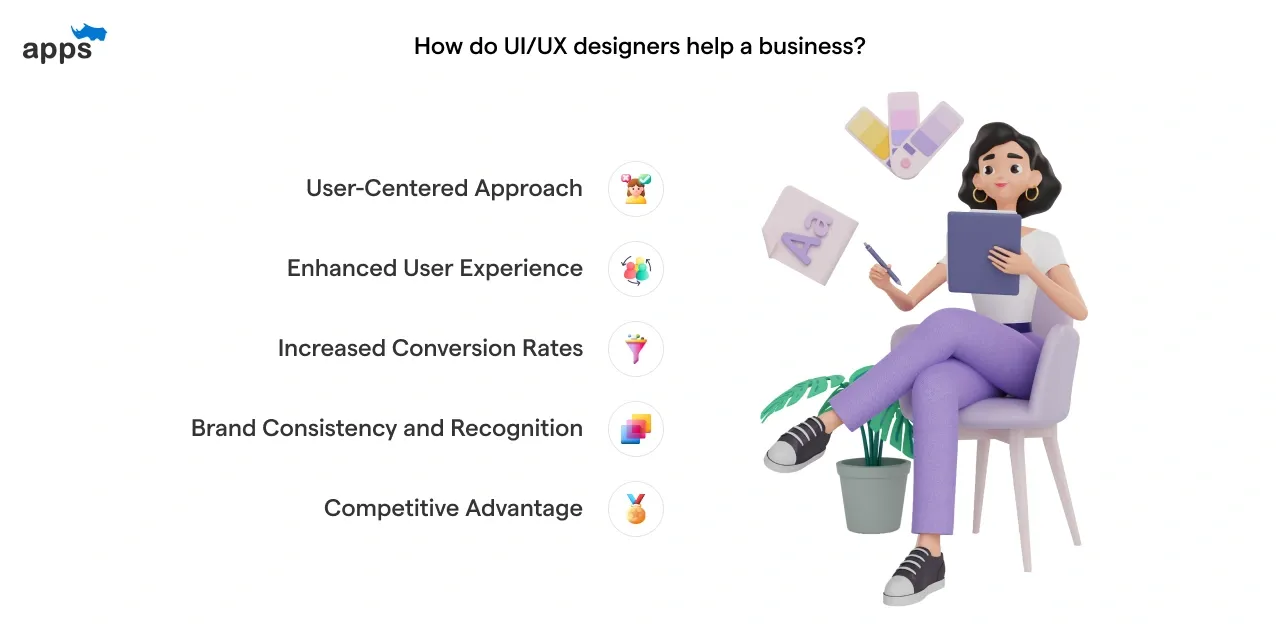 Today, the majority of businesses use digital media, including apps, websites, and blogs.
Therefore, when discussing UI/UX, we're talking about digital media activities like online shopping, using mobile apps to request services, etc.
You just have a few seconds to establish rapport with a user, persuade them to spend money on your product or visit your website, or at the very least pique their interest in learning more about the goods you offer.
Following are some points regarding the UI/UX Designer's function in product design and how it integrates all design aspects to become one of the keys to your product's success:
Reducing cost
The designer will conduct targeted research, analysis, and testing on future or current users to determine what users desire and require before developing the interface.
This will lower the likelihood that the product will fail.
Making a design prototype is more expedient, adaptable, and economical than making changes during development.
Improving SEO
In the past, SEO (search engine optimization) could be accomplished by simply stuffing your website with plenty of keywords, which would cause it to rise to the top of search results.
The problem is that Google's algorithm continually changes due to their analysis of dwell time (the time it takes a user to reach a page), user journey success, web navigation behavior, and website trends.
A method to depend on visitors is to draw them in with strong UX.
User-focused
The basic goal of UI/UX is to make complex information simpler.
The primary focus should be on user preferences and satisfaction to improve product reputation and garner positive user feedback.
You'll generate better financial results and business data as a result.
Industries where UX/UI designers are excelling
The influence of UI/UX designers goes beyond individual projects.
As the importance of user-centric design grows, organizations across industries recognize the value of investing in UI/UX expertise.
From e-commerce to healthcare, UI/UX designers are sought after to create compelling and intuitive experiences that drive customer satisfaction, loyalty, and business growth.
In the e-commerce sector, UI/UX designers shape the customer journey. They optimize the checkout process, simplify product browsing, and create persuasive visual cues to encourage conversions.
By understanding consumer behavior and applying persuasive design techniques, such as social proof and personalized recommendations, UI/UX designers help e-commerce businesses thrive in a competitive landscape.
The healthcare industry is also witnessing the impact of UI/UX designers.
They collaborate with medical professionals and developers to design user-friendly healthcare applications and digital platforms.
These tools enhance patient engagement, facilitate telemedicine, and improve access to medical information.
UI/UX designers ensure that the complexities of medical data are presented clearly and understandably, empowering patients to take control of their health.
Moreover, the rise of mobile applications has further amplified the demand for UI/UX designers.
As most internet users access digital content through mobile devices, creating a seamless mobile experience has become imperative.
UI/UX designers specialize in crafting mobile interfaces that are responsive, intuitive, and visually appealing, maximizing user engagement and satisfaction.
UI/UX designers: What does the future look like?
Designers will become more specialized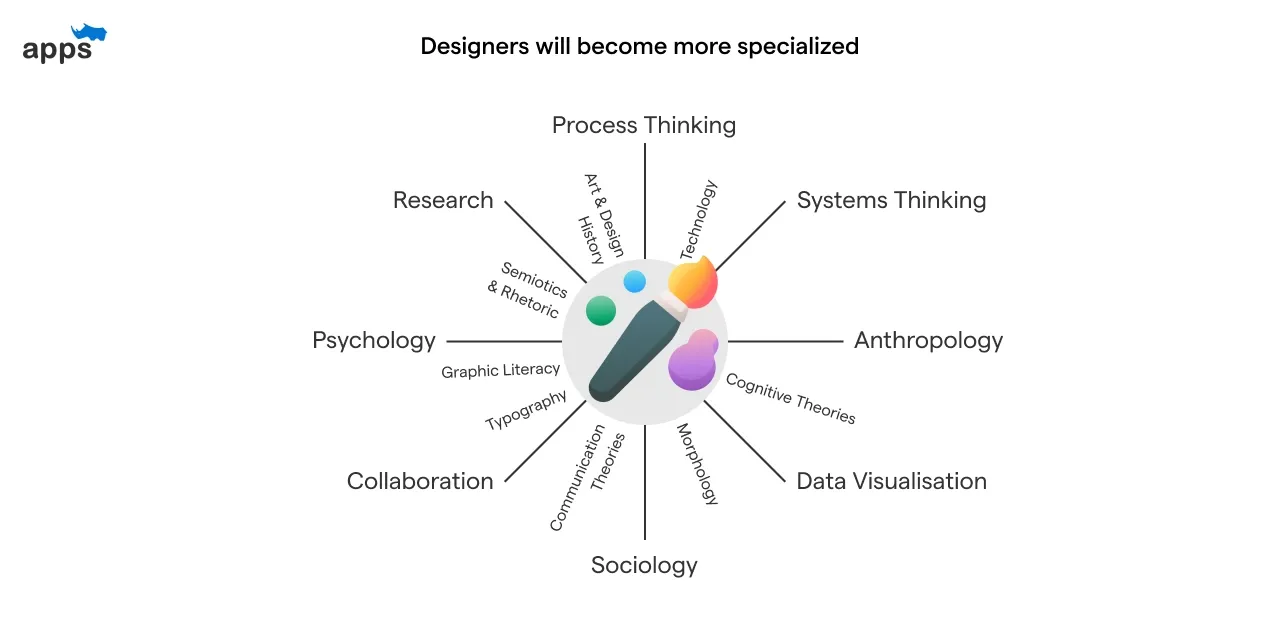 UI/UX has a specialized future.
As the knowledge and skills of UI/UX designers at all levels increase, it will become significantly more important for designers to have a specialty or specialized discipline.
Many of the existing job postings for UI/UX positions already make this clear.
UX/UI specialists that can also work as - interaction designers, UX researchers, content and product designers, and even voice-guided UI specialists are in high demand among businesses.
It is very easy to move from being a generalist to becoming an expert once you have a solid foundation in UX.
The time has come to increase your skill set and knowledge base.
Picking up some coding skills, brushing up on design strategy and team leadership, or learning more about analytics are all ways to plan ahead and get ready for your future in UI/UX.
Working alongside AI
A brilliant designer has always been characterized by their aptitude for analyzing both recent and historical data and foreseeing the desires and actions of the user.
If AI can complete the same task in around half the time, will the demand UI/UX designers decline? In a nutshell, no.
The difficulties that only those who have genuinely lived in the human experience can understand cannot be addressed by AI, even though it is capable of producing prototypes rapidly and effectively and analyzing enormous amounts of data.
It will still be necessary for UI/UX designers to pinpoint the problems that need to be handled, craft the ideal inquiries, and show empathy for user roadblocks, including those caused by illness, disability, money problems, and family obligations.
AI will undoubtedly speed up and simplify UI/UX designers' work because they can delegate most data analysis to AI systems and focus more on their designs.
But numerous problems crop up that AI systems can't handle, that they actually cause, or humans can only resolve.
Conclusion
In the modern world, UI/UX design is required in every part of our existence.
Every company has been forced to go digital and establish a strong online presence, especially in the wake of the pandemic.
The simplest way to encourage website visitors to interact with a business is to use a thoughtful design to point them toward a specific action.
Designers must therefore show the next step on each page of the website.
If your product design is fun and usable, the value of UX and UI design can be gauged.
A seamless user experience, time savings, decreased cognitive load, and increased general satisfaction is benefits of an effective user interface (UI) design.
UI/UX designers are playing a significant role in shaping the future of the digital industry.
Their user-centric approach, ability to bridge design and technology, and focus on usability and accessibility have made them indispensable in creating engaging and impactful user experiences.
As businesses recognize the importance of putting the user at the center of their strategies, UI/UX designers are positioned to continue ruling the industry and driving innovation in the digital landscape!
Frequently Asked Questions
What is UI/UX design, and why is it important in today's industry?
UI/UX design stands for User Interface and User Experience design, which focuses on creating seamless and engaging experiences for users. In today's digital age, where user satisfaction is paramount, UI/UX design plays a crucial role in attracting and retaining customers by enhancing usability, accessibility, and overall satisfaction.
What skills do UI/UX designers possess that make them valuable in the industry?
UI/UX designers possess a range of skills, including visual design, information architecture, interaction design, prototyping, and user research. They combine these skills to create intuitive interfaces, optimize user journeys, and solve complex usability challenges, making them highly sought after in the industry.
How do UI/UX designers contribute to the success of businesses?
UI/UX designers contribute to business success by understanding user needs, conducting market research, and designing interfaces that align with users' expectations. They help improve conversion rates, reduce user frustration, increase customer satisfaction, and ultimately drive business growth.
What impact does UI/UX design have on user engagement and retention?
UI/UX design directly impacts user engagement and retention. A well-designed interface with intuitive navigation, visually appealing elements, and seamless interactions keeps users engaged and encourages them to explore further. It also creates a positive user experience, leading to higher retention rates and increased customer loyalty.
How does UI/UX design influence brand perception?
UI/UX design plays a significant role in shaping brand perception. A visually appealing and consistent interface builds trust, reflects professionalism, and enhances the brand's credibility. Moreover, a positive user experience with a brand's interface creates a lasting impression and fosters positive associations with the brand.
How can UI/UX design contribute to increased conversion rates?
UI/UX design can significantly impact conversion rates by optimizing the user journey, simplifying the conversion process, and removing friction points. A well-designed interface guides users seamlessly through the conversion funnel, increasing the likelihood of conversions and driving revenue for businesses.
What role does user research play in UI/UX design?
User research is a fundamental aspect of UI/UX design. It involves gathering insights about user behavior, preferences, and needs through various research methods such as interviews, surveys, and usability testing. User research helps designers make informed decisions, validate design choices, and create user-centered experiences.
How does UI/UX design align with accessibility standards?
UI/UX design considers accessibility standards to ensure inclusivity and provide equal access to all users, including those with disabilities. Designers incorporate features like proper color contrast, readable typography, alternative text for images, and intuitive navigation to make digital products accessible to a wider audience.