The best flower delivery apps for iPhone to brighten someone's day
Who does not like flowers? If you receive a bunch of flowers on your birthday, anniversary, or holiday, your mood lights up immediately! All you need is a lovely flower with a joyful scent to make you feel beautiful and brighten your day!
Moreover, flowers are the perfect option to consider for gifting in case of any occasion. "It's her Birthday! What should I gift her? Let me order a flower bouquet for her. She will love it!
Now, from where can you order flowers? Imagine you have to reach for an event and want to buy flowers urgently. What can you do? Will you go around the city searching for florists when you got no time? Or will you search online for websites that deliver flowers? What if we provide you an option to open your iPhone, click on the flower delivery app, and order? A Flower Delivery app can be a perfect solution for ordering flowers online at the last minute!
Follow this blog to know more about sending flowers to your loved ones and apps on your iPhone that will help you with the task! These Flower Delivery for your iPhone will help in brightening your and someone else's day!
Why Gift Flowers?
Before finding out where to buy flowers, let us first understand why flowers are a perfect gift for any occasion. You can then know about the best flower delivery apps available to you.
Flowers are for all ages
Whether you are going for a birthday party of your loved one or visiting your folks, flowers always create a pleasant atmosphere.
You can gift flowers to people of any age group without thinking much. You can even use online portals to deliver fresh flowers to your loved one's doorstep. You can gift flowers to welcome a newcomer or bid farewell!
Lovely visual
Flowers can make your room look beautiful by sitting fresh in a bouquet in one corner. The pleasantry of different colors and petal and leaf patterns of flowers mesmerize your eyes.
When you gift flowers to someone, the same fascinates them and makes them feel loved and cared for, it brightens their mood, and you feel happy along with them.
Emotional Communication
Different flowers and flower arrangements convey multiple messages. You can communicate love, sorrow, sympathy, excitement, celebration, request, and apologies with the help of flowers. There is no description in words of the feeling of giving and receiving flowers.
Comfort
Can't think of anything to gift? Flowers become your convenient answer when you are selecting a gift. As flowers go with every occasion, you can give them as a present anytime. The best part of gifting flowers is that you don't have to run to get fresh flowers now. All one has to do is place an order online!
AppsRhino offers the best Tech-driven solutions for Home services, Laundry delivery, Alcohol delivery, Grocery Delivery, Food Delivery, and Taxi Services:
Top 5 Flower Delivery Apps for your iPhone
Imagine it's Mother's Day today. You wish to surprise your mother and tell her how much she means to you. To celebrate the day, you want to get her the most beautiful gift that conveys your emotions.
What can you do? The perfect option will be to get some magnificent flowers delivered to her at her doorstep in the morning! Wouldn't she love it?
Here are some apps you can use to buy flowers online by scrolling through your iPhone! These Flower Delivery apps for iPhone would seem like a perfect choice when ordering for a loved one. You can use the best flower delivery apps in the market for various occasions and holidays!! Let's take a look at these Flower Delivery apps for iPhone users!!
1. 1800Flowers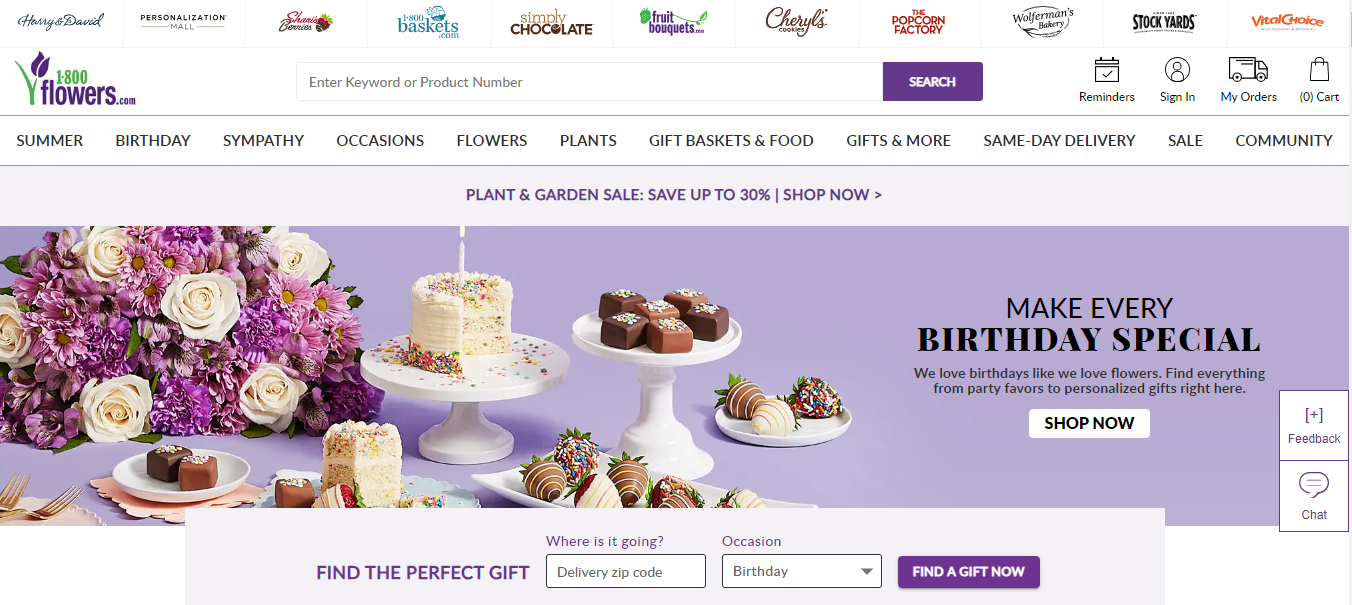 App Store Rating: 4.7 Size: 133 MB Price: Free
The 1800 flowers was initially a single flower gifting shop in Manhattan in 1976. Slowly, the business of this company "bloomed." Today 1800 flowers have become the leading flower and gifting retailer in the US. The company has a yearly turnover of $1.2billion as per recent reports. The most crucial point is that 88% of the sale is online as 1800 flowers have emerged as an eCommerce platform.
Features that 1800 Flowers gives to its customers include
1800 flower allows the delivery of flowers and gifts all over the globe. You can say that the app is reachable to people from more than 190 countries.
Customers can opt for same-day delivery. The 1800 flowers have a tie-up with the local florists. These florists will help in the

delivery of flowers

on the same day.

Celebrations Passport Program lets the customers send flowers for free delivery on flat fee charges. If you use your iPhone to send flowers often, you can go for the Celebrations Passport Program.
The free sign-up process with gift reminders attracts potential customers to the 1800 online store.
Customers can track their orders and get the latest updates through the app.
2. ProFlowers-Delivered Fresh
App Store Rating: 4.0 Size: 35.6 MB Price: Free
ProFlowers is a rival app of 1800 Flowers and carries some of its features. You can select from different categories and bouquets from the app, check their price and order them.
ProFlowers offers various features to its customers as
Customers can set reminders for days and occasions when they have to order or send flowers. You can set reminders for birthdays and anniversaries on the app. Never miss a chance to wish your loved one!
Just like 1800 Flowers, you can track your orders and get updates regarding the delivery.
ProFlowers is an FTD company and allows delivery internationally.
ProFlowers guarantees that the flowers you order will last 7 days. If the service or flowers are not satisfactory for the customers, ProFlowers gets a replacement or a refund for the customer.
The app allows the customers to include presents like balloons, sweets, and stuffed animals. It is the perfect app if you want to send flowers for a special occasion.
3. Floward Online Flowers & Gifts
App Store Rating: 4.5 Size: 74.3 MB Price: Free
Floward Online Flowers & Gifts guarantees the delivery of fresh flowers to its customers. The app allows the customers to choose from multiple options like Letterbox Flowers, DIY Box, etc.
The main features that Floward Online Flowers & Gifts offers are
The app has the option of "Flowers Subscription." This feature lets the customers receive seasonal flowers and flower arrangements every week or month as per their choice.

Floward offers** free same-day delivery**. If you are in a hurry and need your flowers on the same day, you can go for Floward.

Customers can choose to add a personalized video card that Floward will deliver to their loved ones along with the flowers. This feature by Floward has been winning hearts across the world.

If you don't have the exact address of your loved one, you can send the name and phone number to Floward, and they will deliver the flowers for you!
4. Bloom & Wild - Flowers & Gifts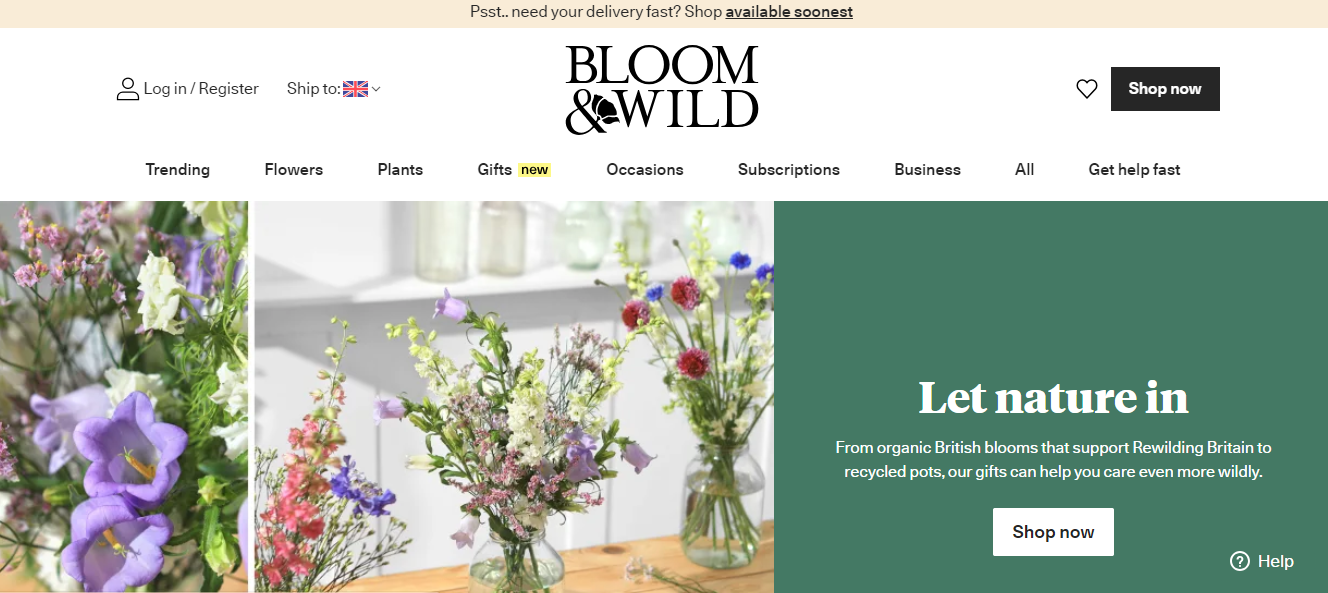 App Store Rating: 4.9 Size: 120.9 MB Price: Free
"It's been a real joy & privilege to help keep our customers connected with their loved ones when we've all been missing being able to see our friends & family." These words are by the CEO of Bloom & Wild as per TechCrunch.
Bloom & Wild is based in the UK and has expanded business across Europe.
Features that Bloom & Wild offers to its customers
Customers can customize their gift cards along with their pictures when they send flowers to their loved ones. Everyone loves cards and personalized messages. This feature by Bloom & Wild makes it a big hit in the UK market.

The app offers free next-day deliveries in the UK, France, Germany, and Austria. Customers can select from free and premium courier services.

Like ProFlowers, Bloom & Wild lets the customers save occasions, so they never miss them. They can sync the dates on the app with their calendar. Moreover, after customers save more than 3 dates, they get $6.03 as credits.

Customers receive tracking of their order, so they know where their flowers and gifts are at delivery time.
5. Mizu – Gift & Flower Delivery
App Store Rating: 4.3 Size: 131.7 MB Price: Free
Mizu has a vast network of local vendors that allows customers to order from anywhere and anytime. Customers can select their gift on the app and order with a few clicks! You can go through a wide range of products with flowers to give to your loved ones on their special occasions.
Mizu offers a wide range of features to its customers. Here is a list of some of these features.
Customers can choose from Mizu's extensive flower collection that includes roses, gerberas, lilies, orchids carnations, red carnations, white carnations, daisies, lisianthus, lilies, etc.

The app offers same-day delivery to Mexico, Spain, Colombia, and Germany.

Customers can receive alerts about new offers on the app. Moreover, the flower arrangements and options change seasonally, so customers always have something new to choose from the online store!
Final Words
According to a report by Statista, more than 200K people searched for flower delivery in 2020 (The UK). Flowers are the perfect gift option, and if you can get flower delivery from your home, what is better than that? You can celebrate special moments with your loved ones by opening a flower delivery app on your iPhone and ordering a perfect bouquet that everyone will love!
What are you waiting for? Go to App Store and download a flower delivery app that suits you on your iPhone!
You can use AppsRhino to create your own Flower delivery app! AppsRhino is an app-building platform you can use to make your next app. Contact us today and know more about creating an ideal app and boosting your business!
Frequently Asked Questions
What are flower delivery apps for iPhone?
Flower delivery apps for iPhone are mobile applications that allow users to conveniently order and send flowers to their loved ones or themselves.
How do flower delivery apps work?
Flower delivery apps typically have a user-friendly interface where you can browse through a selection of flowers, choose arrangements or bouquets, specify the delivery address, and make a payment.
Can I schedule flower deliveries in advance?
Yes, many flower delivery apps offer the option to schedule deliveries in advance, allowing you to plan for special occasions or surprise someone on a specific date.
Are there options for same-day flower delivery?
Yes, some flower delivery apps provide same-day delivery services, ensuring your flowers are delivered promptly for spontaneous gestures or last-minute surprises.
Can I add personalized messages with the flower delivery?
Absolutely! Most flower delivery apps allow you to include personalized messages along with your flower delivery to add a heartfelt touch.
Q: Are there options for different types of flowers and arrangements? Yes, the best flower delivery apps offer a wide variety of flower types, arrangements, and bouquets to suit different preferences and occasions.
Can I track the status of my flower delivery?
Many flower delivery apps provide order tracking features, allowing you to monitor the progress of your delivery and receive notifications when the flowers are delivered.
Do these apps offer delivery in multiple locations?
Yes, popular flower delivery apps often offer delivery services in multiple locations, both domestically and internationally, expanding the reach of your thoughtful gesture.
Can I customize my flower order with additional gifts or extras?
Yes, some flower delivery apps offer the option to customize your order by adding extras like chocolates, balloons, teddy bears, or other gifts to complement the flowers.
How do I choose the best flower delivery app for my needs?
When choosing a flower delivery app, consider factors such as the app's reputation, customer reviews, delivery options, pricing, available flower selections, and user experience to find the app that aligns with your preferences and requirements.